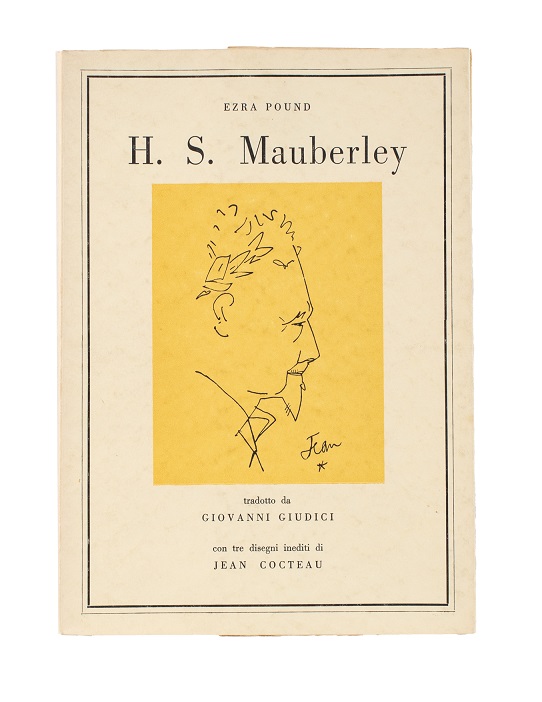 MAUBERLEY, ENGLISH AND ITALIAN
POUND, Ezra.
H. S. Mauberley, tradotto di Giovanni Giudici con tre disegni inedita di Jean Cocteau.
Milan, all'insegna del pesce d'oro [Scheiwiller], 1959.
8vo, pp. 57, [3], with two plates; a fine copy in the original stiff paper wrappers, cover illustration on yellow paper (Cocteau's portrait of Pound); bookplate of the BBC radio and TV producer D. G. Bridson, who visited Pound in Rapallo in 1959 to film a profile for 'Monitor'.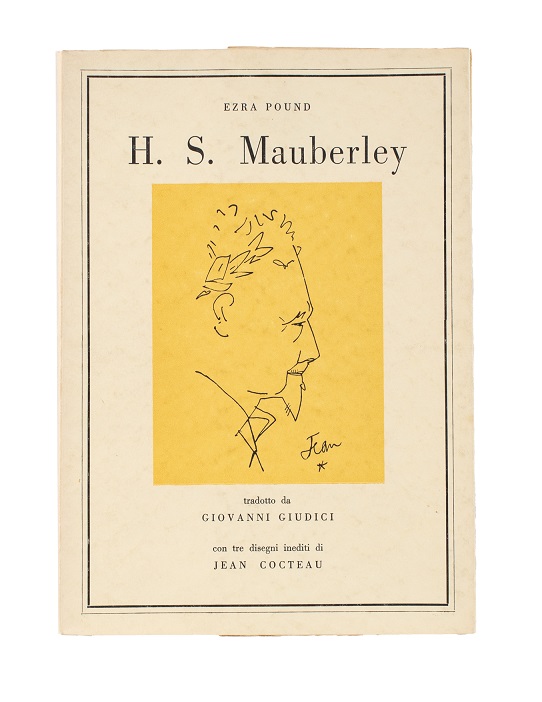 Added to your basket:
H. S. Mauberley, tradotto di Giovanni Giudici con tre disegni inedita di Jean Cocteau.
First edition, no. 141 of 1000 copies, a parallel-text Italian translation of Pound's modernist masterpiece Hugh Selwyn Mauberley (1920). Gallup D75.
You may also be interested in...
MILES, William J., J.I. LUPTON, and Benjamin HERRING (illustrator).
Modern practical Farriery: A complete Guide to all the relates to the Horse, its History, Varieties, and Uses – Breaking, Training, Feeding, Stabling, and Grooming – how to buy, keep, and treat a Horse in Health and Disease, etc., etc., forming a complete System of the veterinary Art, as at Present practised at the Royal Veterinary College, London … with numerous Illustrations and a Series of anatomical Plates, engraved from original Drawings from Nature … to which is added an Essay on the Diseases and Management of Cattle, Sheep, and Pigs.
Miles's comprehensive and generously illustrated treatise on veterinary science. The text first appeared in sixteen monthly parts, issued between 1868 and 1869, before being published in several undated editions in quick succession, accompanied by plates by the sporting artist Benjamin Herring (1830–1871). According to Dingley, 'numbers and states of plates were varied between editions, and both the distribution of the plates throughout the volume, and the order of binding the four sections and the Index etc appear to have been left to the discretion of individual binders'.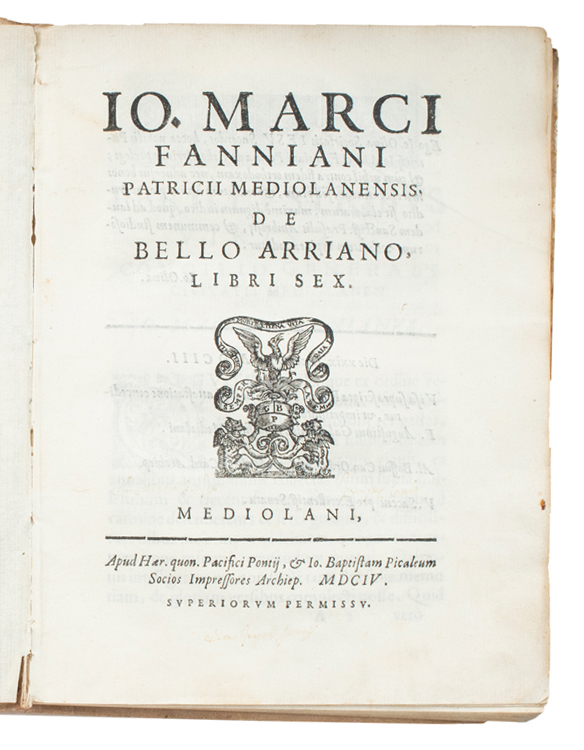 ST AMBROSE FIGHTS ARIANISM FAGNANI, Giovanni Marco. 
De bello Arriano libri sex. 
First and only edition of the sole published work by the Italian nobleman Giovanni Marco Fagnani (1524–1609), an epic poem recounting Ambrose of Milan's campaign against local Arians in late fourth-century Lombardy.