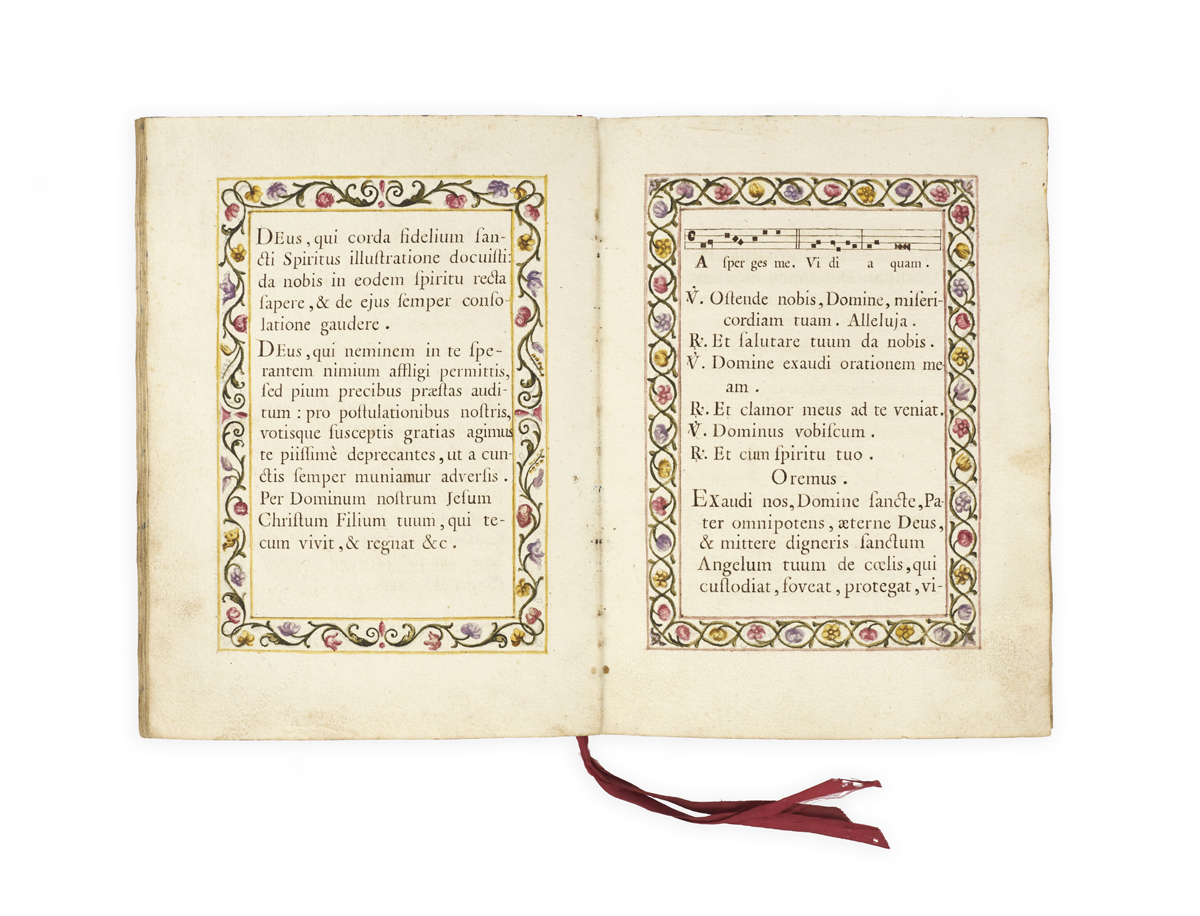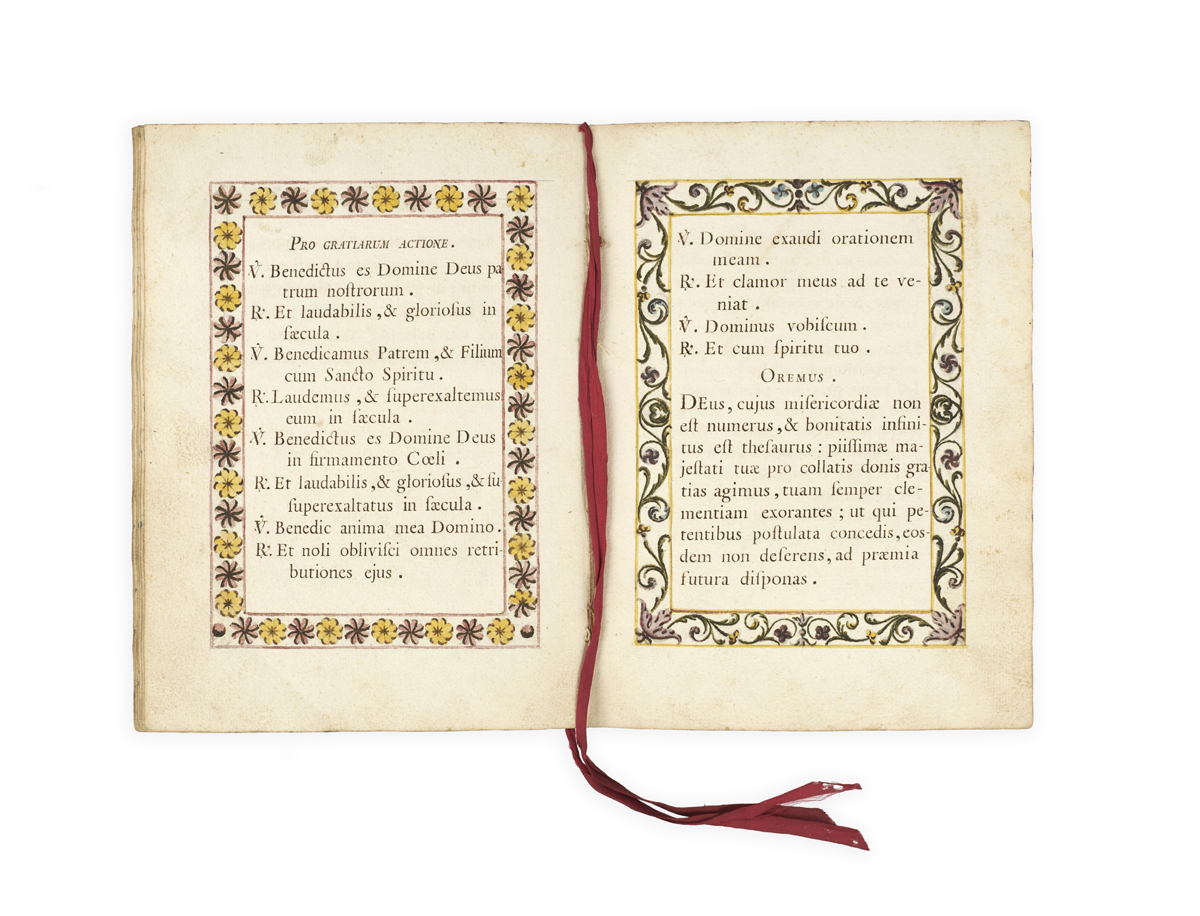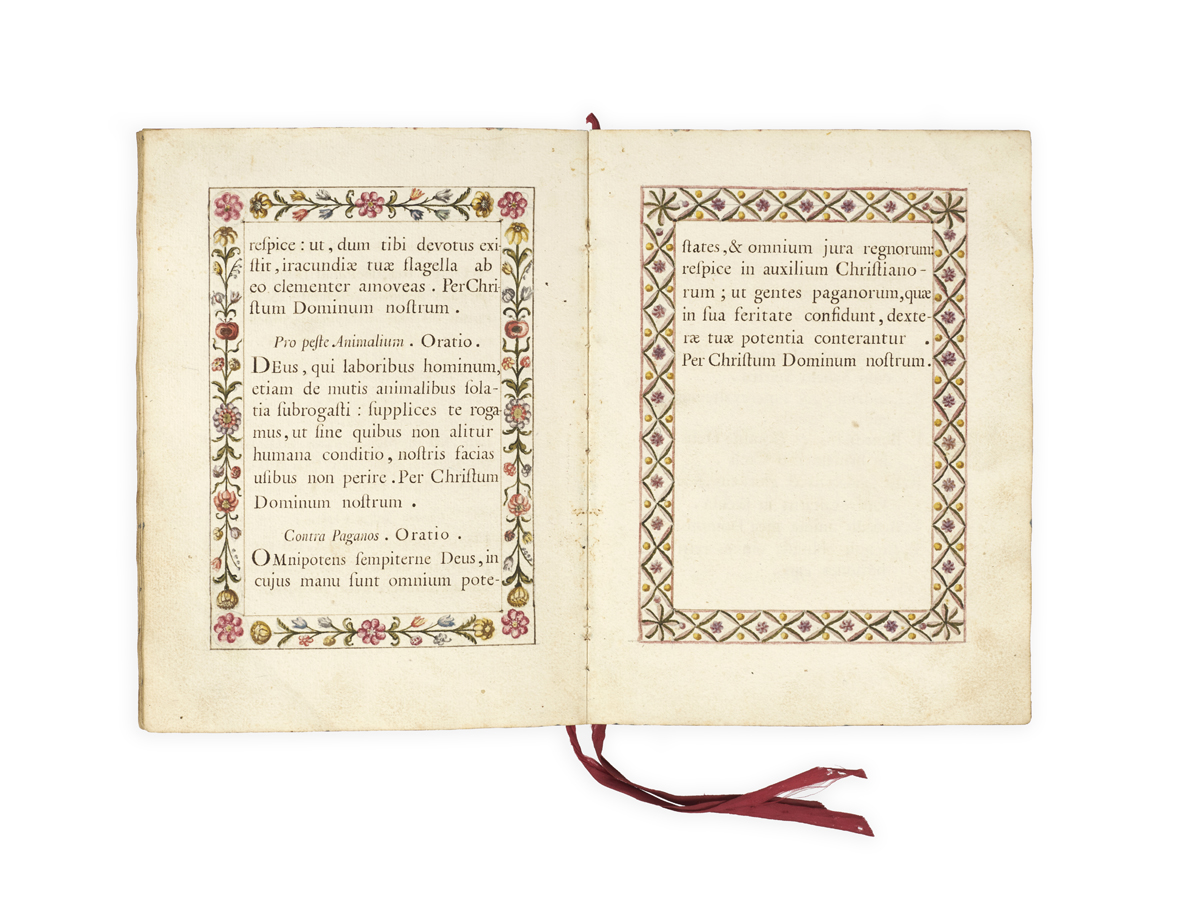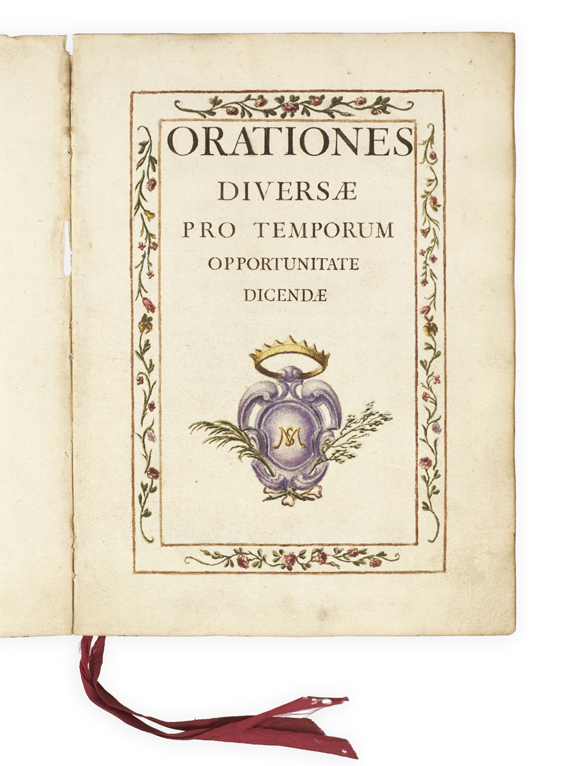 PRACTICAL PRAYER
[PRAYERS.] 
'Orationes diversae pro temporum opportunitate dicendae'. 
[Likely Lucca, late eighteenth century.] 
Manuscript on paper, 4to, pp. [16] + blanks; neatly written in Latin in black ink, 16 lines to a page, 2 lines of manuscript music, each page within a different decorative border in coloured inks, final leaf completed later and dated 1828; lower corners lightly thumbed, otherwise excellent; disbound; cartouche to title with monogram 'MS'.
£475

Approximately:
US $574
€548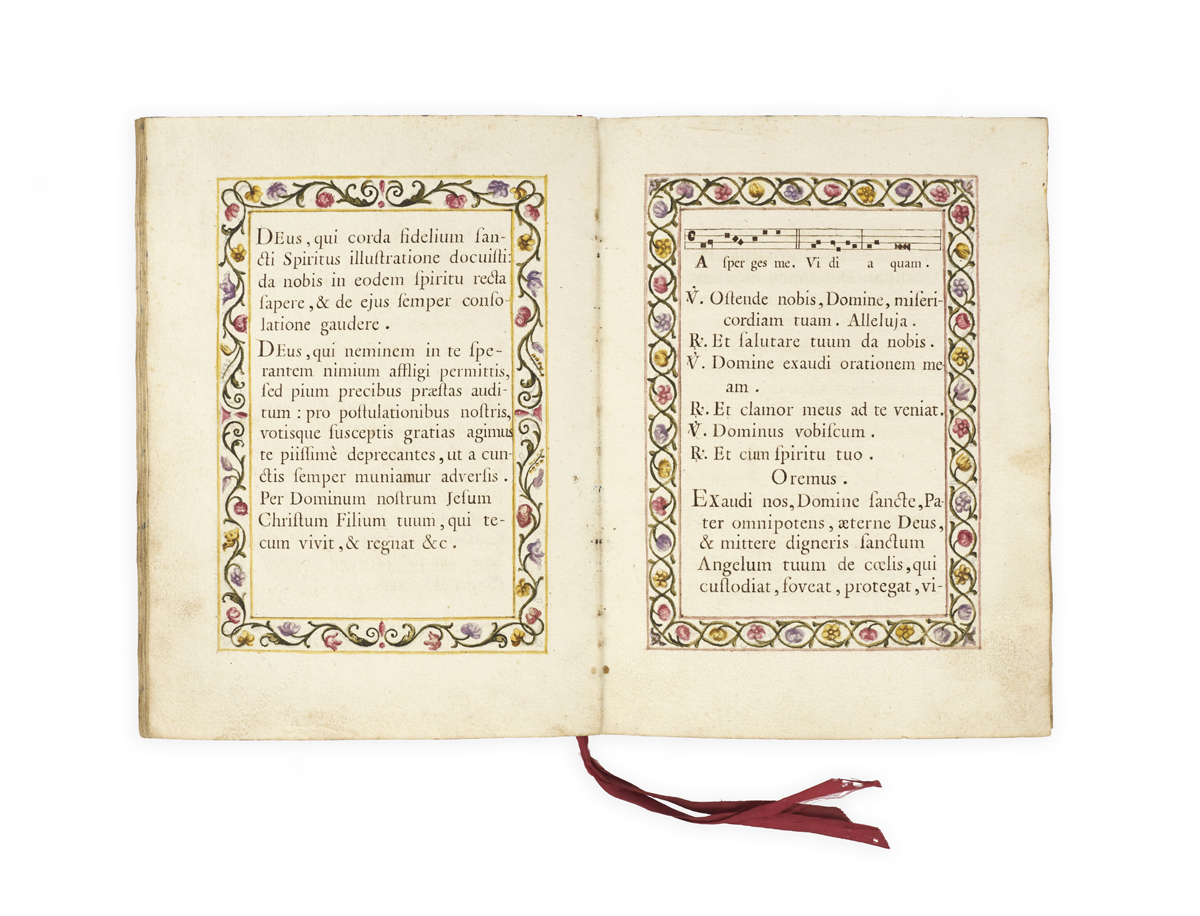 Added to your basket:
'Orationes diversae pro temporum opportunitate dicendae'. 
A delightful manuscript prayerbook for use in communal worship, most likely for a rural community, with prayers for help in times of plagues and of animal diseases, prayers seeking protection from storms and alleviation of droughts, for times of earthquakes, for the sick, and against pagans.  The varied borders range from geometric designs (many constructed with a compass) to charming arrangements of mixed flowers. 

The manuscript was augmented in the early nineteenth-century, with two final pages of prayers added in imitation of the earlier decorative scheme, including prayers for the health of the people of Lucca and for Duke Carlo Ludovico (r. 1824-1847). 
You may also be interested in...
RELIGIOUS INSTRUCTION FOR THE GRAND DAUPHIN GOBINET, Charles.
Instruction sur la vérité du Saint Sacrement, contenant en abregé les principaux motifs de la créance Catholique sur le Saint Sacrement de l'Eucharistie ...
Scarce first edition thus, containing an explanation of the Eucharist and a defence of transubstantiation by the French writer and teacher Charles Gobinet (1613–1690), a lovely copy bearing a stamp found on bindings executed for Louis de France, the Grand Dauphin (1661–1711), eldest son of Louis XIV.
LOVE LETTERS AND LITERARY VENTRILOQUISM
FROM THE LIBRARY OF TYCHO BRAHE'S NEPHEW PARABOSCO, Girolamo. 
Libro primo [- quarto] delle lettere amorose di M. Girolamo Parabosco.  Con alcune altre di nuovo aggiunte. 
Uncommon collected edition of Girolamo Parabosco's (1524–1557) immensely popular letters to anonymous lovers, literary contemporaries, and a courtesan, with several letters written from a female point of view, this copy formerly in the possession of Tycho Brahe's nephew and with several manuscript love poems.