EARLY SPANISH MUSIC PRINTING A WITNESS TO RENAISSANCE READERSHIP
[PROCESSIONAL, Dominican use.]

Processionarium ordinis fratrum praedicatorum.
Seville, Meinardus Ungut and Stanislaus Polonus, 3 April, 1494.
4to in 8s, ff. [112]; [a]2-8, b-n8, o9, without the first and final blanks [a]1 and o10; with printed signatures, 33 lines, gothic letter, printed in red and black, printed musical notation throughout in black on a red four-line staff, spaces for initial capitals, guide letters, ornamental woodcut initials, woodcut printer's device at end; repaired tear to inner margin of first leaf (no loss), another couple of minor marginal repairs, occasional stains and thumbing to lower corners, remains of wax droplets on surface of several pages, a few ink smudges in the last couple of pages, later colouring along the blank spaces of first initial and printer's device, overall a very good copy; in Spanish contemporary calf, skilfully relaid over modern black morocco, sides filleted in blind to a central rectangular panel enclosing gilt stamp of a lion and two hearts, surrounded by gilt-stamped acorns, acorn motif repeated on spine; endpapers renewed; preserved in a modern custom-made cloth box, backed in black morocco, lettered in gilt and lined in black velvet; several contemporary and near-contemporary inscriptions (see below).
£35000

Approximately:
US $42483
€40435
Added to your basket:
Processionarium ordinis fratrum praedicatorum.
First edition of the first Spanish book to make extensive use of typeset music printing, one of the finest products of early Spanish typography.

The German printer Meinhard Ungut and the Pole Stanislaus had worked with Mathias Moravus (Matthias of Olmütz) at Naples, before setting up business in Seville, having carried punches and type models from Naples. Their publications excelled in elegance, as well as covering a variety of subjects, from liturgical to legal, to editions of classics – notably Seneca in the vernacular. Their partnership continued until Ungut's death in 1499. Stanislaus carried on, first alone, then in partnership with Jakob Cromberger, and independently as the founder of a printing workshop in Alcalá de Henares, until 1504.

'At about the same moment that the Cuatros Compañeros [the four German printing pioneers who set up a workshop in Spain] began printing, Meinardo Ungut and Stanislao Polono arrived in Seville from Naples. Among the more than seventy titles which they produced in the nine years of their joint enterprise were a number of liturgical books, some with chant notation, including the … Processionarium of 1494. More than any other single incunable, this established the concept of a book of printed music in the Spanish trade' (I. Fenlon, in Early printed music and material culture in Central and Western Europe, Routledge, 2021, p. 304).

'As part of his inheritance, Cromberger acquired at least three fonts from the stock of the Compañeros Alemanes, and eight from the workshop of Ungut and Polono. Among the latter was the music font for printing chant notation in liturgical books, which the two collaborators had used in their processional of 1494. This was used by Cromberger in his masterpiece of liturgical music printing, the Missale secundum usum alme ecclesie Hyspalensis which survives in three copies … He also used it elsewhere, notably in his edition of the Franciscan Processionarium. At Cromberger's death, control of the family press passed to his son Juan. [Seville missals printed by the generation after Ungut and Polono using their musical types] were widely circulated, not only in Spain but also in the New World' (idem., p. 305).

This copy stands as an extraordinarily charming and evocative witness of Renaissance readership. One Brother Ferdinando de Palma pens his near-contemporary ownership inscription on the first and last pages, having obscured with a stroke a slightly earlier one on the first page; on the last page, Ferdinando formalises his gift of the book to the Convent of St Stephen in Salamanca, for the use of the brothers; in the lower margin of f. [53v] a slightly later ownership inscription reveals that this book was used by a nun, Dona Theresa Martinez Calderon, 'I belong to Dona Theresa … until she is ordered to let me go'; several droplets of wax still punctuate some of the pages, evoking the ambience and the difficulties of chanting during night offices; Dona Theresa's hand, or perhaps a contemporary's, annotates in Spanish the upper margins of some of the pages with the relevant name of the feast day for each portion of the liturgy, for ease of retrieval.

HC 13380; Proctor 9534; Vindel, El Arte Tipografico en Sevilla y Granada, n. 67; Heredia I, 137; Palau 238143; Stillwell P912; ISTC ip00997000; see Norton, p. 275. Though apparently a bulk of a hundred wholly unused copies was retrieved in Spain in the early 1900s, this book is rare on the market, particularly copies which bear evidence of contemporary use and readership. ISTC finds three copies in UK (BL, Cambridge, Ulster UL). Auction records show only three copies in the last sixty years.
You may also be interested in...
CONTEMPORARY CALF, WITH THE WORLD MAP HAKLUYT, Richard.
The Principall Navigations, Voiages and Discoveries of the English Nation, made by Sea or over Land, to the most remote and farthest distant Quarters of the Earth at any Time within the Compasse of these 1500 Yeeres.
First edition, a fine copy, with the world map, in a strictly contemporary London binding, of the first collection of English voyages.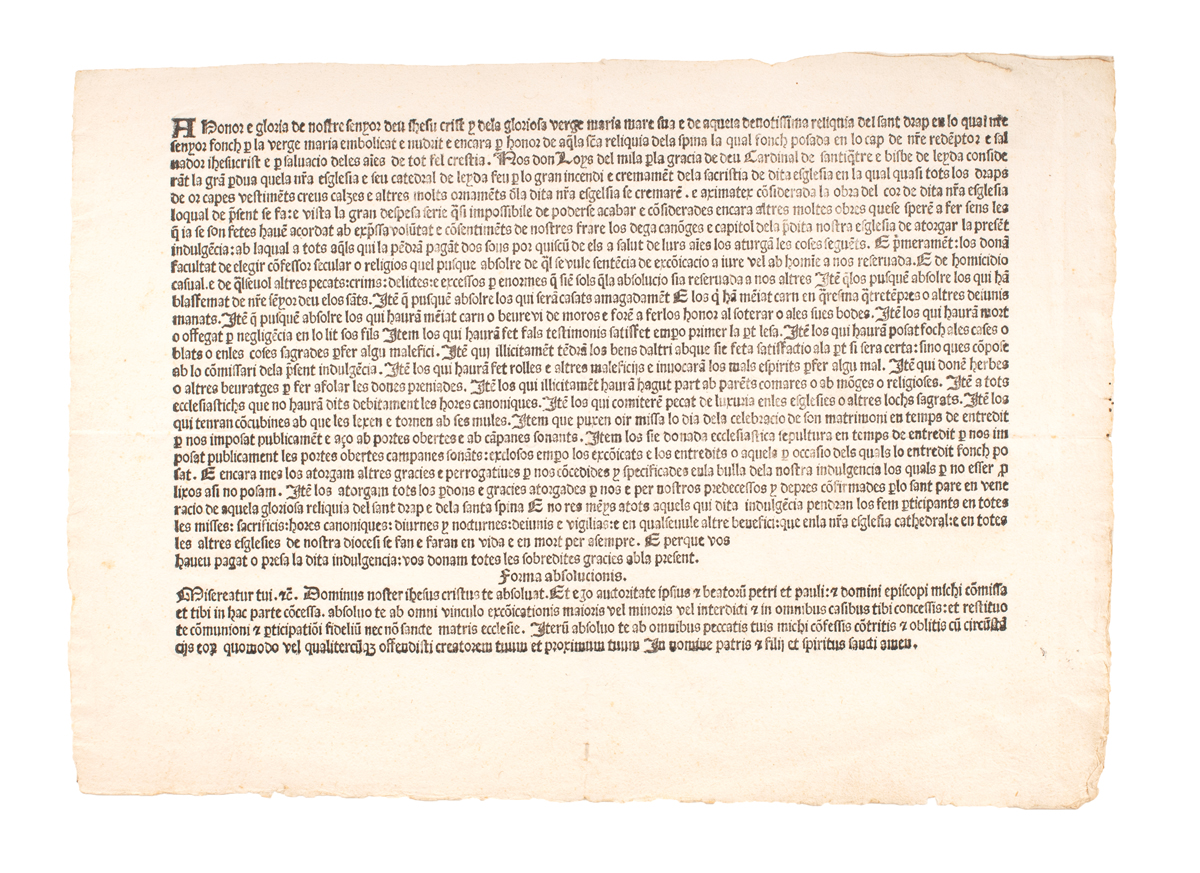 A CATALAN INDULGENCE FOR THE REPAIR OF THE CATHEDRAL OF LÉRIDA [INDULGENCE.] 
Letter of Indulgence (in Catalan), incipit 'A Honor …', granted by Cardinal Luis de Milá, Bishop of Lérida.
Extremely rare incunable indulgence in Catalan granted by Luis de Milá, Bishop of Lérida, in favour of the living (as opposed to the dead, see below) to gather funds for the repair of the old cathedral of Lérida, printed at Lérida, the second city of Catalonia, about one hundred miles inland from Barcelona.