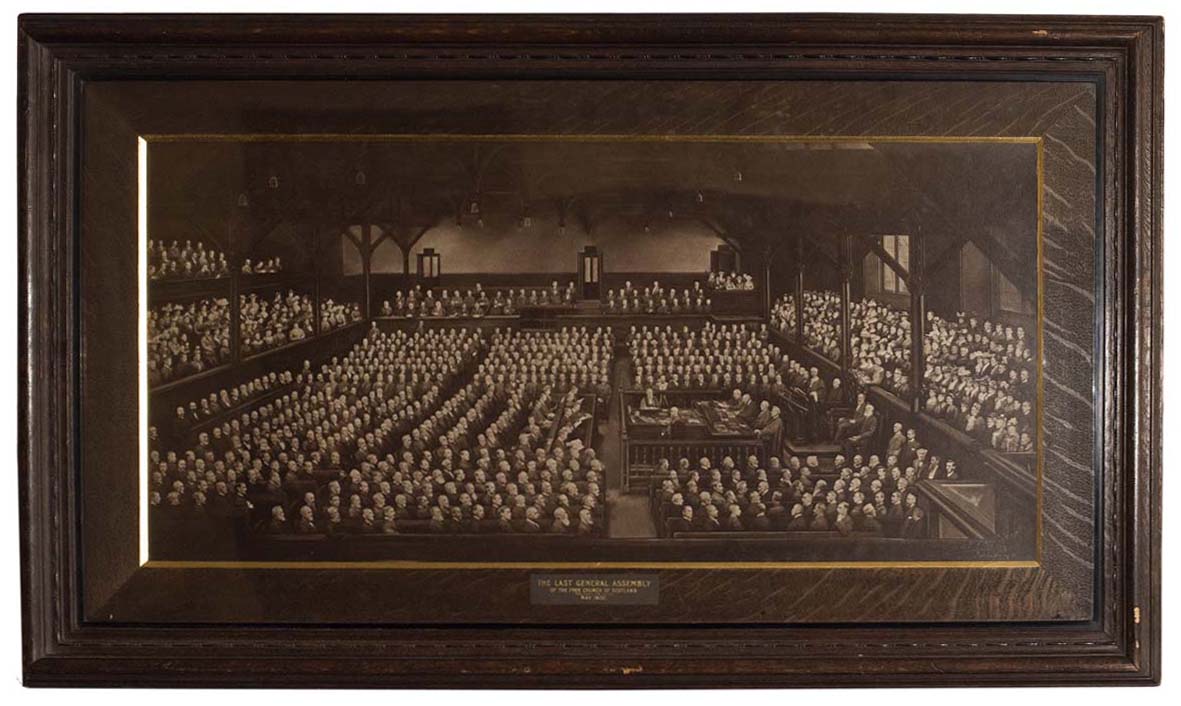 HOMMAGE TO DAVID OCTAVIUS HILL?
PURSEY, Thomas.
The last General Assembly of the Free Church of Scotland.
[Edinburgh, T. Pursey, 1900.]
Photogravure (42 x 89 cm), signed in pencil in the lower right corner 'No.55a T. Pursey, Edinburgh'; framed and glazed; with a printed scroll, in brown ink on glazed cloth, listing each sitter by name and providing a key to the photogravure (imprint: T. Pursey, Photographic Artist, 2 South Charlotte St., Edinburgh).
£2000 + VAT

Approximately:
US $2469
€2302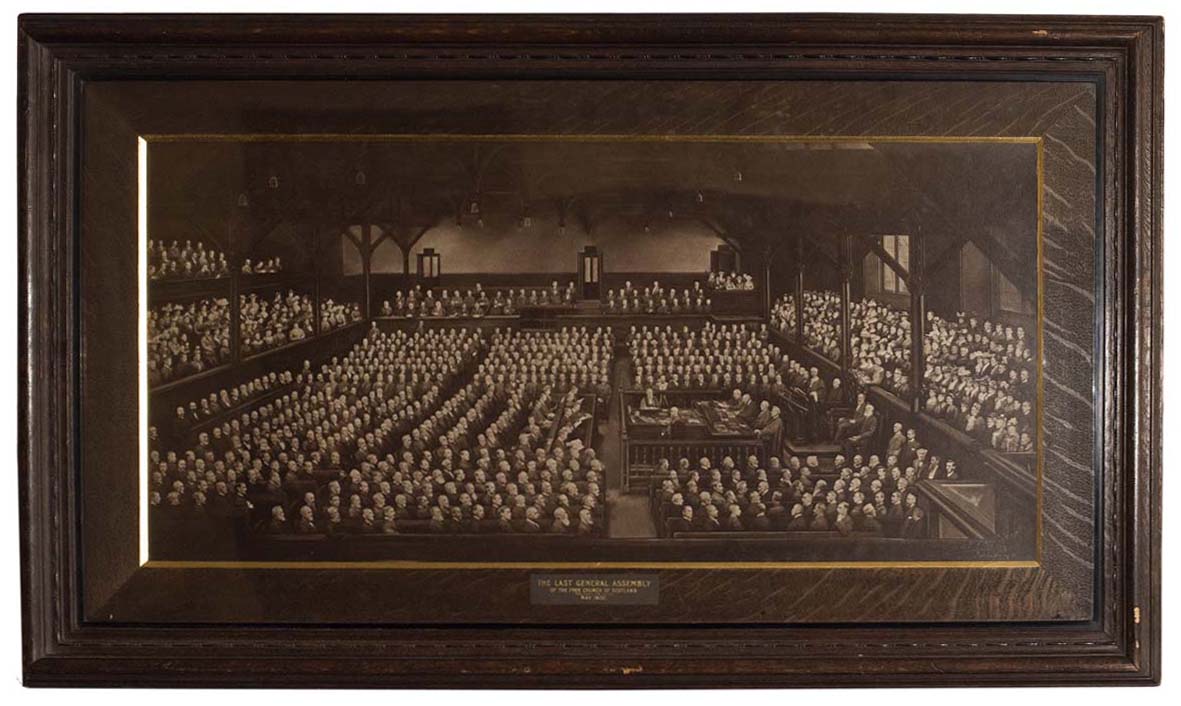 Added to your basket:
The last General Assembly of the Free Church of Scotland.
A photographic tour-de-force, assembling many hundreds of individual photographic portraits neatly incorporated into a painted scenario, and then reproduced as a photogravure, depicting all the attendees of the last General Assembly of the Free Church of Scotland, held in May 1900. Evidently a few portraits were unobtainable, or sitters refused to take part, those figures shown facing away from the camera. Pursey must have been basing his project on the work of David Octavius Hill commemorating the first General Assembly of the church in 1843. Hill's painting, which took twenty-two years to complete, is 'often considered the first work of art to ever have been painted with the help of photographic images' (Gossman, Thomas Annan of Glasgow) – portraits and groups taken in Hill and Adamson's own studio.

Thomas Pursey, 'photographic artists', had a studio on the corner of South Charlotte and Princes Street (he used both addresses), and it would appear that many of the individual portraits employed in the work were taken in his study during 1900. He was awarded a medal in the Edinburgh Industrial Exhibition for 1901, but little more is known of him and we have not traced many examples of his work, or indeed another print of the present image.

The Free Church of Scotland was founded by schism from the Church of Scotland in the Disruption of 1843, and lasted until 1900, when most of its adherents joined the United Presbyterian Church of Scotland as the new United Free Church of Scotland on 31 October 1900.
You may also be interested in...
APOCALYPTIC PLATES PEIL, Johann.
Tabula processum seu ordinem ultimi divini et criminalis judicii exhibens; cum adjunct eiusdem brevi demonstratione ex Biblicis textibus et rationibus, quibus figurae undecim tabulam illustrantes suo quaeque loco inseruntur, additurque cantio germanica, quae eandem totam continet.
First edition of this strange and rare treatise on the Apocalypse and the Last Judgement, illustrated with dramatic plates by Gillis van Scheyndel. It is the first book printed at Cleves in the Lower Rhine region of northwestern Germany. At the head of each plate appears a letter (or letters) which serve as a key to the relevant part of the text.
WESLEY AS SCHOOL-TEACHER [WESLEY, John (editor).]
Excerpta ex Ovidio, Virgilio, Horatio, Juvenali, Persio, et Martiali: in Usum Juventutis Christianæ. Edidit Ecclesiæ Anglicanæ Presbiter.
First edition of one of the textbooks that Wesley compiled for the school that he founded at Kingswood, Bristol, in 1748. Finding contemporary textbooks inadequate, he published an astonishing number of works for his pupils – grammars, editions of classics, and other introductions to learning. His first concern was purity of thought (there are, for example, only brief, cautious extracts from Ovid, while Horace gets more than half the volume), but also the purity of Latin style. There are runs of his textbooks at Wesley House, the John Rylands Library, and in the Frank Baker collection at Duke, but, as is wont with schoolbooks, most are now very rare.