[PUSHKIN, Aleksandr Sergeevich.]
Al'bom Pushkinskoi Iubileinoi Vystavki v Imperatorskoi Akademii Nauk v S. Peterburg, Mai 1899 [Album of the Pushkin Jubilee Exhibition at the Imperial Academy of Sciences in St Petersburg, May 1899].
Moscow, K. A. Fisher, 1899.
Folio, pp. [iv], 27, with 72 full-page black and white photographic plates; old library labels removed from half title and title, a few marginal repairs to text, lower blank margin of last leaf of text cut away, small ink-stamp to lower margin of plates; generally a good copy in the original green cloth gilt, slightly shaken, some minor wear.
£800

Approximately:
US $1115
€906
The catalogue of an exhibition to celebrate the centenary of Pushkin's birth, held at the Imperial Academy of Sciences in St Petersburg. The album is edited by L. N. Maikov and B. L. Modzalevsky, and contains 250 photographic reproductions of portraits, drawings, engravings, sculpture, manuscripts, etc.

Rare: listed by OCLC but no locations given.
You may also be interested in...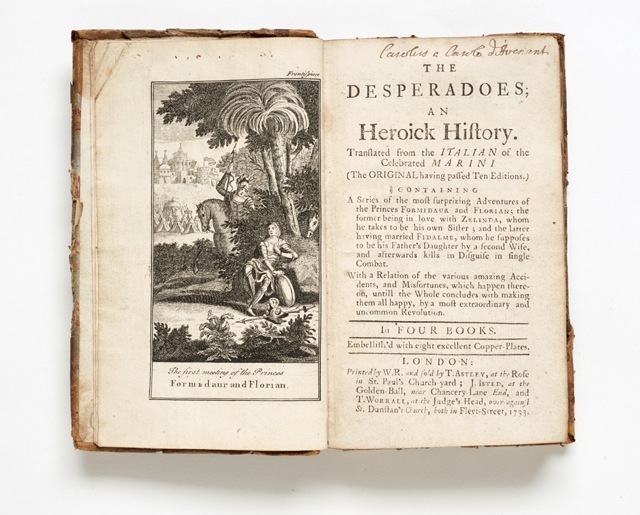 MARINI, Giovanni Ambrogio.
The Desperadoes; an heroick History. Translated from the Italian of the celebrated Marini (the Original having passed ten Editions.) Containing a Series of the most surprizing Adventures of the Princes Formidaur and Florian … In four Books. Embellish'd with eight excellent Copper-Plates.
First and only edition in English of Le gare de' disperati (1644), the second of three romances by Marini (1596-1668). Inevitably, 'It was necessary to omit many Things that were contrary to our Morals; to Decency, and to the Purity of the English Tongue …'. But the general scheme of events is the same as the original, and is outlined on the title-page: 'A Series of the most surprizing Adventures of the Princes Formidaur and Florian; the former being in love with Zelinda, whom he takes to be his own Sister; and the latter having married Fidalme, who he supposes to be his father's Daughter by a second Wife, and afterwards kills in Disguise in single Combat. With a Relation of the various amazing Accidents, and Misfortunes, which happen thereon, until the Whole concludes with making them all happy, by a most extraordinary and uncommon Revolution.'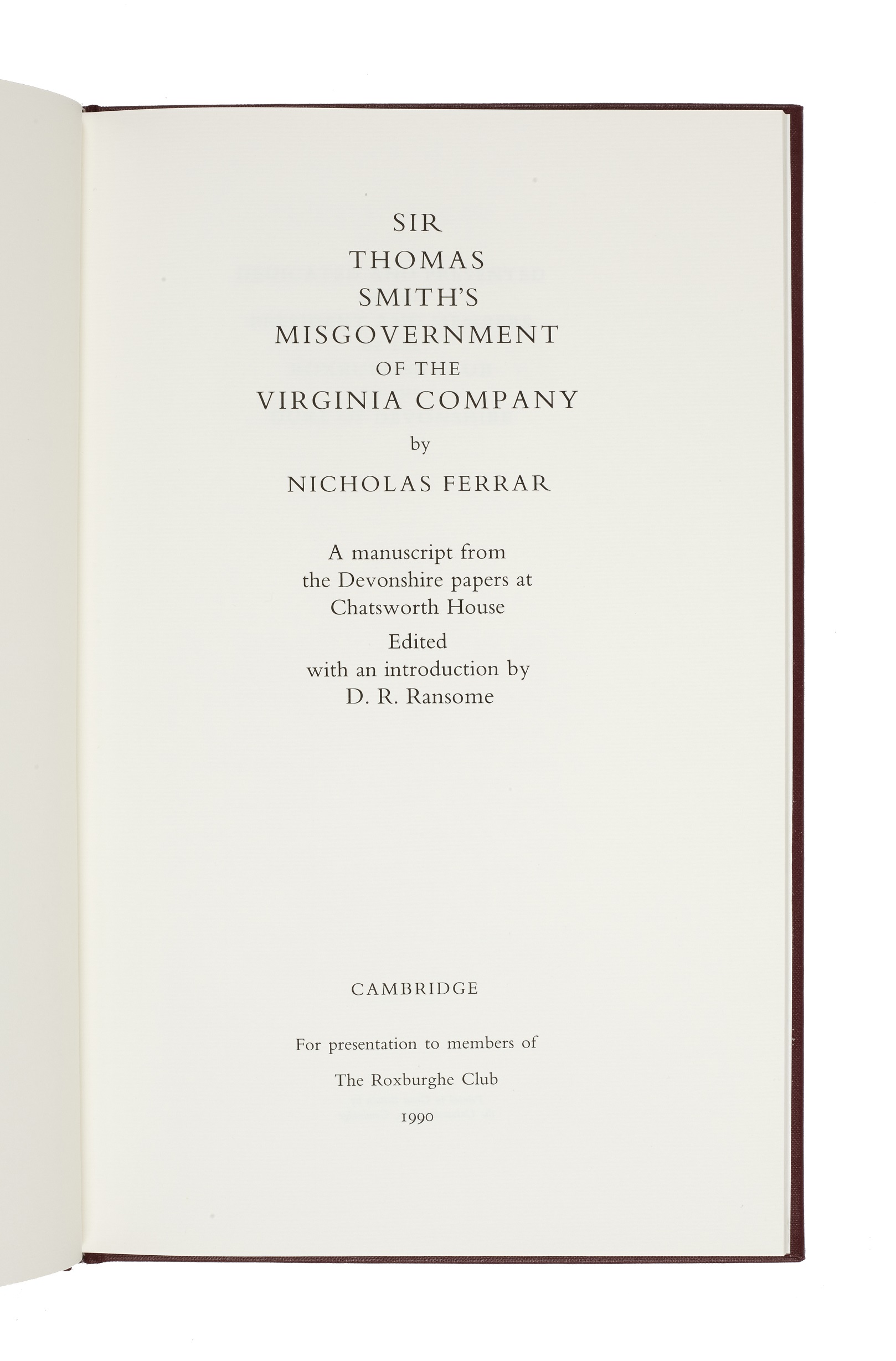 FERRAR, Nicholas.
Sir Thomas Smith's Misgovernment of the Virginia Company by Nicholas Ferrar. A manuscript from the Devonshire papers at Chatsworth House. Edited with an introduction by D. R. Ransome.
Ferrar's text is a crucial document in the history of the Virginia Company and its colony. It reveals the intense animosity which destroyed the Company and is a vivid, powerful and one-sided denunciation of the maladministration that had brought the Company down. It is also something more – a vital document of the first English colony to be permanently established in the New World. The document is printed here in full facsimile, together with a diplomatic transcription and introduction by David Ransome, a distinguished historian of early America.