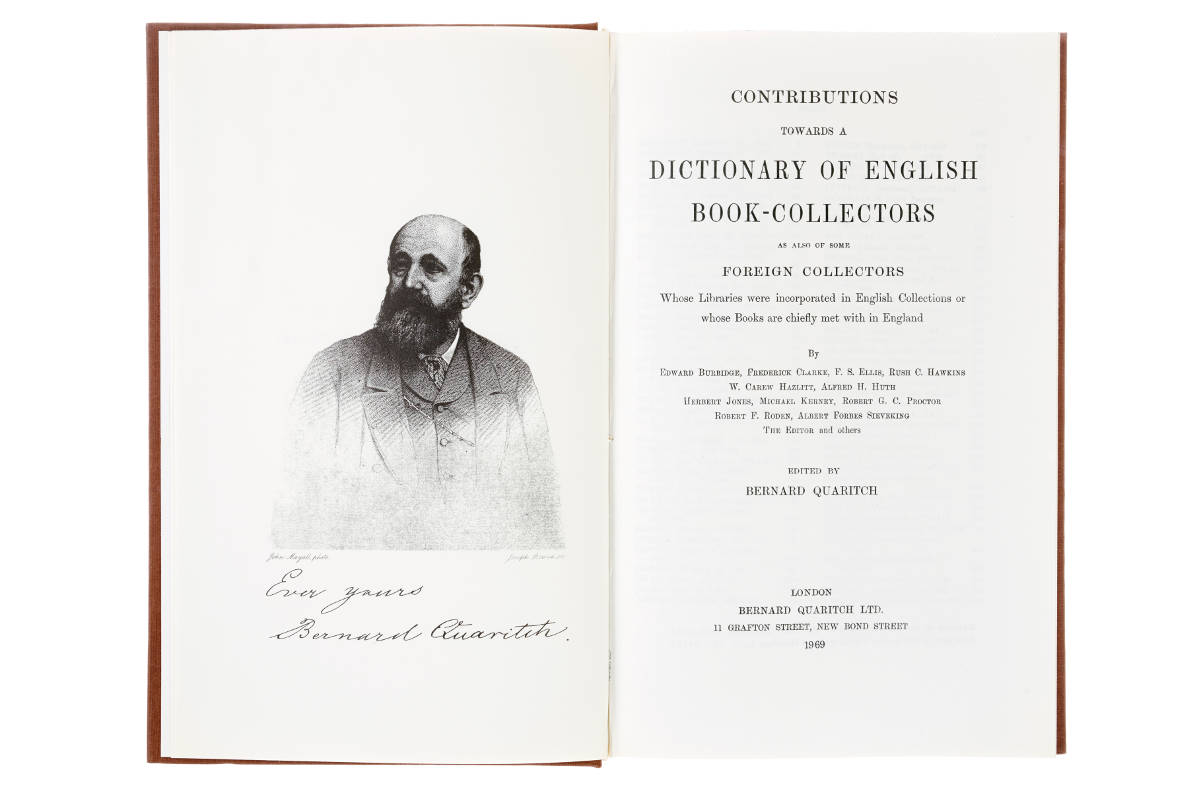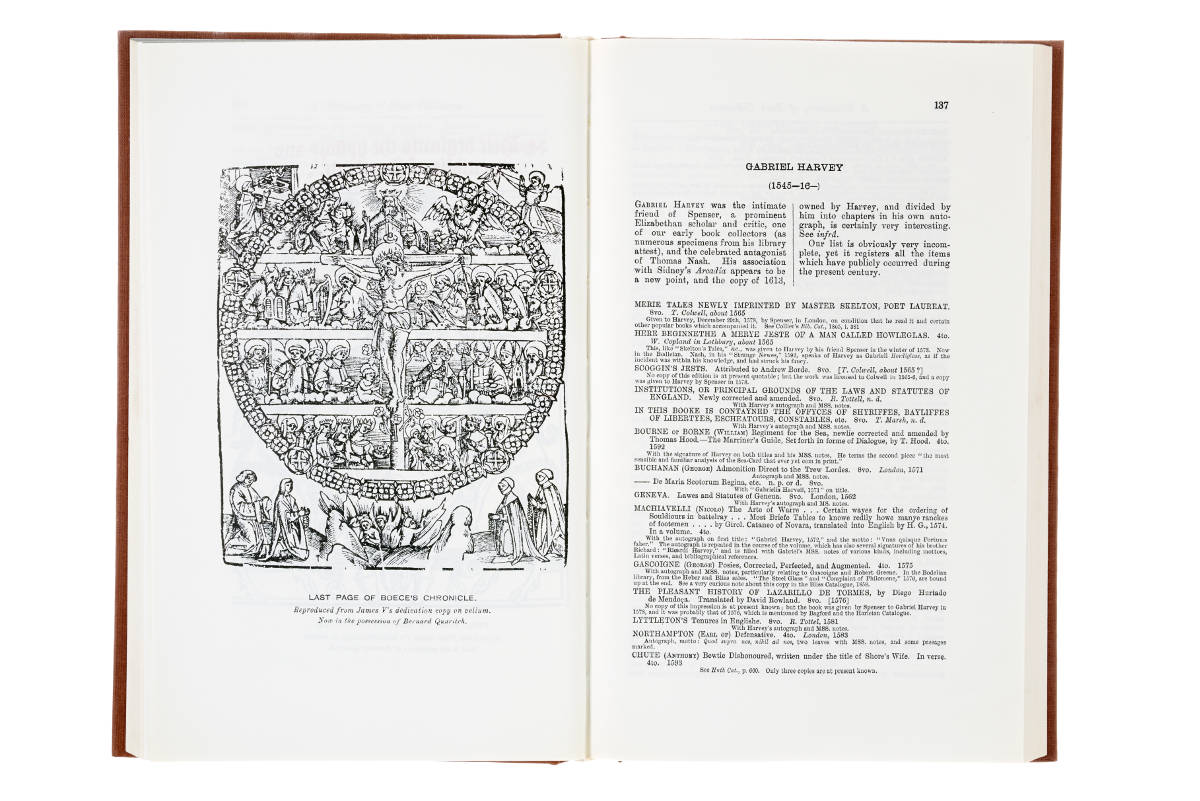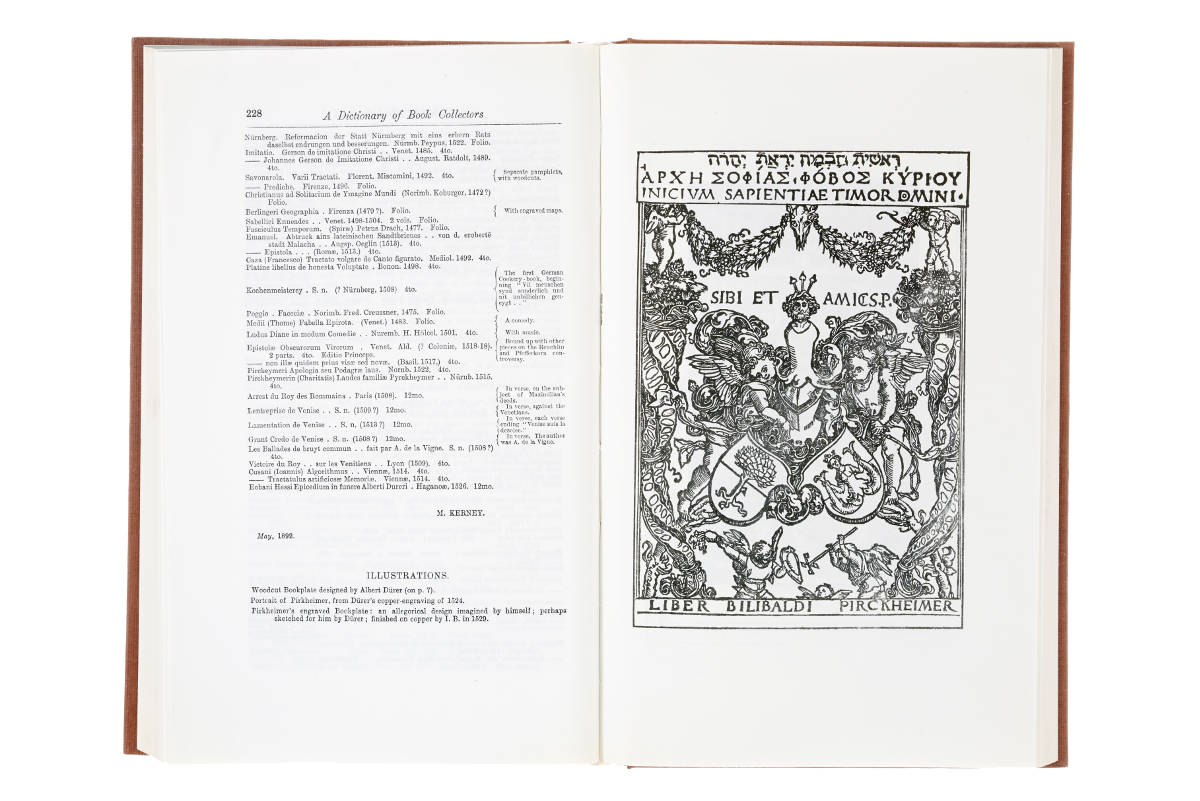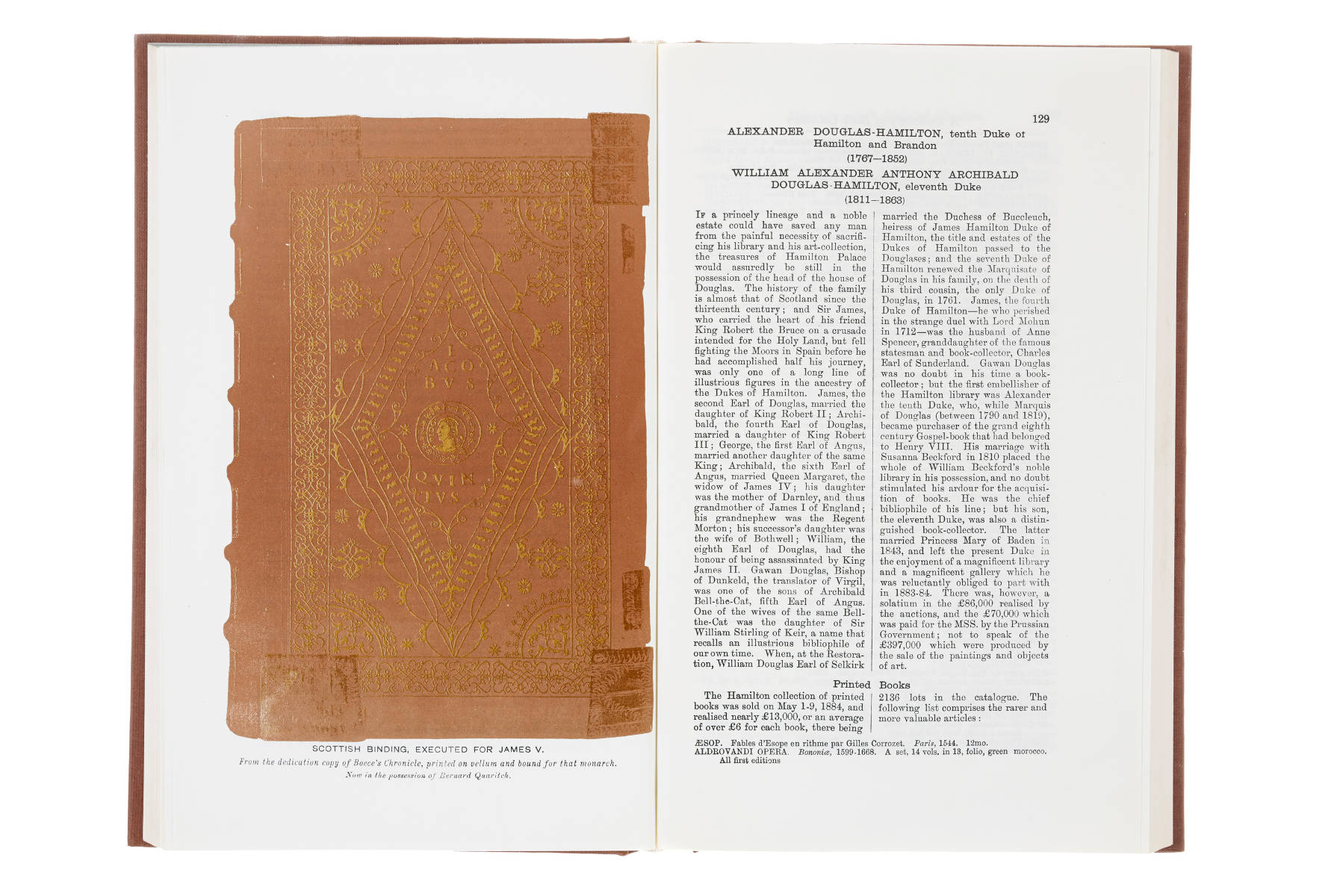 QUARITCH, Bernard Alexander Christian, editor.
Contributions towards a Dictionary of English Book-Collectors as also of some Foreign Collectors whose Libraries were Incorporated in English Collections or whose Books are Chiefly Met with in England.
London, Bernard Quaritch Ltd, 1969.
8vo, pp. [6 (half-title, verso blank, title, imprint on verso, index and illustrations)], 9-350; portrait frontispiece, colour-printed and monochrome illustrations and facsimiles in the text, some full-page; original brown cloth, spine lettered in gilt; fine.
£25

Approximately:
US $34
€28
A facsimile reprint of Quaritch's series of profiles of bibliophiles, with brief lists of the treasures of their collections and notes on their dispersal at auction or in the trade, which remains a useful resource both for the history of book-collecting in Britain and for provenance research. Contributions towards a Dictionary of English Book-Collectors was originally published in fascicules between 1892 and 1921, and the contributors included F.S. Ellis, W. Carew Hazlitt, Alfred H. Huth and Robert C.G. Proctor – however, as Arthur Freeman states in his biography of Quaritch in the ODNB, Quaritch's contributions were 'largely ghost-written'.

Osler 7305.
You may also be interested in...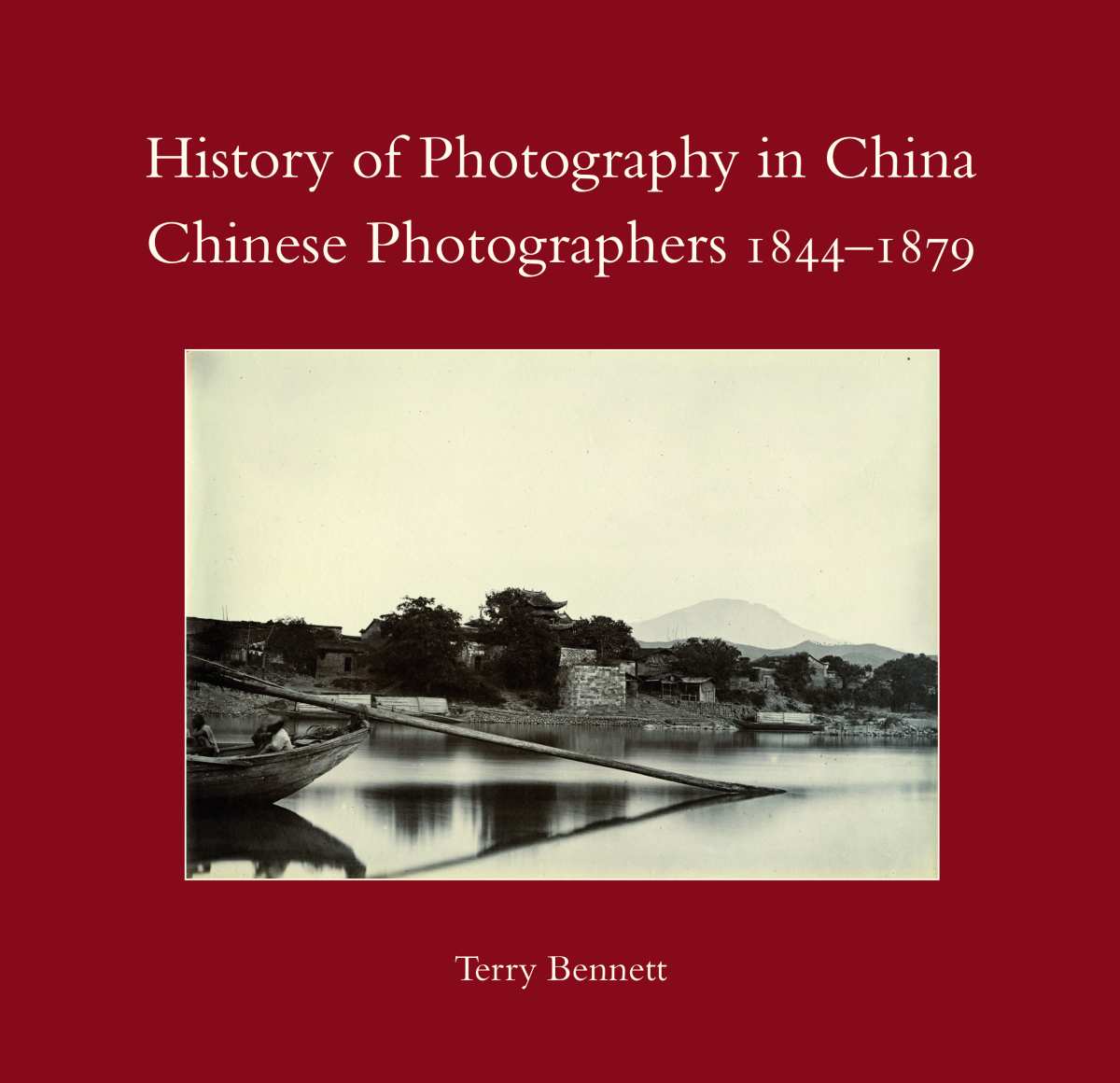 BENNETT, Terry.
History of Photography in China: Chinese Photographers 1844-1879.
This book is the first extensive survey of early Chinese photographers in any language. It is profusely illustrated with more than 400 photographs, many of which are published here for the first time, including a fine selection of Foochow landscapes from the studios of Lai Fong, China's leading photographer during this period, and Tung Hing. Early chapters introduce the historical milieu from which the earliest Chinese photographers emerged and illuminate the beginnings of photography in China and contemporary Chinese reactions to its introduction.
GOLDEN COCKEREL PRESS – Christopher SANDFORD, Anthony SANDFORD, and Owen RUTTER.
Chanticleer. A Bibliography of the Golden Cockerel Press April 1921-1936 August. Introduction by Humbert Wolfe. Foreword and Notes by the Partners.
First edition, no. 103 of 300 specially-bound copies signed by Christopher and Anthony Sandford, Owen Rutter, and Francis J. Newbery. This is the first of the four bibliographies published by the Golden Cockerel Press, and it provides a record of the press' productions between April 1921 and August 1936, richly illustrated with woodcuts taken from some of those title. The catalogue is prefaced by an introduction by the poet and writer Humbert Wolfe (1885-1940), who judges that, '[a] great thought deserves a great selling. It is no good asking a company of barnstormers to play Hamlet. It is nearly as wrong-headed to print Milton like a railway-guide. The printing-machine, like the camera in the making of films, is definitely an artist's weapon. For the insistence on this obvious truth – like most such truths escaping attention – lovers of the fine arts owe a permanent debt of gratitude to the private printing presses, among which the Golden Cockerel takes a very high place indeed' (p. [11]).