RAMUS, Petrus. (Commentator) - VIRGILIUS MARO, Publius.
Georgica, P. Rami professoris regii praelectionibus illustrata, ad Carolum Lotharingum Cardinalem. Parisiis, apud Andream Wechelum, 1564.
Paris, 1564.
(bound with:)

- - Bucolica, P. Rami...praelectionibus exposita: quibus poeta vita praeposita est... Editio secunda. Parisiis, apud Andream Wechelum, 1558. Paris, 1558

2 works bound together in one volume, 8vo; roman and italic letter; with printer's device on both titles and a few woodcut initials in the text, preliminary leaves of the first work erratically paginated, the preface following the title starting with page 11, but the work is complete, tear in one leaf repaired; good copies in an attractive contemporary binding of calf gilt, ruled in blind on both covers, spine and corners skilfully repaired.


£2000

Approximately:
US $2230
€2274
Added to your basket:
Georgica, P. Rami professoris regii praelectionibus illustrata, ad Carolum Lotharingum Cardinalem. Parisiis, apud Andream Wechelum, 1564.
Second editions of Ramus' extensive commentaries on Virgil's two poems on country life, which he wrote in order to react against the dry doctrines of several French schools who based their teaching of nature on Aristotle's physics. He wanted to keep in contact with the concrete realities of nature and in this spirit his commentaries were composed, in which he often refers to Plinius and the Roman agronomers.

Adams V548 & V537; Ong 480 & 474.
You may also be interested in...
LIVY, Titus, and Thomas RUDDIMAN (editor).
Historiarum ab urbe condita libri qui supersunt, cum omnium epitomis, ac deperditorum fragmentis, ad optimas editiones castigati. Edinburgh, Thomas & Walter Ruddiman for G. Hamilton, A.
A very attractive set of the first Ruddiman edition. One of the last works prepared by Thomas Ruddiman (1674–1757), this 'superb edition of Livy' (ODNB) was highly praised for its accuracy and is a fine testament both to his classical scholarship and to his printing house. The son of a Banffshire farmer, Ruddiman excelled in literary Edinburgh, establishing his own printing business in 1712, serving as Advocates Librarian (where he greatly expanded the library and was succeeded by David Hume), and publishing works of classical scholarship ranging from the Rudiments of the Latin Tongue, the standard schoolbook on grammar throughout the eighteenth century, to the Grammaticae latinae institutiones, the authoritative text for scholars.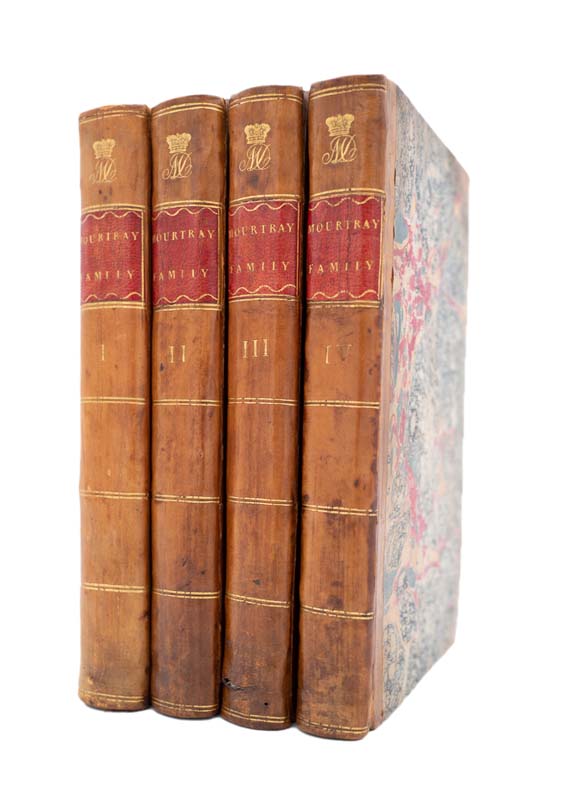 BY BECKFORD'S HALF-SISTER [HERVEY, Elizabeth].
The Mourtray Family. A Novel …
First edition of the penultimate novel by Elizabeth Hervey (c. 1748–1820), elder half-sister of the writer William Beckford – her father, Francis Marsh, had died and her mother Maria (née Hamilton) remarried another Jamaica plantation owner, William Beckford senior, who also died in 1770. Maria Beckford was therefore a powerful influence on both children and as a young woman Elizabeth was considered quite the intellectual equal of her younger brother. She married Colonel Hervey in 1774 and moved abroad, but on his death in 1778 she returned and published several novels – Melissa and Marcia (1788), Louisa (1790), The History of Ned Evans (1796) and The Church of Saint Siffrid (1797). The Mourtray Family was her last in this run, and nothing more followed until the final publication of Amabel (1814), where she finally dropped the mask of anonymity.