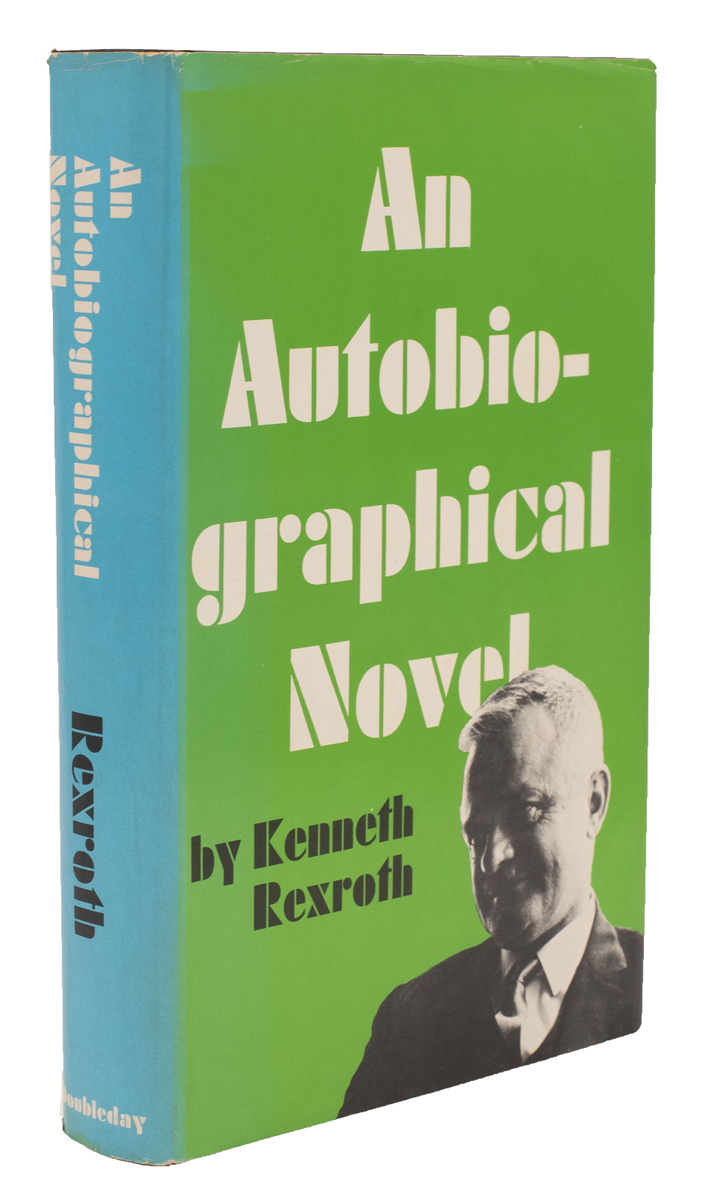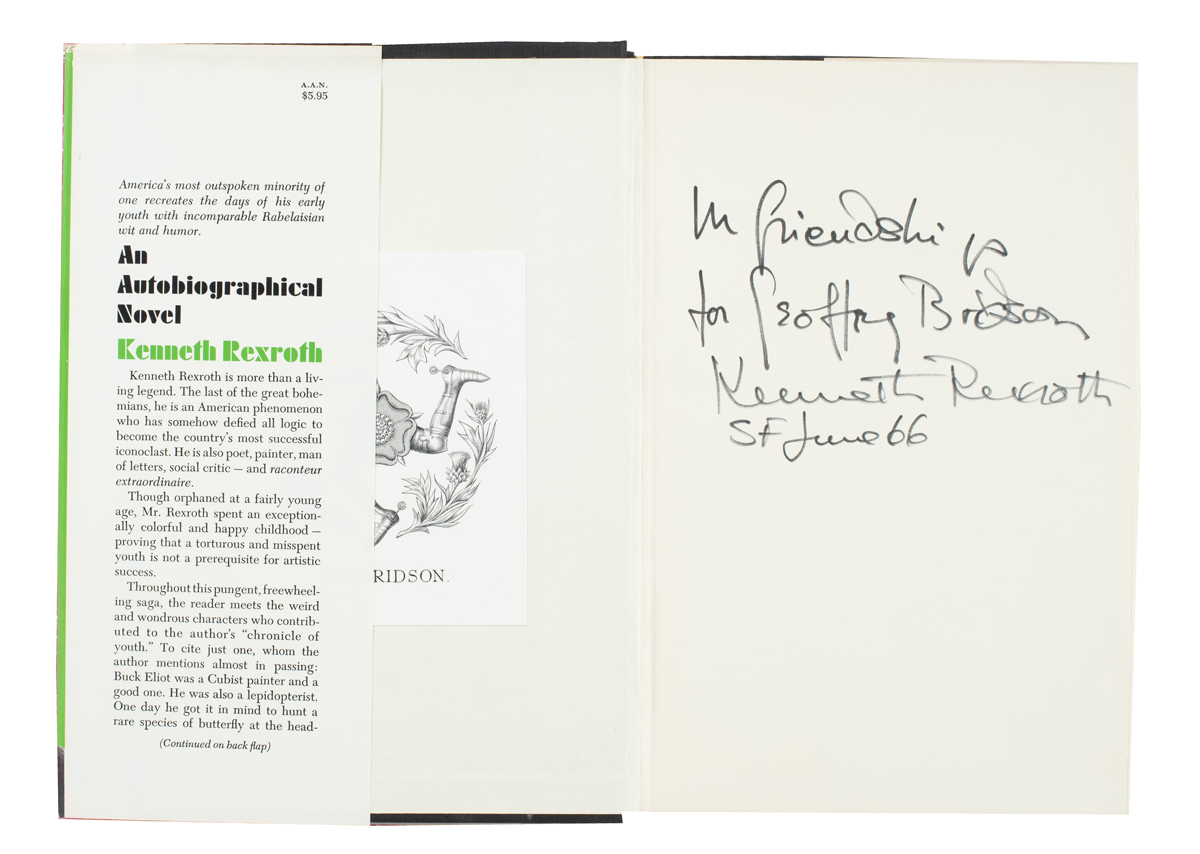 THE 'FATHER OF THE BEATS'
REXROTH, Kenneth.
An Autobiographical Novel …
Garden City, NY, Doubleday & Company, Inc., 1966.
8vo, pp. xi, [1]; 367, [1]; publisher's black cloth, green glazed dust-jacket; a fine copy in a very good jacket (spine sunned), a few small nicks; bookplate of the BBC broadcaster D. G. Bridson, with a few passages marked in pencil and corresponding list of page numbers at the end.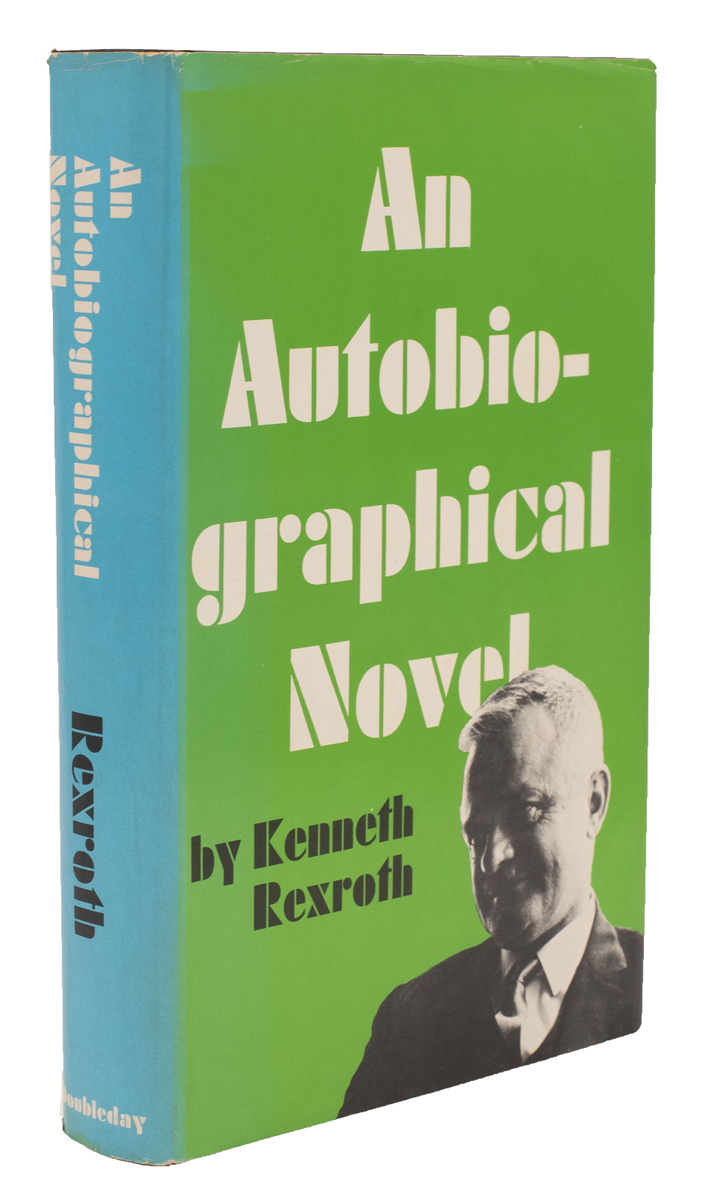 Added to your basket:
An Autobiographical Novel …
First edition, inscribed 'In friendship / for Geoffrey Bridson / Kenneth Rexroth SF June 66'.

An Autobiographical Novel covered the years up to 1927 when Rexroth settled in San Francisco at the age of 22. 'He gives the impression of having "done or written or painted or seen" enough to fill several lifetimes. He has written poems which were to win acclaim upon their publication forty years later, constructed his own mystique for nonobjective painting, met everyone--or almost everyone--in the worlds of avant garde art, radical politics, bootlegging, jazz and Negro nationalism. He shared a jail cell with a Chicago gangster for several months, a blanket with a Navaho princess for several nights, and a hotel room with an Indian revolutionary singer for several weeks' (Kirkus, June 1965).

Bridson had first met Rexroth in 1962 in Washington DC to record an 'amusing think-piece' (Prospero and Ariel). In 1966, Bridson went to San Francisco to record Rexroth for his forthcoming series 'America since the Bomb': 'The special significance of The Beat Generation was discussed by Kenneth Rexroth [in programme 8], who had watched its coming to birth in San Francisco after the Korean War. His Subculture of Secession [programme 20] brought the story of the drop-out up to date, while Beat Poetry – and After examined the nature of the work by which the Beats were best remembered, and its influence on later poetry.'
You may also be interested in...
ACCIDENTS AND ARSON LUBLER, Johannes. 
Tractatus de incendio antehac nunquam editus in quo omnia ac singula ad hanc materiam pertinentia dilucide proponuntur ac succincte deciduntur … omnibus tam in theoria quam praxi versantibus utilissimus, cum indice materiarum copiosissimus. 
Rare second edition of this legal study of fire and its consequences, the only known work of the German jurist Johannes Lubler. 
WITH ADDITIONAL DEVOTIONAL PLATES MAGNON, Jean. 
Les heures du Chrestien, divisées en trois journées; qui sont la journée de la penitence, la journée de la grace, et la journée de la gloire.  Où sont compris les offices, avec plusieurs prieres, avis, reflexions, et meditations, tirées des Stes Escritures, et des Peres de l'Eglise.  Le tout fidelement traduit en vers, et en prose …  Avec un calendrier … 
First edition of this handsomely illustrated collection of prayers and devotions in verse and prose by the French playwright and poet Jean Magnon (1620–1662).  The number of plates in individual copies varies, this copy containing at least two more than those described on OCLC.