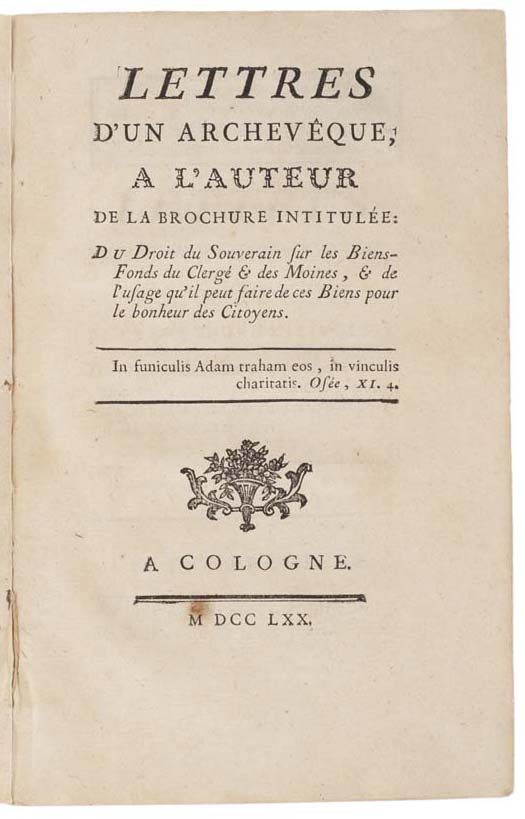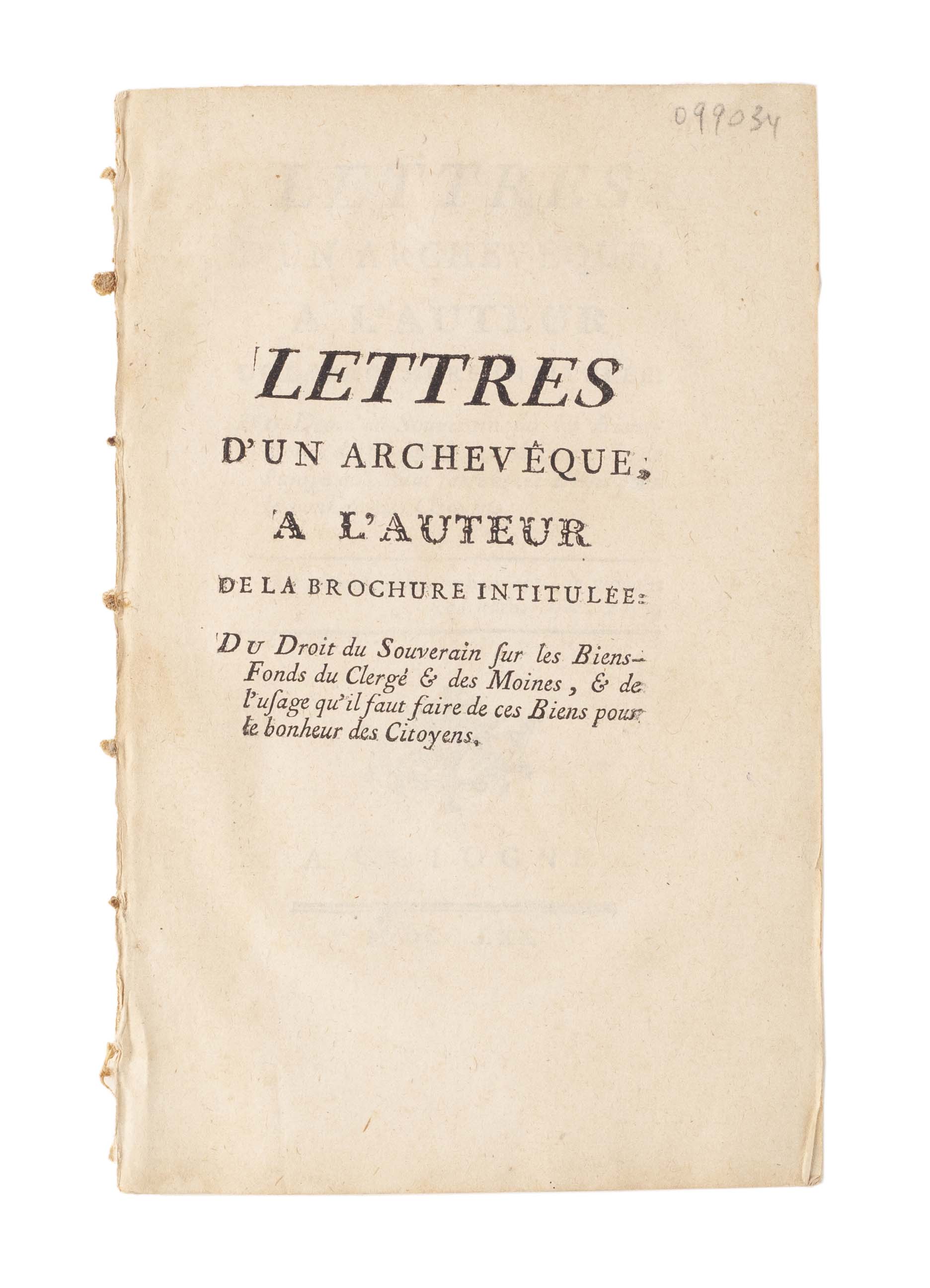 [RICHARD, Charles-Louis.]
Lettres d'un archevêque, a l'auteur de la brochure intitulée: Du droit du souverain sur les biens-fonds du clergé & des Moines, & de l'usage qu'il peut faire de ces biens pour le bonheur des citoyens.
A Cologne, 1770.
8vo, pp. [4], 59, [1 (blank)]; woodcut headpiece on p.1; occasional marking and spotting, and dampstain to gutter of central quires, but otherwise clean; disbound.
£300

Approximately:
US $364
€354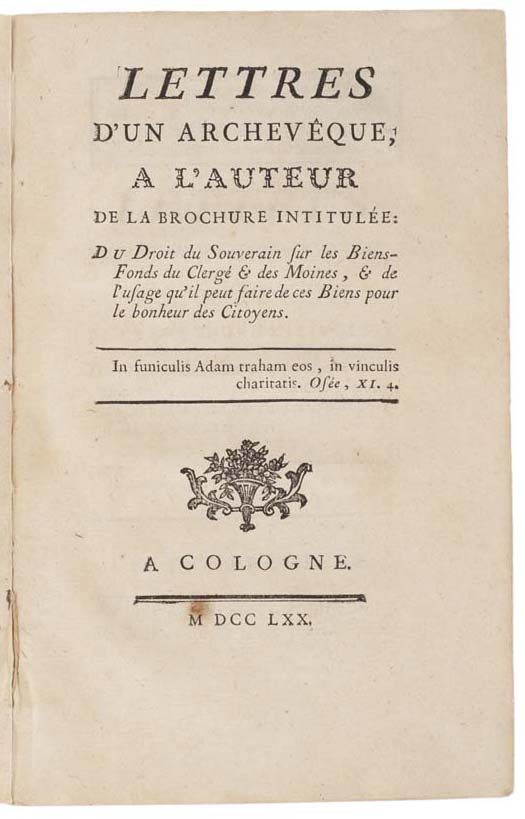 Added to your basket:
Lettres d'un archevêque, a l'auteur de la brochure intitulée: Du droit du souverain sur les biens-fonds du clergé & des Moines, & de l'usage qu'il peut faire de ces biens pour le bonheur des citoyens.
First edition, uncommon, of this response to an anticlerical essay by the Chevalier de Cerfvol by the Dominican theologian and anti-philosophe Charles-Louis Richard (1711–1794). De Cherfvol had argued against the wealth of the clergy, and in particular of the religious orders, and proposed a means in which this could be better put to use for the wider population. Richard, who also wrote against Voltaire and met his end thanks to a Jacobin bullet, goes through de Cherfvol's essay, questioning his claims that the clergy had contributed little to the cultural and intellectual life of France, emphasising the ways in which the Church had provided a moral grounding for the country, and explaining the proper role of religion in society, and the appropriateness of financial (and other) donations to the Church, both from individuals and the state, and of the maintenance of the status of both secular and religious clergy.

Richard was the author of a five-volume Bibliothèque sacrée (1760), works on the history of the ecumenical councils, a number of anti-Voltaire works including Voltaire parmi les ombres, and, shortly before his death, a Parallèle des Juifs qui ont crucifié Jésus-Christ, avec les Français qui ont exécuté leur roi.

Outside continental Europe, OCLC records copies at Columbia, Berkeley Law, and St Paul University, Ottawa.
You may also be interested in...
THE DECLARATION OF INDULGENCE [JAMES II.] 
His Majesties gracious Declaration to all his loving Subjects for Liberty of Conscience. 
A major document in the history of free speech and the first step towards religious freedom in Britain, the 1687 Declaration of Indulgence granted liberty of conscience for all religions, and the freedom 'to meet and serve God after their own way and manner, be it in private houses, or places purposely fired or built for that use'.  It also suspended all penal laws against nonconformism as well as the oath of supremacy required for civil and military office.  It was promulgated (though not accepted) in Scotland on 12 February and in England and Wales on 4 April.  Though it seemed to promise toleration for Dissenters, it was largely intended to pave the way to the appointment of Catholics to prominent positions, and effectively kicked off the train of events that would lead to the Glorious Revolution the following year. 
RITE, POMP, AND VERSE FOR A PAPAL ACCESSION DUBOURGDIEU, Carolus Valesius (Charles de VALOIS).
Alexandro VII Divinitatis nutu delecto Sacrosancta in terris Christi sceptra dignissima manu capessenti ...
Only edition, unrecorded outside Italy, of a symposium of laudatory verses published on the occasion of Fabio Chigi's accession to the Papacy as Alexander VII, with descriptions of the accompanying ritual and pomp. The equestrian triumph and procession, the solemn conferment of papal regalia and insignia such as the triple tiara and mitre, the 'lachrymose' acclamation of the people of Rome are rendered in eye-witness account, complemented with several verse eulogies and a full-page woodcut of the pope's arms, and culminating with poems on the subject of the pope's effigy. Such portrait paintings were executed in many versions and were widely distributed, often given as diplomatic gifts, or acquired as expressions of political allegiance (see the specimen held at the Walters Museum).