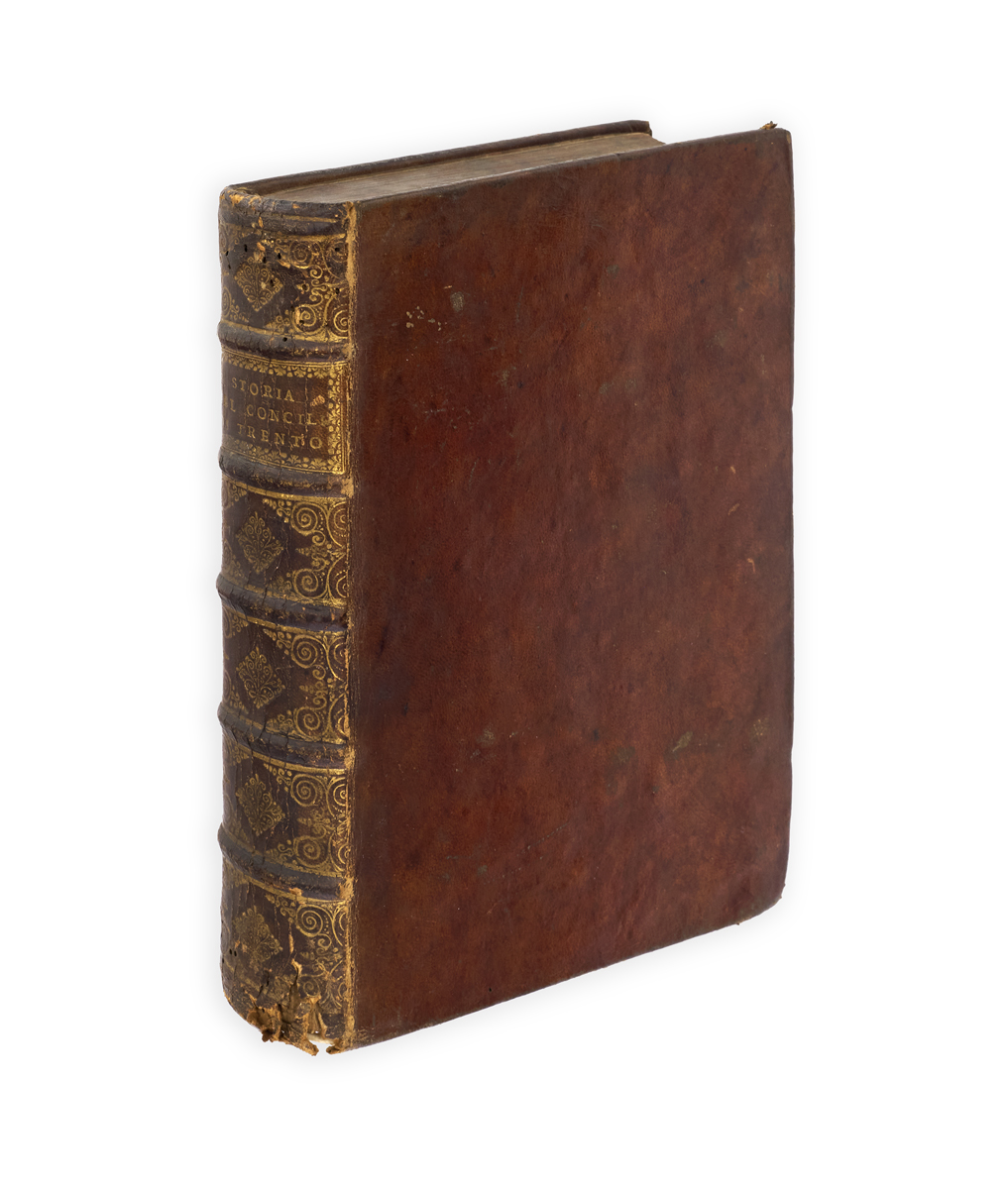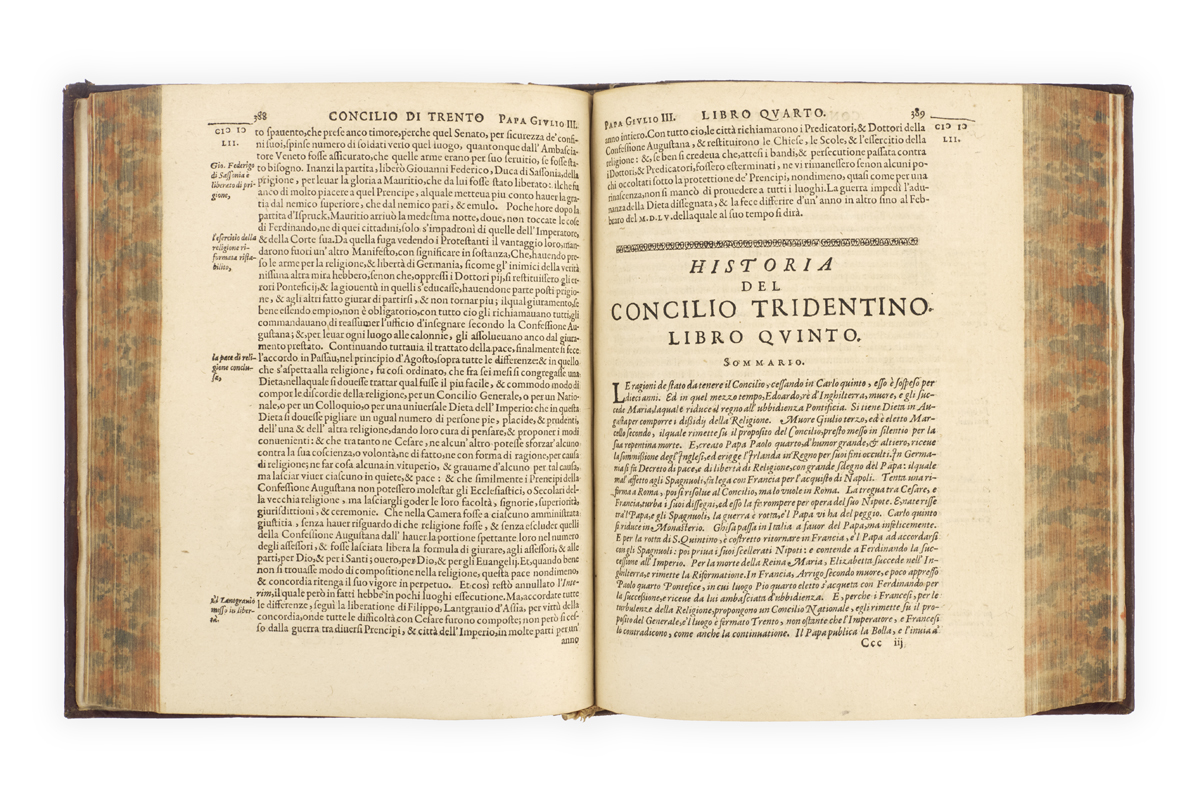 THE TRIDENTINE COUNCIL UNMASKED
[SARPI, Paolo (pseud.).] 'Pietro Soave POLANO'. 

Historia del Concilio Tridentino di Pietro Soave Polano.  Seconda editione, riveduta e corretta dall'Autore. 
Geneva, Pierre Aubert, 1629. 
4to, pp. 2, [2 (blank)], '842' [recte 844], [12]; woodcut dolphin and anchor device to title with the motto 'Festina tarde', woodcut initials; title somewhat foxed with old ink inscription washed, small dampstains to 2Z2 and 5M1; contemporary sheep, spine richly gilt in compartments and lettered directly in gilt, edges mottled green and red; lightly rubbed at extremities, a little worming at foot of spine; ownership inscriptions 'D. Jo. Andreas Guizzj Ecclasiae S.i Jo.i Baptistae Terrae Guardamilij Praepositus, et Vicarius Foraneus Episcopalis, ac S.i Officij Placentiae, Anno 1706, die 2 Junii' and 'G.H. Powell Roma. 1896' to front free endpaper (see below), old shelfmark and catalogue entries pasted to front pastedown.
£450

Approximately:
US $566
€524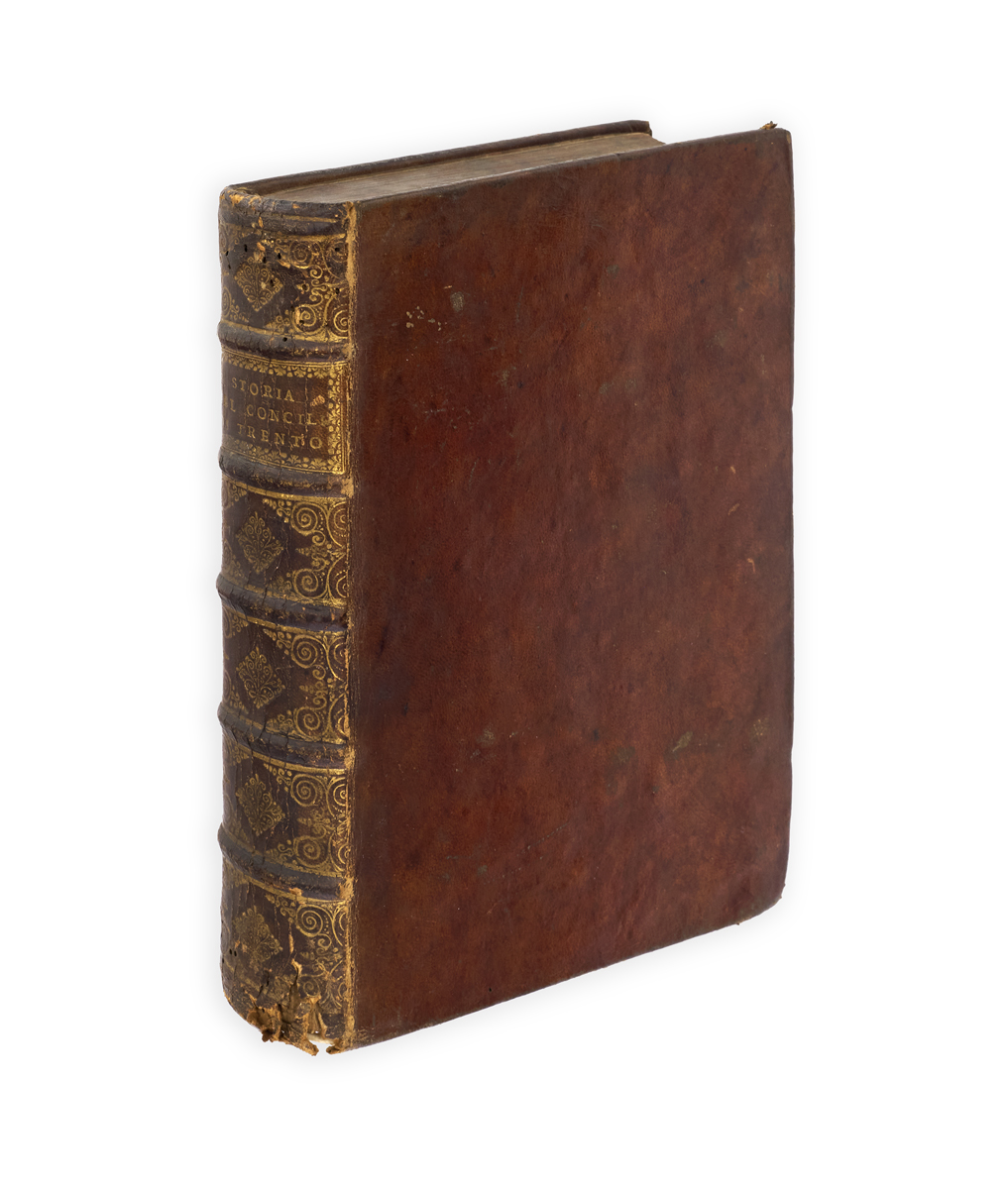 Added to your basket:
Historia del Concilio Tridentino di Pietro Soave Polano.  Seconda editione, riveduta e corretta dall'Autore. 
Second edition, the first to omit the extraneous additions of the 1619 edition introduced by Marco Antonio de Dominis, of the influential and groundbreaking history of the Council of Trent by Paolo Sarpi (1552–1623), described by Milton as 'the great unmasker'. 

Sarpi's 'radical views on the relationship between Church and state were formed in the bitter contest between the Venetian Republic and the Papacy, when he acted as an official advocate for the former's interests; he was excommunicated (and barely escaped assassination) and his writings were condemned, but he remained an important and productive figure in Venice until his death in 1623' (Parkin, 'Italian Printing in London' in Foreign-language Printing in London (2022), pp. 151-2).  His Historia was first printed in 1619 in London, where an English circle had formed around him, briefly hoping to 'convert' Venice to Protestantism during the Venetian Interdict controversy. 

Marco Antonio de Dominis, Italian exile and former Archbishop of Spalatro (Split), had been asked to edit Sarpi's Italian manuscript, and made several revisions to the text, the most prominent being the addition of a vehemently anti-papal subtitle claiming that the work would reveal the Curia's obstruction of the truth and of papal reform, and an equally outspoken dedication to King James I, whom he praises as a true defender of the faith. 

In the following years there appeared translations in English and Latin, both facilitated by the publisher of the editio princeps John Bill (or 'Giovanni Billio'), as well as versions French and German, but it was not until 1629 that there appeared a second Italian edition.  Published in Geneva, the work appears to have been facilitated by Sarpi's friendship with the Geneva-based Jean (Giovanni) Diodati, a Calvinist theologian and erstwhile translator of the Bible into Italian who was also the author of the French translation of Sarpi's Historia, published in Geneva in 1621. 

Although the statement on the title-page suggesting that the 1629 edition was 'revised and edited' by the author is not strictly speaking true, the second edition does omit de Dominis's unsanctioned subtitle at the private request of Sarpi, and is therefore described by Ranke as 'the first correct edition of the text'. 

Provenance: 
1.  Giovanni Andrea Guizzi, vicar of the church of San Giovanni Battista in Guardamiglio, near Piacenza. 

2.  The English bibliographer and bibliophile George Herbert Powell (1856–1924), author of Excursions in Libraria (1895) and a collection of bibliographical notes. 

BM STC Italian, pp. 654-5, USTC 5027770.  Melzi III 73.  This edition not in Brunet V (see col. 141 for the first edition).  See Lievsay, Venetian Phoenix: Paolo Sarpi and some of his English friends (1606–1700) (1973), pp. 50-53. 

You may also be interested in...