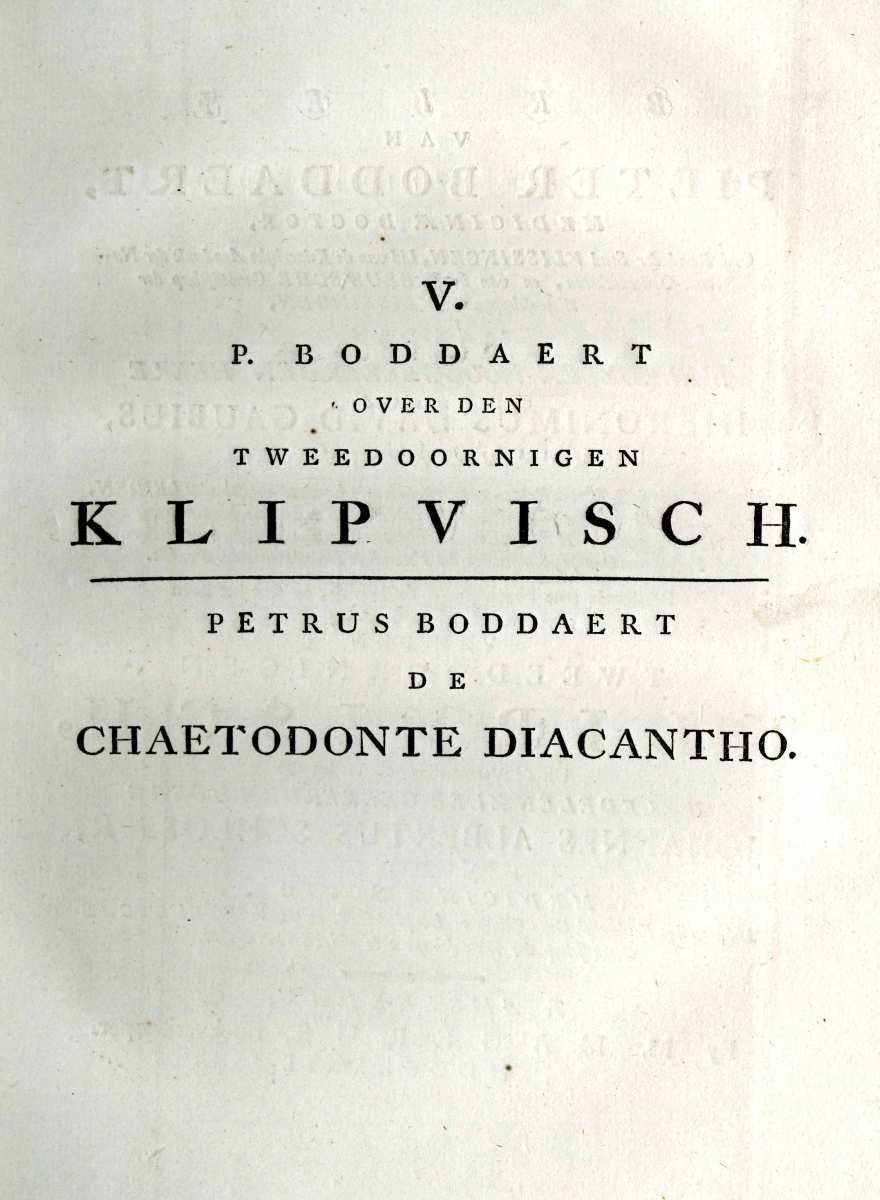 [SCHLOSSER, Johann Albert]. BODDAERT, Pieter.
Epistola ad … Hier. Dav. Gaubium … De chaetodonte diacantho, descripto atque accuratissima icone illustrata ex museo … Johannis Alberti Schlosseri …
Amsterdam, apud M. Magerum, 1772.
4to, pp. 43, [1], printed in Dutch and Latin on facing pages, with 1 folding engraved plate; a very good copy, printed on thick paper; bound in recent marbled wrappers with printed label on front cover.
£675

Approximately:
US $885
€754
First and only edition of Boddaert's description of the Royal Angelfish found in the Schlosser natural history cabinet. This is the first monograph on the Royal Angelfish (and its first illustration), a now common species of coral fish in the Pacific and Indian Ocean.

H. O. Gaubius was a physician from Leiden.

Nissen, Zoologische Buchillustration, 436; Cobres 128.
You may also be interested in...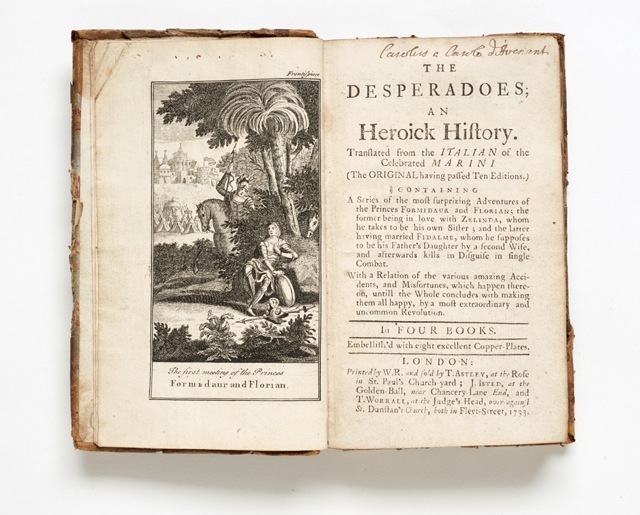 MARINI, Giovanni Ambrogio.
The Desperadoes; an heroick History. Translated from the Italian of the celebrated Marini (the Original having passed ten Editions.) Containing a Series of the most surprizing Adventures of the Princes Formidaur and Florian … In four Books. Embellish'd with eight excellent Copper-Plates.
First and only edition in English of Le gare de' disperati (1644), the second of three romances by Marini (1596-1668). Inevitably, 'It was necessary to omit many Things that were contrary to our Morals; to Decency, and to the Purity of the English Tongue …'. But the general scheme of events is the same as the original, and is outlined on the title-page: 'A Series of the most surprizing Adventures of the Princes Formidaur and Florian; the former being in love with Zelinda, whom he takes to be his own Sister; and the latter having married Fidalme, who he supposes to be his father's Daughter by a second Wife, and afterwards kills in Disguise in single Combat. With a Relation of the various amazing Accidents, and Misfortunes, which happen thereon, until the Whole concludes with making them all happy, by a most extraordinary and uncommon Revolution.'
PRICED CATALOGUE OF THE DICKENS PICTURE SALE [DICKENS, Charles.]
Catalogue of the Beautiful Collection of modern Pictures, water-colour Drawings, and Objects of Art, of Charles Dickens deceased: which (by Order of the Executors) will be sold by Auction, by Messrs. Christie, Manson & Woods, at the great Rooms, 8, King Street, St. James's Square, on Saturday, July 9, 1870, at one o'clock precisely. May be publicly viewed three Days preceding, and Catalogues had, at Messrs. Christie, Manson and Woods' Offices …
Original edition. So great was the interest in this famous sale that a facsimile of the catalogue was issued by Field and Tuer in the same year.