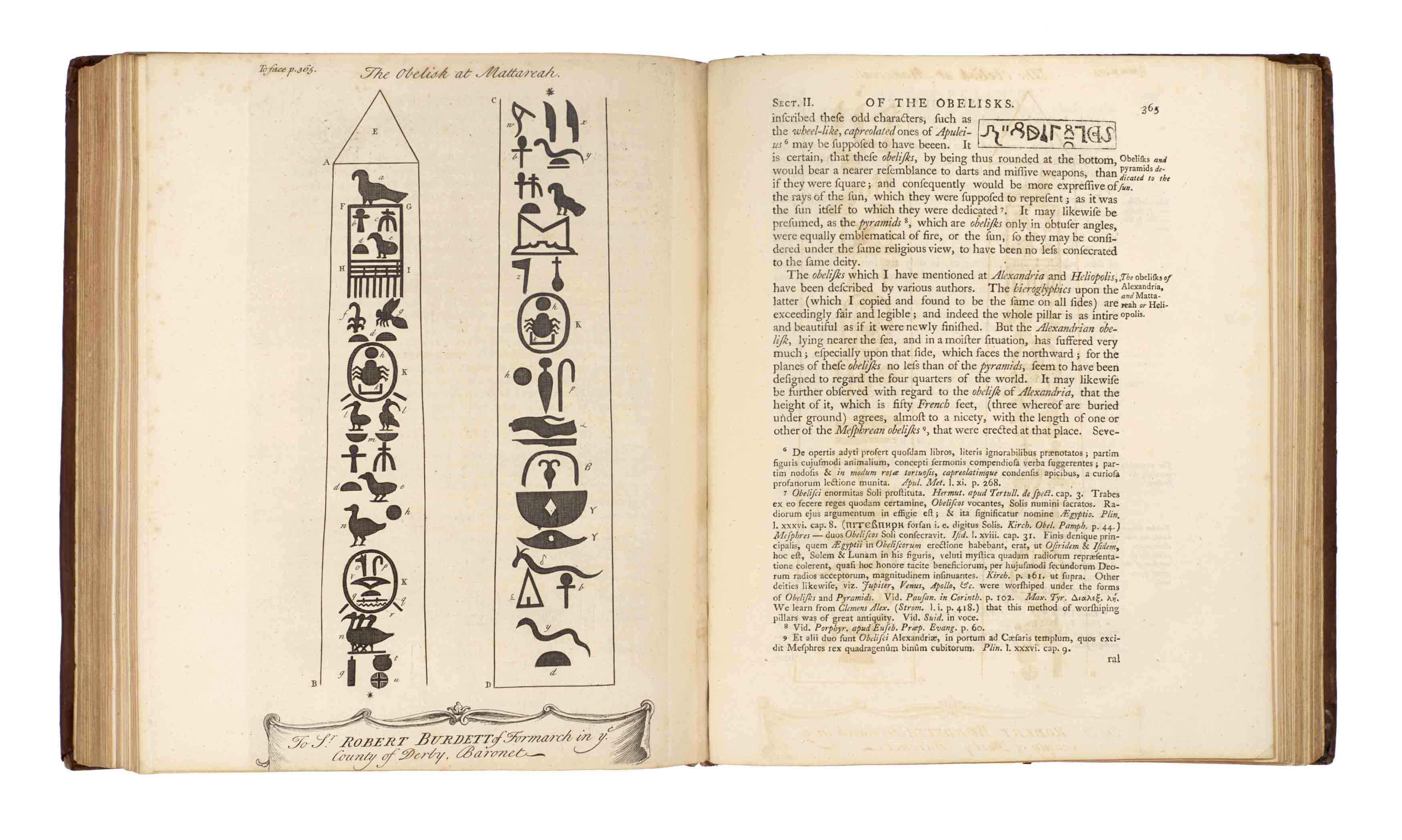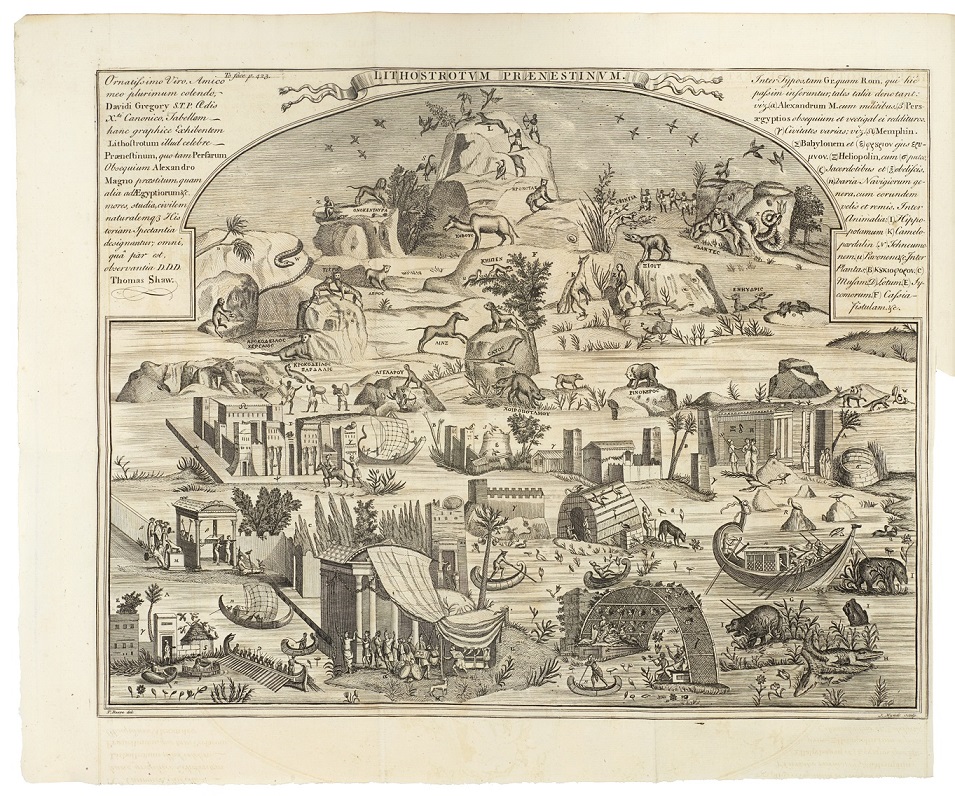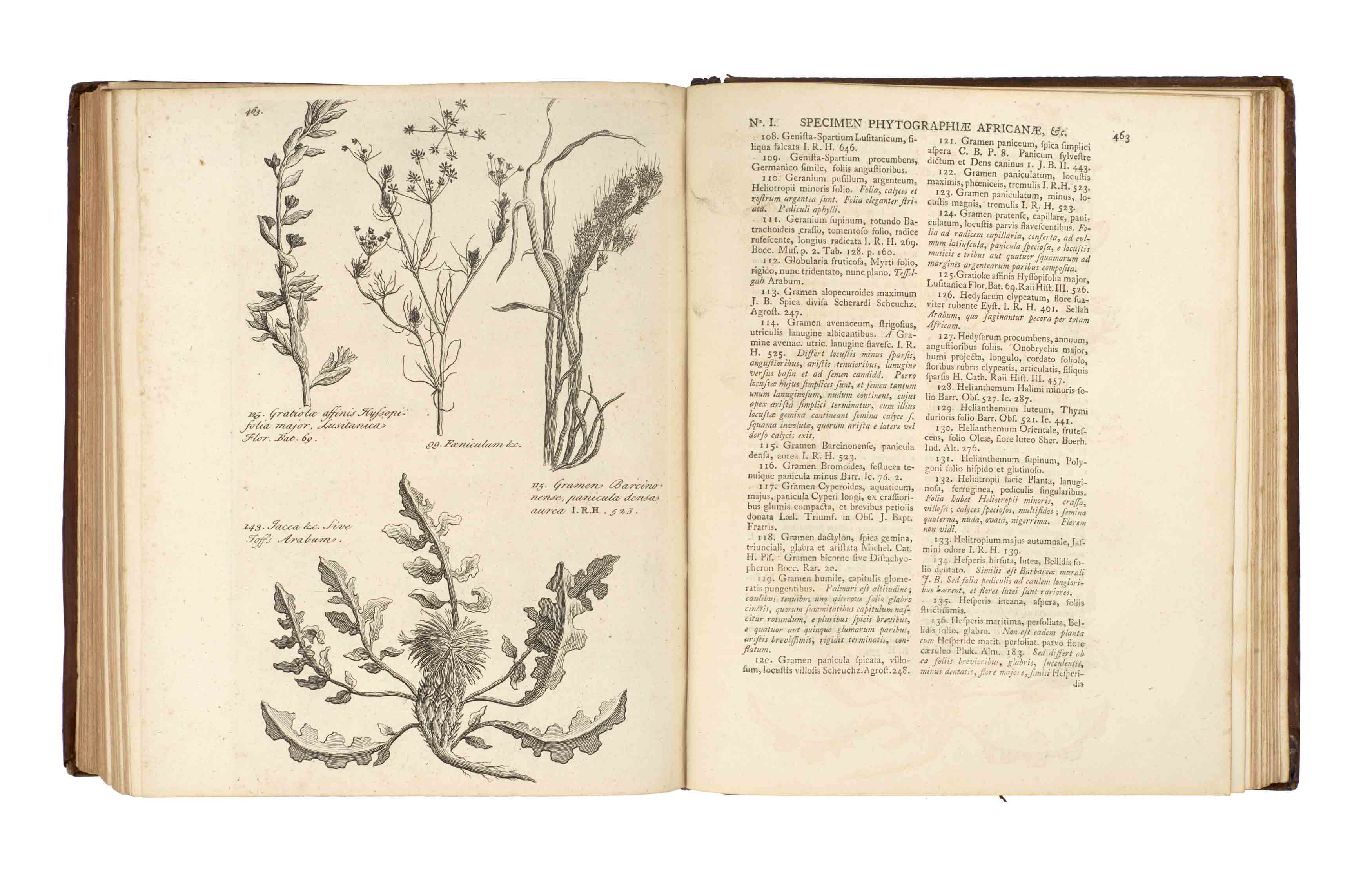 SHAW, Thomas.
Travels, or observations relating to several parts of Barbary and the Levant, illustrated with cuts, the second edition, with great improvements.
London, A. Millar and W. Sandby, 1757.
4to, pp. v, [2], vi-xviii, [2], 513, [1], with 15 maps (of which 9 folding) and 23 plates (of which 3 folding); copper-engraved ornaments and initials; very slight spotting, occasional minor tears at hinges of plates and maps (one repaired), a few plates and maps insubstantially trimmed; contemporary British speckled calf, spine gilt-ruled in compartments, gilt red morocco lettering-piece in one, board-edges roll-tooled in gilt, edges speckled red; a few slight scuffs, corners lightly bumped, endcaps chipped with a short split to upper joint, minor loss to lettering-piece.
£1200

Approximately:
US $1675
€1410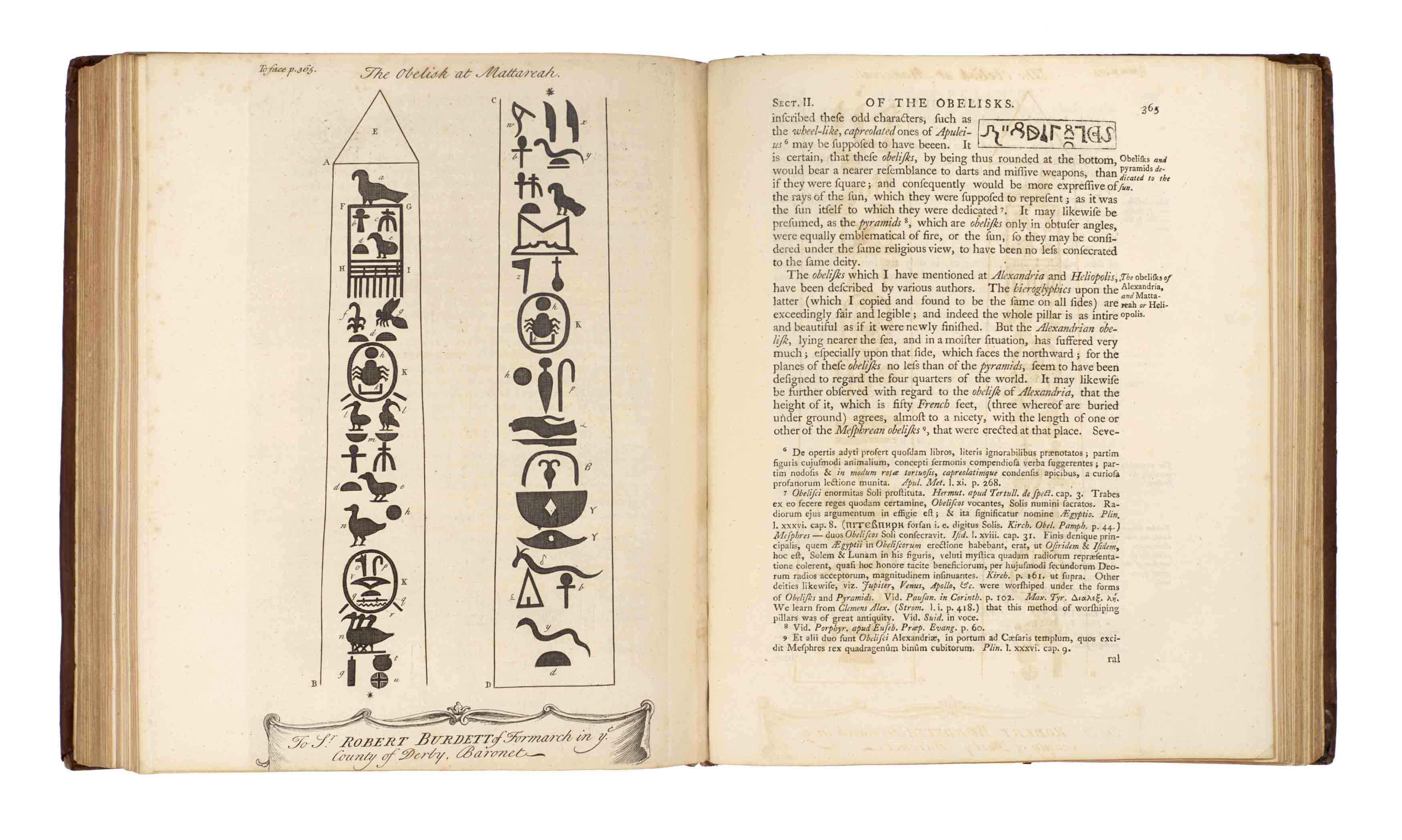 Added to your basket:
Travels, or observations relating to several parts of Barbary and the Levant, illustrated with cuts, the second edition, with great improvements.
'Second and most valued edition' (ODNB) of Shaw's observations of North Africa and the Near East. Serving as Chaplain to the English factory at Algiers from 1720 to 1733, Thomas Shaw (1694–1751) travelled extensively in Egypt, Palestine, Cyprus, and North Africa, gathering extensive observations on local culture, antiquities, geography, and natural history. On his return to England he became a doctor of divinity and a fellow of the Royal Society in 1734, publishing his Travels in 1738, dedicated to George II and acclaimed for its accurate descriptions, fine plates, and detailed maps. The work proved successful and, when appointed principal of St Edmund Hall in 1740, Shaw used the profits of the publication to restore the north range of the front quadrangle of the college, at a cost of about £400. Though published posthumously, Shaw prepared this second edition before his death, including for the first time two controversial supplements of 1746 and 1747.

Highly esteemed by Edward Gibbon, Thomas Dibdin, and many others since, 'the valuable information ... which his travels contain, his habit of giving a number of toponyms in Arabic characters, the care he took to copy Roman inscriptions in North Africa and hieroglyphics in Egypt, and finally, the exceptionally good plates and maps in his work, all entitled Shaw to a place among the most observant and reliable visitors to the east' (Hamilton).

ESTC T114688; not in Atabey or Blackmer; cf. Alastair Hamilton, Europe and the Arab World, p. 120 ff.
You may also be interested in...
[WOEIRIOT de Bouzey, Pierre (engraver).] CLÉMENT de Treille, Nicolas.
Austrasiae reges et duces epigrammatis.
First edition of a scarce collection of portrait medallions of the kings of Austrasia and dukes of Lorraine, from Theuderic I to Charles III. A native of Lorraine, Pierre Woeiriot de Bouzey (1531–1596) practised as a goldsmith in Lyons before moving into painting and sculpture and becoming one of the most important engravers in sixteenth-century France. The sixty-three splendid portrait medallions in the present work are testament to Woeiriot's subtle attention to detail and finish, qualities also shown in his medals of Catherine de' Medici, Simon Costière, and Charles III of Lorraine (1572). He executed the present plates, of which many are likely derived from coinage and commemorative medals, around 1572-3: the dedication is dated 1573, but the death of Nicolas Clement delayed publication until 1591 when the manuscript and plates were rediscovered by Sieur de Blondefontaine and published.
MARKHAM, Gervase.
Markhams Maister-Peece, containing all Knowledge belonging to the Smith, Farrier, or Horse-Leech, touching the Curing of all Diseases in Horses, drawne with great Paine, and most approved Experience, from the publick Practise of all the forraigne Horse-Marshals in Christendome, and from the private Practise of all the best Farriers of this Kingdome, being divided into two Books, the first containing all Cures physical, the second all belonging to Chyrurgery, with an Addition of 160 principall Chapters, and 370 most excellent Medicines, never written of nor mentioned in any Author whatsoever, together with the true Nature, Use, and Quality of every simple spoken of through the whole Worke, now the sixt time newly imprinted, corrected, and augmented, with above thirty new Chapters, and above forty new Medicines that are most certaine and approved, and heretofore never published, which you shall finde noted thus, all which never was before made knowne, but concealed in the Authors Breast for his owne Credit.
Sixth edition of the first work on farriery by an Englishman since Blundeville's translation of Grisone. Published after his Discourse of Horsemanshippe (1593) and Cavelarice (1607), Gervase Markham (1568?-1637) likely wrote Maister-Peece (1610) to satisfy a popular demand for a work on cures for horses, though much of the material is unscrupulously drawn from Blundeville. Markham's prolific output of equestrian books, many covering similar subjects, led some to suggest he was writing purely for profit, Smith to dismiss him as a charlatan, and the Stationers' Company to force from him an agreement 'hereafter never to write any more book or books to be printed of the deseases or Cures of any Cattle, as Horse, Oxe, Cowe, Sheepe, Swine, Goates etc.'.