SHERIDAN, Richard Brinsley.
The Speech … in the House of Commons, (8th December 1802) on the Motion for the Army Establ shment (sic, the i has dropped out) for the ensuing Year.
London: Printed for John Stockdale … 1802
8vo., pp. 22, wanting the final advertisement leaf (of two), else a very good copy, disbound.
£75

Approximately:
US $93
€82
Added to your basket:
The Speech … in the House of Commons, (8th December 1802) on the Motion for the Army Establ shment (sic, the i has dropped out) for the ensuing Year.
First edition of Sheridan's impressive speech on the army estimates, in support of funding precautions against Buonaparte's aggression – 'the crisis in which we are placed … so big with tremendous importance, so pregnant with mighty difficulties, so full of apprehensions and dangers ….' 'I have heard instances, Sir, where mounting wooden guns upon a fort has produced the same security as if there had been real ones. But unluckily in this instance for us, by our constitutional form of proceeding, our whole force must be known: we cannot pass upon an enemy wooden guns, and an army at Brentford. If we vote no force, an enemy will know we have none ….'

This was one of the most important speeches of Sheridan's parliamentary career. Lord Limerick reported that his talents and patriotism were complimented by every side of the House, although his own party's leader, C. J. Fox, while acknowledging that he will doubtless 'be right in the end', still worried that the speech had given concern to his friends and satisfaction to his enemies.
You may also be interested in...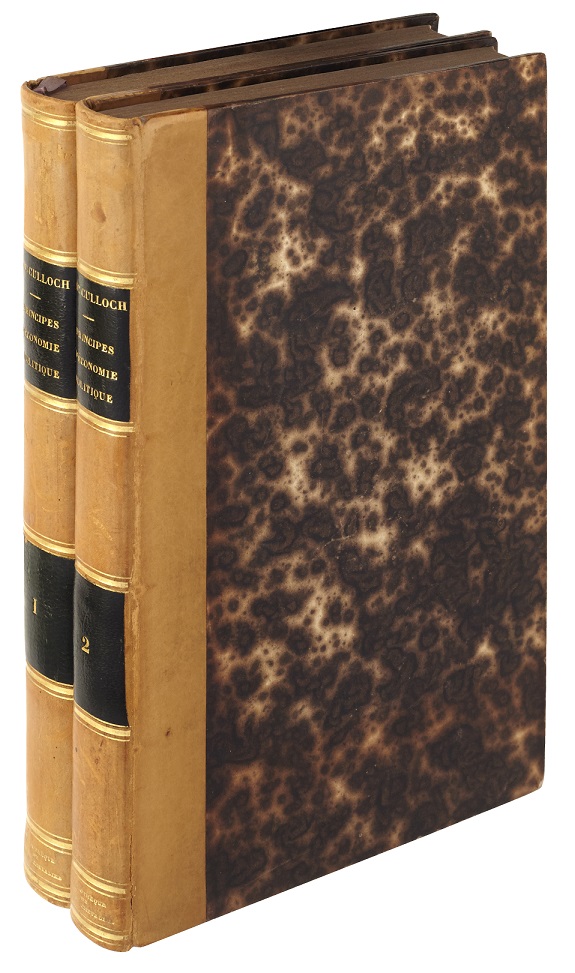 FROM THE LIBRARY OF MICHEL CHEVALIER MCCULLOCH, John Ramsay.
Principes d'économie politique suivis de quelques recherches relatives à leur application et d'un tableau de l'origine et du progrès de la science.
First and only complete French translation, an association copy signed by the translator for the historian and member of the Académie française Pierre-François Tissot, and afterwards in the library of the economist and statist Michel Chevalier, who like Tissot held a chair at the Collège de France.
selective physiocracy ABEILLE, Louis Paul.
Principes sur la liberté du commerce des grains.
First edition. Louis Paul Abeille, inspector of manufactures and later secretary of the bureau of commerce, was initially an early supporter of Quesnay and an ardent Physiocrat for many years. He pleads here for free trade in corn, arguing that this would lead to increased production, increased revenue and thereby greater salaries. From the late 1760s Abeille, who had embraced almost exclusively the liberal, free-market aspects of physiocratic doctrines, became increasingly less involved with the group of economistes close to Quesnay, prepared to accept his all-encompassing philosophy. Like Condillac, whose fundamental belief in probability as a tool for understanding economic dynamics grated with Quesnay's assumptions, Abeille was eventually ejected from the inner circle of Physiocrats.