SOLOGUB, Fedor Kuzmich, pseud. [i.e. Fedor Teternikov], translator. VOLTAIRE, François Marie Arouet de.
Roman. Perevod s nemetskago… Fedora Sologuba [Candide, or optimism. A novel. Translated from the German… by Fyodor Sologub].
St Petersburg, "Panteon", 1909.
Small 8vo, pp. [3]-154, with engraved frontispiece portrait of Voltaire; a very good copy in the original printed wrappers, dust-soiled.
£500

Approximately:
US $606
€577
Added to your basket:
Roman. Perevod s nemetskago… Fedora Sologuba [Candide, or optimism. A novel. Translated from the German… by Fyodor Sologub].
First edition, very rare, of Sologub's translation of Candide. A second edition was published in 1919. The leading Symbolist poet, short-story writer, novelist and dramatist, dubbed by Volynsky 'a kind of Russian Schopenhauer', was one of the most famous writers of his day. He also translated a great deal of poetry into Russian, particularly Verlaine, as well as works by Oscar Wilde, Balzac, and Maupassant.

OCLC records a copy at Yale only.
You may also be interested in...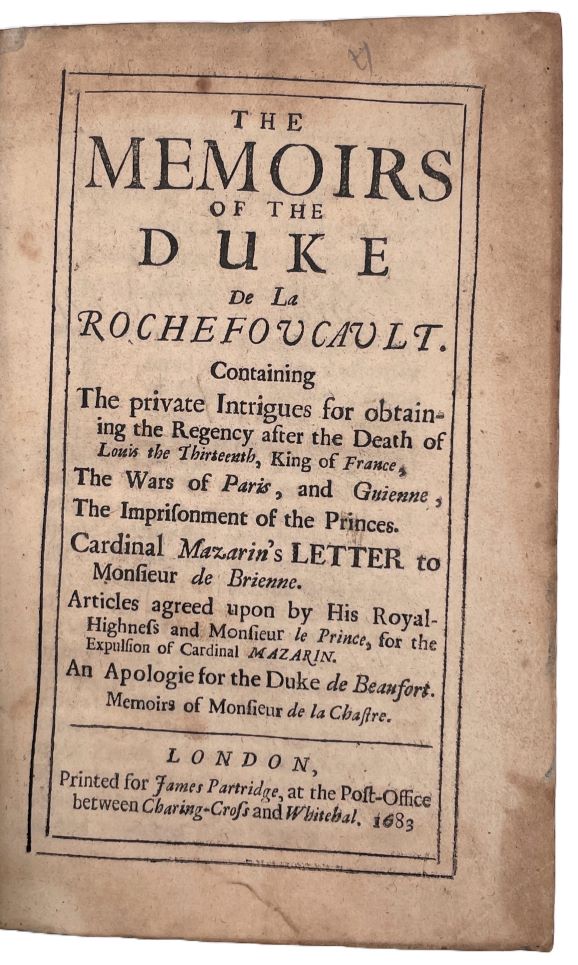 LA ROCHEFOUCAULD, François, Duc de.
The Memoirs of the Duke de La Rochefoucault. Containing the private Intrigues for obtaining the Regency after the Death of Louis the Thirteenth, King of France, the Wars of Paris, and Guienne, the Imprisonment of the Princes. Cardinal Mazarin's Letter to Monsieur de Brienne. Articles agreed upon by His Royal Highness and Monsieur le Prince, for the Expulsion of Cardinal Mazarin. An Apologie for the Duke de Beaufort. Memoirs of Monsieur de la Chastre.
First edition in English, translated from Mémoires de M. D.L.R. sur les brigues à la mort de Louys XIII (1662). At court in his earlier years La Rochefoucauld (1613-1680) took an active part in the cabals and rivalries that surrounded Richelieu and Louis XIII, and subsequently in the Fronde rebellion against Mazarin. His political activities came to an end after he was wounded in the fighting in Paris in 1652. Living in retirement he began to write his Mémoires, not so much an autobiography as an account of the court intrigues and a portrait of his fellow aristocrats. Mémoires circulated privately among his friends until its unauthorized printing in 1662 brought the author both fame and trouble.
A FICTIONAL TRAVELLER [PRÉVOST, Antoine, Abbé.]
Voyages du capitaine Robert Lade en differentes parties de l'Afrique, de l'Asie et de l'Amerique. Contenant l'histoire de sa fortune, et ses observations sur les colonies et le commerce des Espagnols, des Anglois, des Hollandois, etc. Ouvrage traduit de l'Anglois.
First edition, a lovely copy, of this travel journal attributed to the fictional English traveller Robert Lade but in fact composed from various genuine sources by the French writer Abbé Prévost (1697–1763), famous for his novel Manon Lescaut, and for his multi-volume collection of travel accounts Histoire générale des voyages. 'The account contains a lengthy description of affairs in the infant colony of Georgia, founded only a decade earlier, evidently drawn from English sources' (Howgego).