SOLOGUB, Fedor Kuzmich, pseud. [i.e. Fedor Teternikov], translator. VOLTAIRE, François Marie Arouet de.
Roman. Perevod s nemetskago… Fedora Sologuba [Candide, or optimism. A novel. Translated from the German… by Fyodor Sologub].
St Petersburg, "Panteon", 1909.
Small 8vo, pp. [3]-154, with engraved frontispiece portrait of Voltaire; a very good copy in the original printed wrappers, dust-soiled.
£500

Approximately:
US $688
€590
Added to your basket:
Roman. Perevod s nemetskago… Fedora Sologuba [Candide, or optimism. A novel. Translated from the German… by Fyodor Sologub].
First edition, very rare, of Sologub's translation of Candide. A second edition was published in 1919. The leading Symbolist poet, short-story writer, novelist and dramatist, dubbed by Volynsky 'a kind of Russian Schopenhauer', was one of the most famous writers of his day. He also translated a great deal of poetry into Russian, particularly Verlaine, as well as works by Oscar Wilde, Balzac, and Maupassant.

OCLC records a copy at Yale only.
You may also be interested in...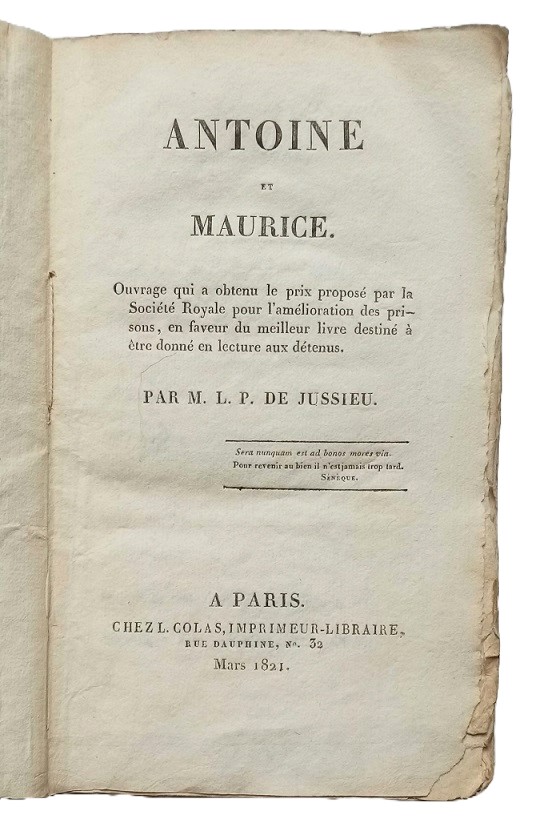 JUSSIEU, Laurent Pierre de.
Antoine et Maurice. Ouvrage qui a obtenu le prix proposé par la Société Royale pour l'amélioration des prisons, en faveur du meilleur livre destiné à être donné en lecture aux détenus.
First edition, rare, of this unsurprisingly moralising novel by the writer, geologist, and natural historian Laurent Pierre de Jussieu (1792-1866), written in response to a competition held by the Royal Society of the Improvement of Prisons to find the best book to circulate amongst inmates.
An 1837 note in the Edinburgh Medical and Surgical Journal explains: "Among other means of effecting this object [the reform and moral improvement of prisoners], one of the most effectual was conceived to be the preparation and distribution among the prisoners, of books, the perusal of which might impart an abhorrence of vice, and create a taste for virtue; and books of this description were soon composed by able writers, and the attempt is represented to have been attended with the happiest effects. At the head of the writings now mentioned, M. Parent Duchatelet informs us public opinion had long placed two productions of M. Jussieu, one entitled Simon of Nantua, the other Antony and Maurice". And indeed the novel, detailing the contrasting fortune of Antoine and the thief who led him into a life of crime, Maurice, was popular, seeing several editions not only in French but also in German. It remains unclear, of course, quite how enthusiastically it was received by its intended audience.
OCLC records no copies of any edition outside Continental Europe.
PATRIOTIC PARKS OF PARIS ROBINSON, W.
The Parks and Gardens of Paris, considered in Relation to the Wants of other Cities and of public and private Gardens, being Notes on a Study of Paris Gardens … third Edition, illustrated.
Third edition of an attractively illustrated guide to the parks and gardens of Paris. The gardener and horticulturalist William Robinson (1838–1935) combines descriptions of the green spaces of the city with observations on the methods of their maintenance, and compares French horticulture with its English equivalent. Though he staunchly insists on English superiority (ODNB notes that he was a 'belligerent and capricious character' whom Lutyens found 'boring and cantankerous'), Robinson acknowledges the particular skills of French gardeners in fruit-culture, which he advocates adopting in England.