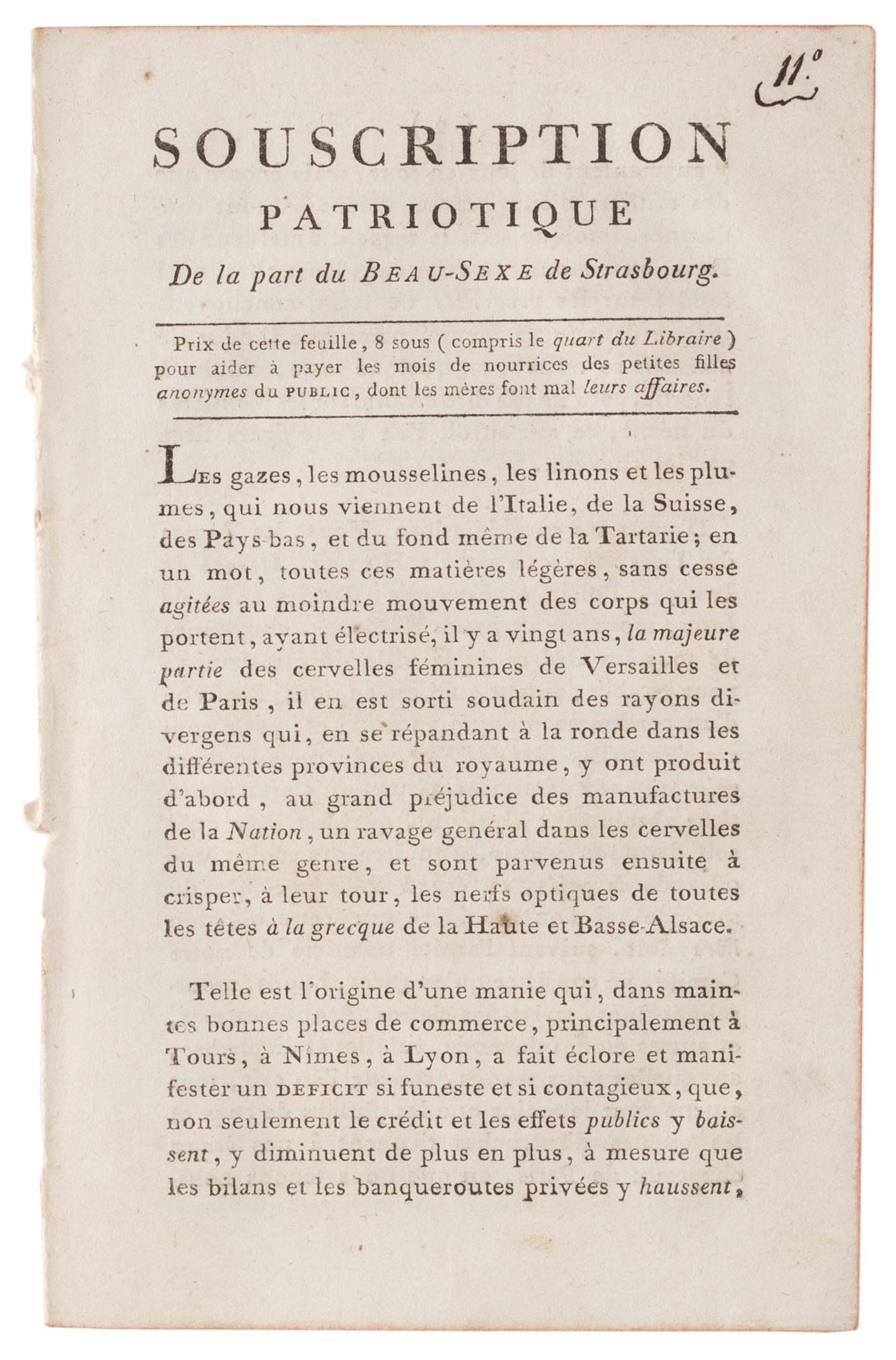 [STRASBOURG.]
Souscription patriotique de la part du beau-sexe de Strasbourg.
[S.l., s.n., 1789?.]
8vo, pp. 8; caption title; small holes from previous sewing; very good; disbound.
£165

Approximately:
US $200
€190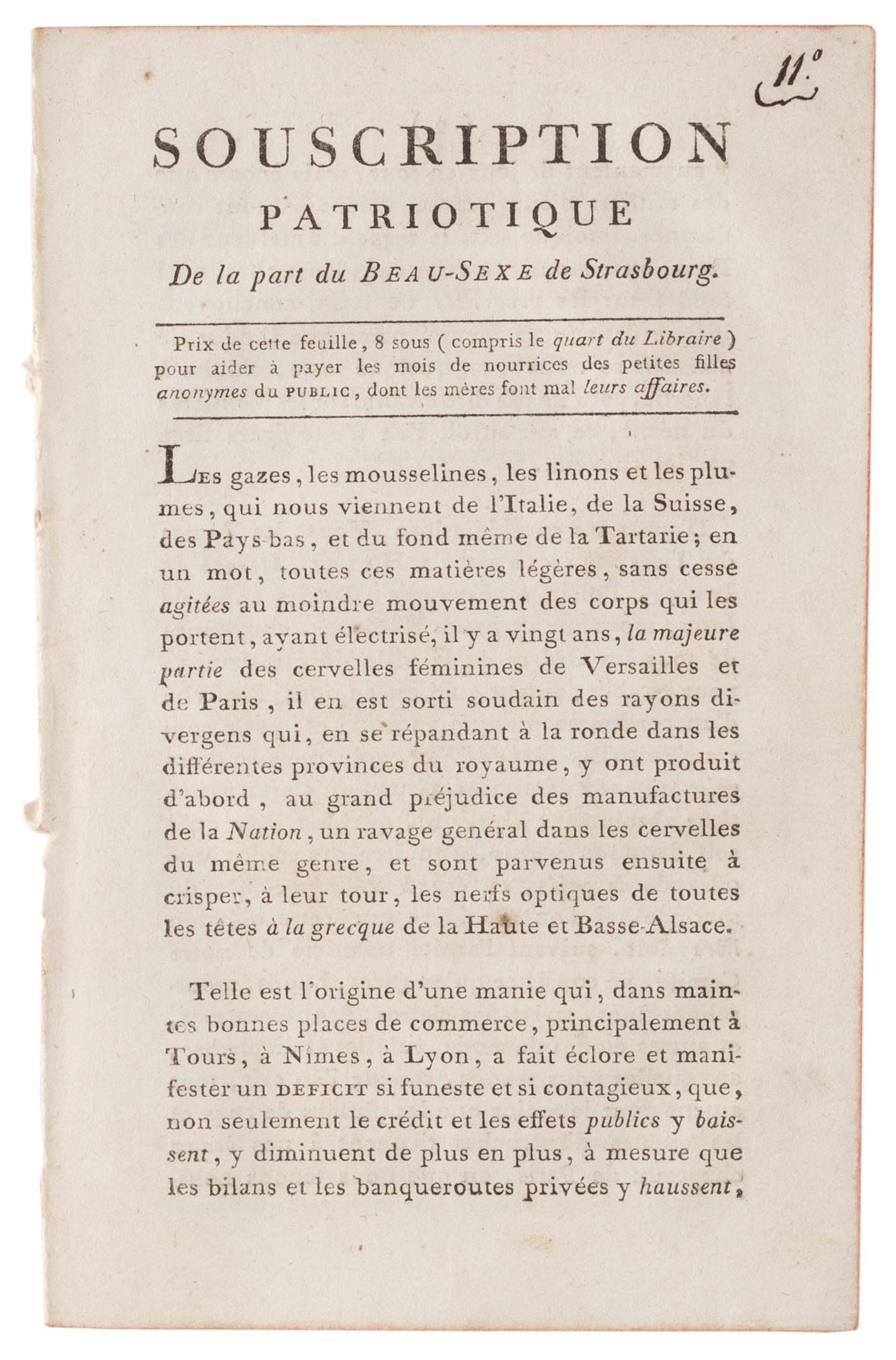 Added to your basket:
Souscription patriotique de la part du beau-sexe de Strasbourg.
Rare first edition of this entertaining satirical piece on women's clothing, published in the aftermath of the French Revolution. After complaining that the recent craze for 'gauze, muslin, linen and feathers' had brought the country to its knees, the text describes how the patriotic women of Strasbourg had decided to surrender their diaphanous fashionable clothing to be put to the use of la patrie. All donations were to be stored at the local stud farm and were to be used, for example, to 'cover' the national debt, to protect walkers from insects sucking their patriotic blood, and to dress scarecrows. Red, white and blue feathers were to be made into patriotic plumes. The most generous donors were to have their silhouettes published in the nation's newspapers, and statues of themselves, made from pink papier-mâché, erected in the town hall.

OCLC records only one copy in the UK (BL) and one in the US (University of Iowa).
You may also be interested in...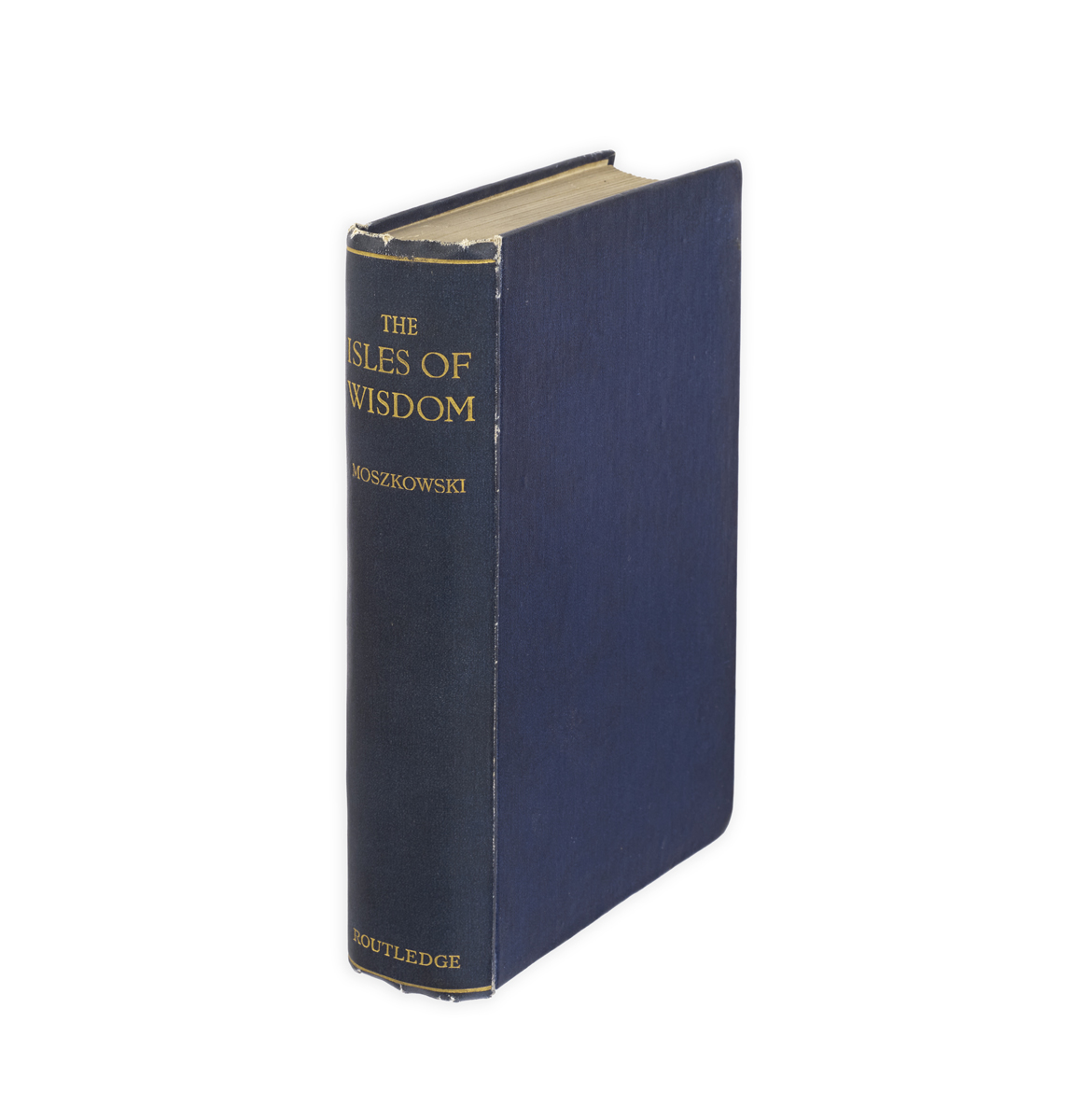 A UTOPIA WITH MOBILE PHONES
'ONE WOULD HAVE TO TAKE A LOT OF COCAINE TO MAKE THIS SITUATION MOSZKOWSKI, Alexander [and H.J. STENNING (trans.).] 
The Isles of Wisdom. 
First English edition of Alexander Moszkowski's dystopian satire.  Moszkowski imagines a visit to a series of South-East Asian islands which each subscribe unreservedly to a philosophical school of thought.  These utopias are absurd: people's notions of philosophical purity prevent them from appreciating life's variety, and even emotions, like love, which are non-philosophically useful.  Contradictions ensue: on the Platonic island the young read Homer and Hesiod to learn classical languages whilst being 'taught to despise the deeds of which the poets tell' as unproductive.  Utopias therefore eliminate the inefficiencies and experiences which make life enjoyable, thus, 'nine-tenths of all philosophy whatsoever is sheer nonsense'.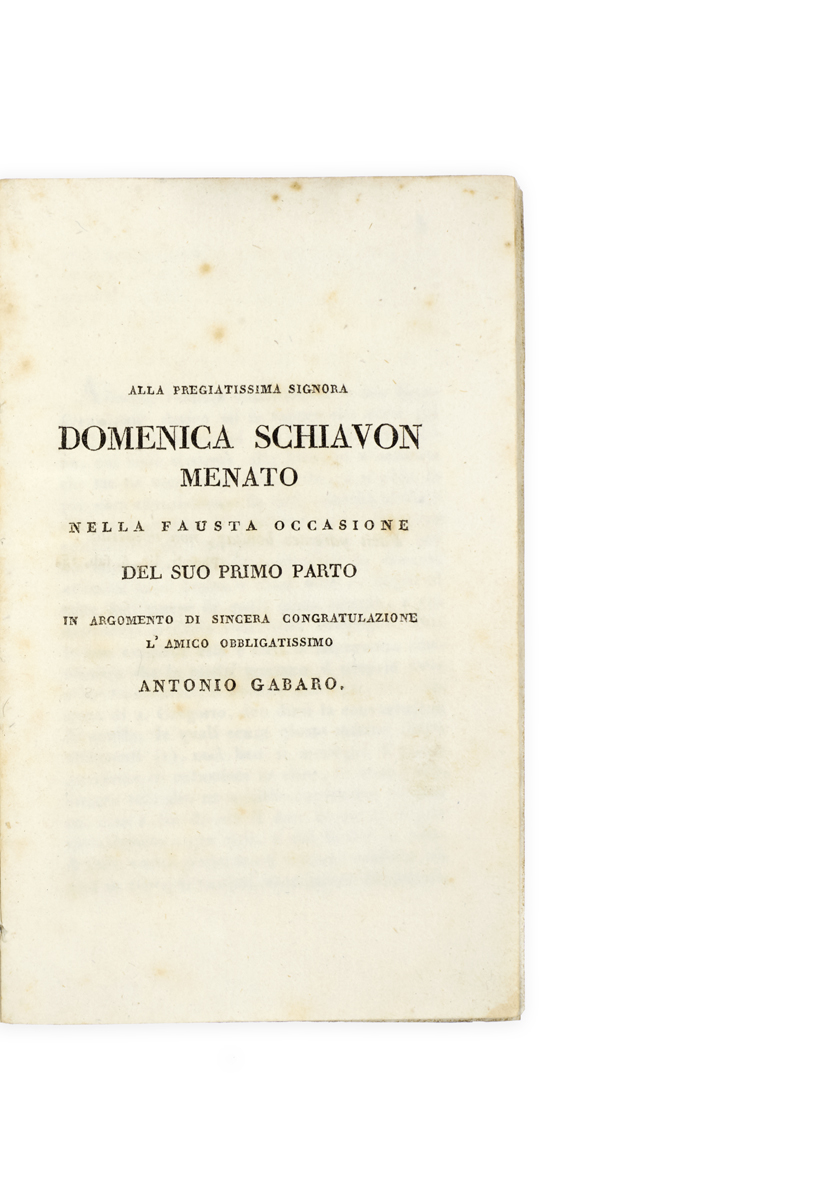 BREAST PRACTICE GABARO, Antonio. 
Alla pregiatissima Signora Domenica Schiavon Menato nella fausta occasione del suo primo parto, in argomento di sincera congratulazione l'amico obbligatissmo Antonio Gabaro. 
First and only edition, very rare, of a scathing and sexist condemnation of 'inhuman' women who do not breastfeed their own children, dedicated to Domenica Schiavon Menato, 'an example to all women', on the occasion of the birth of her first child.