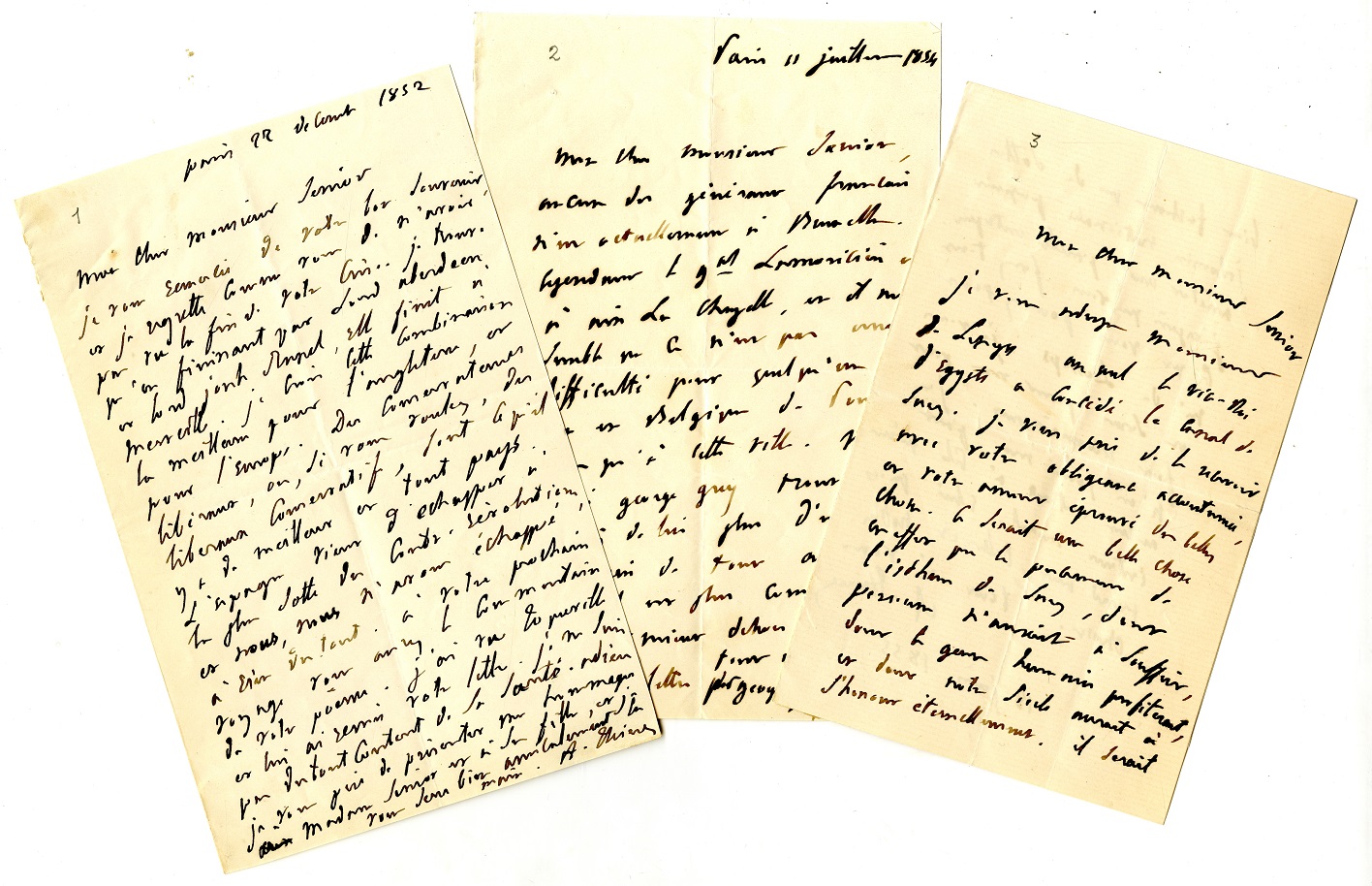 Discussing European politics and the Suez Canal
THIERS, Adolphe (1797-1877), French politician and historian.
Three autograph letters signed ('A Thiers') to Nassau Senior.
Paris, 22 December 1852, 11 July 1854, 18 June 1855.
8vo bifolia, pp. 1 + 3 blank; 1 + 3 blank; 2 + 2 blank; small tears and traces of mounting to last blank leaves, creases where folded, otherwise good.
£200

Approximately:
US $256
€227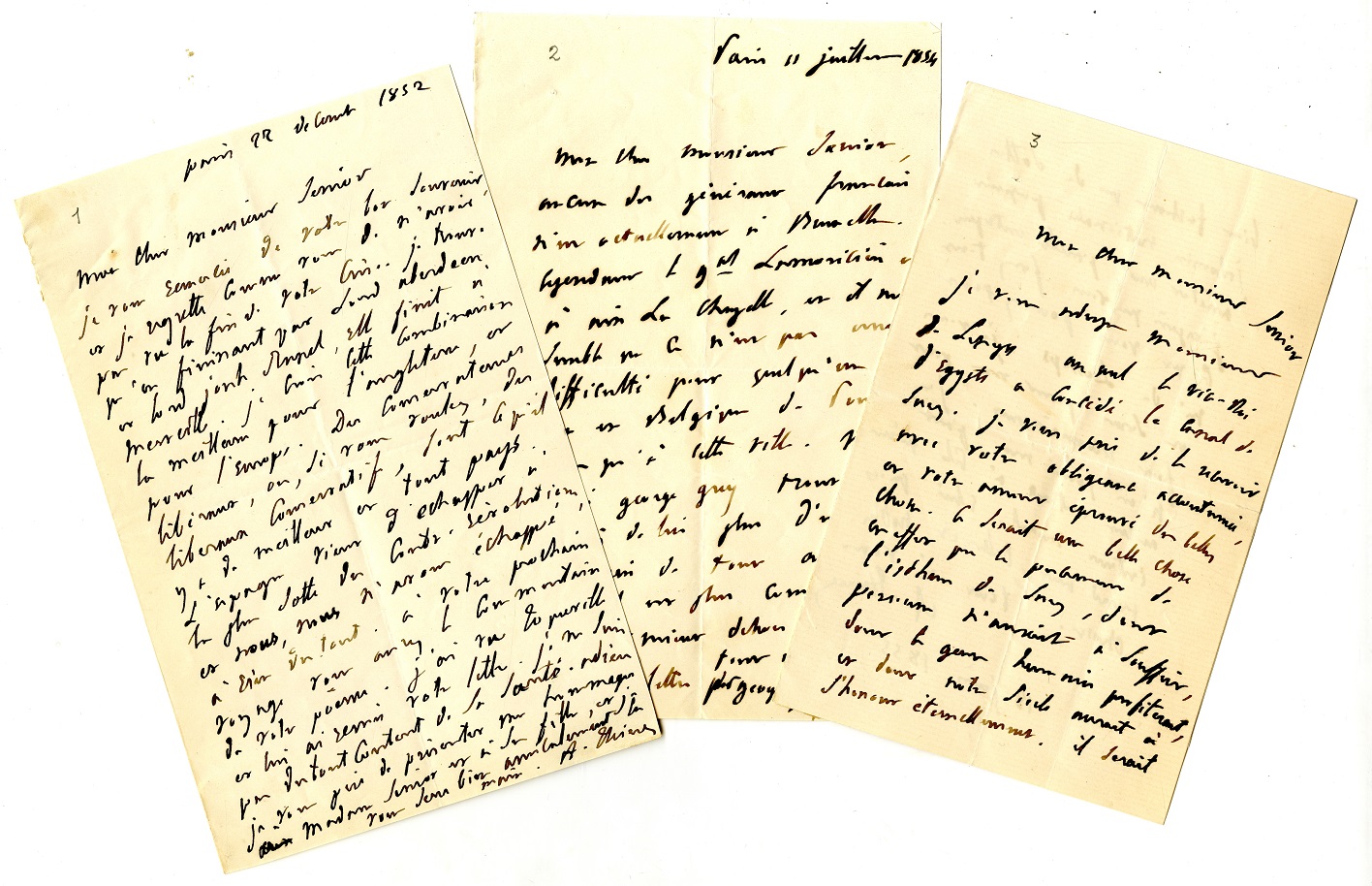 Added to your basket:
Three autograph letters signed ('A Thiers') to Nassau Senior.
A set of interesting letters from Thiers to the English economist Nassau Senior. Thiers was a French politician and historian who served as prime minister under Louis Phillipe. Following the overthrow of the Second Empire he again came to prominence as the French leader who suppressed the revolutionary Paris Commune of 1871.

The first letter was written soon after the fall of the Earl of Derby's government in December 1852 and the formation of a coalition under Lord Aberdeen. Thiers remarks that the combination of Lord Aberdeen and Lord Russell is 'la meilleure pour l'angleterre et pour l'europe', and expresses his belief that liberal conservatives are the best 'en tout pays'. Moving on to Spanish politics, Thiers remarks that Spain has just escaped from a foolish counter-revolution, an apparent reference to Juan Bravo Murillo's attempts to establish an absolutist constitution before his removal from power. Thiers ends by saying that he has seen Alexis de Toqueville and is concerned about his health.

In the second letter, Thiers tells Senior that there are no French generals in Brussels at present and that it should be possible to go there. He ends with mention of Senior's friend George Grey, possibly the Whig politician who was then acting as Colonial Secretary.

In his third letter, Thiers introduces Senior to 'Monsieur de Lesseps' to whom 'le Vice-Roi d'Egypte a concédé le canal de Suez', asking him to do all he can to help him. Thiers describes the canal project as 'une belle chose' which will profit the human race, bring honour to their age, and be one in the eye for 'sottes jalousies nationales'. Ferdinand de Lesseps (1805-1894), the former French consul in Cairo, had obtained a licence to construct and operate the Suez Canal in November 1854. Construction started in 1859 and finished, in spite of British opposition, ten years later.
You may also be interested in...
[BOUCHER, Jean].
Apologie pour Iehan Chastel Parisien, execute a mort, et pour les peres & escholliers, de la Societé de Iesus, bannis du royaume de France. Contre l'arrest de Parlement, donné contre eux a Paris, le 29 Decembre, 1594. Diuisée en cinq parties. Par François de Verone Constantin.
First edition of Boucher's pseudonymous apology for Jean Châtel's attempted assassination of Henri IV, described by the author as an 'acte heroique'. Boucher (1548-1644) was prior and rector of the Sorbonne and an active member of the Catholic League who openly incited violent revolt against Henry III and Henry IV, refusing to accept the latter's conversion to Catholicism. The Apologie was written during his exile in the Netherlands. On 27 December 1594, the nineteen-year-old Châtel attacked Henri IV with a knife in the chamber of his mistress Gabrielle d'Estrées, cutting the king's lip and breaking a tooth. While Châtel was publicly tortured and dismembered, an enquiry discovered that he had studied with the Jesuits at the Collège de Clermont. The Jesuits were quickly accused of supporting Châtel's attempted regicide; Père Guignard, the Jesuits' librarian in Paris, was publicly executed and the Jesuits were expelled from France by parliamentary decree. In addition to defending Châtel, Boucher deplores the actions against the Jesuits and encourages a new attempt on Henri's life.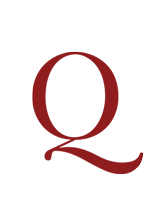 MASSUE DE RUVIGNY, Henri de, Lord Galway.
Autograph letter, signed ('Gallway'), in French, to an unnamed English statesman, sending greetings and referring to regimental dispositions.
A Huguenot exile from France, Massue de Ruvigny served in the English army and was created Viscount Galway in 1692 (elevated to an earldom in 1697). In 1694 he was appointed commander of the English auxiliary forces in Piedmont, with credentials as envoy extraordinary to the court of Turin, but was outmanoeuvred diplomatically by the duke, who concluded a treaty with the French in August 1696, whereupon Galway withdrew into the Milanese (see DNB).