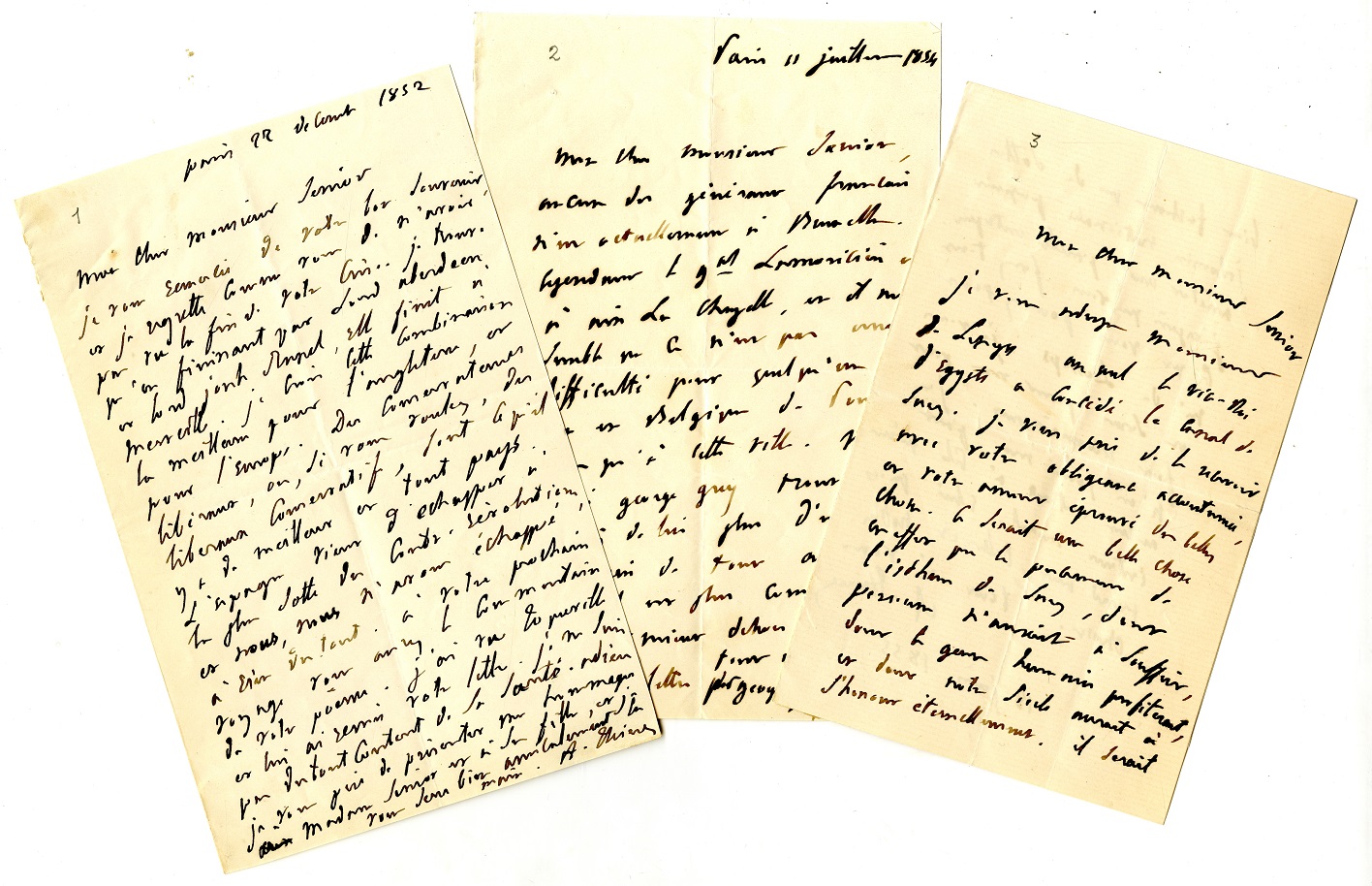 Discussing European politics and the Suez Canal
THIERS, Adolphe (1797-1877), French politician and historian.
Three autograph letters signed ('A Thiers') to Nassau Senior.
Paris, 22 December 1852, 11 July 1854, 18 June 1855.
8vo bifolia, pp. 1 + 3 blank; 1 + 3 blank; 2 + 2 blank; small tears and traces of mounting to last blank leaves, creases where folded, otherwise good.
£200

Approximately:
US $257
€231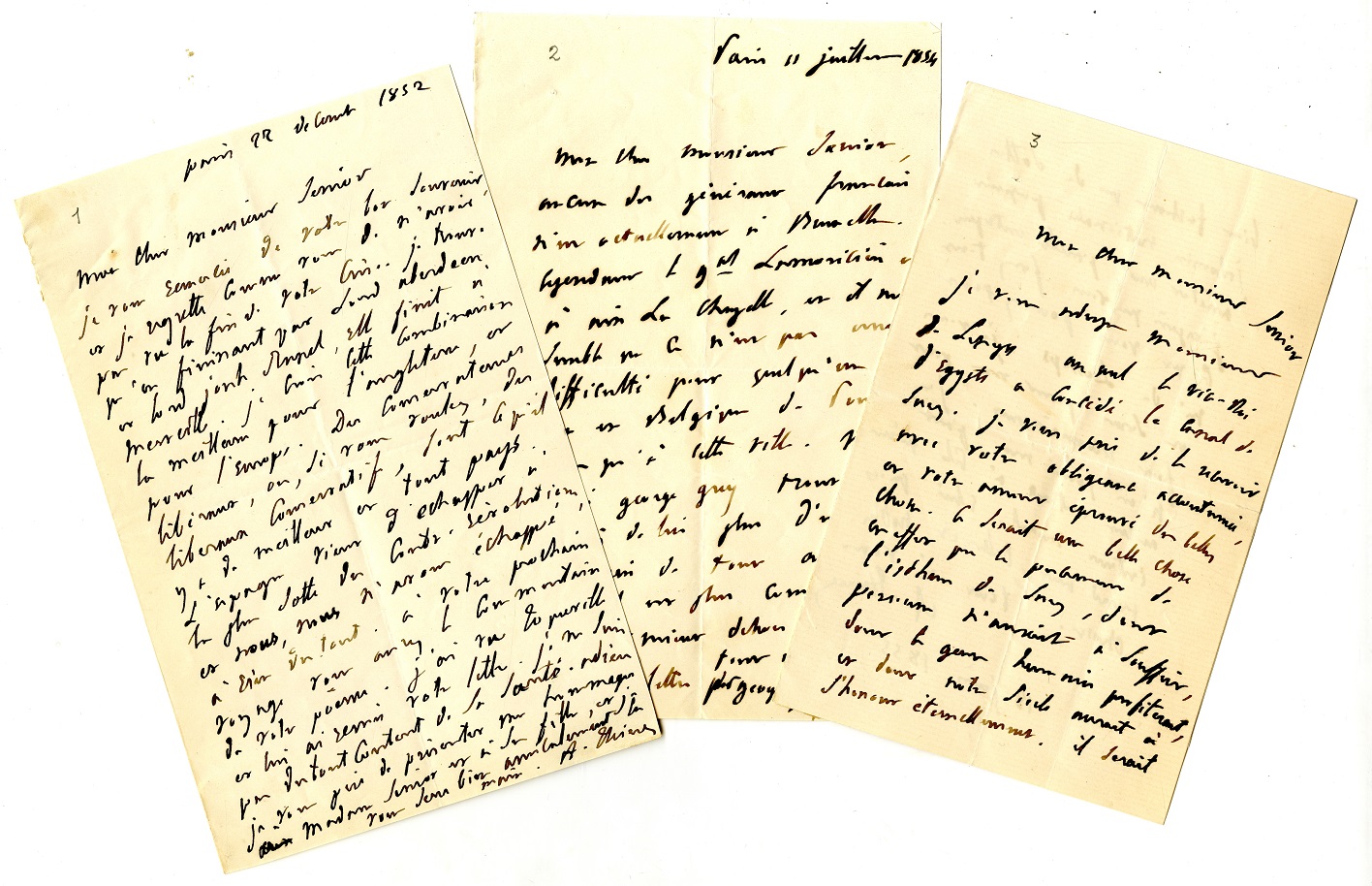 Added to your basket:
Three autograph letters signed ('A Thiers') to Nassau Senior.
A set of interesting letters from Thiers to the English economist Nassau Senior. Thiers was a French politician and historian who served as prime minister under Louis Phillipe. Following the overthrow of the Second Empire he again came to prominence as the French leader who suppressed the revolutionary Paris Commune of 1871.

The first letter was written soon after the fall of the Earl of Derby's government in December 1852 and the formation of a coalition under Lord Aberdeen. Thiers remarks that the combination of Lord Aberdeen and Lord Russell is 'la meilleure pour l'angleterre et pour l'europe', and expresses his belief that liberal conservatives are the best 'en tout pays'. Moving on to Spanish politics, Thiers remarks that Spain has just escaped from a foolish counter-revolution, an apparent reference to Juan Bravo Murillo's attempts to establish an absolutist constitution before his removal from power. Thiers ends by saying that he has seen Alexis de Toqueville and is concerned about his health.

In the second letter, Thiers tells Senior that there are no French generals in Brussels at present and that it should be possible to go there. He ends with mention of Senior's friend George Grey, possibly the Whig politician who was then acting as Colonial Secretary.

In his third letter, Thiers introduces Senior to 'Monsieur de Lesseps' to whom 'le Vice-Roi d'Egypte a concédé le canal de Suez', asking him to do all he can to help him. Thiers describes the canal project as 'une belle chose' which will profit the human race, bring honour to their age, and be one in the eye for 'sottes jalousies nationales'. Ferdinand de Lesseps (1805-1894), the former French consul in Cairo, had obtained a licence to construct and operate the Suez Canal in November 1854. Construction started in 1859 and finished, in spite of British opposition, ten years later.
You may also be interested in...
MISSAL,
with readings and music for the feast of St. Clement (23 November); a complete vellum leaf, double columns of 37 lines written in two sizes of an early gothic liturgical script, dark brown ink, ruled lightly with plummet, 2-line initials in red, rubrics, neumes on four-line staves; recovered from a binding and with consequent creasing and staining, but generally in very good condition and entirely legible. 332 x 230 mm (written space 315 x 190 mm)
The final stage in the accurate placement of musical notation was the introduction of 4-line staves, and they came to be used in almost all music books from the thirteenth century onwards. The present fragment is a relatively early example of their use.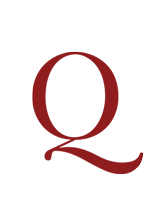 ELIZABETHAN SCHOOL BOOK OCLAND, Christopher.
Anglorum praelia, ab Anno Domini. 1327. anno nimirum primo inclytissimi Principis Eduardi eius nominis tertii, usque ad Annu[m] Domini 1558. Carmine summatim perstricta. Item. De pacatissimo Angliae statu, imperante Elizabetha, compendiosa narratio . . . Hiis Alexandri Nevilli Kettum: tum propter argumenti similitudinem, tum propter orationis elegantiam adiunximus.
First published in 1580, this is one of three closely similar 1582 editions of Ocland's Anglorum proelia which add two works at the end: Ocland's Eirēnarchia (a continuation of Anglorum proelia first published in 1582) and Alexander Neville's account of the 1549 Norfolk rising, De furoribus Norfolciensium Ketto duce (first published in 1575).