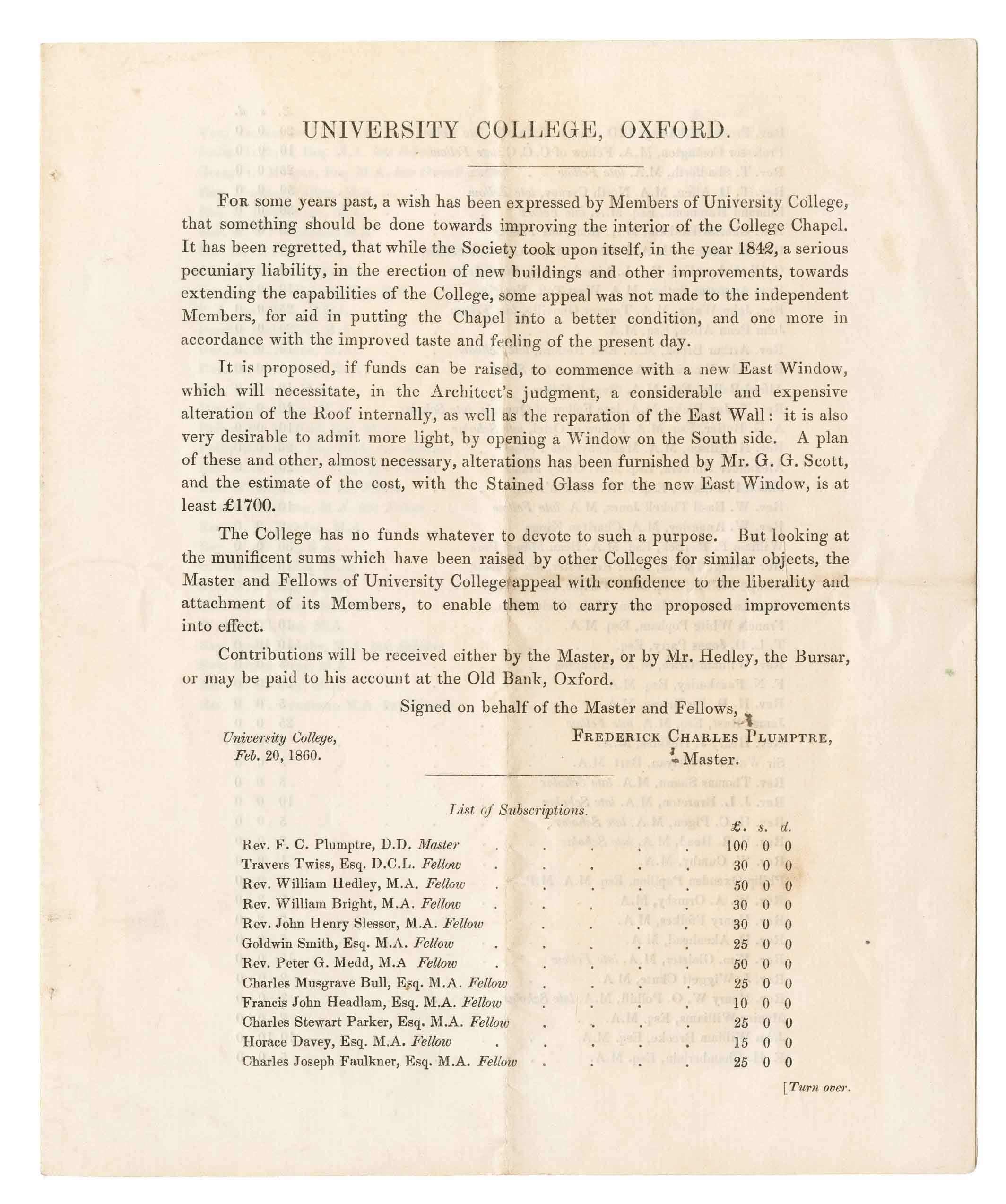 SUBSCRIPTION FOR IMPROVEMENTS BY GEORGE GILBERT SCOTT
[UNIVERSITY COLLEGE, OXFORD.]
Subscription list for repairs to the College Chapel.
[Oxford, n.p., c. 1860].
4to. bifolium, pp. 3, [1 blank], very light foxing and inkspots in places, creased and with central folds, but in good condition.
£50

Approximately:
US $68
€56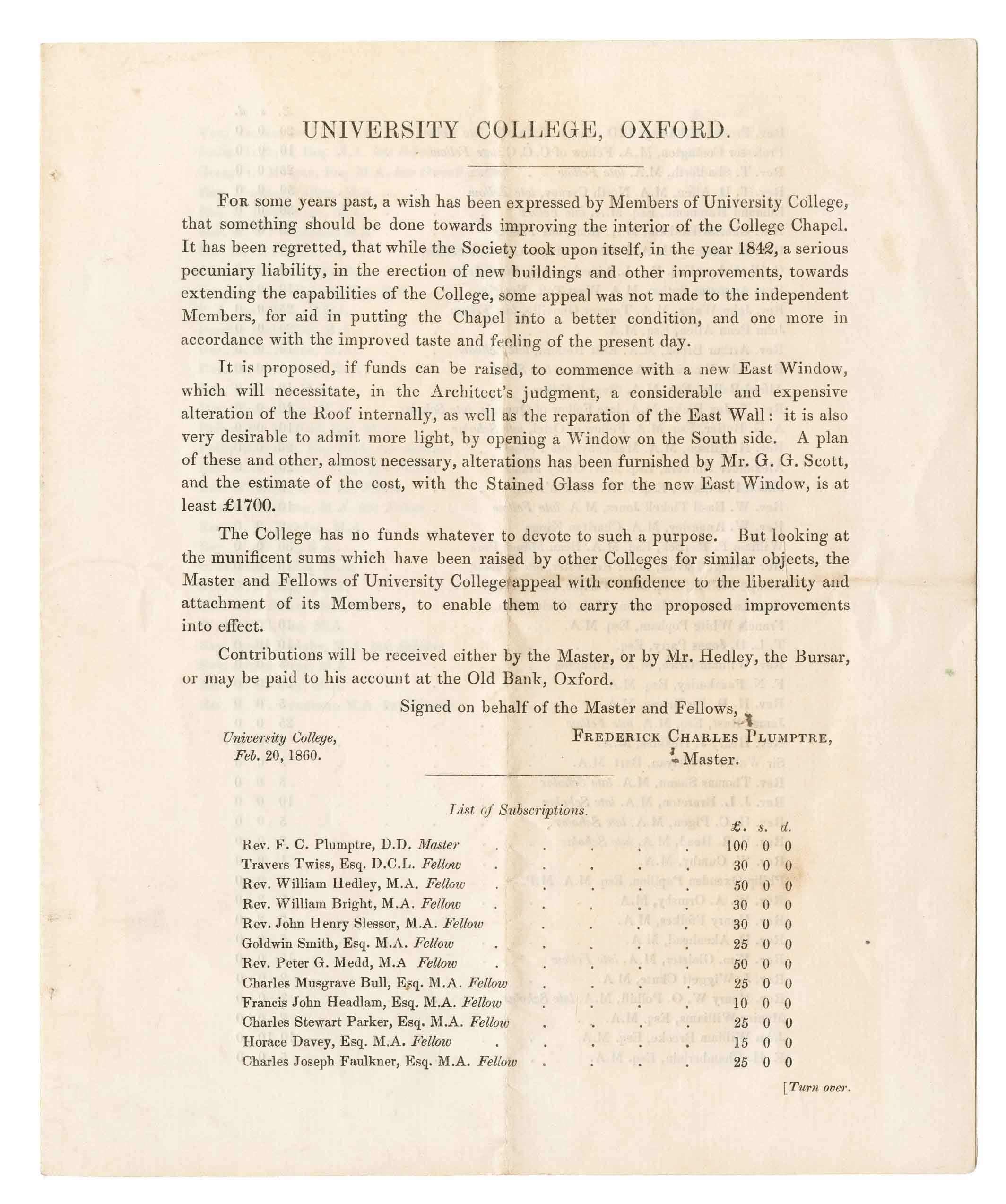 Added to your basket:
Subscription list for repairs to the College Chapel.
A printed appeal from University College, signed by the Master Frederick Charles Plumptre (1796-1870), for funds to improve the interior of the Chapel, with an admission that 'the College has no funds whatever to devote to such a purpose'. The list of subscribers contains some ninety names.
The improvements will include 'a new East Window, which will necessitate, in the Architect's judgment, a considerable and expensive alteration of the Roof internally, as well as the reparation of the East Wall: it is also very desirable to admit more light, by opening a Window on the South side. A plan of these and other, almost necessary, alterations has been furnished by Mr. G. G. Scott, and the estimate of the cost, with the Stained Glass for the new East Window, is at least £1700'. Sir George Gilbert Scott (1811-1878) had just designed the Library at University; his alterations to the Chapel still survive. A photograph by Fox Talbot, taken in 1843, shows the Chapel's exterior with the original seventeenth-century window and its unusual tracery.
You may also be interested in...
REMEMBER, REMEMBER, THE FIFTH OF NOVEMBER…
[WILLIAMS, John.] The History of the Gunpowder-Treason, collected from approved Authors, as well popish as protestant.
First edition of an anti-popish history of the Gunpowder Plot. A well informed account drawing on both Anglican and Catholic sources, The History of the Gunpowder-Treason was published anonymously by John Williams (1633/6–1709), later Bishop of Chichester, amid renewed interest in the subject during the purported Popish Plot of 1678 to 1681. A prolific controversialist and staunch defender of Anglican protestantism, Williams used his History to urge readers not to forget the events of 1605, nor to disregard the perceived (and subsequently disproved) papist threat.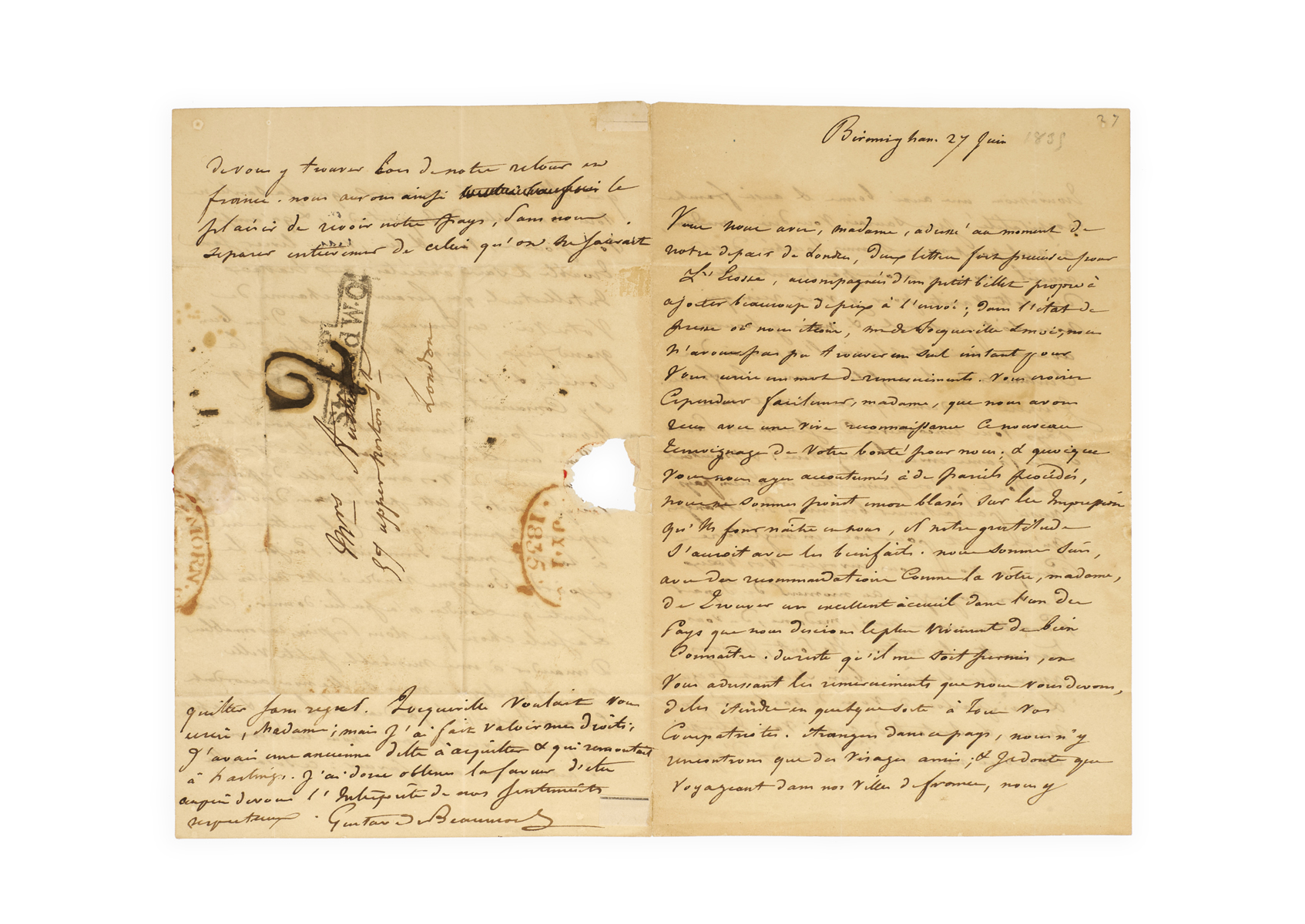 PRAISE FOR ENGLISH HOSPITALITY FROM TOCQUEVILLE AND BEAUMONT BEAUMONT, Gustave-Auguste de la Bonninière de (1802–1866), French prison reformer and travel companion to Alexis de Tocqueville.
Autograph letter signed ('Gustave de Beaumont') to Sarah Austin.
A warm and personal autograph documenting the relationship between the reformer Beaumont and one of the most accomplished contemporary catalysts of philosophical exchange, the translator Sarah Austin. In 1831 Beaumont was sent by the French government with his friend and colleague Alexis de Toqueville to study the prison system in America, a trip that resulted in several publications, not least Toqueville's De la démocratie en Amérique. Beaumont was particularly struck by the number of Black slaves in America and in the same year as this letter wrote a novel on the subject.