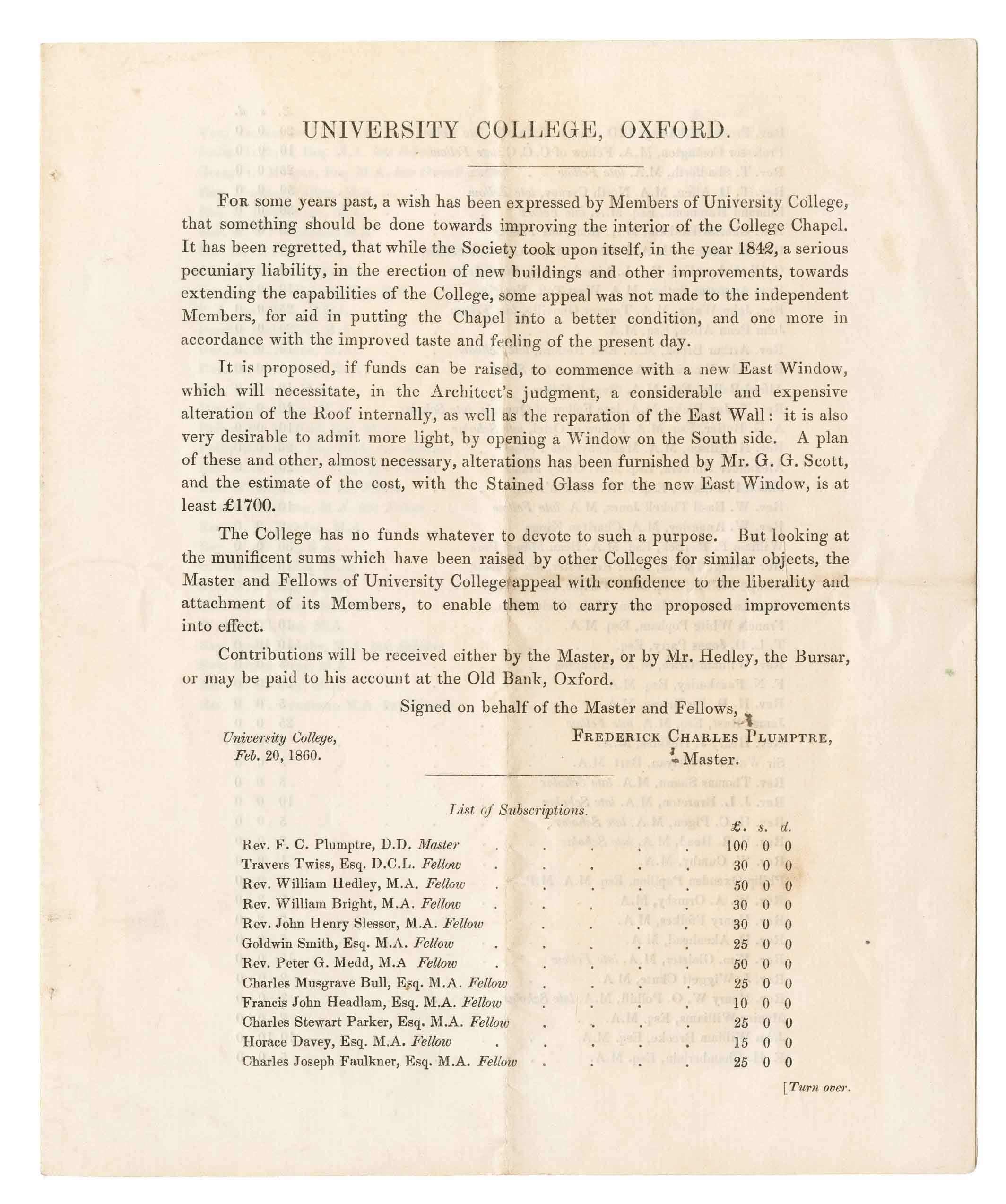 SUBSCRIPTION FOR IMPROVEMENTS BY GEORGE GILBERT SCOTT
[UNIVERSITY COLLEGE, OXFORD.]
Subscription list for repairs to the College Chapel.
[Oxford, n.p., c. 1860].
4to. bifolium, pp. 3, [1 blank], very light foxing and inkspots in places, creased and with central folds, but in good condition.
£50

Approximately:
US $65
€55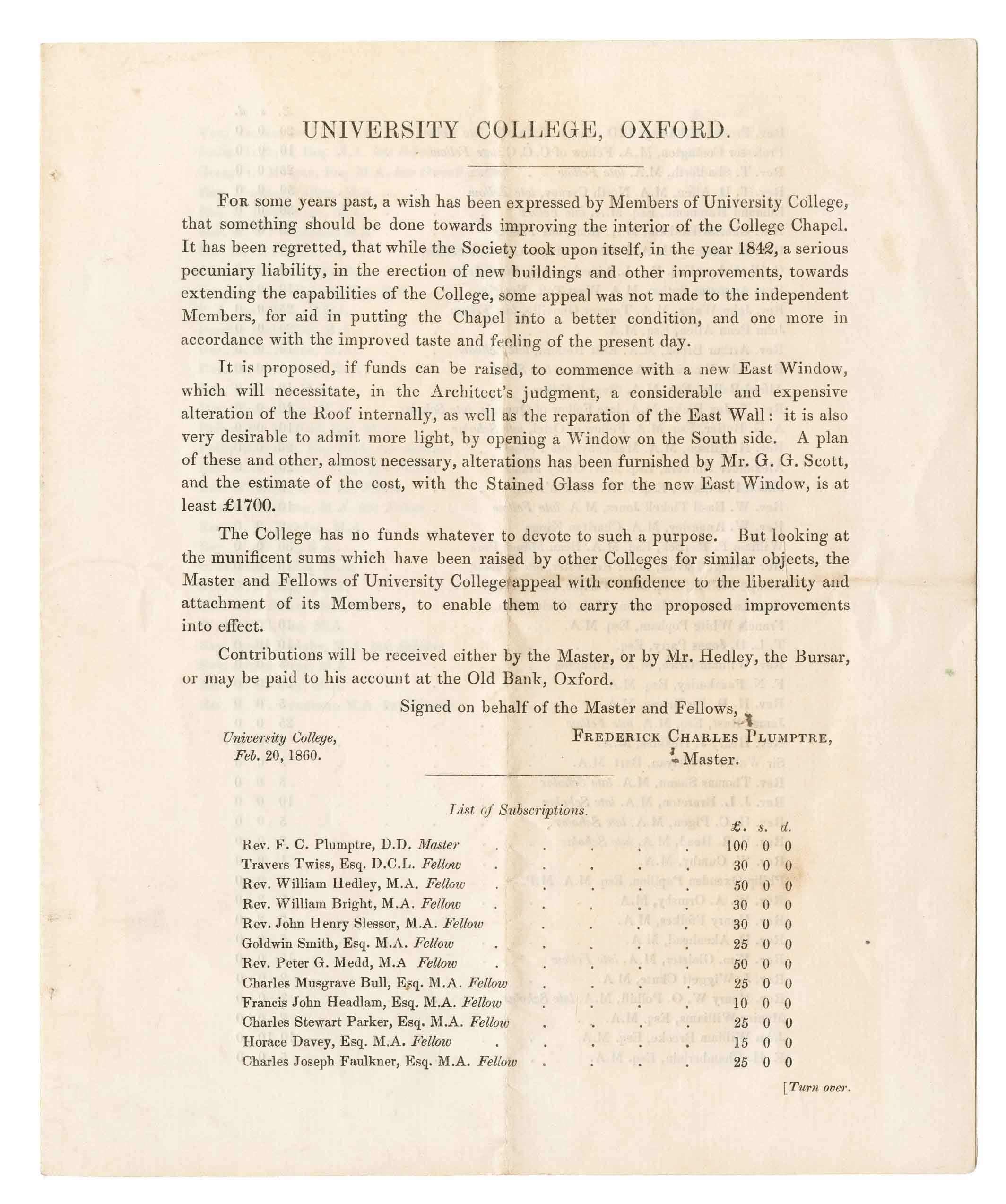 Added to your basket:
Subscription list for repairs to the College Chapel.
A printed appeal from University College, signed by the Master Frederick Charles Plumptre (1796-1870), for funds to improve the interior of the Chapel, with an admission that 'the College has no funds whatever to devote to such a purpose'. The list of subscribers contains some ninety names.
The improvements will include 'a new East Window, which will necessitate, in the Architect's judgment, a considerable and expensive alteration of the Roof internally, as well as the reparation of the East Wall: it is also very desirable to admit more light, by opening a Window on the South side. A plan of these and other, almost necessary, alterations has been furnished by Mr. G. G. Scott, and the estimate of the cost, with the Stained Glass for the new East Window, is at least £1700'. Sir George Gilbert Scott (1811-1878) had just designed the Library at University; his alterations to the Chapel still survive. A photograph by Fox Talbot, taken in 1843, shows the Chapel's exterior with the original seventeenth-century window and its unusual tracery.
You may also be interested in...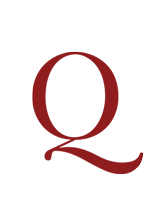 GRANDI, Guido.
Instituzioni delle sezioni coniche … con l'aggiunta in fine d'altre dimostrazioni.
Uncommon third edition with numerous marginal annotations to the first part, of Guido Grandi's important study of conic sections, first published in 1722.
[POPULAR DEVOTION].
L'heureuse benediction des maisons.
A wonderful devotional broadside printed in the Breton town of Vannes, comprising a crude woodcut depiction of the scene at Calvary, signed 'Desloge' at the base, with two cantiques spirituels. The image is identical to one that appeared in a similar publication, also undated, that appeared in Mourtain in Normandy, printed by Lebel; the surrounding border and the text, however, differ, and we are unable to establish priority. Similar images, appearing under the same title, were not uncommon in the mid nineteenth century in provincial France, but survivals are very rare. Lamarzelle was the publisher of numerous works, both religious and secular, throughout the nineteenth century. Nicolas de Lamarzelle, the present printer, was active between 1835 and 1849.
Neither the present version nor the Mourtain one recorded by OCLC.