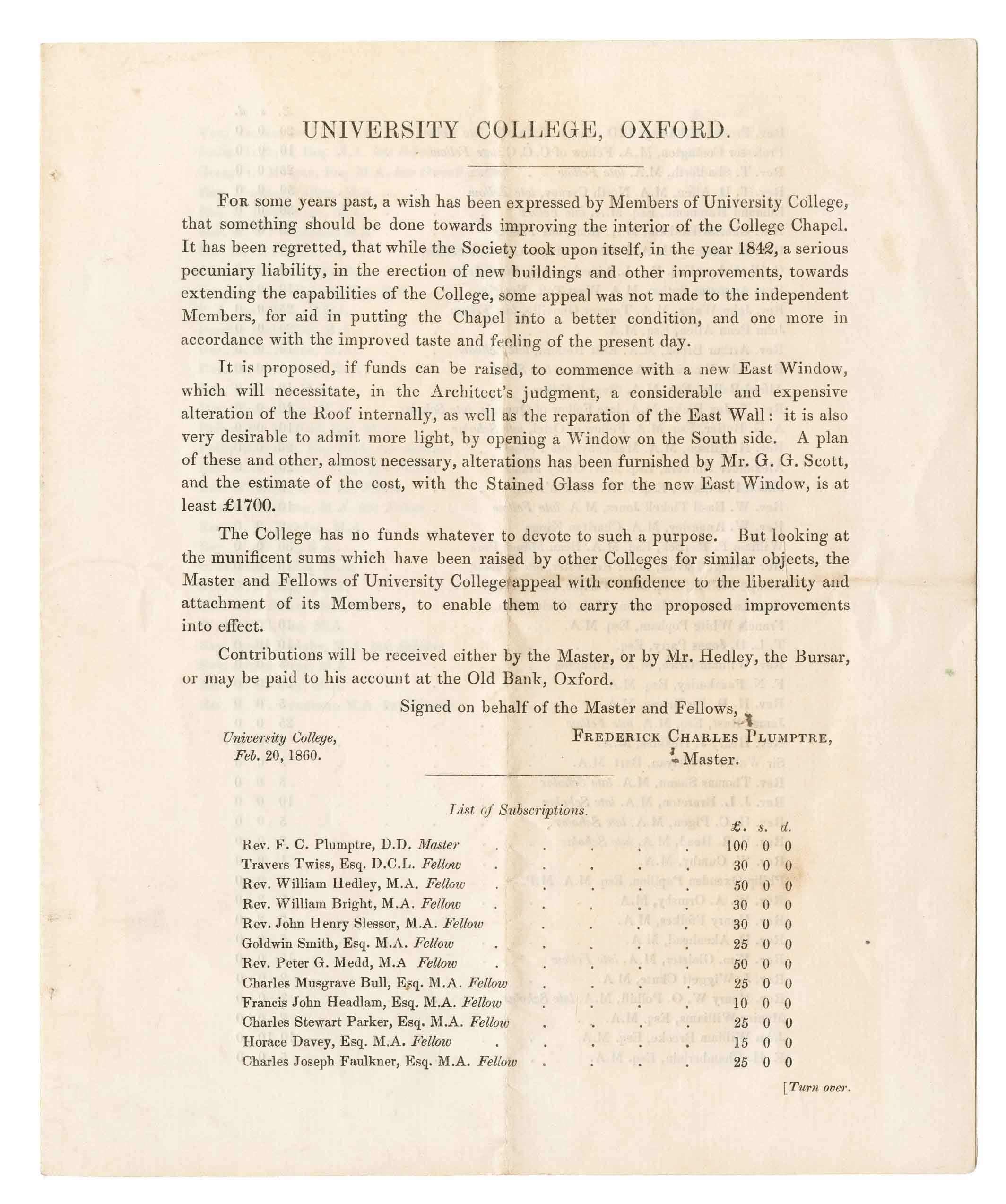 SUBSCRIPTION FOR IMPROVEMENTS BY GEORGE GILBERT SCOTT
[UNIVERSITY COLLEGE, OXFORD.]
Subscription list for repairs to the College Chapel.
[Oxford, c. 1860].
4to bifolium, pp. 3, [1 blank], very light foxing and inkspots in places, creased and with central folds, but in good condition.
£50

Approximately:
US $62
€58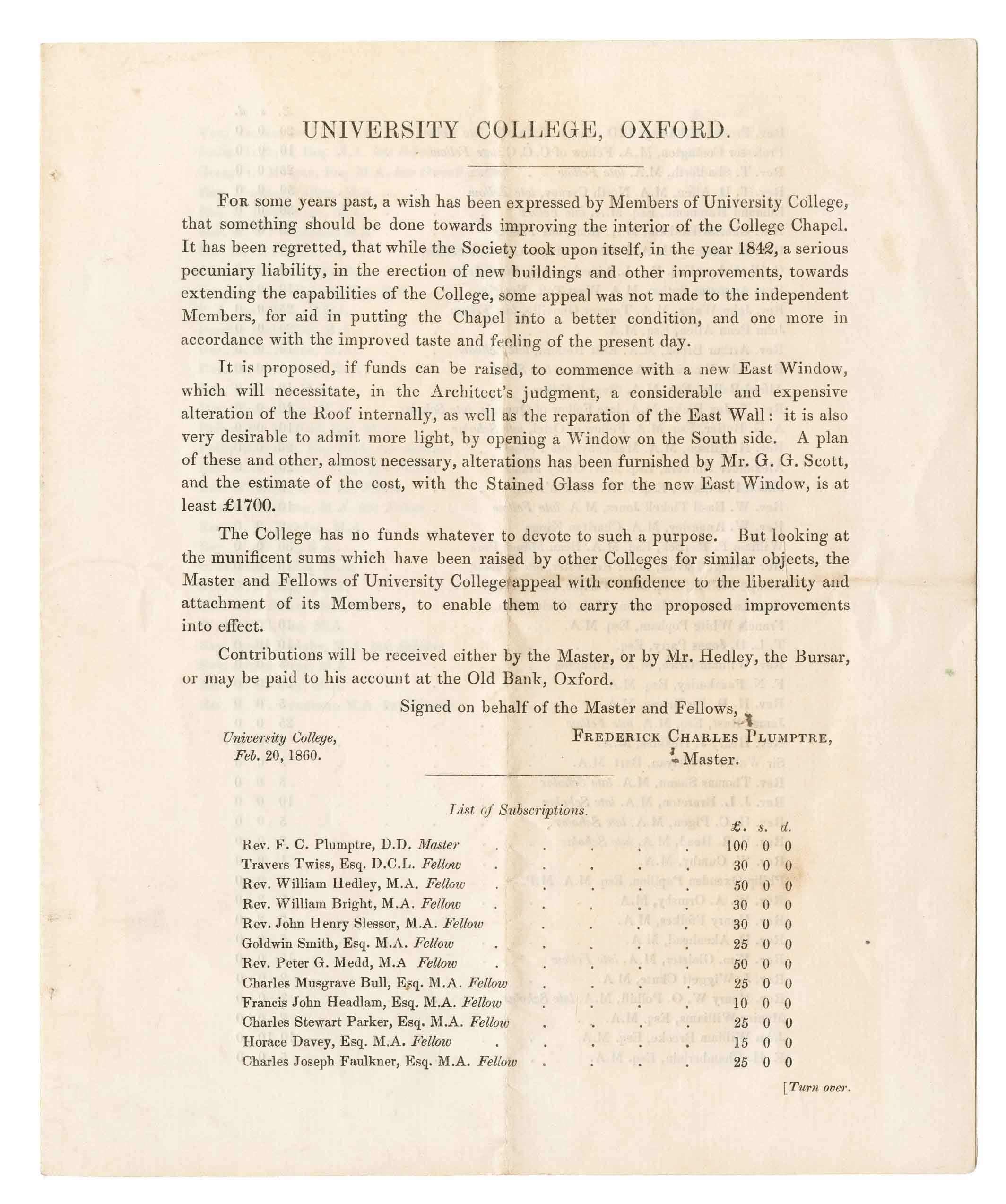 Added to your basket:
Subscription list for repairs to the College Chapel.
A printed appeal from University College, signed by the Master Frederick Charles Plumptre (1796–1870), for funds to improve the interior of the Chapel, with an admission that 'the College has no funds whatever to devote to such a purpose'. The list of subscribers contains some ninety names.

The improvements will include 'a new East Window, which will necessitate, in the Architect's judgment, a considerable and expensive alteration of the Roof internally, as well as the reparation of the East Wall: it is also very desirable to admit more light, by opening a Window on the South side. A plan of these and other, almost necessary, alterations has been furnished by Mr. G. G. Scott, and the estimate of the cost, with the Stained Glass for the new East Window, is at least £1700'. Sir George Gilbert Scott (1811–1878) had just designed the Library at University; his alterations to the Chapel still survive. A photograph by Fox Talbot, taken in 1843, shows the Chapel's exterior with the original seventeenth-century window and its unusual tracery.
You may also be interested in...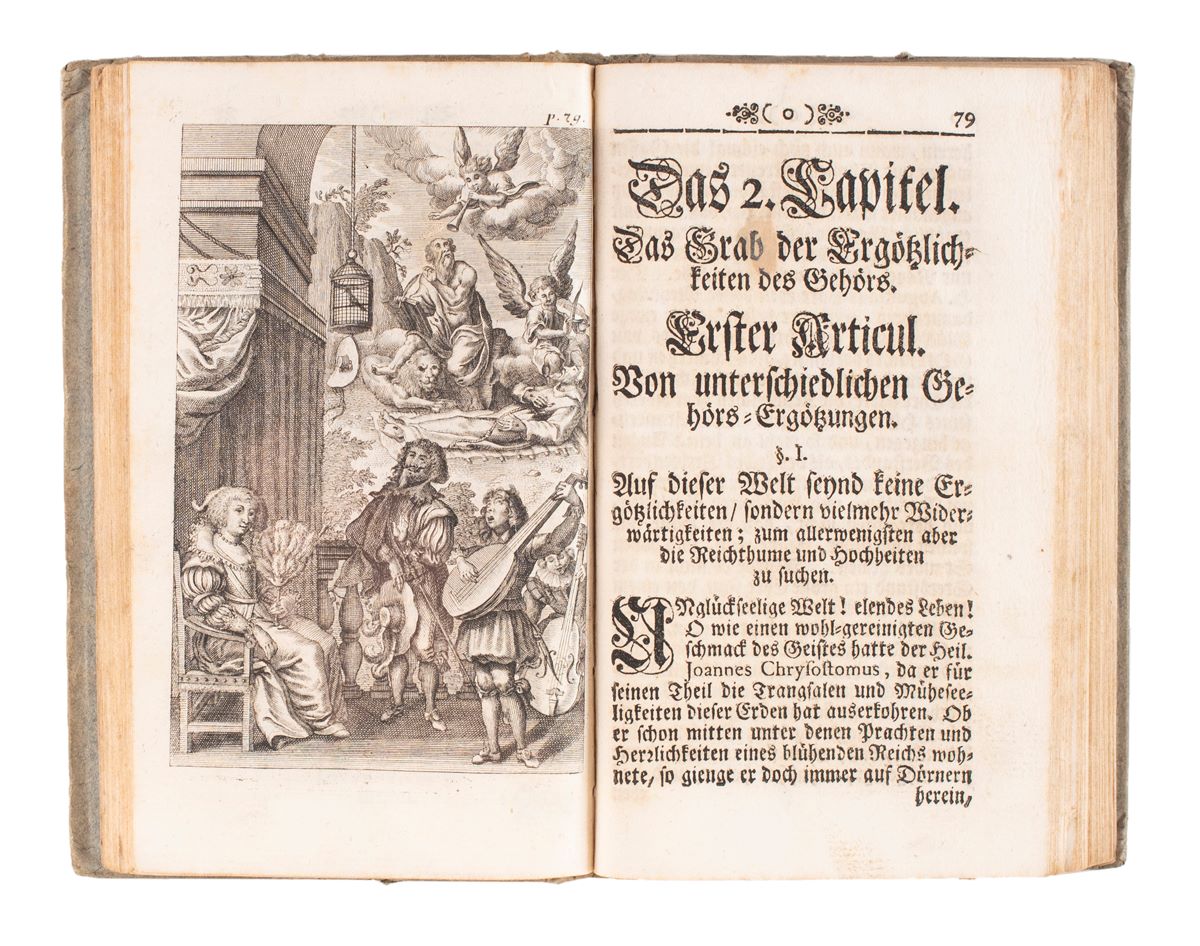 THE BURIAL OF EARTHLY PLEASURES LA SERRE, Jean-Puget de.
Grab-Statt der weltlichen Ergötzlichkeiten, einstens in Französischer Sprache zubereitet … anjetzt zu Nutzen derer in die weltl. Freuden allzusehr verliebt- und der Französischen Sprache nicht kundigen Seelen in die Teutsche übersetzt durch Gaudentium Glæser.
First edition in German of Tombeau des délices du monde, by the French dramatist and historian Jean-Puget de la Serre (1594–1665).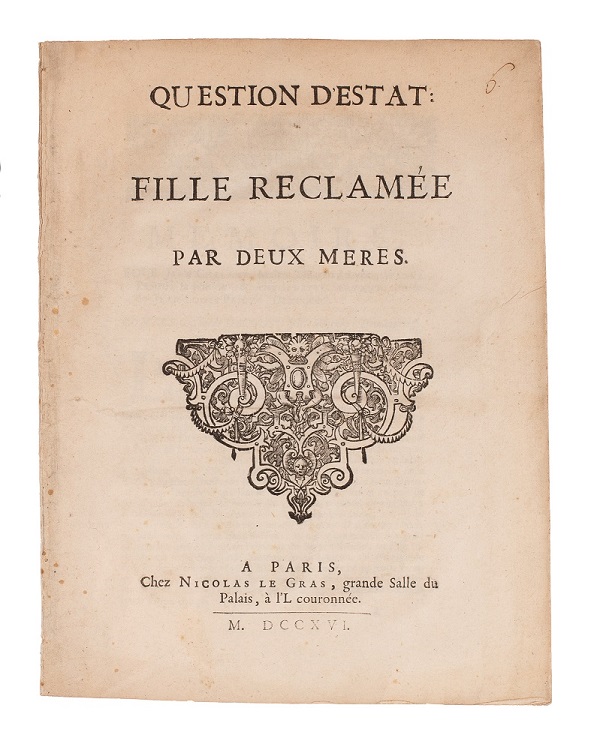 SWITCHED AT BIRTH GAYOT DE PITAVAL (Conseil).
Question d'estat: fille reclamée par deux meres.
First edition of this account by the famous advocate François Gayot de Pitaval (1673–1743) of a 1709 case, where a midwife had substituted a new-born girl who was then claimed both by the real mother and the woman to whom the baby had been given. Pitaval's account details the principles by which decisions are made about parenthood in lieu of proper evidence, and seeks to prove who the true parents are, with evidence from the midwife and others. Various objections, both factual and legal, are addressed, and the account closes with a statement of the damages awarded to the parents after the lengthy and public case.