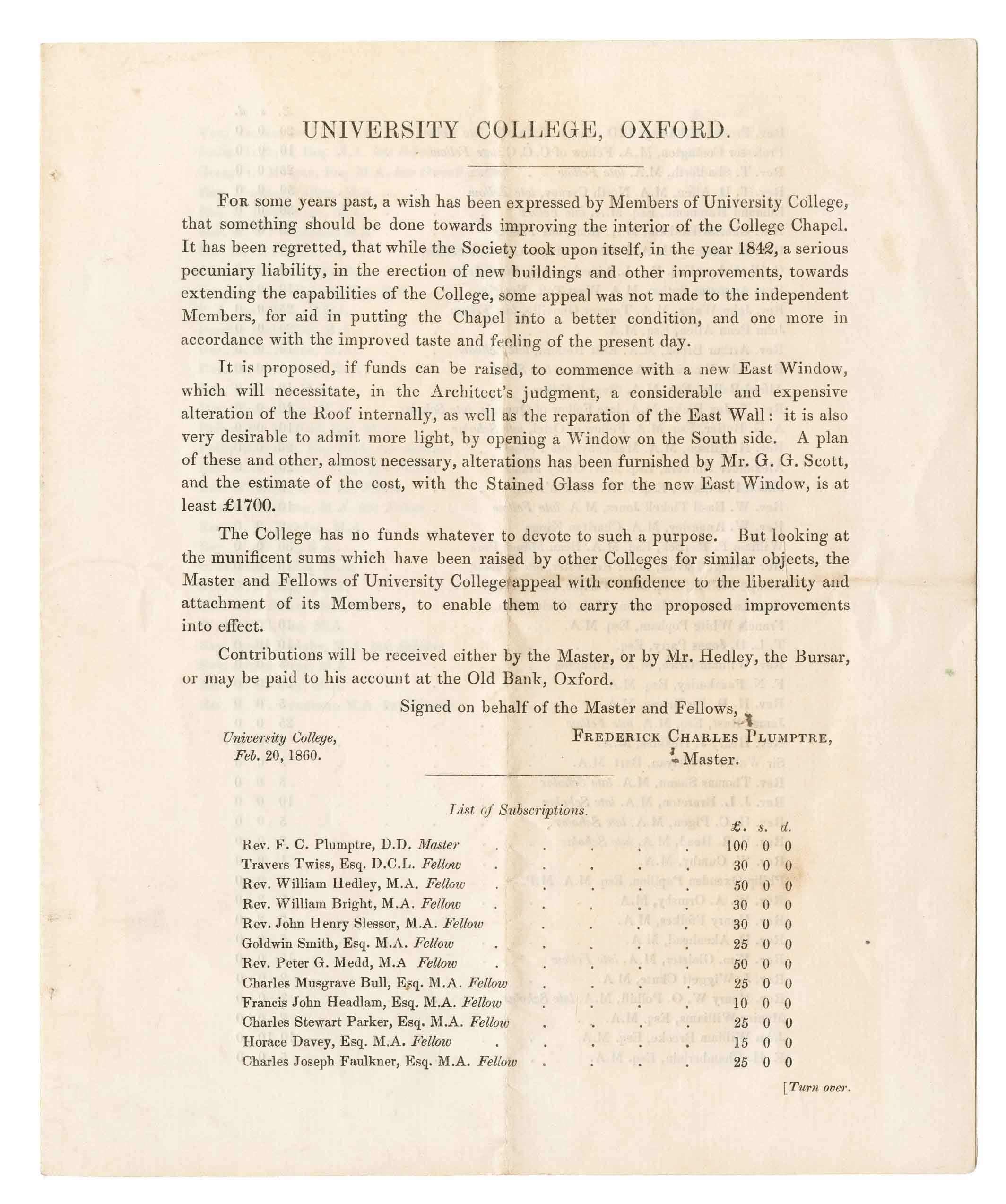 SUBSCRIPTION FOR IMPROVEMENTS BY GEORGE GILBERT SCOTT
[UNIVERSITY COLLEGE, OXFORD.]
Subscription list for repairs to the College Chapel.
[Oxford, c. 1860].
4to bifolium, pp. 3, [1 blank], very light foxing and inkspots in places, creased and with central folds, but in good condition.
£50

Approximately:
US $69
€57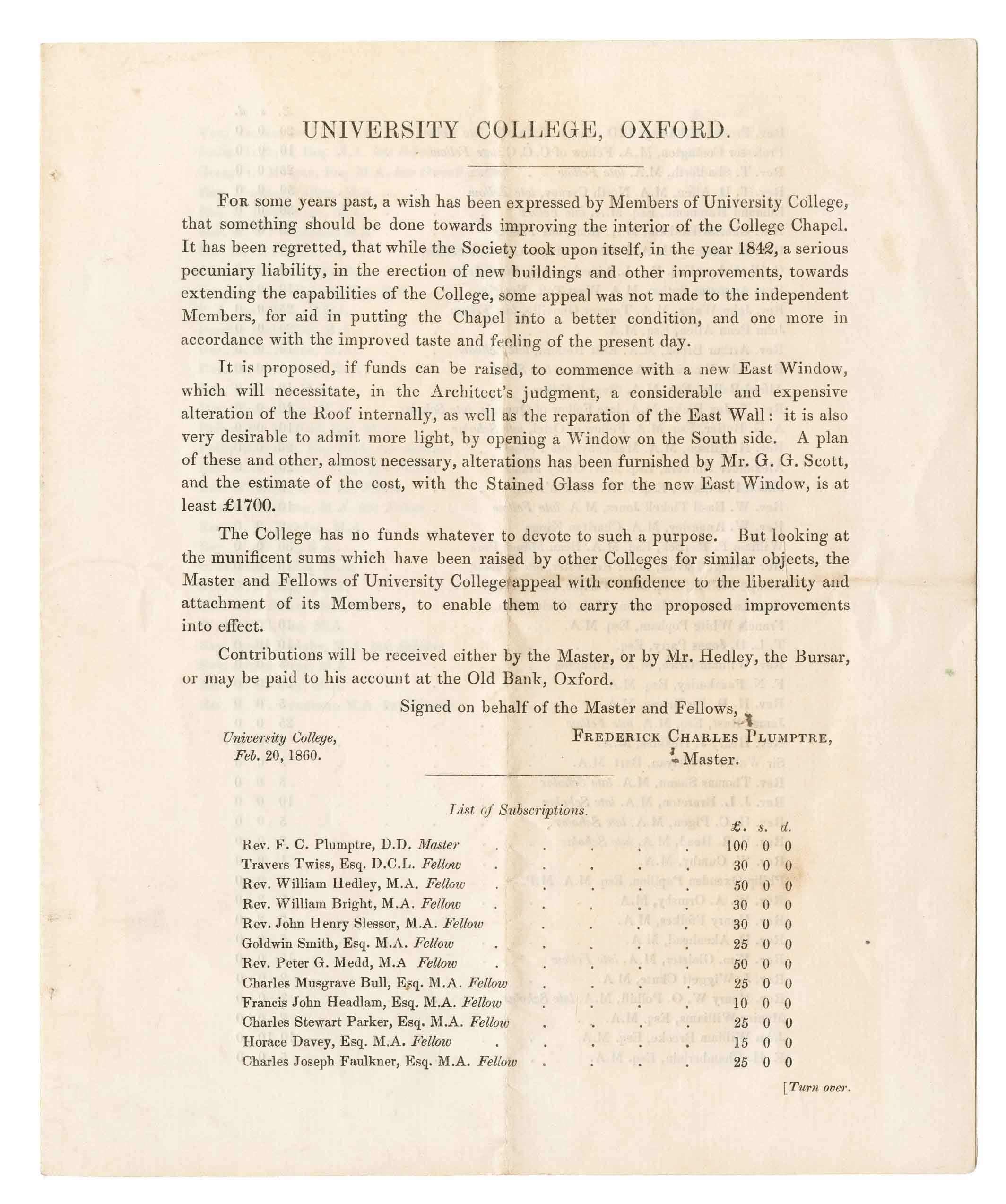 Added to your basket:
Subscription list for repairs to the College Chapel.
A printed appeal from University College, signed by the Master Frederick Charles Plumptre (1796–1870), for funds to improve the interior of the Chapel, with an admission that 'the College has no funds whatever to devote to such a purpose'. The list of subscribers contains some ninety names.

The improvements will include 'a new East Window, which will necessitate, in the Architect's judgment, a considerable and expensive alteration of the Roof internally, as well as the reparation of the East Wall: it is also very desirable to admit more light, by opening a Window on the South side. A plan of these and other, almost necessary, alterations has been furnished by Mr. G. G. Scott, and the estimate of the cost, with the Stained Glass for the new East Window, is at least £1700'. Sir George Gilbert Scott (1811–1878) had just designed the Library at University; his alterations to the Chapel still survive. A photograph by Fox Talbot, taken in 1843, shows the Chapel's exterior with the original seventeenth-century window and its unusual tracery.
You may also be interested in...
A NEW BOOK IS A NEW FRIEND [HUET, Pierre-Daniel.]
Le grand tresor historique et politique du florissant commerce des Hollandois, dans tous les etats et empires du monde ... Ouvrage aussi curieux que nécessaire à tous les négocians.
Later edition of this work on Dutch commerce and trade attributed to Pierre-Daniel Huet (1630–1721), famous as the editor of the Delphin Classics, with a charming bookplate.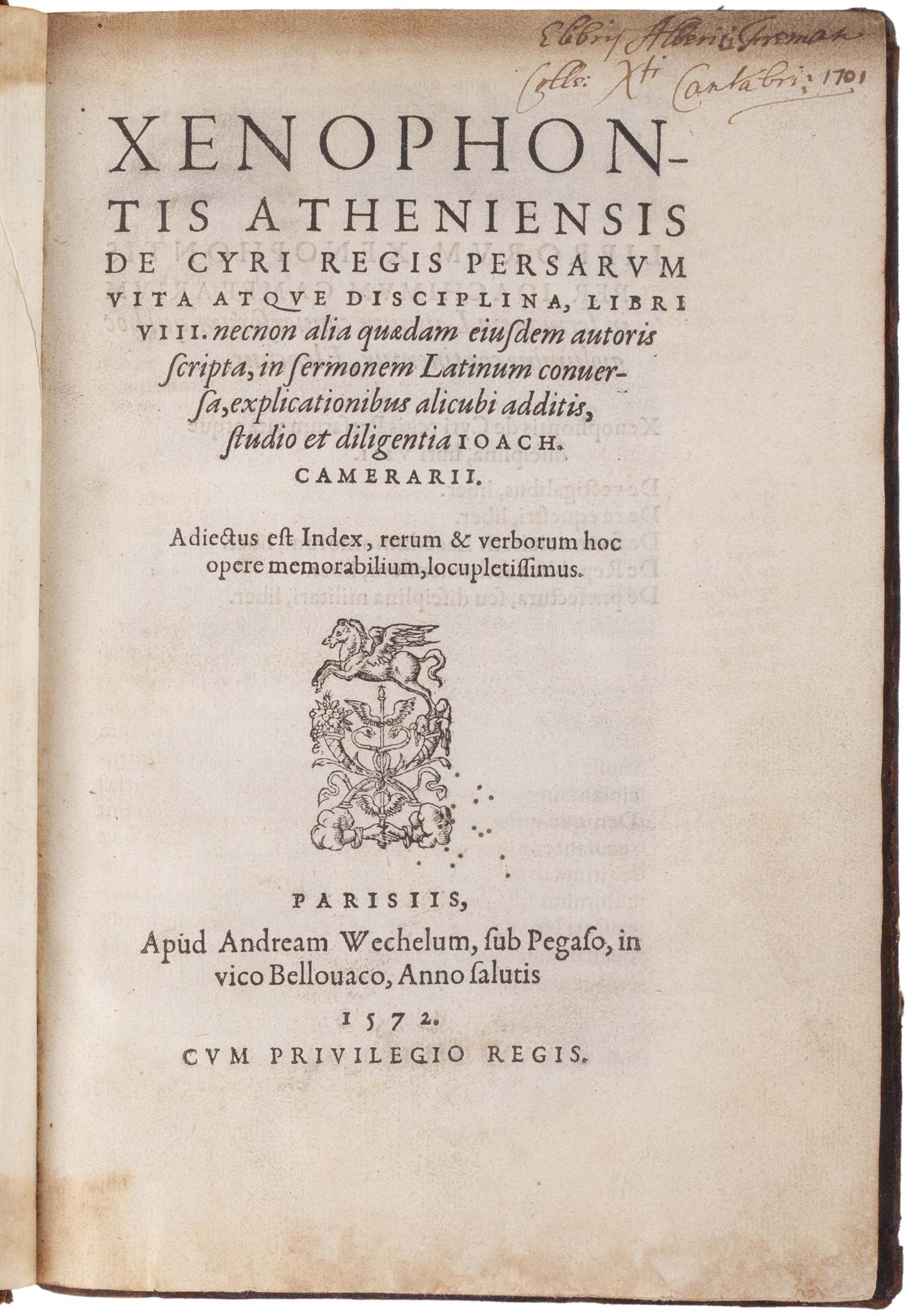 RALPH FREEMAN'S COPY XENOPHON.
De Cyri regis Persarum vita atque disciplina, libri VIII.
First edition of Joachim Camerarius' Latin translation of Xenophon's Cyropaedia, a partly fictional work on the life and education of Cyrus the Great which served as a model for medieval and renaissance mirrors of princes, including Machiavelli's Il Principe. A beautiful copy, from the celebrated library of Ralph Freeman and then by descent to various other Freeman family members.