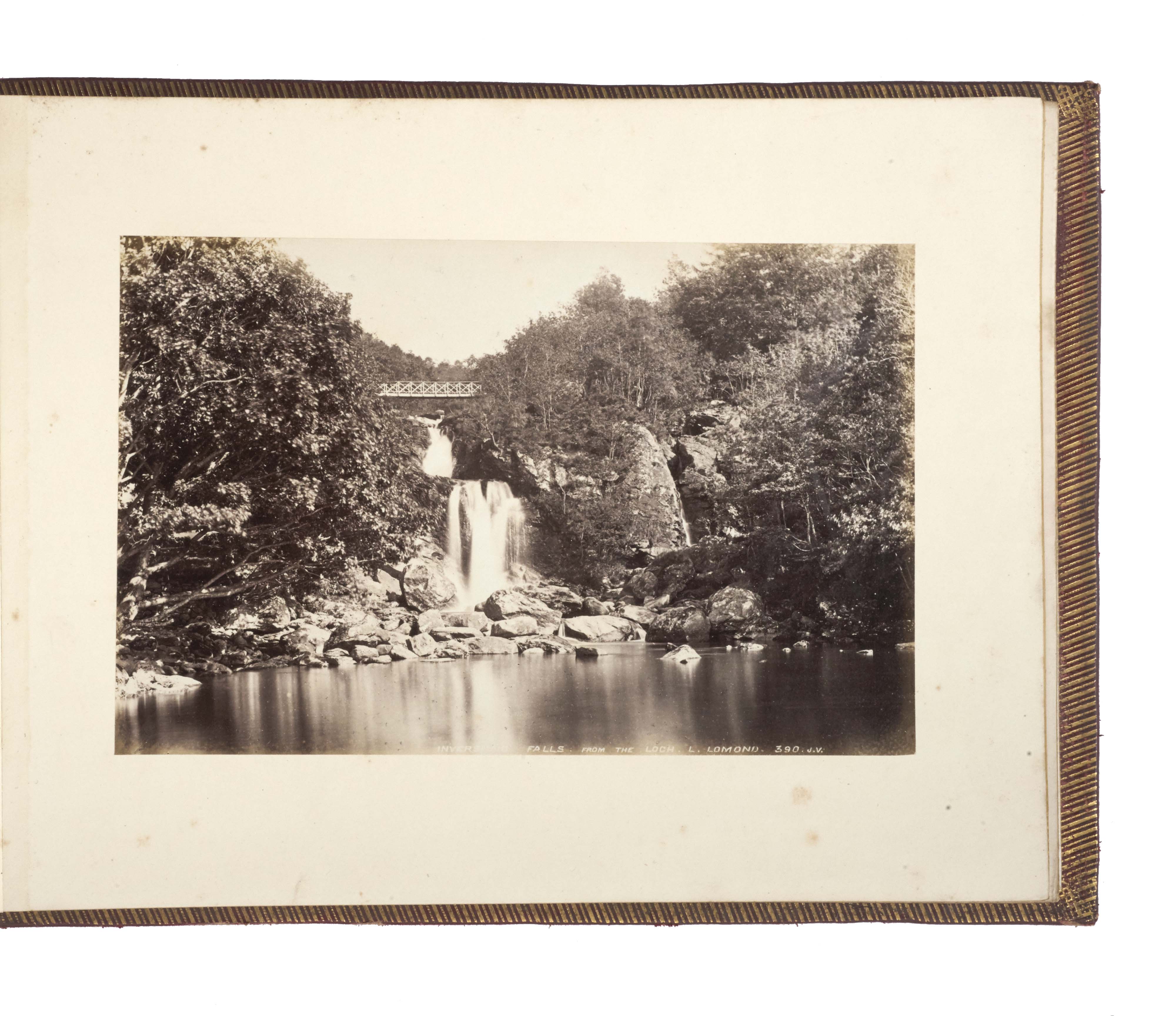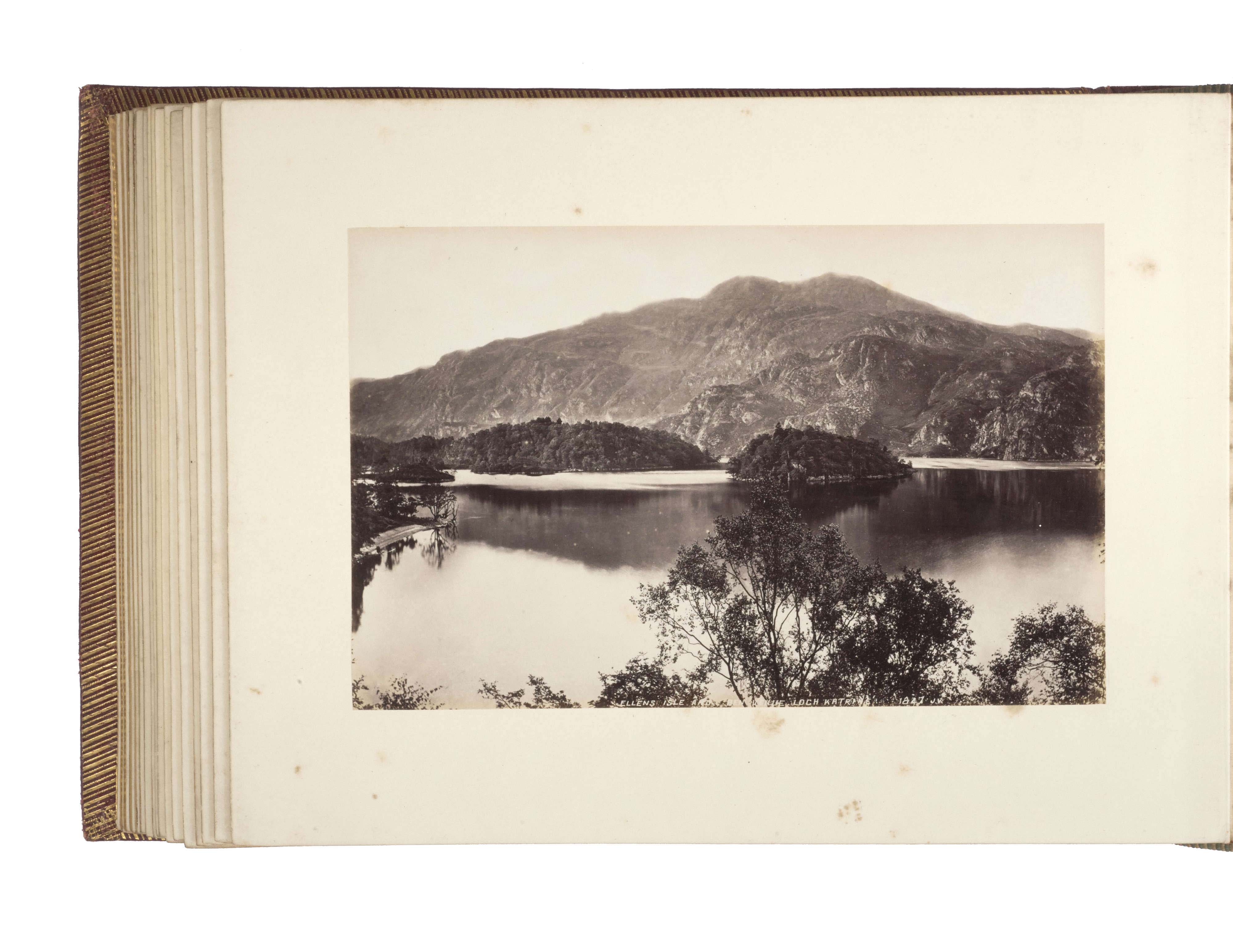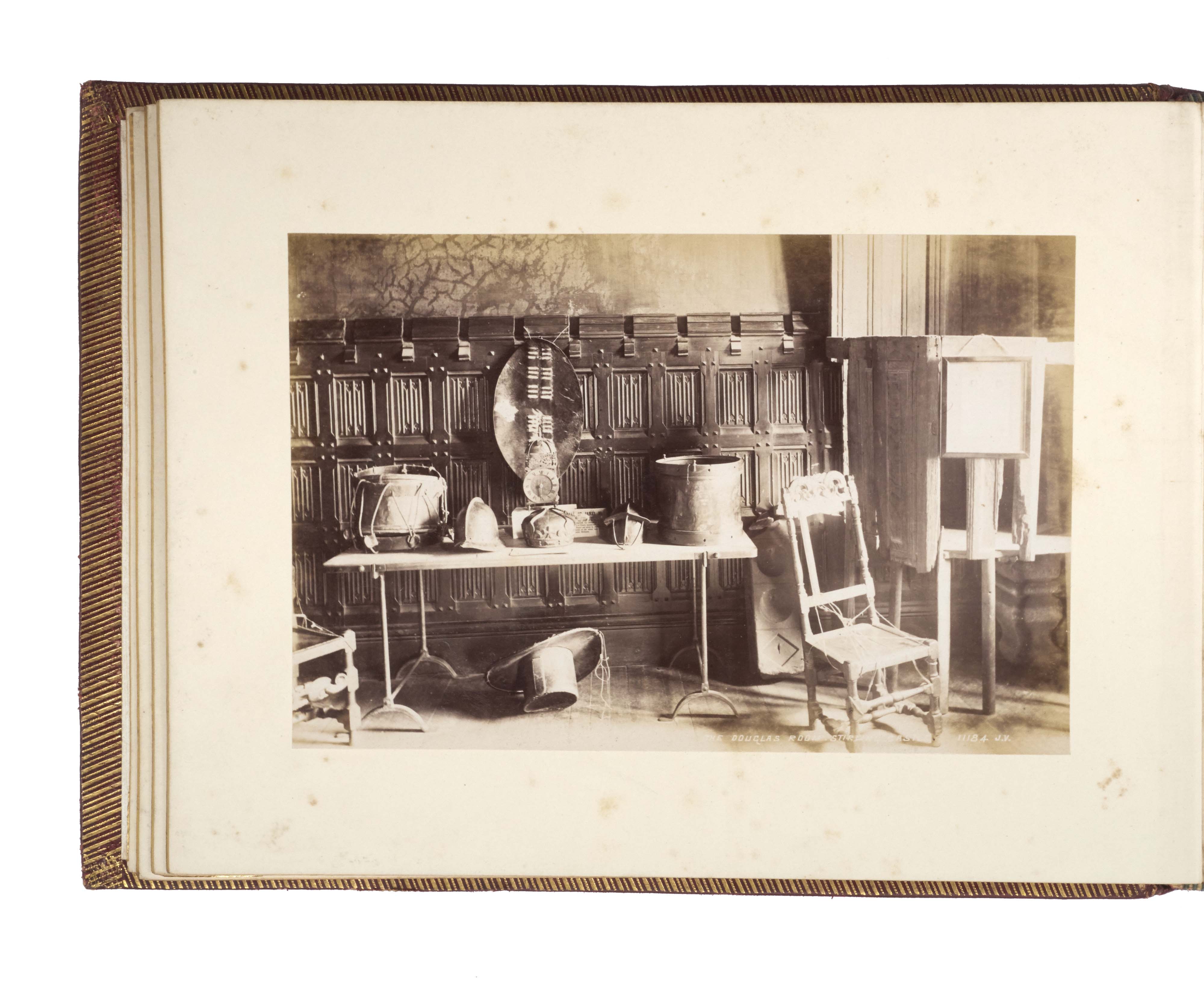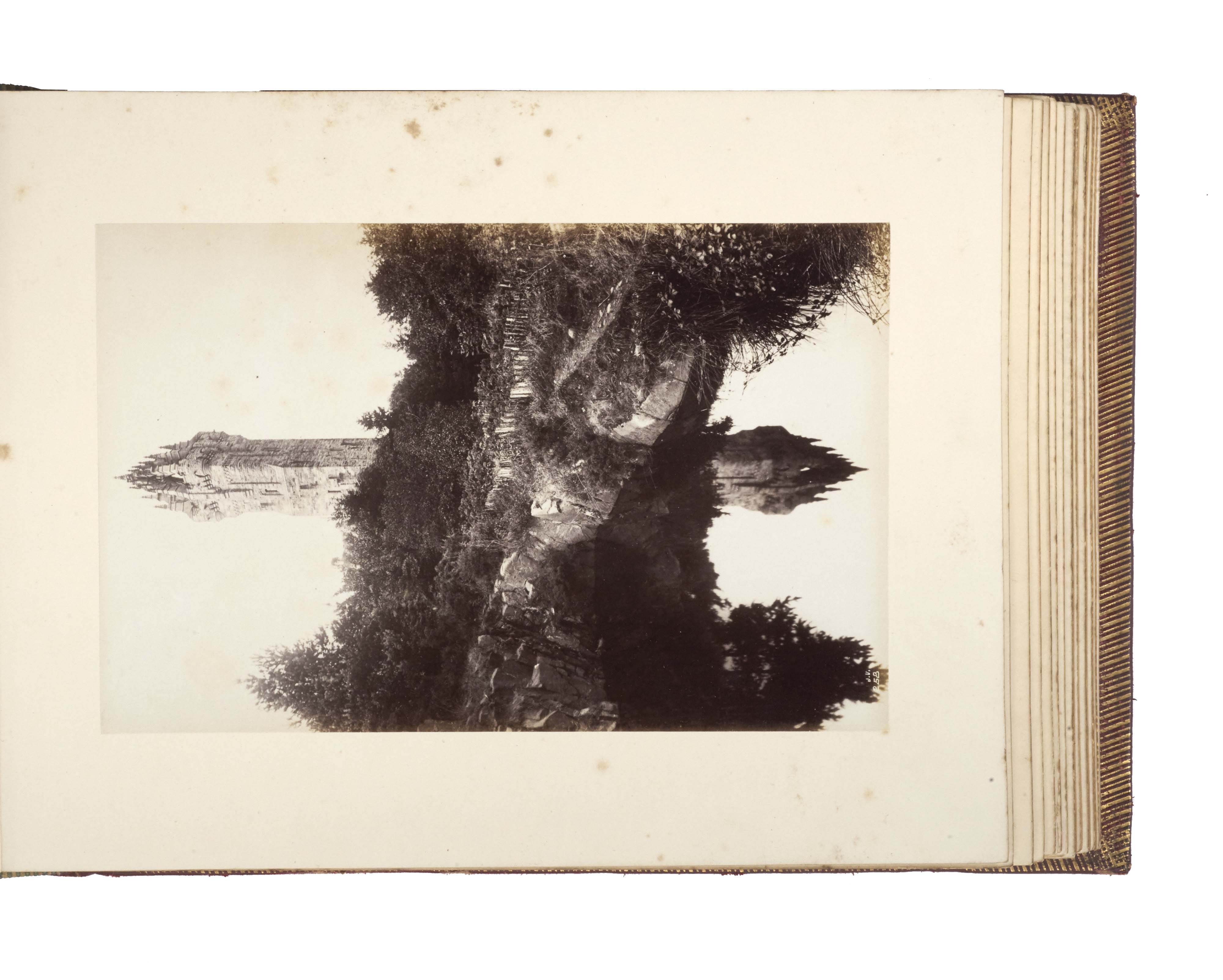 VALENTINE, James (photographer).

Album of Scottish views, mainly of Stirling and surroundings.
Circa 1870s.
Oblong album (210 x 295 mm approx.), 40 albumen print photographs of Scottish views, mounted on 20 thick card leaves with tissue guards, captioned and numbered in the negative, mounts and guards foxed but prints generally in very good condition; in a contemporary red pebbled morocco album, ruled in black and gilt, turn-ins gilt, silk endpapers, all edges gilt; gilt initials 'G.E.' to upper board.
£600

Approximately:
US $740
€690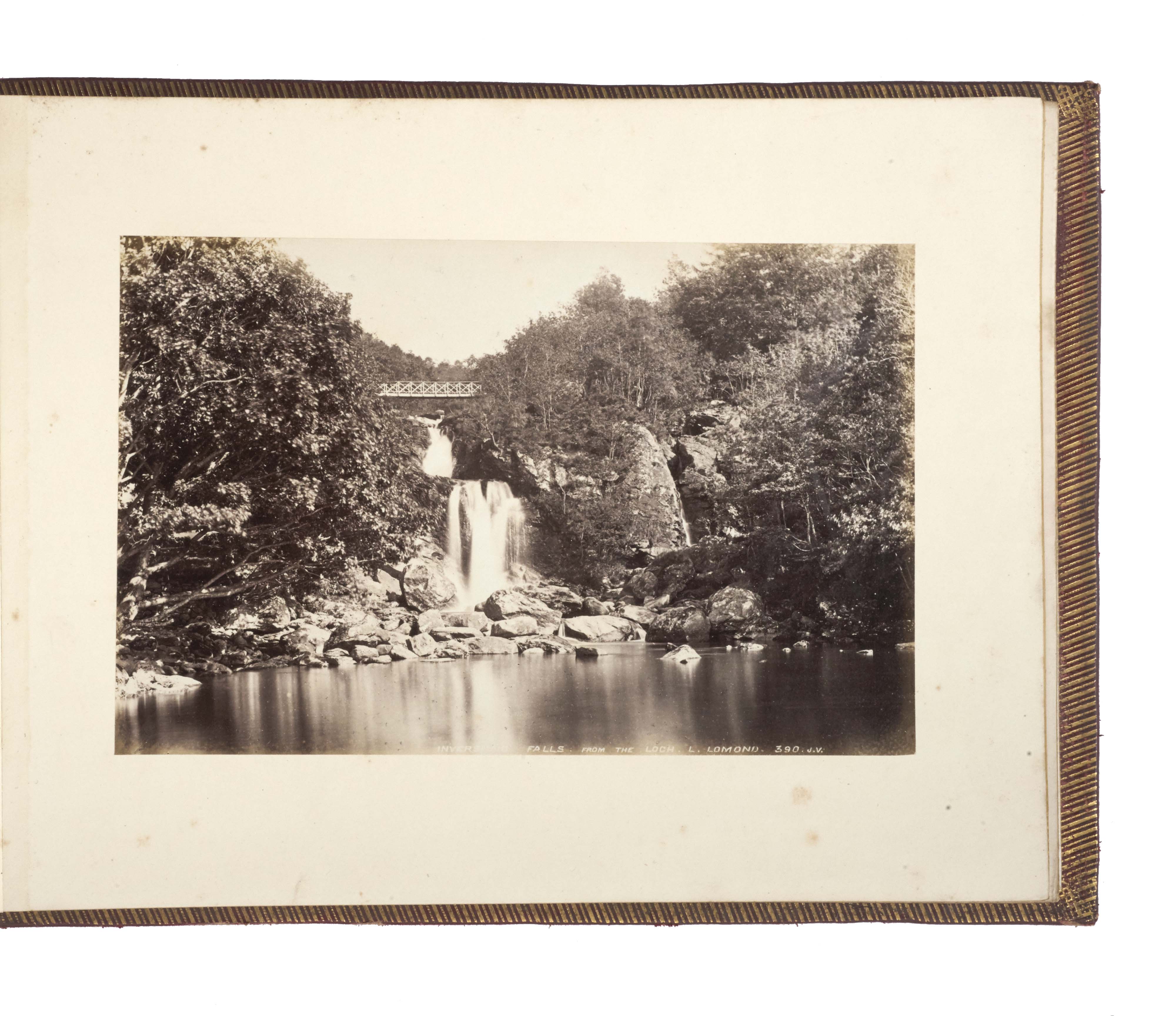 Added to your basket:
Album of Scottish views, mainly of Stirling and surroundings.
A handsome example of a topographical view album by the Scottish photographer James Valentine, focusing on Stirling and the surrounding areas.

The images include 'Stirling Castle from King's Knott' and several other views of Stirling Castle, 'Vale of Monteith from Stirling'; 'Bruce statue looking to Wallace'; 'Windings of the Forth and Abbey Craig, Stirling'; 'King Street, Stirling'; 'Cambuskenneth Abbey and tomb of James III'; 'Field of Bannockburn from Gillies Hill'; 'On the Allan Water'; 'Kier House'; 'Dunblane Cathedral from river'; 'Doune Castle'; 'Callander from west'; 'Silver Strand, Loch Katrine'; 'Ellen's Isle and Ben Venue, Loch Katrine'; 'Luss Pier, Loch Lomond'; 'Camstradden Bay, Loch Lomond'; and 'Inversnaid Falls'.

James Valentine (1815–1879) was an engraver and photographer from Dundee who was one of the original members of the Edinburgh Photographic Society, founded in 1861. By the end of the 1850s he had established himself as a portrait photographer and then, after instruction under Francis Frith in Reigate, Surrey, he began to photograph landscapes as well.

He converted a barouche into a mobile dark-room and travelled around Scotland building a portfolio of topographical views which brought him to Queen Victoria's attention in 1864 and eventually led to him being granted a royal warrant in late 1867. As 'photographer to the Queen' he sold individual albums, such as the present one, for prices ranging from half a guinea to 12 guineas aimed at upper and middle class tourists. James Valentine had two sons who followed him into the business and were constantly experimenting with new techniques; the firm became the longest-running photographic publishers in Britain.
You may also be interested in...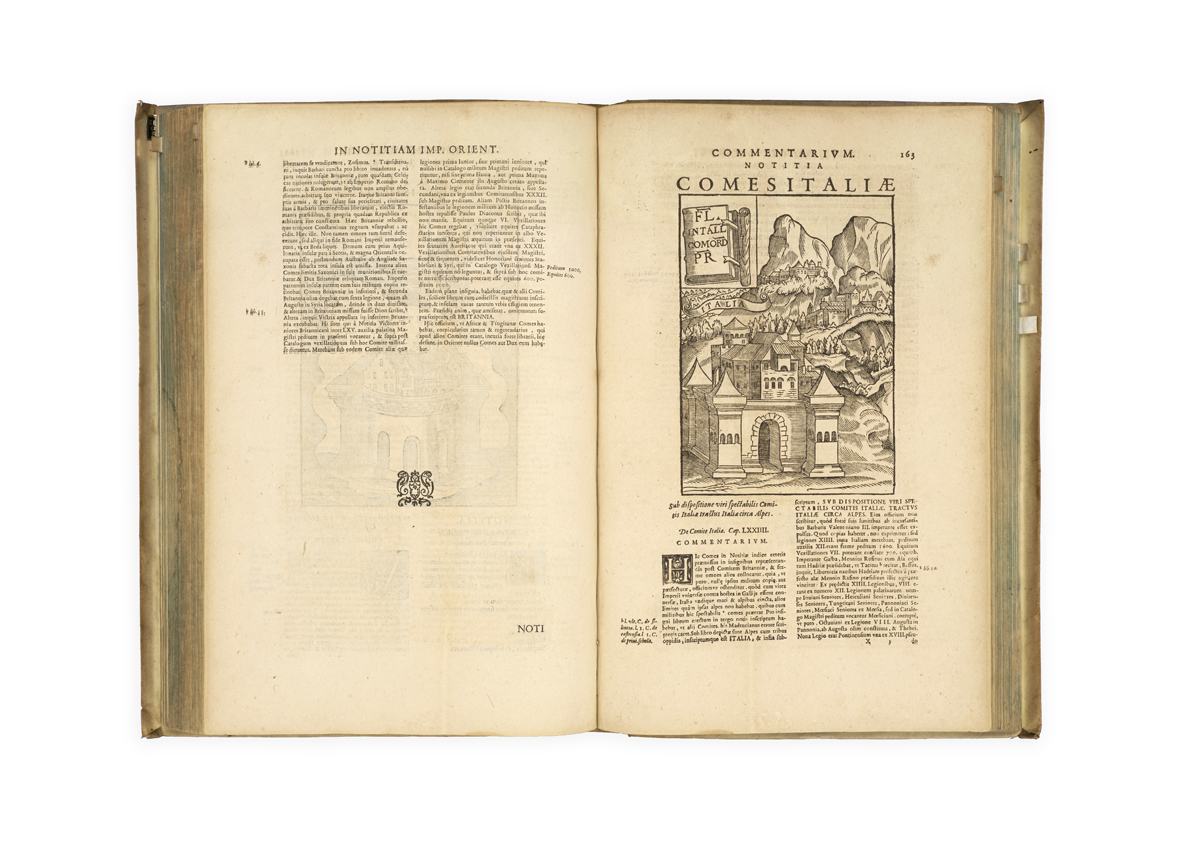 [GELENIUS, Sigismund (editor).] 
Notitia utraque, dignitatum, cum orientis, tum occidentis, ultra arcadii honoriique tempora, et in eam Guidi Panciroli … interpretis legum primarii commentarium … ultima editio, auctior, et correctior. 
An expanded edition, illustrated on almost every leaf, of an anonymous fifth-century description of the Roman Empire. 
SKETCHES IN THE SOUTH OF FRANCE [SOUTH OF FRANCE.]
'Routes de Privas à Nîmes 1892'.
A nice sketchbook, by an anonymous artist, recording a trip to the South of France in 1892, capturing the beauty of the landscape, as well as some of the historic monuments in the départements of Ardèche, Gard, and Vaucluse.