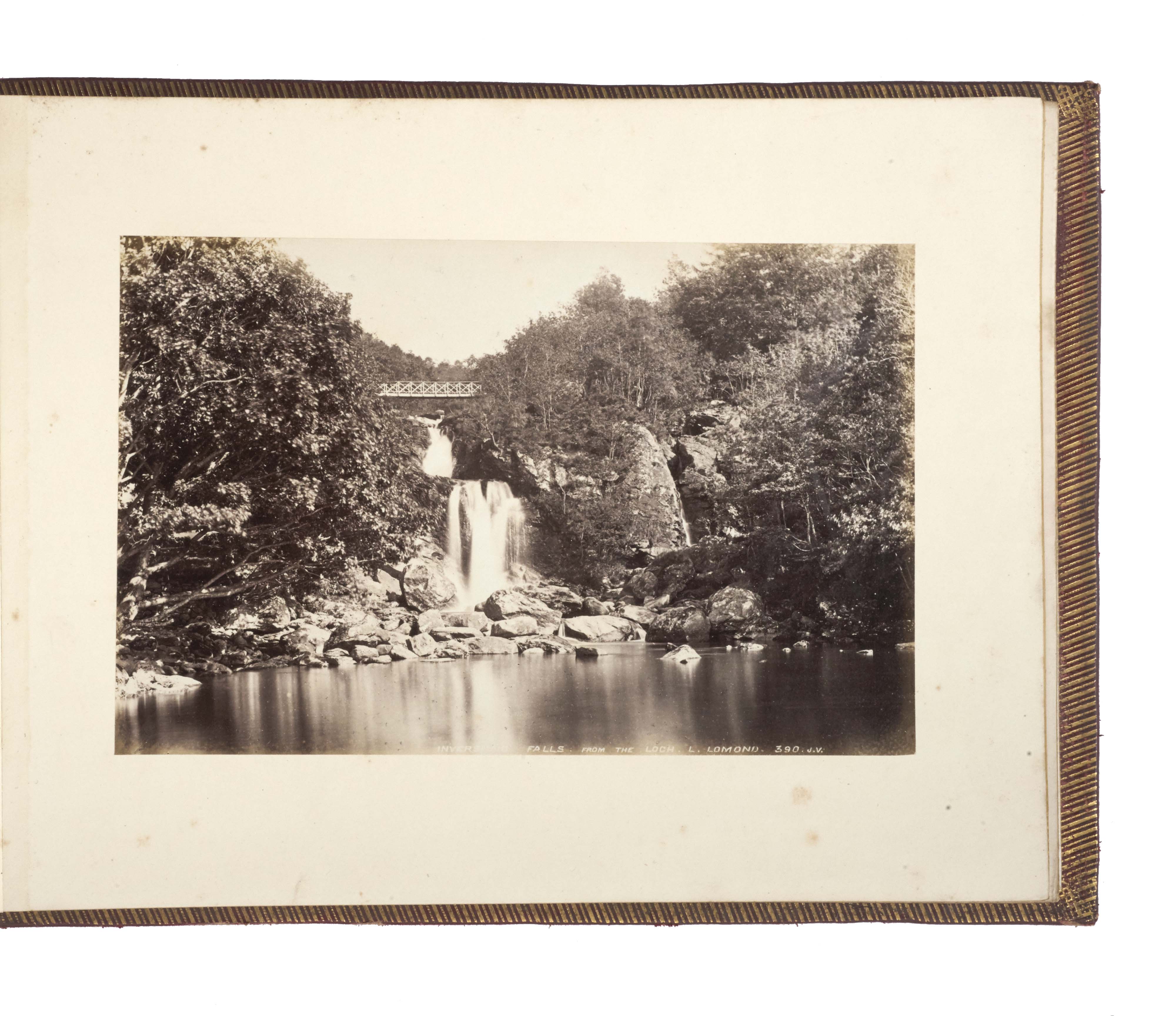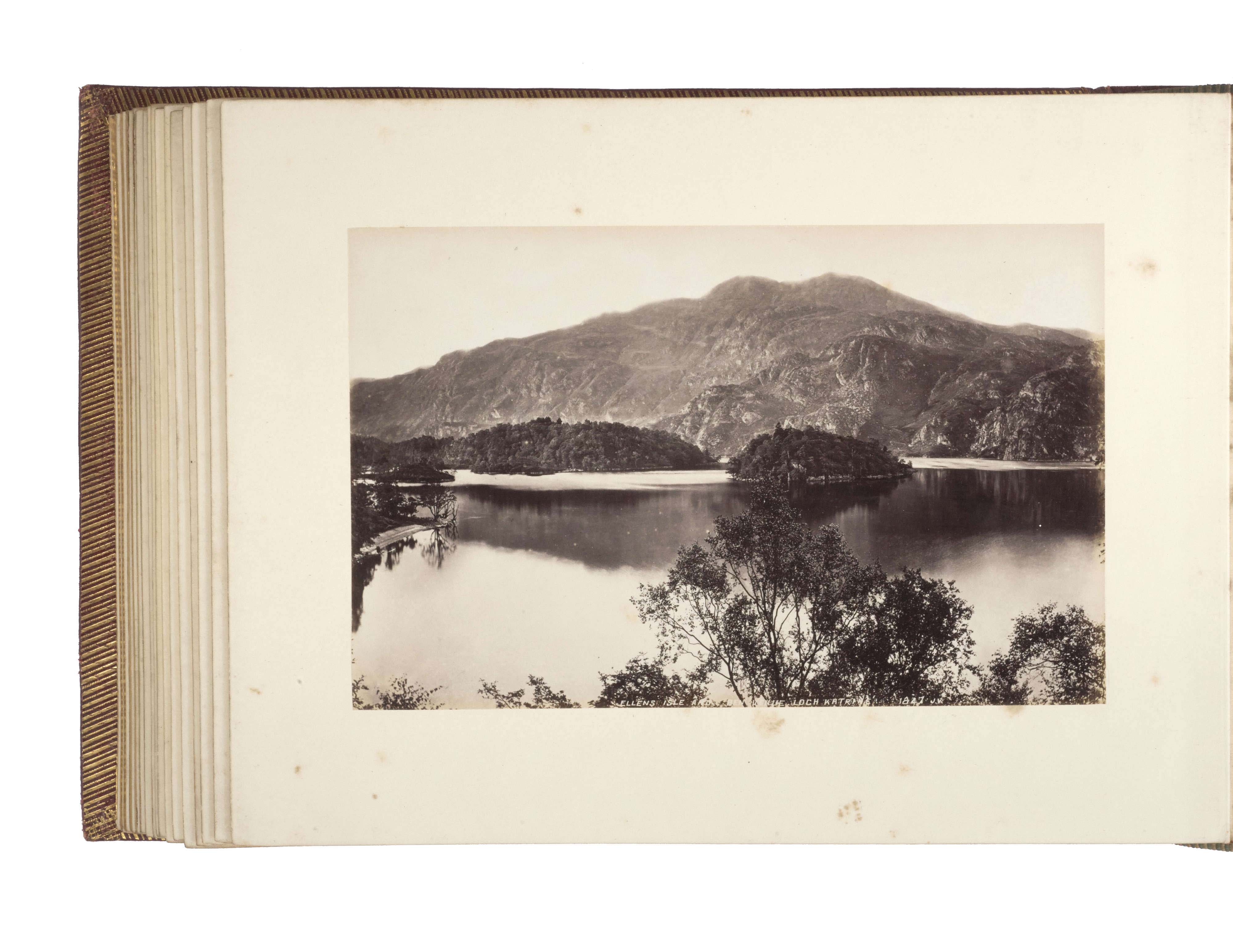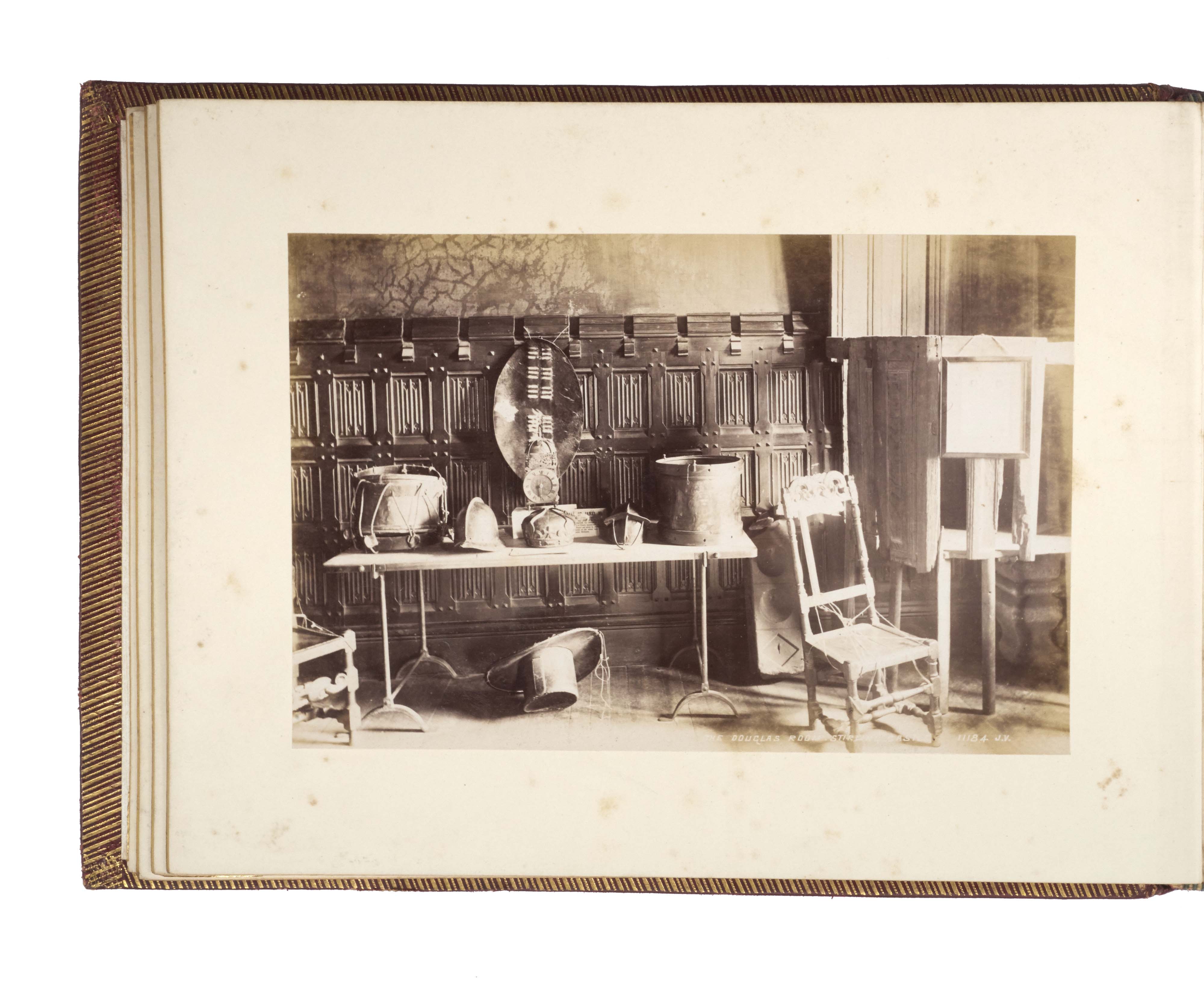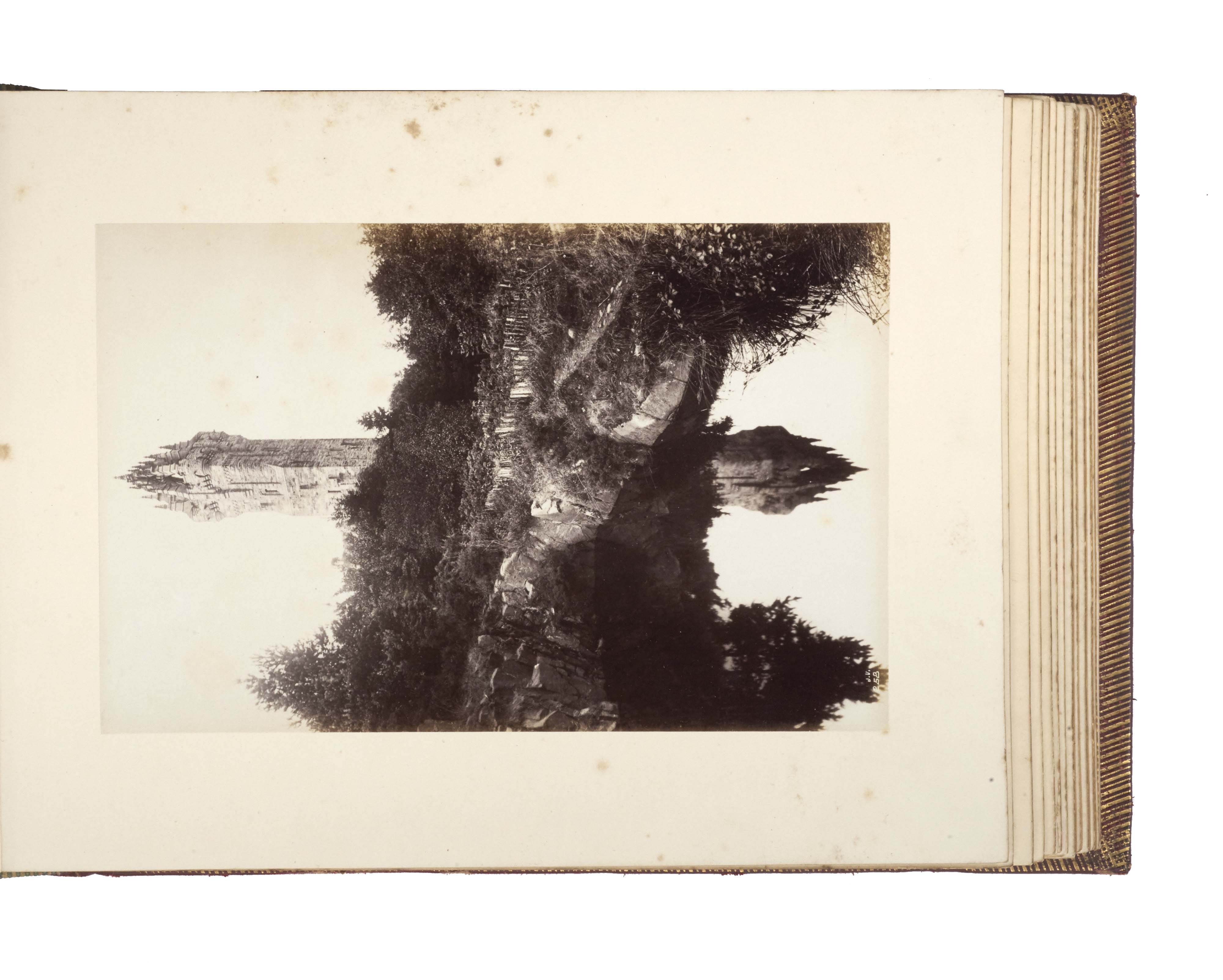 VALENTINE, James (photographer).
Album of Scottish views, mainly of Stirling and surroundings.
c. 1870s.
Oblong album (c. 21 x 29.5 cm), 40 albumen print photographs of Scottish views, mounted on 20 thick card leaves with tissue guards, captioned and numbered in the negative, mounts and guards foxed but prints generally in very good condition; in a contemporary red pebbled morocco album, ruled in black and gilt, turn-ins gilt, silk endpapers, all edges gilt; gilt initials 'G.E.' to upper board.
£600

Approximately:
US $823
€677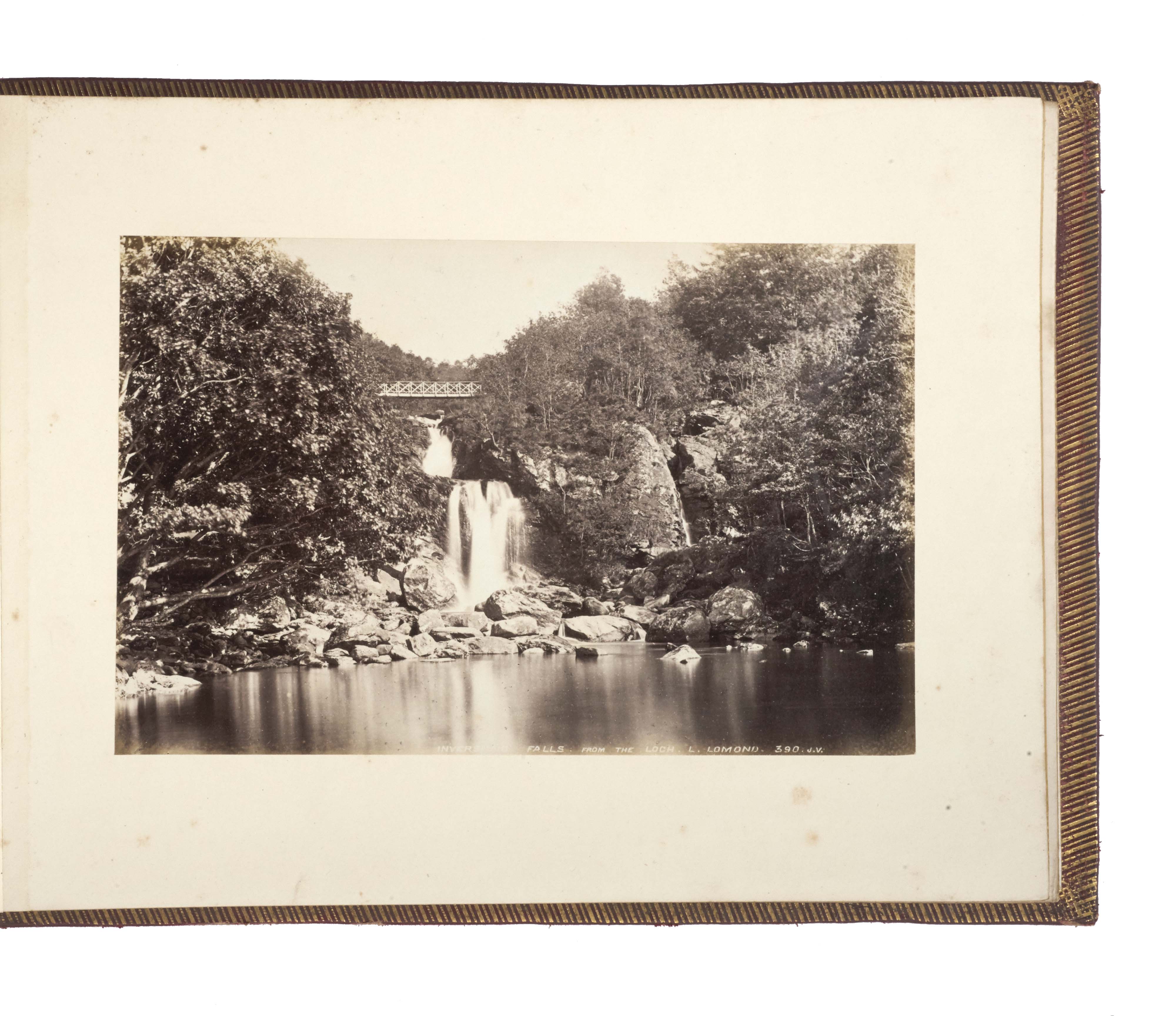 Added to your basket:
Album of Scottish views, mainly of Stirling and surroundings.
A handsome example of a topographical view album by the Scottish photographer James Valentine, focusing on Stirling and the surrounding areas.
The images include 'Stirling Castle from King's Knott' and several other views of Stirling Castle, 'Vale of Monteith from Stirling'; 'Bruce statue looking to Wallace'; 'Windings of the Forth and Abbey Craig, Stirling'; 'King Street, Stirling'; 'Cambuskenneth Abbey and tomb of James III'; 'Field of Bannockburn from Gillies Hill'; 'On the Allan Water'; 'Kier House'; 'Dunblane Cathedral from river'; 'Doune Castle'; 'Callander from west'; 'Silver Strand, Loch Katrine'; 'Ellen's Isle and Ben Venue, Loch Katrine'; 'Luss Pier, Loch Lomond'; 'Camstradden Bay, Loch Lomond'; and 'Inversnaid Falls'.
James Valentine (1815–1879) was an engraver and photographer from Dundee who was one of the original members of the Edinburgh Photographic Society, founded in 1861. By the end of the 1850s he had established himself as a portrait photographer and then, after instruction under Francis Frith in Reigate, Surrey, he began to photograph landscapes as well.
He converted a barouche into a mobile dark-room and travelled around Scotland building a portfolio of topographical views which brought him to Queen Victoria's attention in 1864 and eventually led to him being granted a royal warrant in late 1867. As 'photographer to the Queen' he sold individual albums, such as the present one, for prices ranging from half a guinea to 12 guineas aimed at upper and middle class tourists. James Valentine had two sons who followed him into the business and were constantly experimenting with new techniques; the firm became the longest-running photographic publishers in Britain.
You may also be interested in...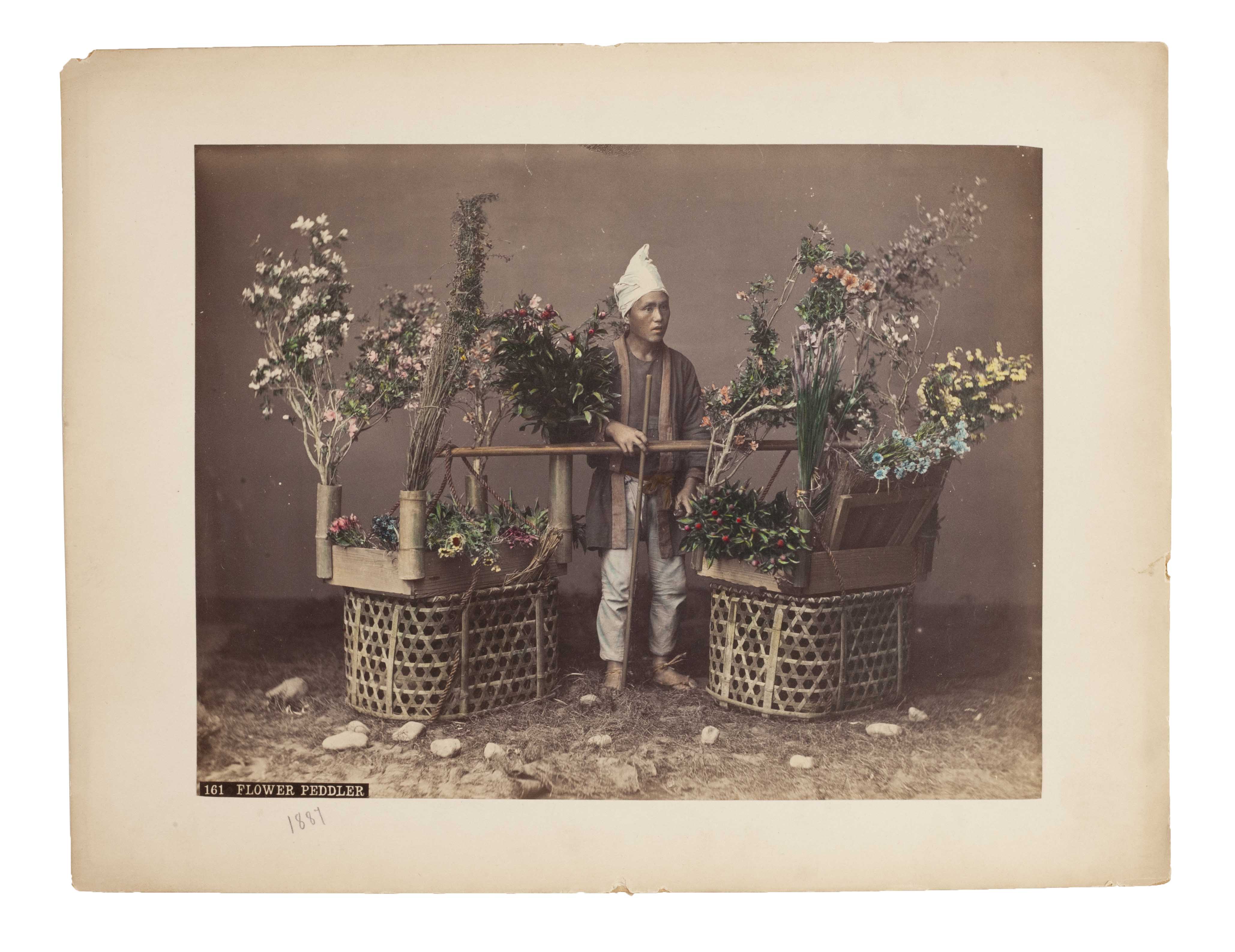 [FARSARI, Adolfo, Studio of.]
Japanese flower seller.
A striking image of a Japanese flower vendor, with delicate contemporary hand colouring, most notably to the flowers. After time spent in America, where he fought in the Civil War, Adolfo Farsari (1841 - 1898) moved to Japan in 1873, establishing himself in Yokohama. In 1885 he opened his own photographic studio, subsequently touring Japan to create a portfolio of over 1000 images. The quality of his work and innovative approach to hand colouring brought him commercial success. His firm was the last important Western photography studio in Japan.
MANUSCRIPT POCKETBOOK OF POETRY SCHULENBURG, Graf von der (compiler).
'Poesies Francoises sur diverses sujets composée par plusieurs celebres auteurs et recuelly par D.C.G. C de Schoulenbourg à Förste l'ann 1742'.
A charming manuscript compendium of French poetry in an attractive binding and slipcase, compiled at Förste in South Lower Saxony by a member of the distinguished von der Schulenburg family. The selection of love poems, spiritual and satirical verse, epitaphs, and songs (including one poem titled 'Sur un livre donné à sa majesté Brittannique intitule Il gyro del mondo') is drawn from seventeenth-century writers including Boileau, Fénelon, Le Pays, Pavillon, Racine, and Scarron.