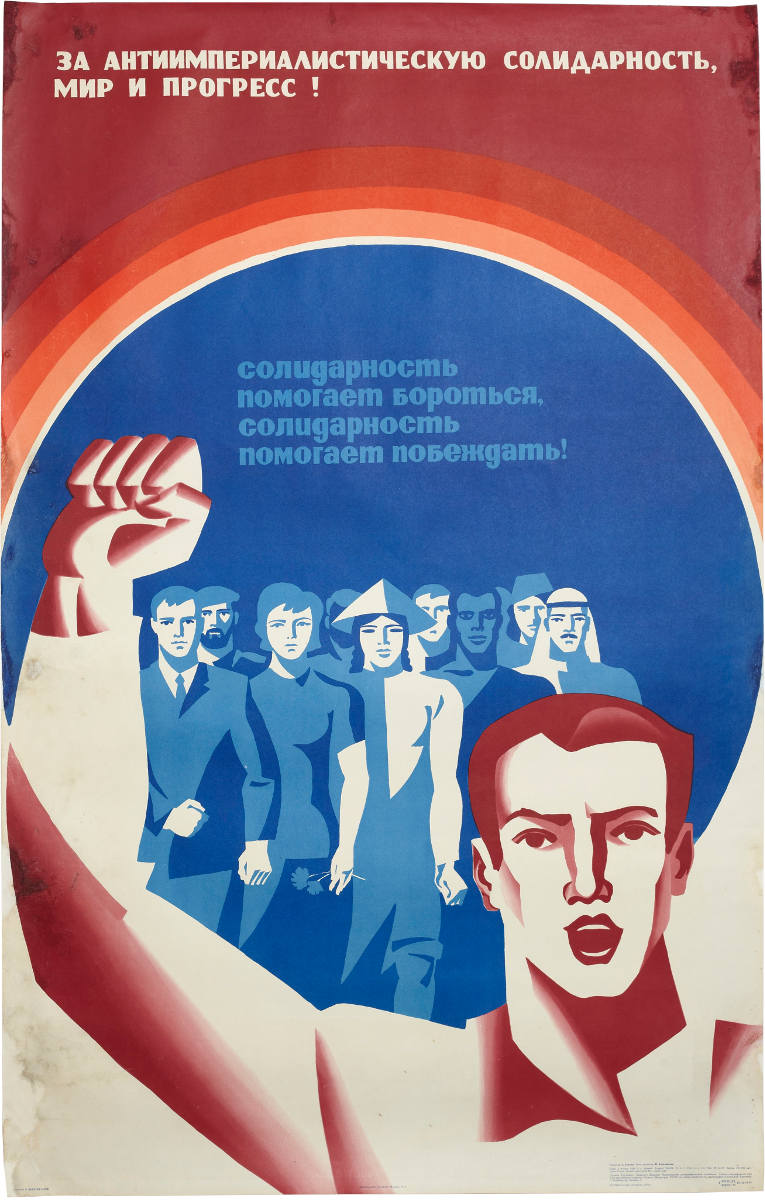 VERTOGRADOV.
За антиимпериалистическую солидарность, мир и прогресс! [For anti-imperialist solidarity, peace and progress!]
Moscow, Izdatelstvo Plakat, 1975.
106 x 67cm, lithographed poster in full colour, backed on linen, restoration to sides, still good (B).
£250 + VAT

Approximately:
US $343
€292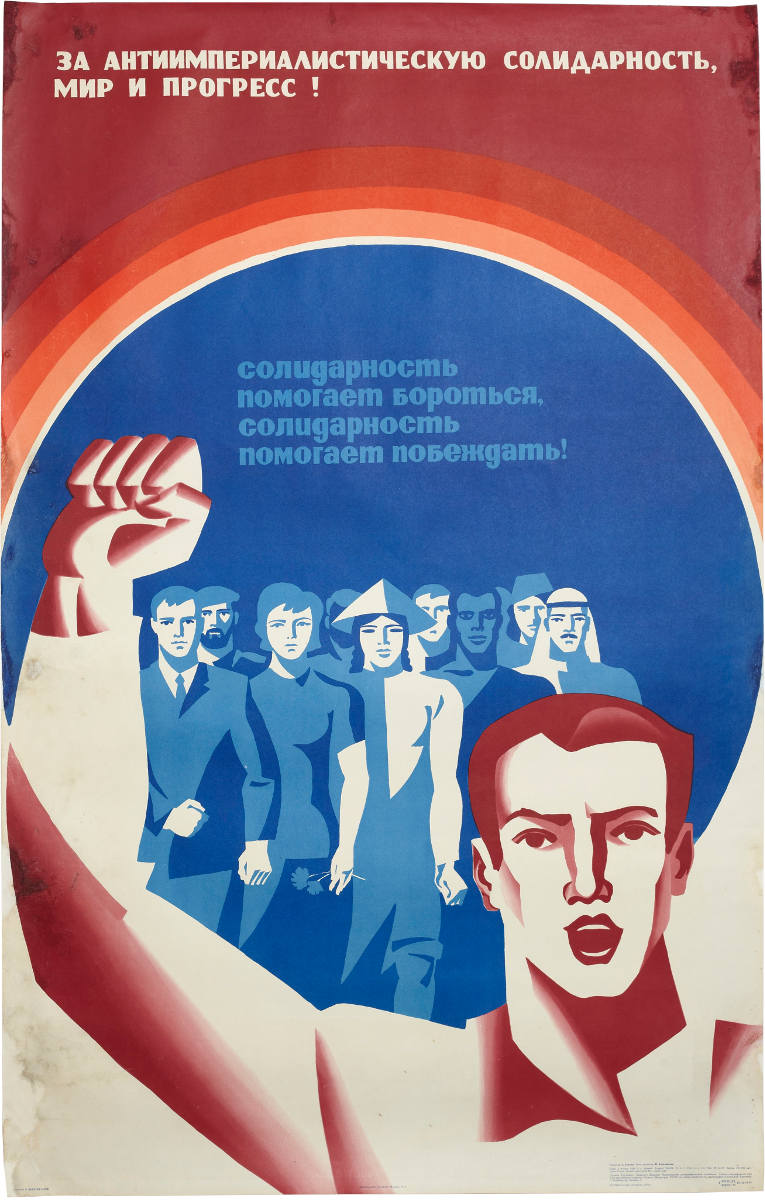 Added to your basket:
За антиимпериалистическую солидарность, мир и прогресс! [For anti-imperialist solidarity, peace and progress!]
A dramatic manifestation of the Soviet Union's claim to be the foremost enemy of imperialism, and a vehement supporter of independence movements throughout the third world, as demonstrated here by the traditional dress of some of the figures in the background.

Intriguingly, in spite of this anti-imperialist profession, the Soviet Union had a fairly antagonistic attitude towards any nations that did not support its aims, suppressing Afghanistan, Eastern Europe, the Baltic States and the Caucasus, as well as offering support to insurgent groups overseas.
You may also be interested in...
PURVEYOR OF PARISIAN FASHION GARAND, Mlle.
A l'image S. Nicolas, sous les charniers des Saints Innocens, du côté de la Chapelle de la Vierge, la premiere grande boutique adossée au cimetiere. Mademoiselle Garand, marchande lingere, cousine de Monsieur Delaistre vend en gros & en détail ...
An apparently unrecorded advertisement for the Parisian seamstress and shopkeeper Mademoiselle Garand, who operated nearby the Holy Innocents' Cemetery in the centre of the city. Here she advertises hats, bonnets and nightcaps, shirt cuffs and sleeves, collars and handkerchiefs, made from all manner of fabrics (canvas, linen, muslin, lace etc.), embroidered, striped or plain, for men, women and children, and suited to every budget.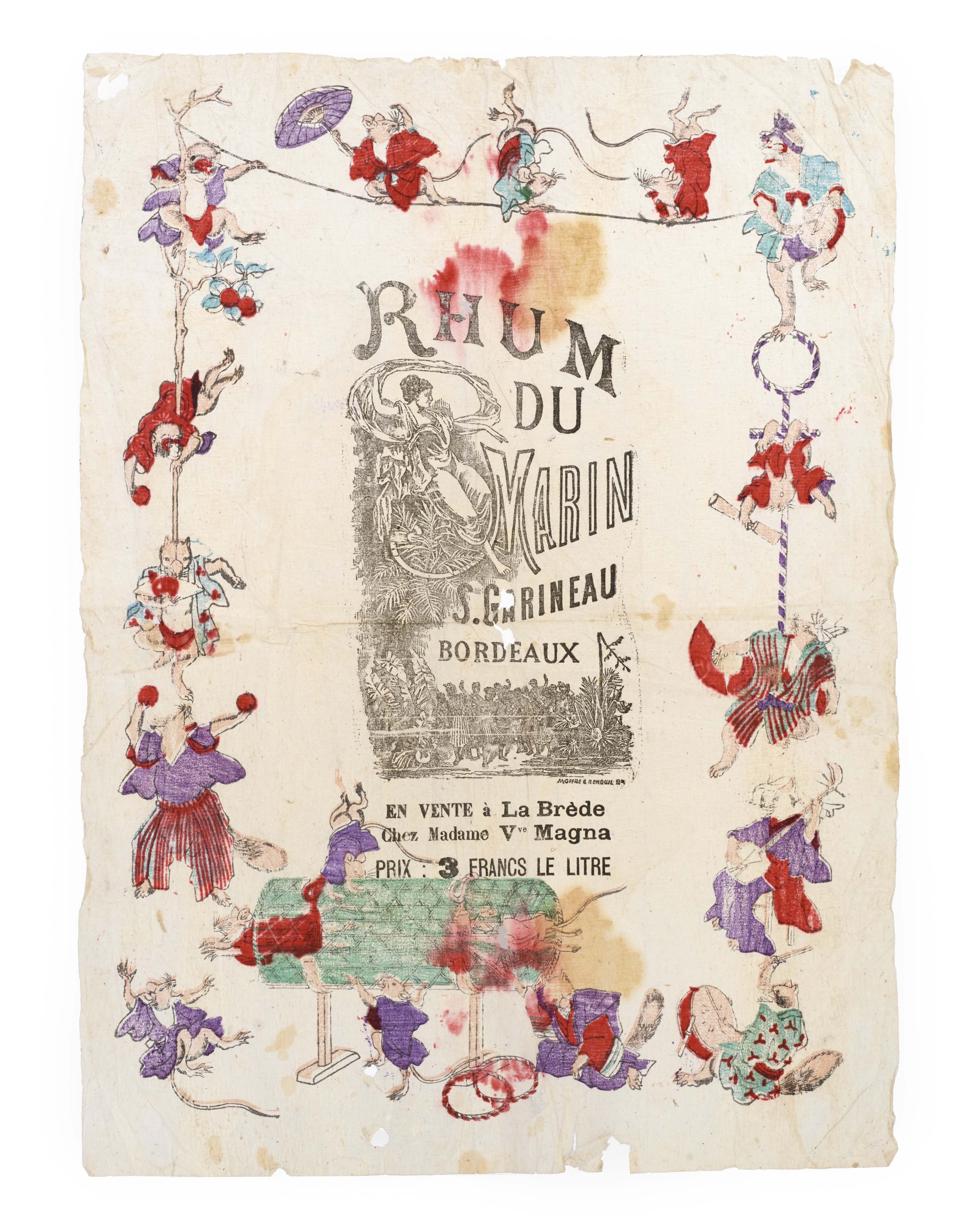 ALCOHOLIC ANTHROPOMORPHIC ACROBATIC ANIMALS GARINEAU, Sylvain-Jean.
Rhum du Marin. S. Garineau, Bordeaux. En vente à La Brède chez Madame Vve Magna. Prix: 3 Francs le litre.
An extremely rare broadside advertisement for rum, splendidly printed in the fin de siècle style, with vibrant colours, depicting anthropomorphic acrobatic animals.