PRESENTED BY THE TRANSLATOR
VIRGIL Maro, Publius, and Giovanni Andrea dell'ANGUILLARA (trans.). 

Il primo libro della Eneida di Vergilio, ridotto da Giovanni Andrea dell'Anguillara in ottava rima … 
Padua, Gratioso Perchacino, 1564. 
4to, ff. 47, [1]; printed in italic type, woodcut arms of dedicatee (Cristoforo Madruzzo Cardinal of Trento) to title, large woodcut historiated initial to f. 2; light foxing to early leaves, a few spots elsewhere, but a very good copy; in eighteenth-century Italian vellum-backed boards with patterned paper sides, gilt red morocco lettering-piece to spine; author's ink inscription to title verso 'Giovanni Andrea dell'Anguillara dono di propria mano'.
£2500

Approximately:
US $3087
€2883
Added to your basket:
Il primo libro della Eneida di Vergilio, ridotto da Giovanni Andrea dell'Anguillara in ottava rima … 
First edition of the first book of Anguillara's verse translation of the Aeneid, a copy printed on strong paper and inscribed by the author.  The humanist, poet, and successful translator of Ovid Giovanni Andrea dell'Anguillara (1517–1572) undertook to translate into Italian ottava rima the first four books of Virgil's Aeneid, but only printed two.  According to Argelati, Anguillara left his Aeneid unfinished on purpose in order not to stand in competition with his friend, the translator Annibal Caro; 'Had he finished it, it would have been more pleasing to read than any of the above named [Caro and Domenichi as well as others] if we can judge by this specimen' (G. Baretti, The Italian Library (London, 1757), p. 132). 

A number of copies are known to have been printed on strong paper and to bear the same authorial inscription – further evidence of this being intended as a special, non-trade issue is to be found in the last leaf, which bears the somewhat threatening printed valediction 'All those who thank the author for this gift, with words or letters, will be met by Aeneas in the Elysian Fields and praised by Anchises; the others might find themselves in Hell, and not without guilt.  Let replies be addressed to Venice, to the Siren Bookshop' (trans.). 

EDIT16 33755; F. Argelati, Biblioteca dei volgarizzatori IV, p. 149; Haym, Biblioteca italiana II, 206; Schweiger II, 1232. 
You may also be interested in...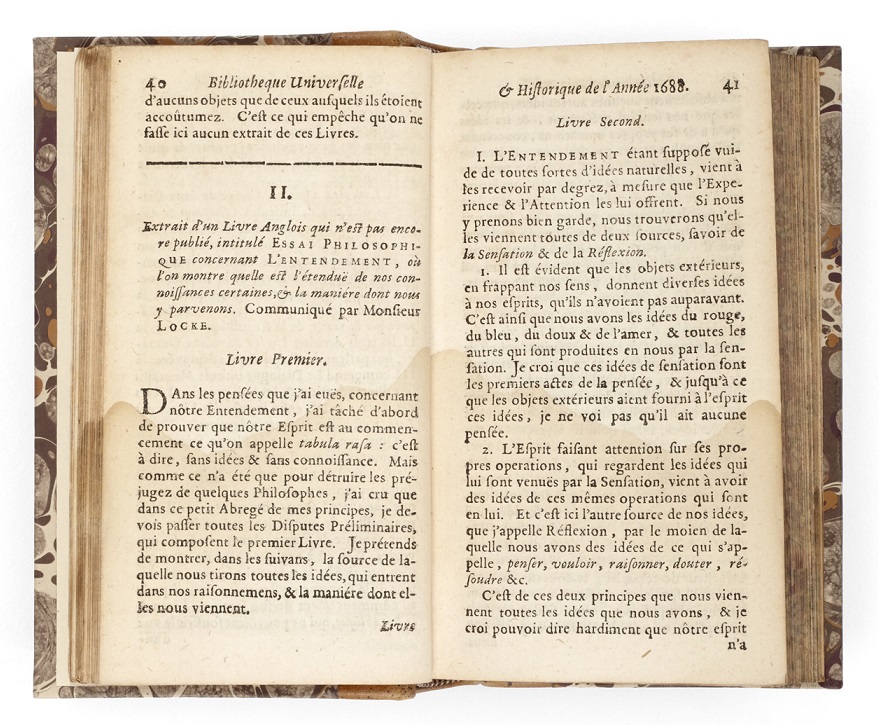 LOCKE, John. 
[An Essay Concerning Humane Understanding].  Extrait d'un Livre Anglois qui n'est pas encore publié, intitulé Essai Philosophique concernant L'Entendement…communiqué par Mr Locke [in: 'Bibliothèque universelle et historique de l'année 1688', vol. 8]. 
A substantial and extremely influential extract, published two years before the appearance of the book, of Locke's Essay concerning human understanding: a publication of major consequence in the history of philosophy.  This issue of the Bibliothèque universelle et historique also contains at least one other contribution by Locke: an anonymously-published review of Newton's Principia Mathematica (pp. 363-375). 
AGAINST INEQUALITY ROUSSEAU, Jean-Jacques.
Discours sur l'origine et les fondemens de l'inegalité parmi les hommes.
First edition. 'Rousseau's object was to persuade people that the happier state is that in which inequality does not subsist, that there had once been such a state, and that this was the first state of nature' (Morley). Nature imposes its own inequality, namely the inequality of physical strength and weakness, while man imposes, or at least authorises political and moral inequality. Physical inequality was made apparent by the accidental coming-together of isolated individuals to subsist in joint labour and to advance a series of technological Revolutions. The very establishment of civil society, of which this coming-together was the result, was flawed because it was established on chance; this is the insecure foundation on which moral and political inequality are constructed. If Rousseau's Discours sur les sciences et les arts was aesthetic and moral, this second Discourse was 'explicitly social and economic … Rousseau's work attacked the social institutions and entrenched inequalities of a feudal society in transition which combined remnants of feudal personal dependence [the age of 'Master and Slave'] with a set of new bourgeois commercial values and individual self-serving relationships later characterised [by Tocqueville in Democracy in America] as 'the get ahead spirit'' (New Palgrave). Rousseau's conclusion is indeed economic in spirit: of all the trappings of inequality – property, laws and government included – wealth is by far the most destructive.