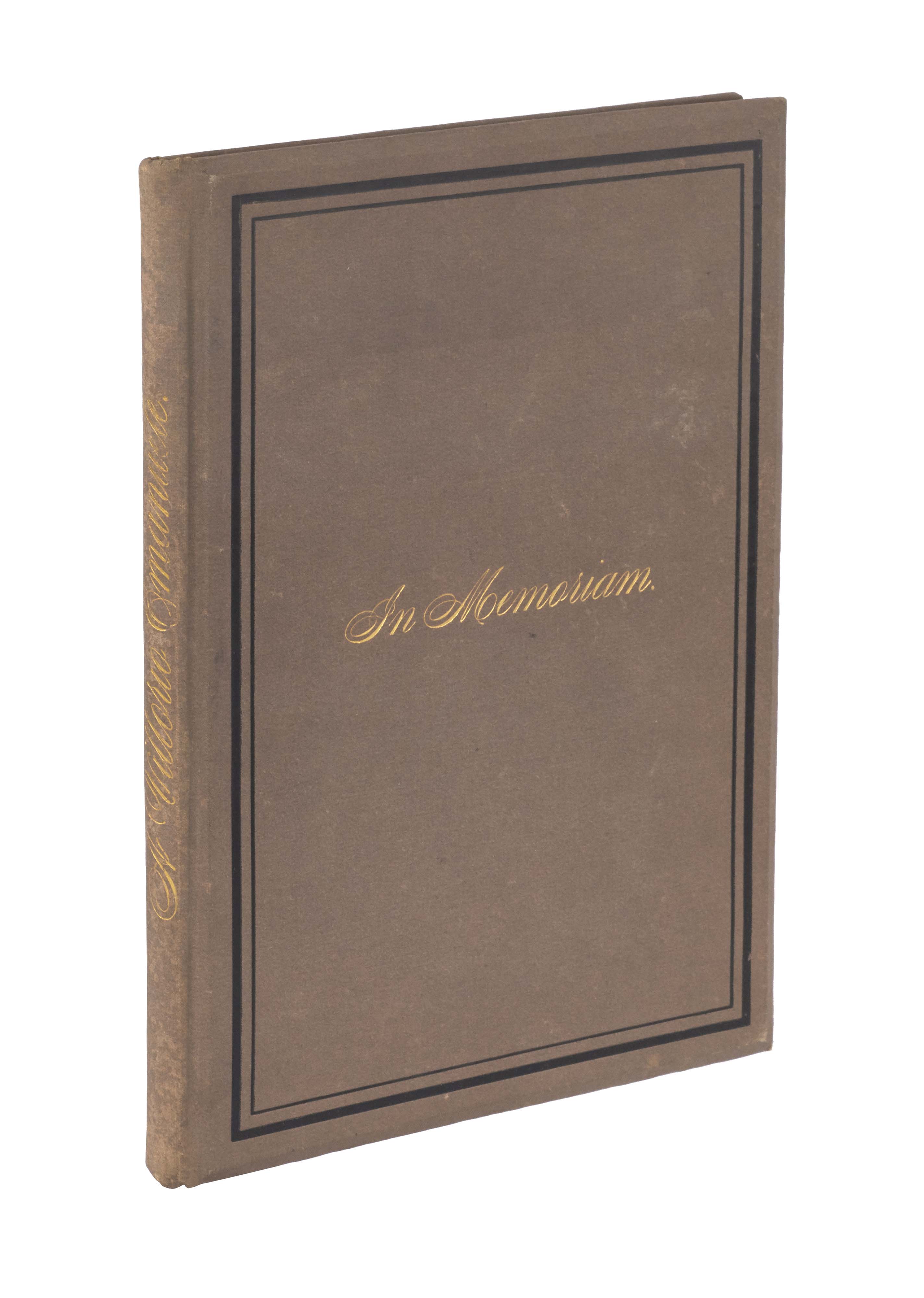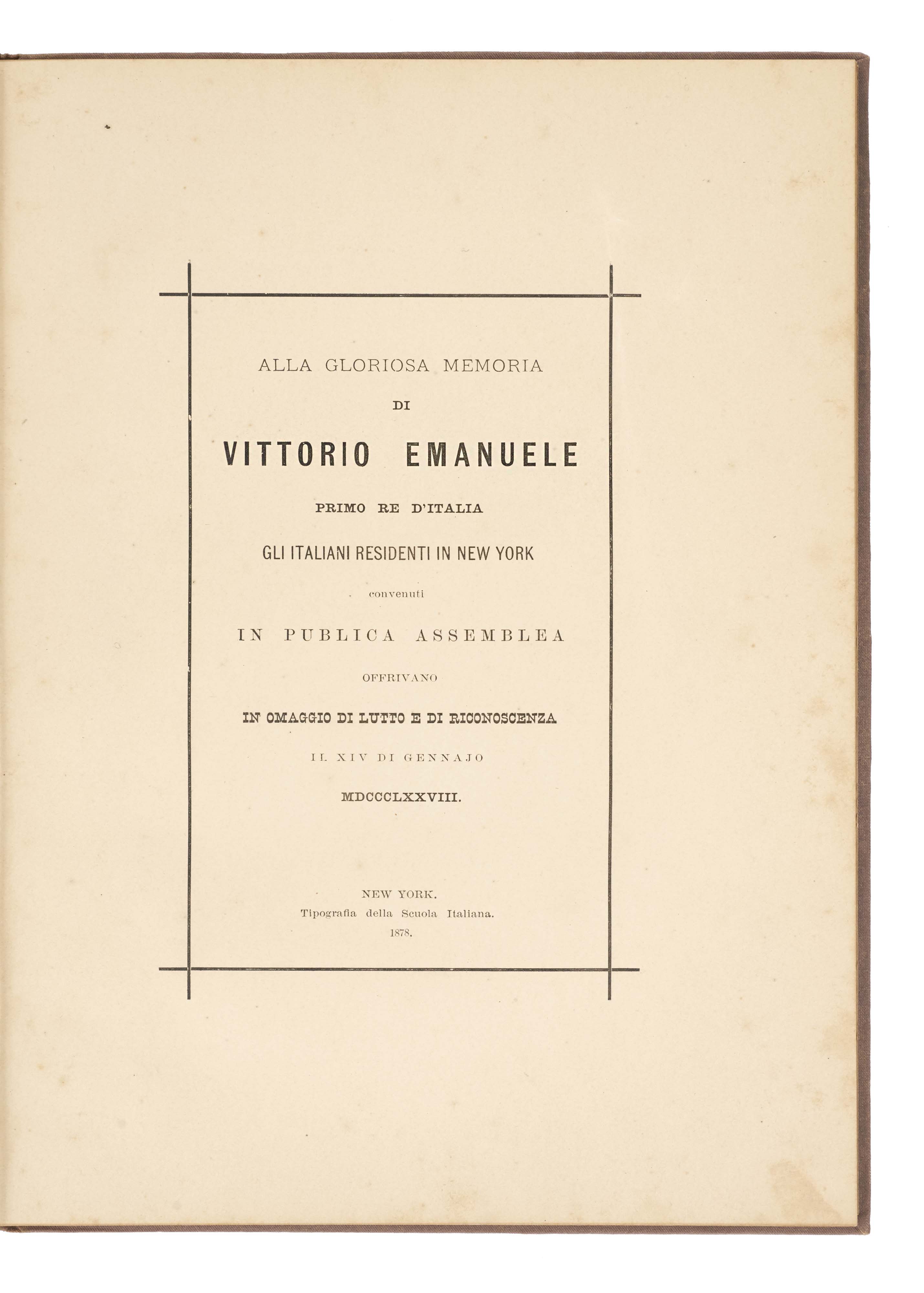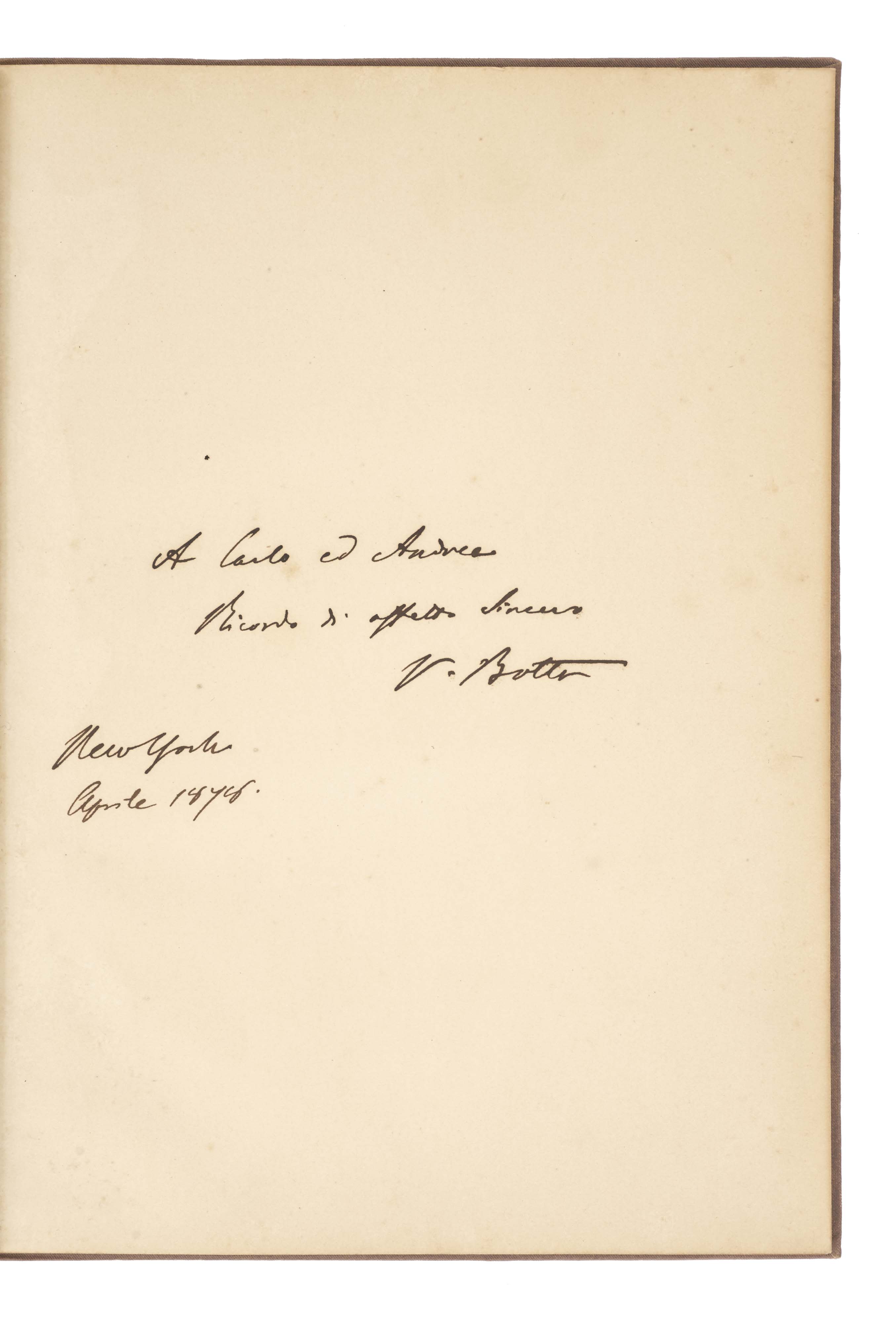 ITALIANS IN NEW YORK
[VITTORIO EMANUELE II.]
Alla gloriosa memoria di Vittoria Emanuele primo re d'Italia, gli Italiani residenti in New York convenuti in publica assemblea offrivano in omaggio di lutto e di riconoscenza il XIV di gennaio MDCCCLXXVIII.
New York, Tipografia della scuola italiana, 1878.
4to, pp. [2 (blank)], 76, [2 (blank)]; title and text within black ruled border; a very good copy in publisher's black-ruled bevelled boards with the arms of Vittorio Emanuele blocked in gilt to lower board and 'In Memoriam' in gilt to upper, spine lettered in gilt, dark brown endpapers; spine slightly sunned; preliminary blank inscribed by one of the authors 'A Carlo ed Andrea // Ricordo di affetto sincere // V. Botta // New York // Aprile 1878'.
£500

Approximately:
US $652
€554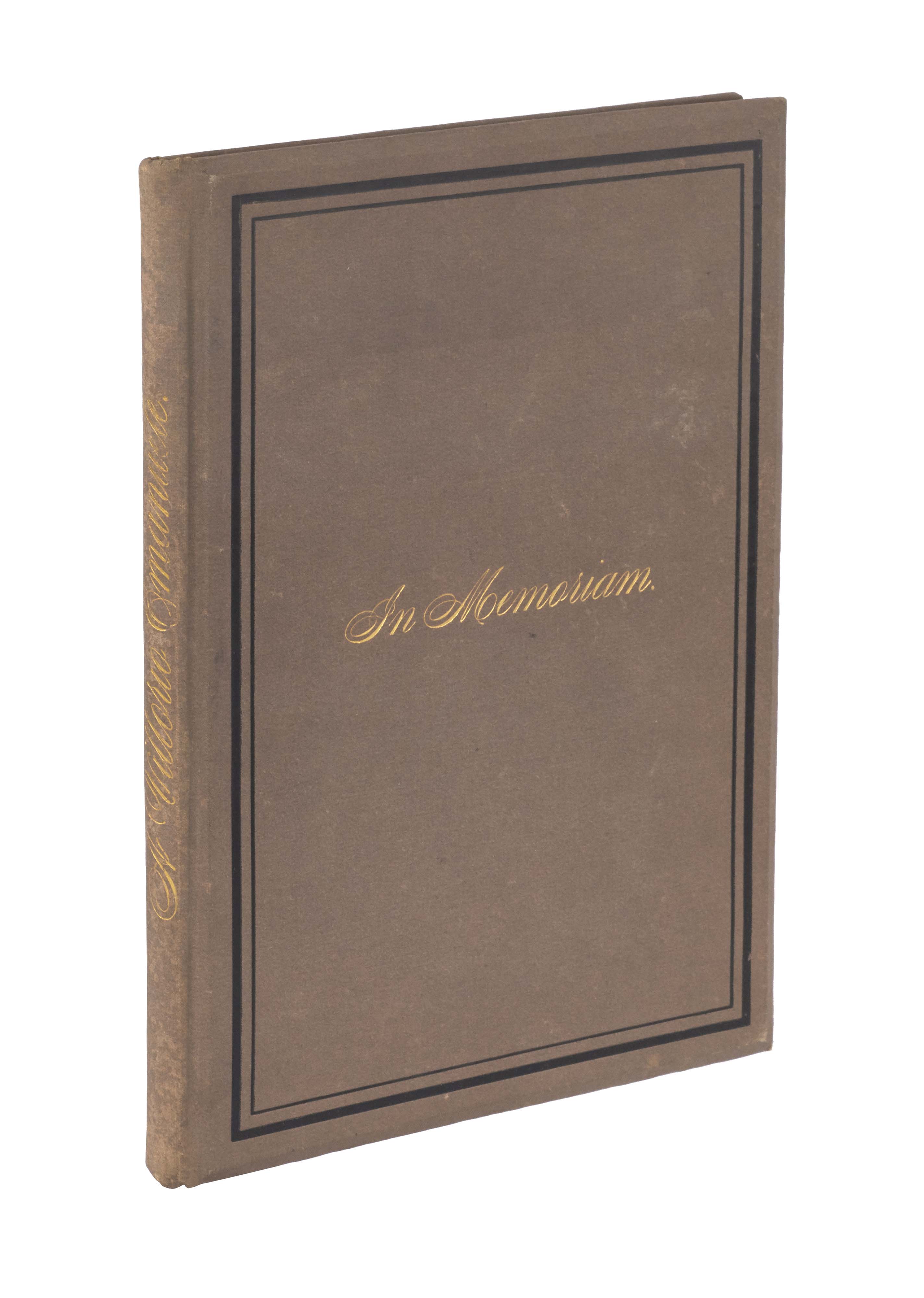 Added to your basket:
Alla gloriosa memoria di Vittoria Emanuele primo re d'Italia, gli Italiani residenti in New York convenuti in publica assemblea offrivano in omaggio di lutto e di riconoscenza il XIV di gennaio MDCCCLXXVIII.
First edition of a commemorative tribute to the late Vittorio Emanuele II, first king of Italy, by the Italian community of New York.

The volume records the memorial meeting held at the Italian school in New York, at 156 Leonard Street, on the evening of the fourteenth January, 1878, recorded in the New York Tribune the following day: 'The hall … was crowded to its utmost capacity … and often repeated and loud cheers burst forth whenever [Vittorio Emanuele's] name was mentioned or when any allusion was made to his unification of Italy … Professor Botta spoke for half an hour, giving a very eloquent review of Victor Emanuel's life, character and services … some passages of his speech where highly poetic, and seemed to charm the ears of the audience equally by their sentiment and the musical cadence of the sentences'.


The present copy is inscribed by Vincenzo Botta, the Italian educationalist and philosopher who chaired the meeting at the Scuola italiana. After a brief political career, Botta settled in the United States in 1853 on the second of his tours to study education abroad, accepting the chair of Italian language and literature at the University of the City of New York (now New York University). Over the following four decades he was established as a leading figure of the Risorgimental migration to America, maintaining a correspondence with L'Opinione in Italy and writing addresses and articles in the States, including his laudatory discourses on Cavour, Garibaldi, and (here) Vittorio Emanuele II.
You may also be interested in...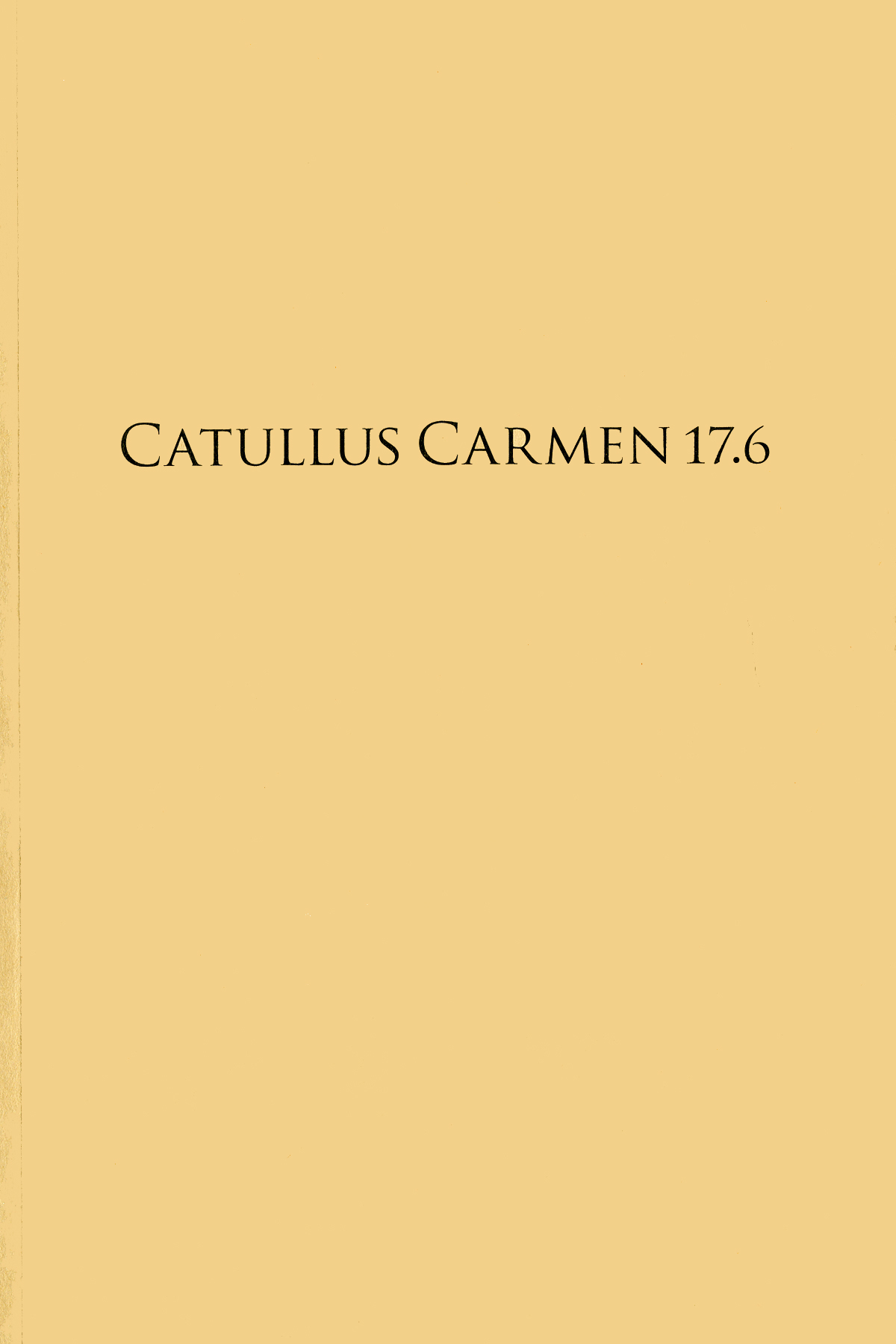 FREEMAN, Arthur.
Catullus Carmen 17.6 and Other Mysteries. A Study in Editorial Conflict, Eccentricity, Forgery, and Restitution. With a checklist of significant printed editions of Catullus in Latin, 1472-2005.
This partly historical, partly philological essay offers a general account of the early preservation, post-medieval recovery, and Renaissance evolution of the text of Catullus, with specific reference to one speculative reading in Carmen 17 ('De Colonia'), and certain humanist twists and forgeries that accompanied its long editorial history.
Accompanying the narrative is a substantial bibliographical appendix that provides a checklist of significant editions of Catullus in Latin from 1475 to the present day, with brief notes of relevance and location.
Arthur Freeman is a rare book dealer and writer living in London. In 2014 Quaritch published his Bibliotheca Fictiva: a Collection of Books and Manuscripts Relating to Literary Forgery 400 BC – AD 2000. Catullus Carmen 17.6 is the second footnote to that book, following Julia Alpinula (2015).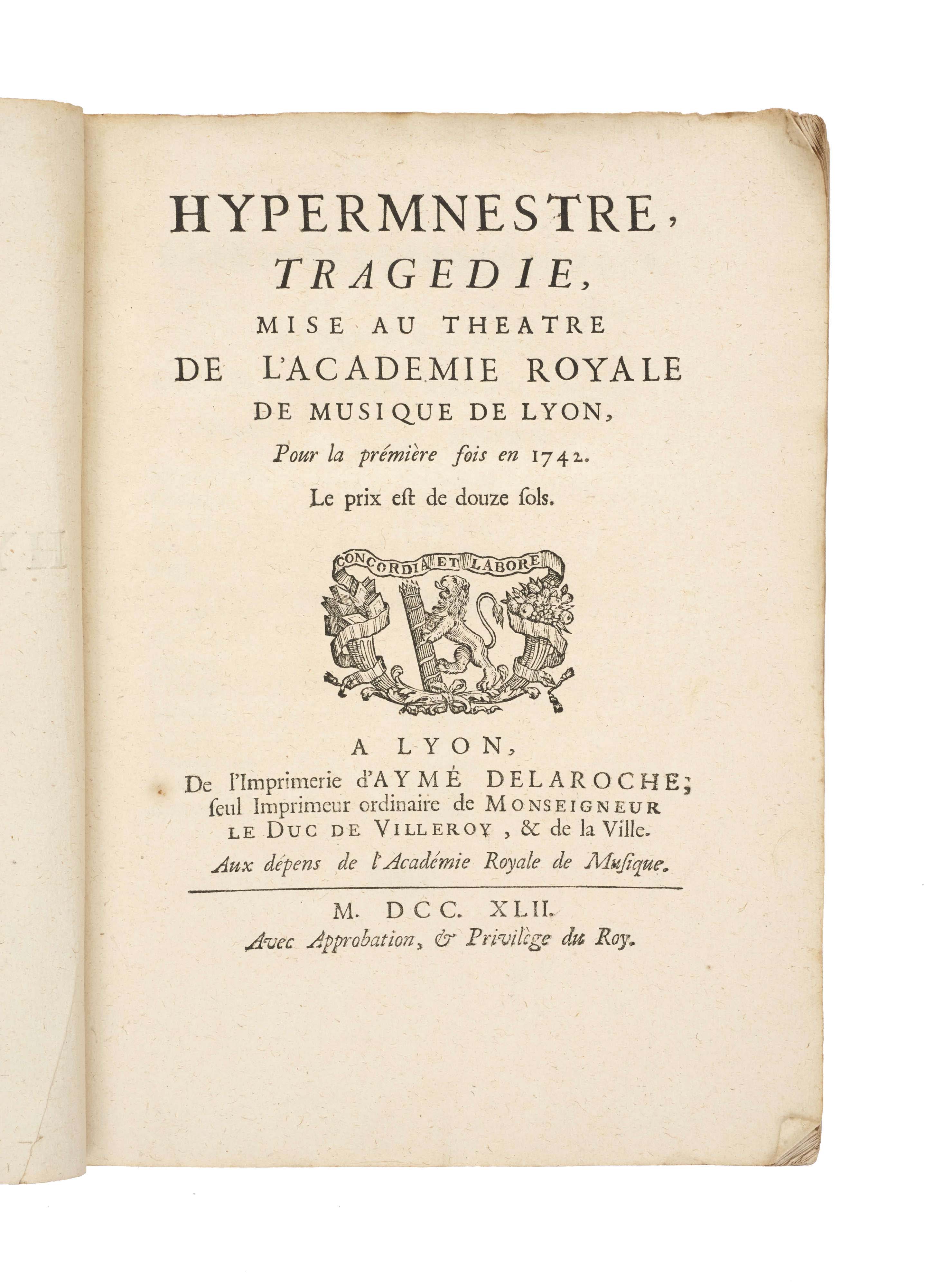 [LAFONT, Joseph de.]
Hypermnestre, tragedie, mise au theatre de l'Academie Royale de Musique de Lyon, pour la prémière fois en 1742. Le prix est de douze sols.
Very scarce Lyon edition of the libretto for the tragedy Hypermnestre by the French playwright Joseph de Lafont (1686-1725). First performed in 1716, with music by Charles-Hubert Gervais, the play was initially criticised for its fifth act, but after rewriting by abbé Simon-Joseph Pellegrin enjoyed considerable success both with the public and at court. Lafont died at the age of 39, succumbing to his affection for wine.
In 1742 Hypermnestre was performed for the first time at the Royal Academy of Music in Lyon, and this edition gives the names of the singers, actors and actresses who performed. The title role was played by Mlle Louise Jacquet (b. 1722) who began her singing career at the Paris Opera in 1738 and subsequently moved to Aix-en-Provence. An attractive portrait of her was painted by Jean-Etienne Liotard.
In Greek mythology, Hypermnestra was one of the fifty daughters of Danaus, king of Argos, who defied her father by refusing to kill her husband Lynceus.
We have traced only 3 copies, at the BnF, BM Lyon, and the Library of Congress.