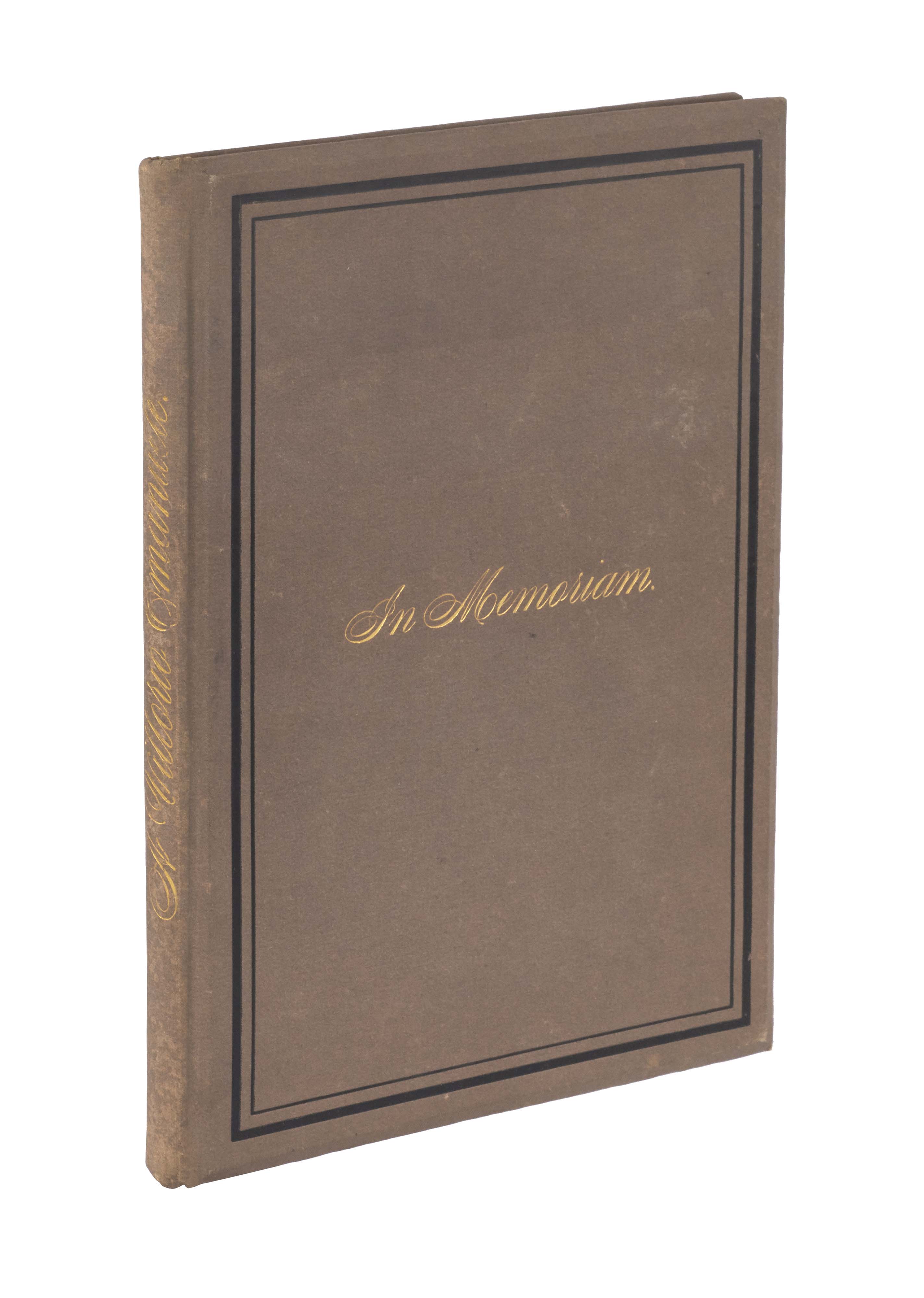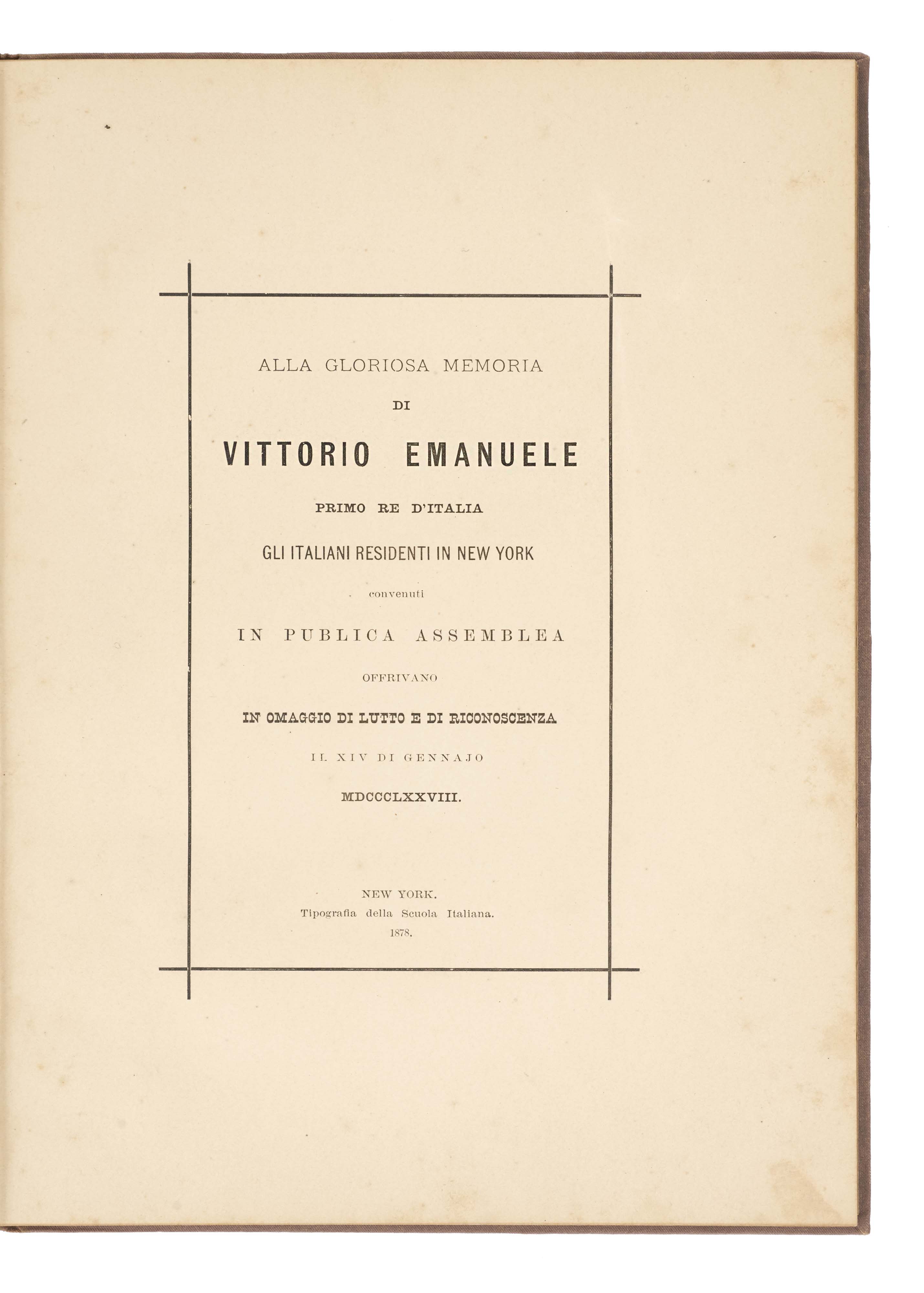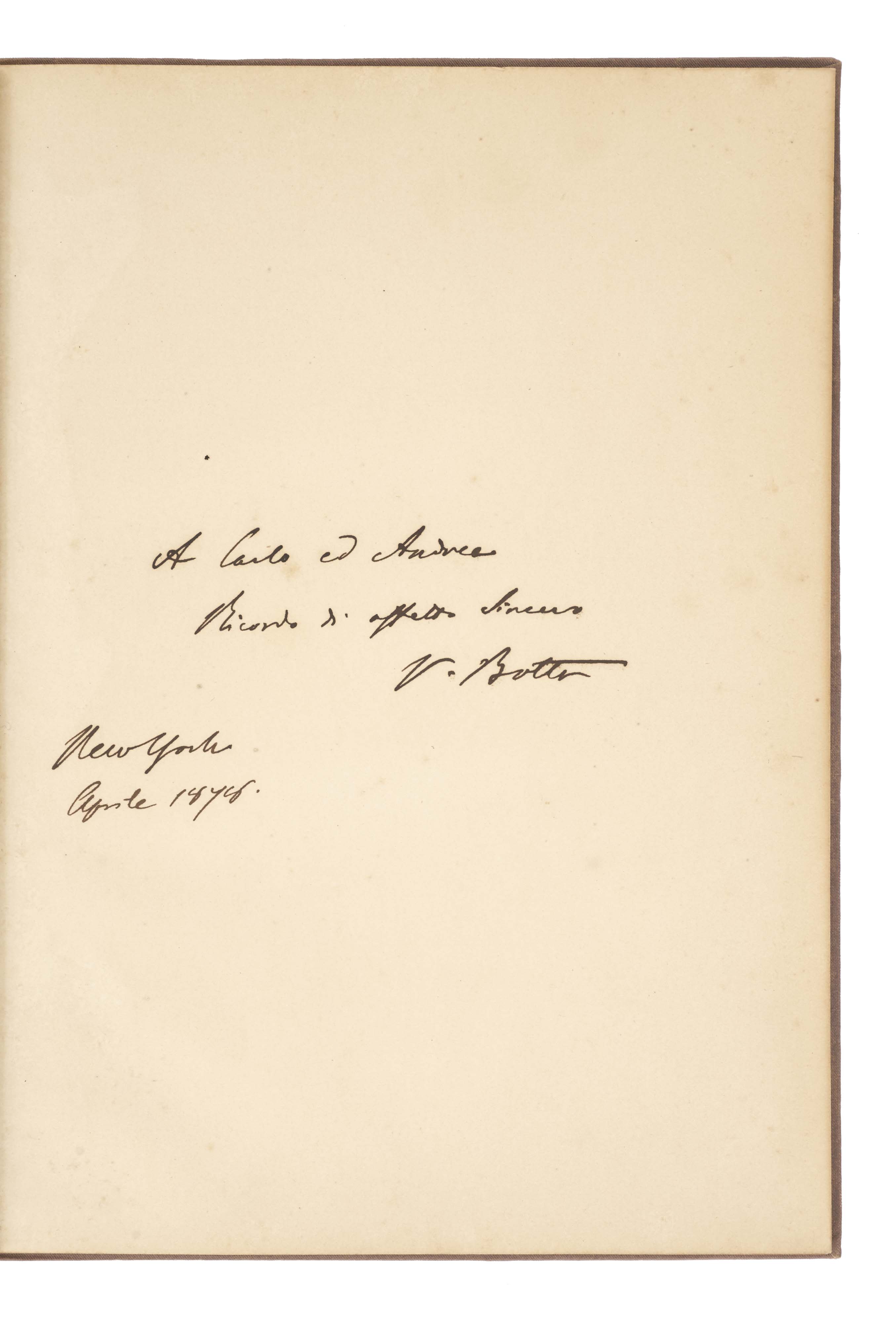 ITALIANS IN NEW YORK
[VITTORIO EMANUELE II.]
Alla gloriosa memoria di Vittoria Emanuele primo re d'Italia, gli Italiani residenti in New York convenuti in publica assemblea offrivano in omaggio di lutto e di riconoscenza il XIV di gennaio MDCCCLXXVIII.
New York, Tipografia della scuola italiana, 1878.
4to, pp. [2 (blank)], 76, [2 (blank)]; title and text within black ruled border; a very good copy in publisher's black-ruled bevelled boards with the arms of Vittorio Emanuele blocked in gilt to lower board and 'In Memoriam' in gilt to upper, spine lettered in gilt, dark brown endpapers; spine slightly sunned; preliminary blank inscribed by one of the authors 'A Carlo ed Andrea // Ricordo di affetto sincere // V. Botta // New York // Aprile 1878'.
£500

Approximately:
US $682
€561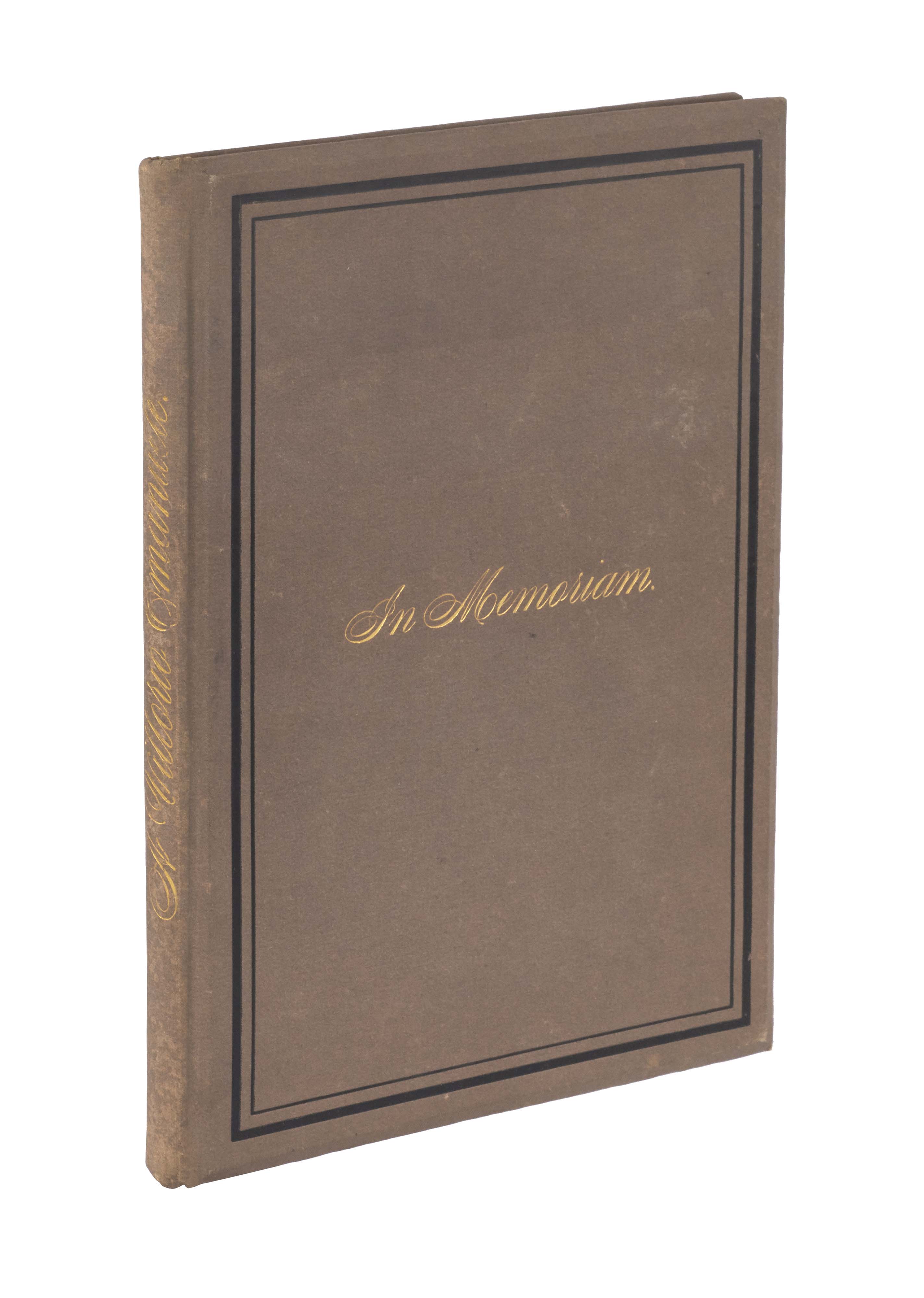 Added to your basket:
Alla gloriosa memoria di Vittoria Emanuele primo re d'Italia, gli Italiani residenti in New York convenuti in publica assemblea offrivano in omaggio di lutto e di riconoscenza il XIV di gennaio MDCCCLXXVIII.
First edition of a commemorative tribute to the late Vittorio Emanuele II, first king of Italy, by the Italian community of New York.

The volume records the memorial meeting held at the Italian school in New York, at 156 Leonard Street, on the evening of the fourteenth January, 1878, recorded in the New York Tribune the following day: 'The hall … was crowded to its utmost capacity … and often repeated and loud cheers burst forth whenever [Vittorio Emanuele's] name was mentioned or when any allusion was made to his unification of Italy … Professor Botta spoke for half an hour, giving a very eloquent review of Victor Emanuel's life, character and services … some passages of his speech where highly poetic, and seemed to charm the ears of the audience equally by their sentiment and the musical cadence of the sentences'.


The present copy is inscribed by Vincenzo Botta, the Italian educationalist and philosopher who chaired the meeting at the Scuola italiana. After a brief political career, Botta settled in the United States in 1853 on the second of his tours to study education abroad, accepting the chair of Italian language and literature at the University of the City of New York (now New York University). Over the following four decades he was established as a leading figure of the Risorgimental migration to America, maintaining a correspondence with L'Opinione in Italy and writing addresses and articles in the States, including his laudatory discourses on Cavour, Garibaldi, and (here) Vittorio Emanuele II.
You may also be interested in...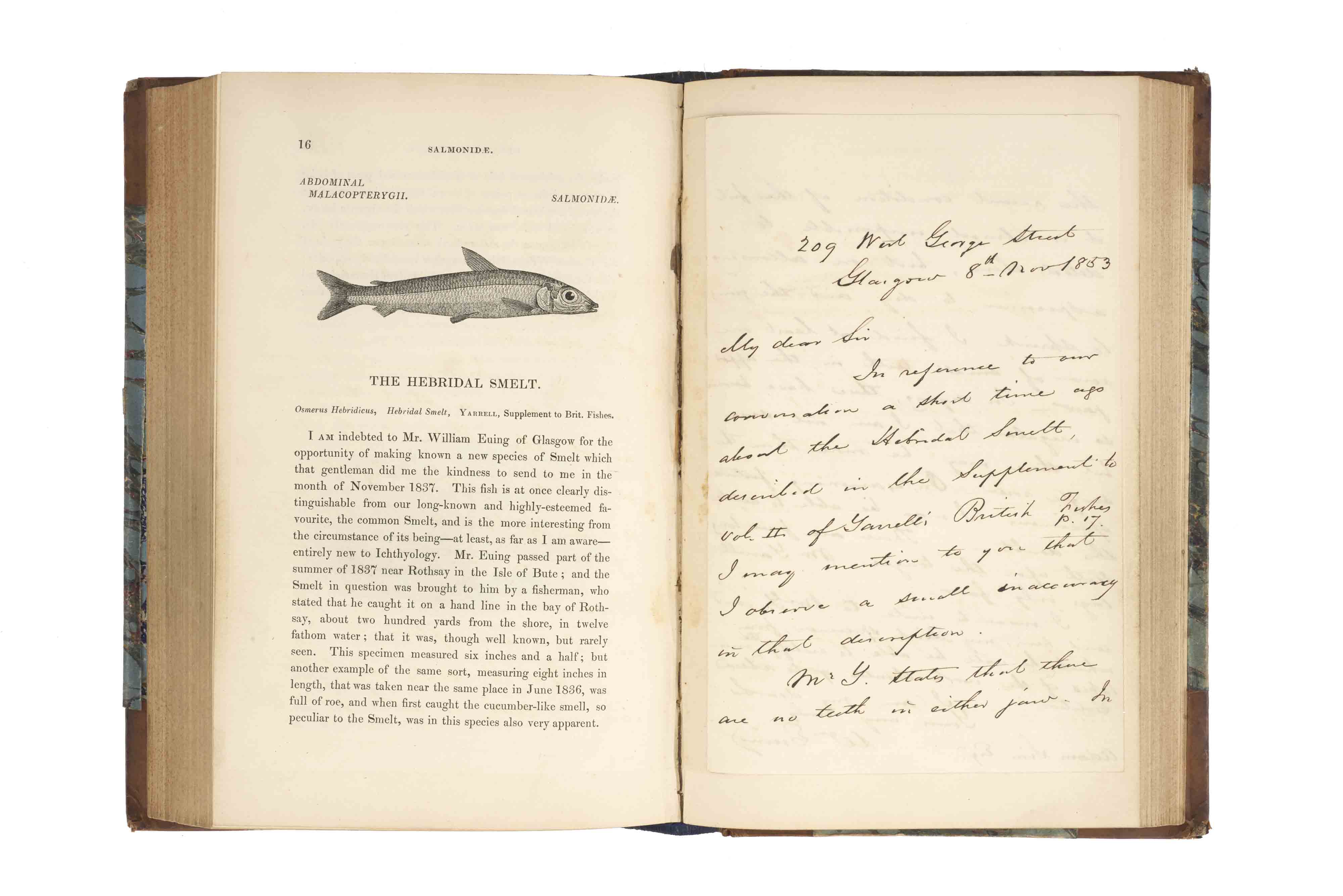 HEBRIDAL SMELT YARRELL, William.
A History of British Fishes … illustrated by nearly 400 Woodcuts.
First collected editions, with an autograph letter on the Hebridal smelt from the species' discoverer. Published serially from 1835 to 1836, Yarrell's History of British Fishes was reprinted within a year, and followed soon after by Thomas Bell's British Reptiles in 1839 and his own British Birds in 1843 published by van Voorst and together forming a comprehensive survey of British wildlife. Though noted for his careful observations, Yarrell is here corrected on several points in an autograph letter to the antiquarian Adam Sim (1805–1868) from William Euing (1788–1874), who had discovered the Hebridal smelt (first included in the Supplement) in November 1837.
Despite this contribution to Scottish ichthyology, Euing, a Fellow of the Royal Society of Edinburgh and President of the Glasgow Archaeological Society, is best remembered for his fine library, of which some twelve thousand volumes now belong to Glasgow University.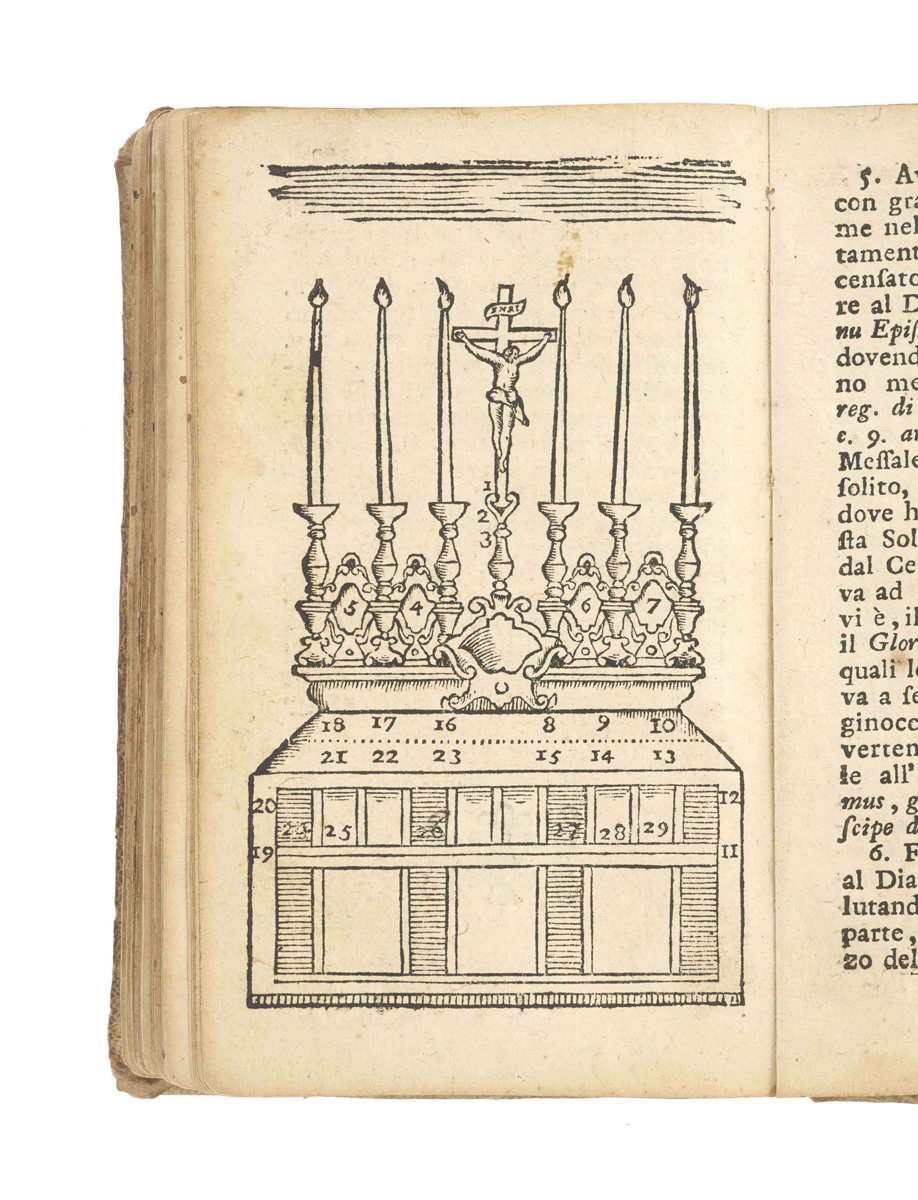 [LITURGY.]
Cerimonie piu' notabili della messa privata; Cavate dalle rubriche del Missale, ed altri autori da un Sacerdote D.C.D.M. Coll'aggiunta di quelle della messa, e vespri solenni si pei vivi, che pei defunti, col modo di servire alla messa privata. Da un'Alunno del Seminario di Torino.
As far as we are aware unrecorded edition of this uncommon treatise on the celebration of the mass and its associated rituals. Dealing both with private (low) masses and with solemn mass and solemn vespers, the work explains the meaning and performance of the non-verbal aspects of the liturgy: genuflection, the sign of the cross, the communion of the faithful, the movements of the celebrant's hands, the role of acolytes and thurifers (also during requiem masses), the office of the subdeacon and deacon, the use of incense, and instructions for serving at the missa private. The woodcut on page 200 depicts the altar, annotated with numbers referring to the relevant parts of the text.
The text itself appears first to have been published around the turn of the century; the earliest issue in SBN is a Naples printing of 1701, but that claims to be 'novamente riviste, ed accresciute', and is only of 134 pages in 12s. Other editions appeared in Pavia, Turin, and Modena, while Venetian printings were issued in 1739 and 1750. All seem very scarce.
Not in OCLC, which records only a Venice printing of the same year (in the Polish Union Catalogue); SBN does not record this edition.