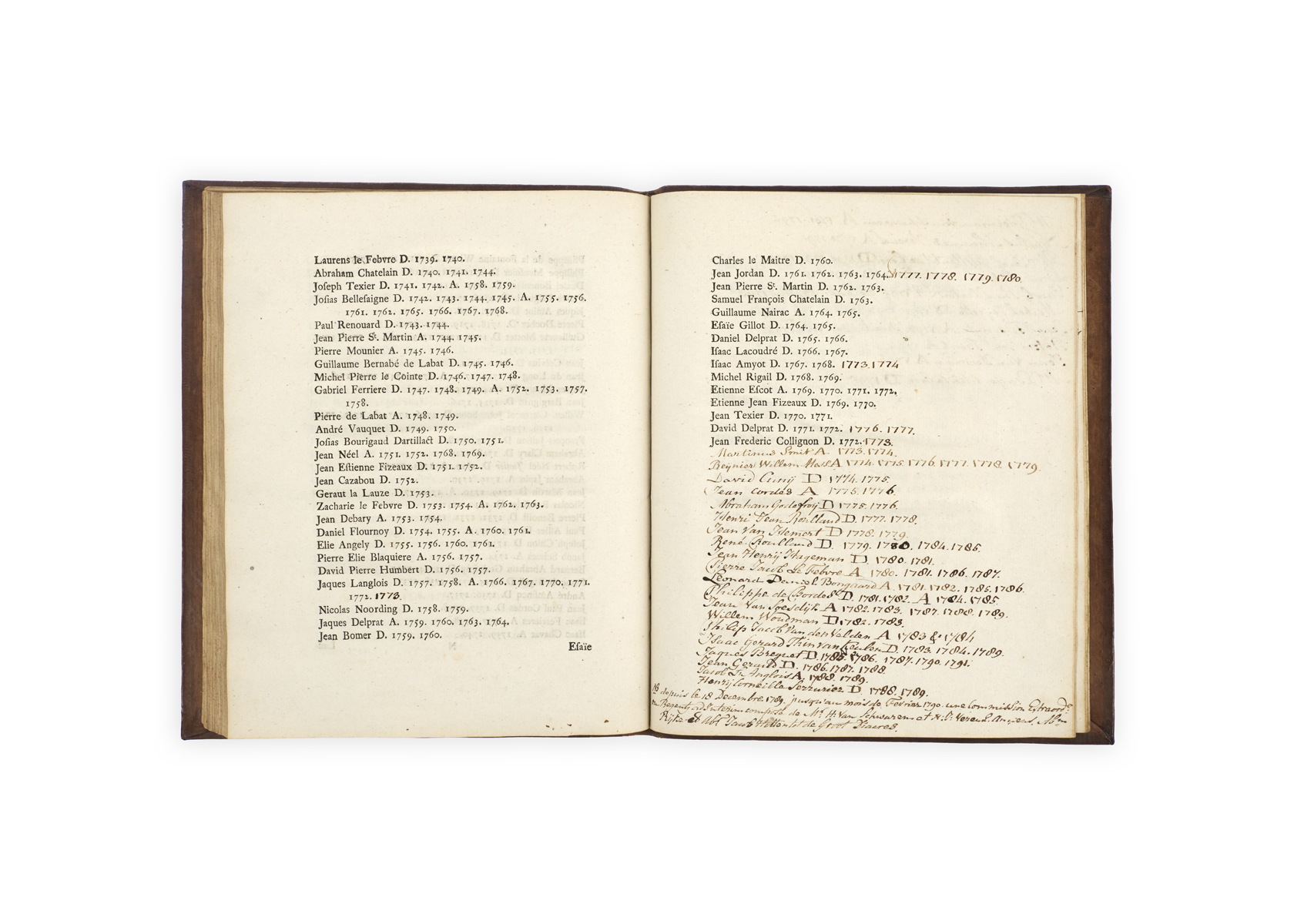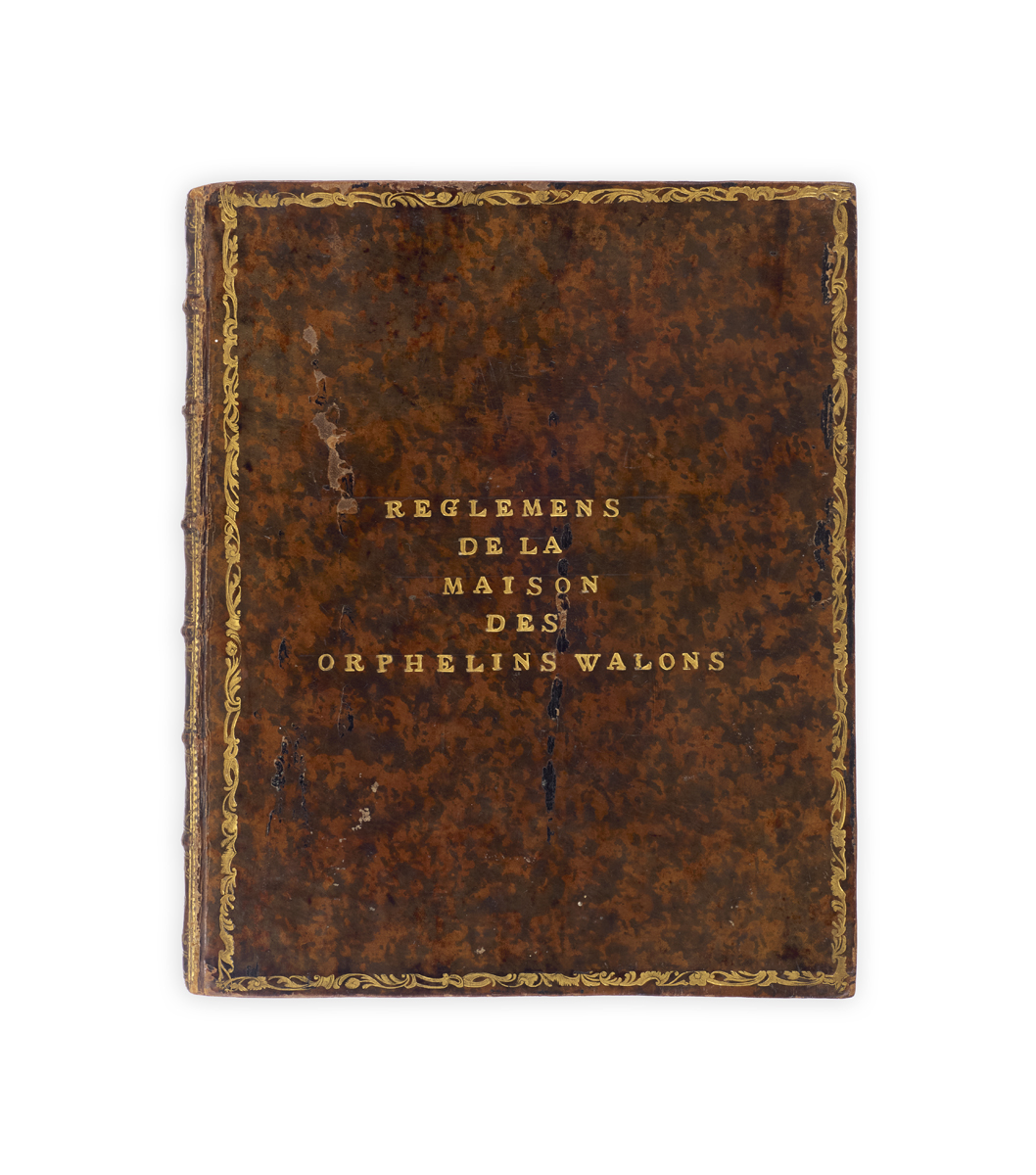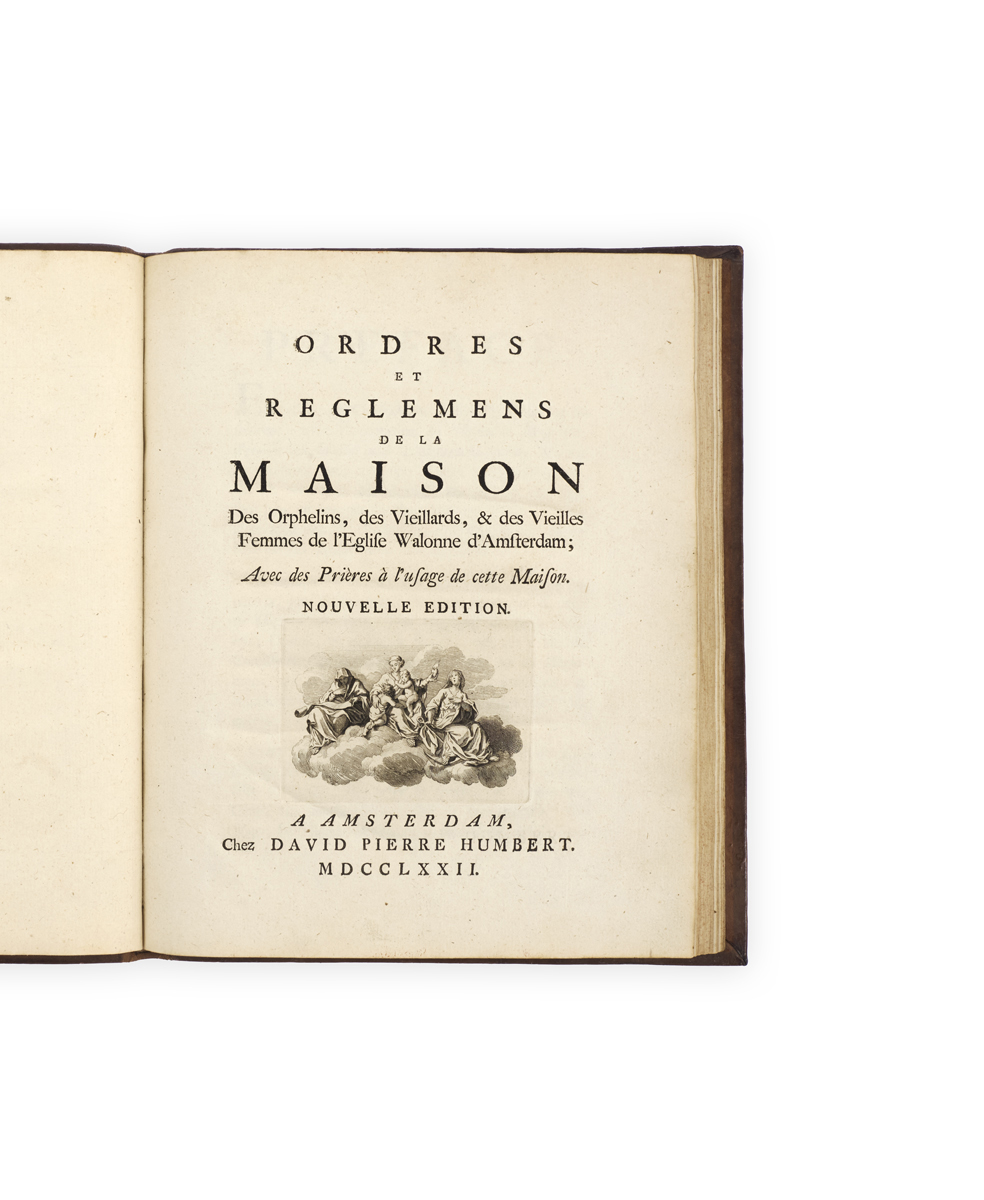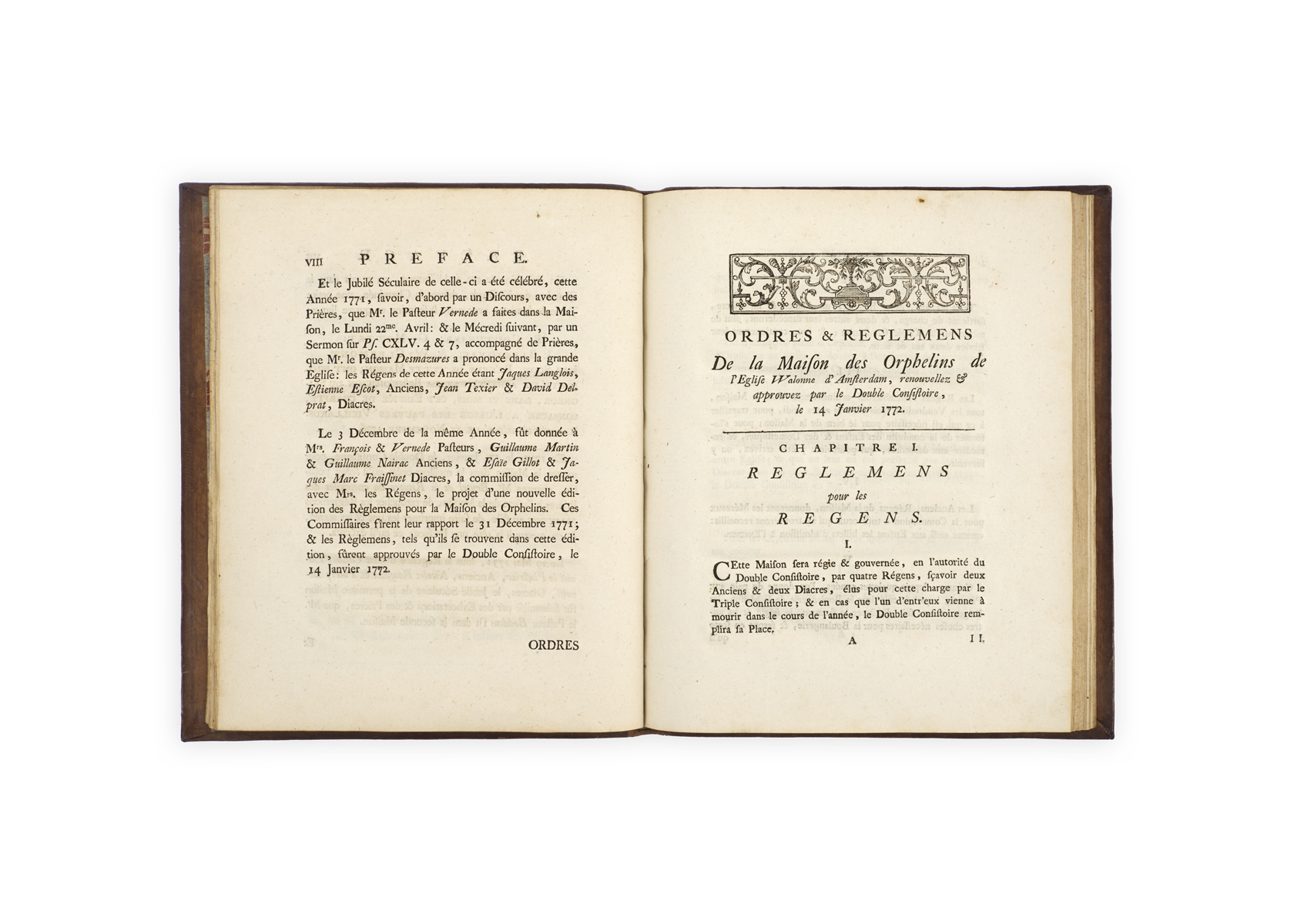 CARING FOR ORPHANS AND THE ELDERLY
IN EIGHTEENTH-CENTURY AMSTERDAM
[WALLOON CHURCH AMSTERDAM.] 
Ordres et reglemens de la maison des orphelins, des vieillards, et des vielles femmes de l'eglise Walonne d'Amsterdam; avec des prières à l'usage de cette maison. Nouvelle edition.
Amsterdam, David Pierre Humbert, 1772.
4to, pp. viii, 91, [15], [2 (blank)]; engraved vignette to title, headpiece; slight cockling; very good in contemporary mottled calf, gilt border to covers, spine gilt in compartments, upper cover lettered in gilt 'Reglemens de la maison des orphelins Walons', gilt board edges, marbled endpapers; light wear to extremities, a few small abrasions to upper cover; manuscript additions to the lists of Régens and Régentes at the end.
£1450

Approximately:
US $1770
€1624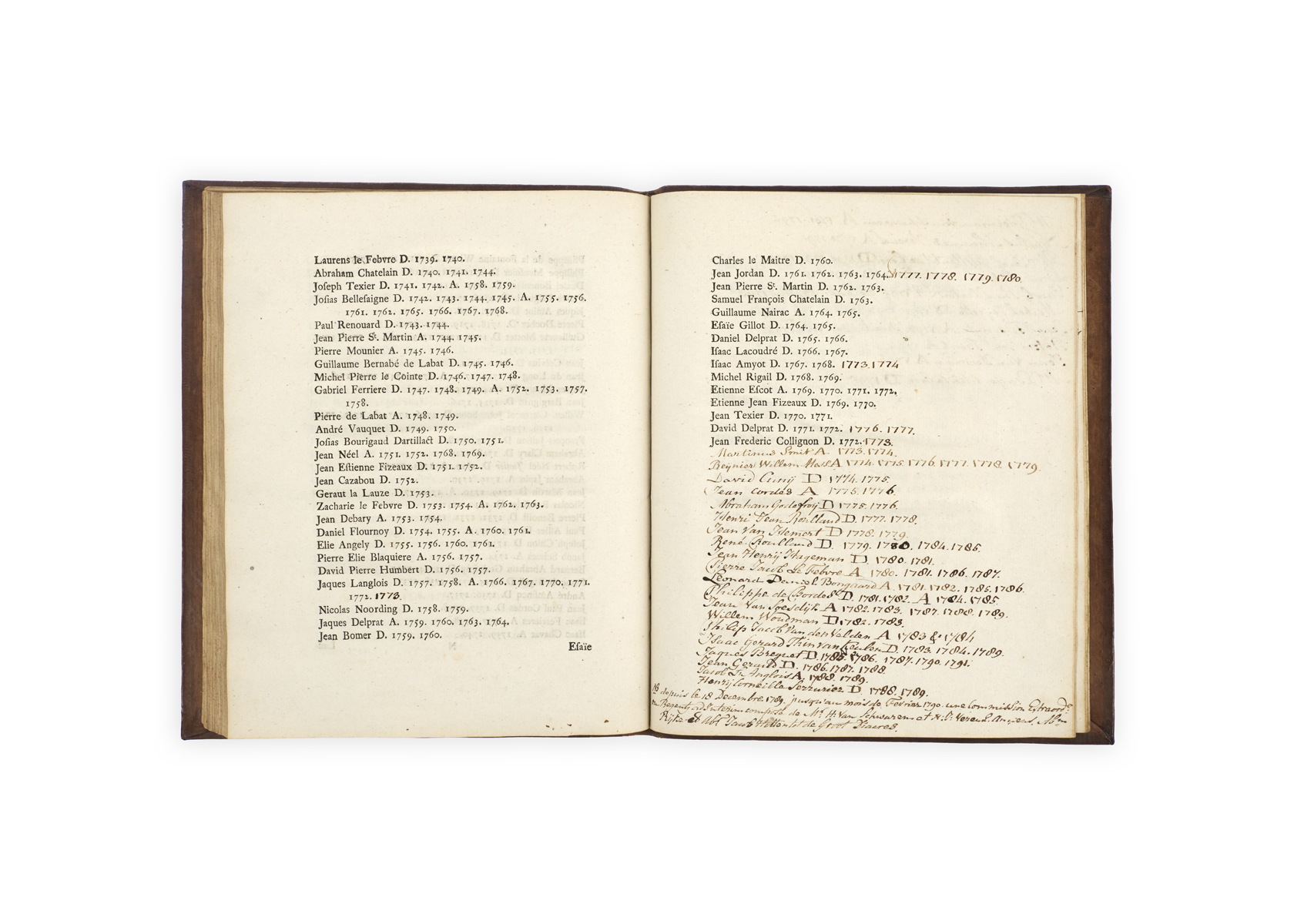 Added to your basket:
Ordres et reglemens de la maison des orphelins, des vieillards, et des vielles femmes de l'eglise Walonne d'Amsterdam; avec des prières à l'usage de cette maison. Nouvelle edition.
Very rare set of regulations governing the charitable house for orphans and the elderly founded by the Walloon Church in Amsterdam in 1631, with manuscript additions updating the lists of its male and female governors up to 1795.

Established in 1586, the Walloon Church in Amsterdam purchased a building in 1631 to house orphaned girls and boys from the local Walloon community, moving to larger premises forty years later, and extending its remit to cover the elderly poor from the 1680s.

These regulations detail the duties of the house's governing body, which comprised four male and four female regents ('widows or married women, members of our church, honourable, pious, prudent, serious, and of suitable age'), as well as those of the 'Father' and 'Mother' of the house (who were to regard the orphans 'as their own children'), and of the house doctor, schoolmaster, supervisors (who were to be lenient except in cases of 'drunkeness, impurity, or blasphemy'), seamstresses (who taught the girls sewing and read the Bible with them), and baker.

The detail provided on the care of those unable to support themselves is quite fascinating. The orphans, who were all below the age of thirteen, were obliged to speak French rather than Dutch, and were not permitted to promise themselves in marriage to each other during their time in the orphanage!  Girls enjoyed an extra hour in bed compared to the boys. The establishment could maintain up to thirty-two men over the age of fifty who received three meals a day and were allowed to drink beer (but not strong liquor), to smoke (albeit only outside), and to sit by the fireside in winter. The elderly widows were not permitted to drink eau de vie and were to ensure that all fires and candles were extinguished before bedtime to avoid accidents.

The work ends with various morning and evening prayers for use by the community and a chronological list of male and female regents from 1631 to 1772, which in this copy has been updated in neat manuscript to cover the period up to 1795. These additions comprise an additional fifty names with their dates of office, together with a note regarding extraordinary measures adopted between December 1789 and February 1790.

No copies traced in the UK or US. OCLC finds copies in the BnF and in three Dutch libraries only.
You may also be interested in...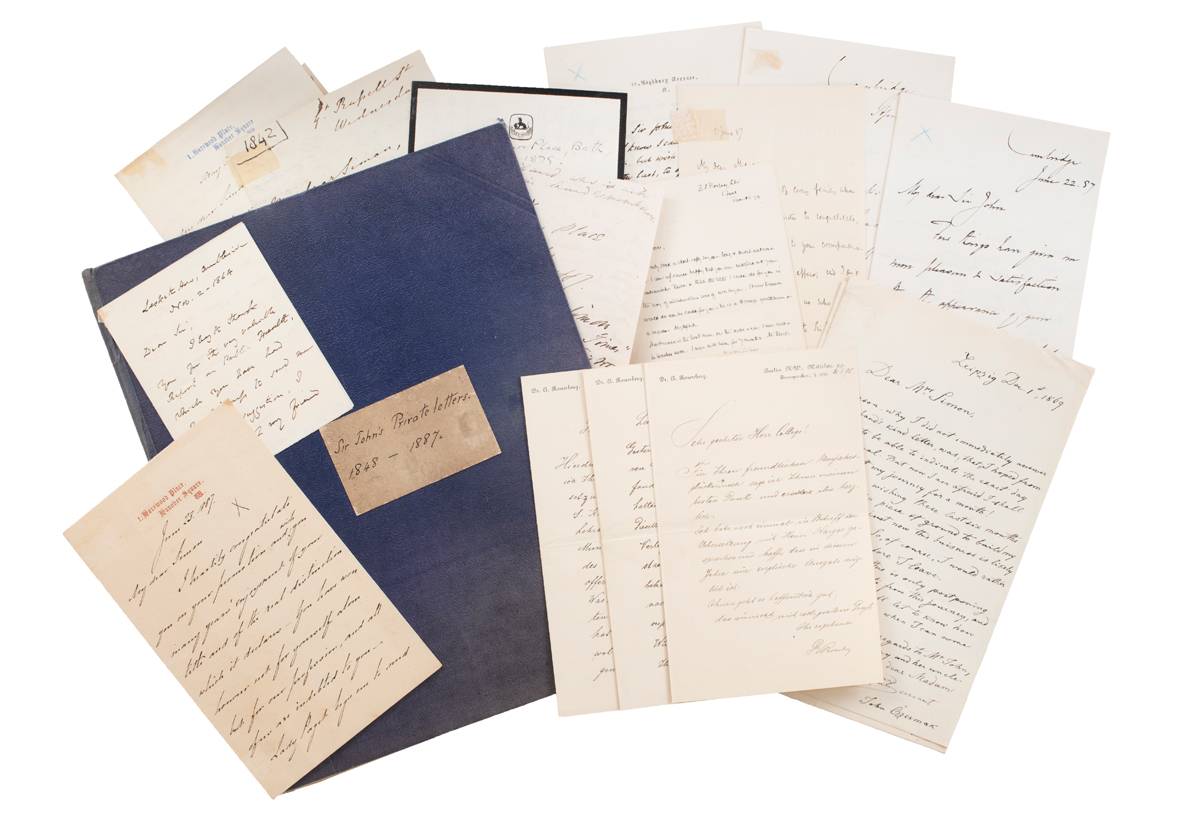 PIONEERS OF PUBLIC HEALTH SIMON, John, Sir.
A volume of autograph letters received by Sir John Simon from medical friends and acquaintances.
An interesting collection of letters to Sir John Simon and Lady Simon, from many of the leading physicians and surgeons of the Victorian era. Sir John Simon (1816–1904) was a renowned surgeon, President of the Royal College of Surgeons, and an efficient and dynamic reformer of public health in the City of London, and later more widely in England.
THE GENERATION GAME [ARISTOTLE'S MASTERPIECE.] 
Aristotle's Compleat and experience'd Midwife: in two Parts.  I. A Guide for Child-bearing Women in the Time of their Conception, bearing, and suckling their Children … Together with suitable Remedies for the various Indispositions of new-born Infants.  II. Proper and safe Remedies for curing all those Distempers that are incident to the female Sex … A Work more perfect than any yet extant; and highly necessary for all Surgeons, Midwives, Nurses, and child-bearing Women.  Made in English W––– S–––, M. D.  The second Edition. 
Second edition, very rare, apparently 'translated' (i.e. edited) by the self-trained popular empiric William Salmon, a prolific author of domestic medical treatises; some of the text is drawn from Nicholas Culpeper.