WESLEY AS SCHOOL-TEACHER
[WESLEY, John (editor).]

Excerpta ex Ovidio, Virgilio, Horatio, Juvenali, Persio, et Martiali: in Usum Juventutis Christianæ. Edidit Ecclesiæ Anglicanæ Presbiter.
Bristoliæ: Typis F. Farley … 1749.
12mo in 6s, pp. 242; a very good copy in contemporary calf, spine gilt-ruled in compartments with gilt red morocco lettering-piece; rubbed, lower joint partially split.
£1100

Approximately:
US $1349
€1278
Added to your basket:
Excerpta ex Ovidio, Virgilio, Horatio, Juvenali, Persio, et Martiali: in Usum Juventutis Christianæ. Edidit Ecclesiæ Anglicanæ Presbiter.
First edition of one of the textbooks that Wesley compiled for the school that he founded at Kingswood, Bristol, in 1748. Finding contemporary textbooks inadequate, he published an astonishing number of works for his pupils – grammars, editions of classics, and other introductions to learning. His first concern was purity of thought (there are, for example, only brief, cautious extracts from Ovid, while Horace gets more than half the volume), but also the purity of Latin style. There are runs of his textbooks at Wesley House, the John Rylands Library, and in the Frank Baker collection at Duke, but, as is wont with schoolbooks, most are now very rare.

Baker 130; ESTC T183605, locating four copies only (Duke, Glasgow, and two at Rylands).
You may also be interested in...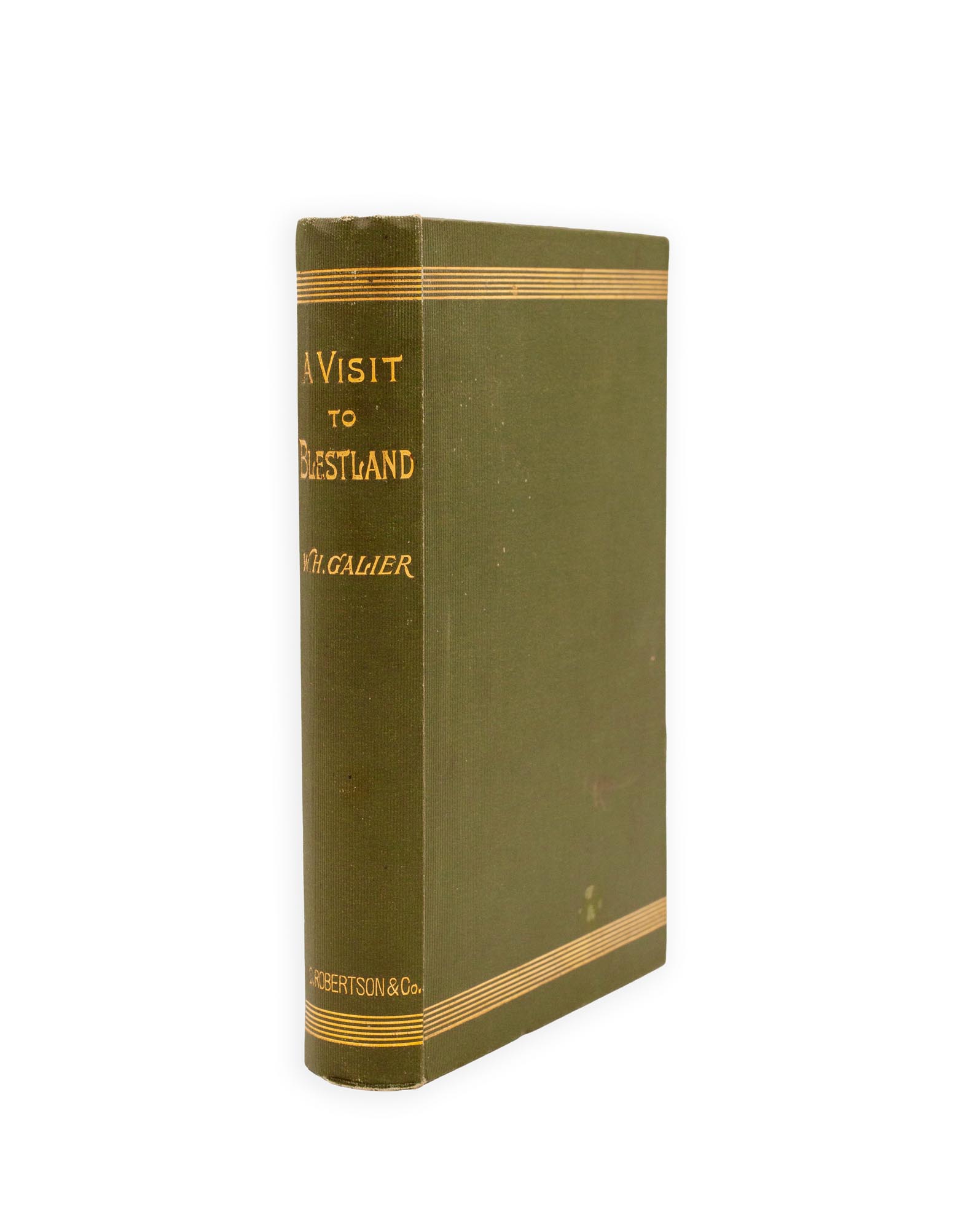 GALIER, W.H.
A visit to Blestland.
First edition of this novel of utopian socialism which lambasts capitalism and religion. Blestland is a republican workers' paradise located on a different planet which reveals how the divisions of earth can be abolished: by limiting 'the enormous power for evil which capital can wield'. Monopolist powers are forbidden, resulting in a society in which 'you will look in vain for class or religious hatreds, abject poverty and general discontents'. Published six years after William Morris's News from nowhere, the novel fits securely into the contemporary corpus of utopian socialist fiction. Here organized religion is especially singled out as an evil: 'fanaticism... accounts for the deplorable want of unity among the masses', as monopolists stay in power by exploiting workers' religious differences. Indeed, a missionary provides the plot's nemesis. The plot manifests Blestland as a dream, which vanished upon waking.
APOCALYPTIC PLATES PEIL, Johann.
Tabula processum seu ordinem ultimi divini et criminalis judicii exhibens; cum adjunct eiusdem brevi demonstratione ex Biblicis textibus et rationibus, quibus figurae undecim tabulam illustrantes suo quaeque loco inseruntur, additurque cantio germanica, quae eandem totam continet.
First edition of this strange and rare treatise on the Apocalypse and the Last Judgement, illustrated with dramatic plates by Gillis van Scheyndel. It is the first book printed at Cleves in the Lower Rhine region of northwestern Germany. At the head of each plate appears a letter (or letters) which serve as a key to the relevant part of the text.