[WHITEHEAD, William.]
Variety. A tale, for married people.
London, for J. Dodsley, 1776.
4to, pp. 24; small title ornament; a little light creasing but a very good copy; disbound.
£100

Approximately:
US $121
€115
Added to your basket:
Variety. A tale, for married people.
First edition of this verse fable on married life by William Whitehead (1715-85), the son of a Cambridge baker who rose to become fellow of Clare College, Cambridge, a successful playwright, and poet laureate in succession to Colley Cibber. 'Variety' is the tale of a well-read rural maid who marries her Milton- and Pope-reading lover only to find that they drift apart as each seeks the 'variety' of the title. An inheritance from a rich uncle offers the couple a new life in London but leads them into dissipation and further apart. Happily they rediscover their love, concluding 'We live, my dear, too much asunder'. In his depiction of city life Whitehead could not resist having a swipe at the preposterous hairstyles of 'British dames' ('Whilst the black ewes, who own'd the hair, Feed harmless on, in pastures fair, unconscious that their tails perfume, In scented curls, the Drawing-room'). The poem went through several London and Dublin editions in the same year.

Whitehead never married himself, noting that 'a moderate precarious income has but little allurement'. He was buried in South Audley Street Chapel, a stone's throw from our former premises.

ESTC T62734.
You may also be interested in...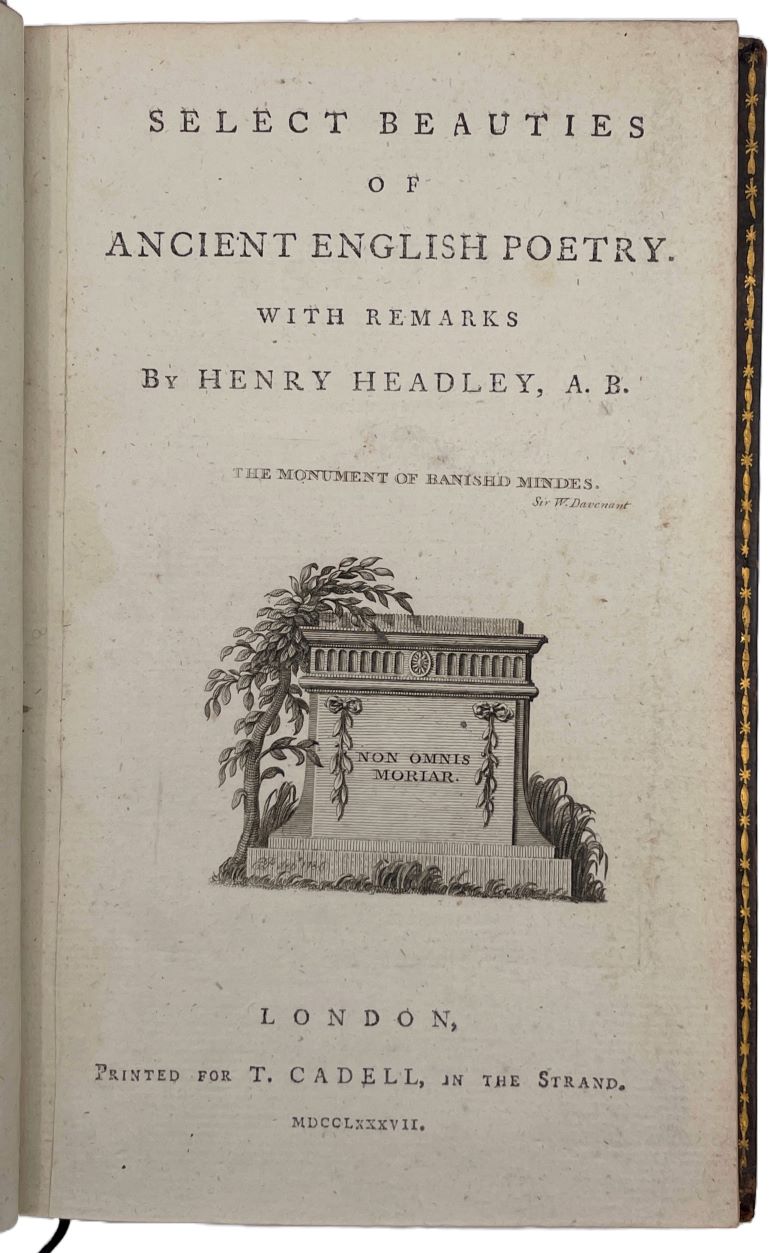 ELIZABETHAN POETRY HEADLEY, Henry, editor.
Select Beauties of ancient English Poetry …
First edition. This important miscellany – which would have been continued had not the young editor died in 1788 at the age of twenty-three – explores some of the byways of Elizabethan and early Stuart poetry. After a long introductory appreciation with biographical sketches of the poets, the verse is presented under headings such as Descriptive, Moral, Elegiac. The section of Sonnets – mainly by Daniel, Drayton, and Drummond – may have influenced Headley's Oxford friend, William Bowles, a subscriber, who two years later was to publish his first collection of Romantic sonnets.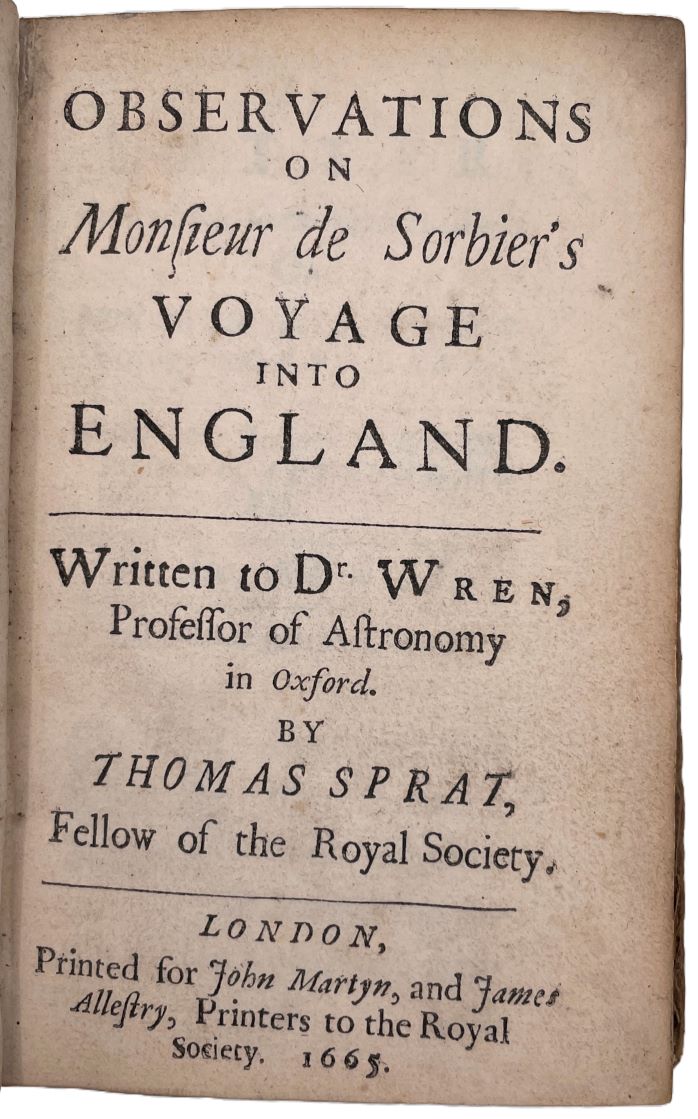 WITH ASSISTANCE FROM JOHN EVELYN SPRAT, Thomas.
Observations on Monsieur de Sorbier's Voyage into England. Written to Dr. Wren ...
First edition. When Samuel de Sorbière published his polemical Relation d'un Voyage en Angleterre (1664), touching on defects in the English nation and character, Thomas Sprat, afterwards Bishop of Rochester, composed an angry reply in the form of a letter to Christopher Wren (both were stalwarts of the Royal Society). Sprat was encouraged in this effort by John Evelyn, who described Sorbière as a schoolmaster, apostate, mountebank, and critic who owed his position as self-styled Historiograph du Roy to sycophantic flattering of Cardinal Mazarin (Evelyn to Sprat, 31 October 1664). Sprat's reply to Sorbière's 'insolent Libel on our Nation' is a wide-ranging defence of the sovereign, the church, the Royal Society, Hobbes, the English stage, the English language, and even English cookery. It was a popular vindication, twice reprinted.