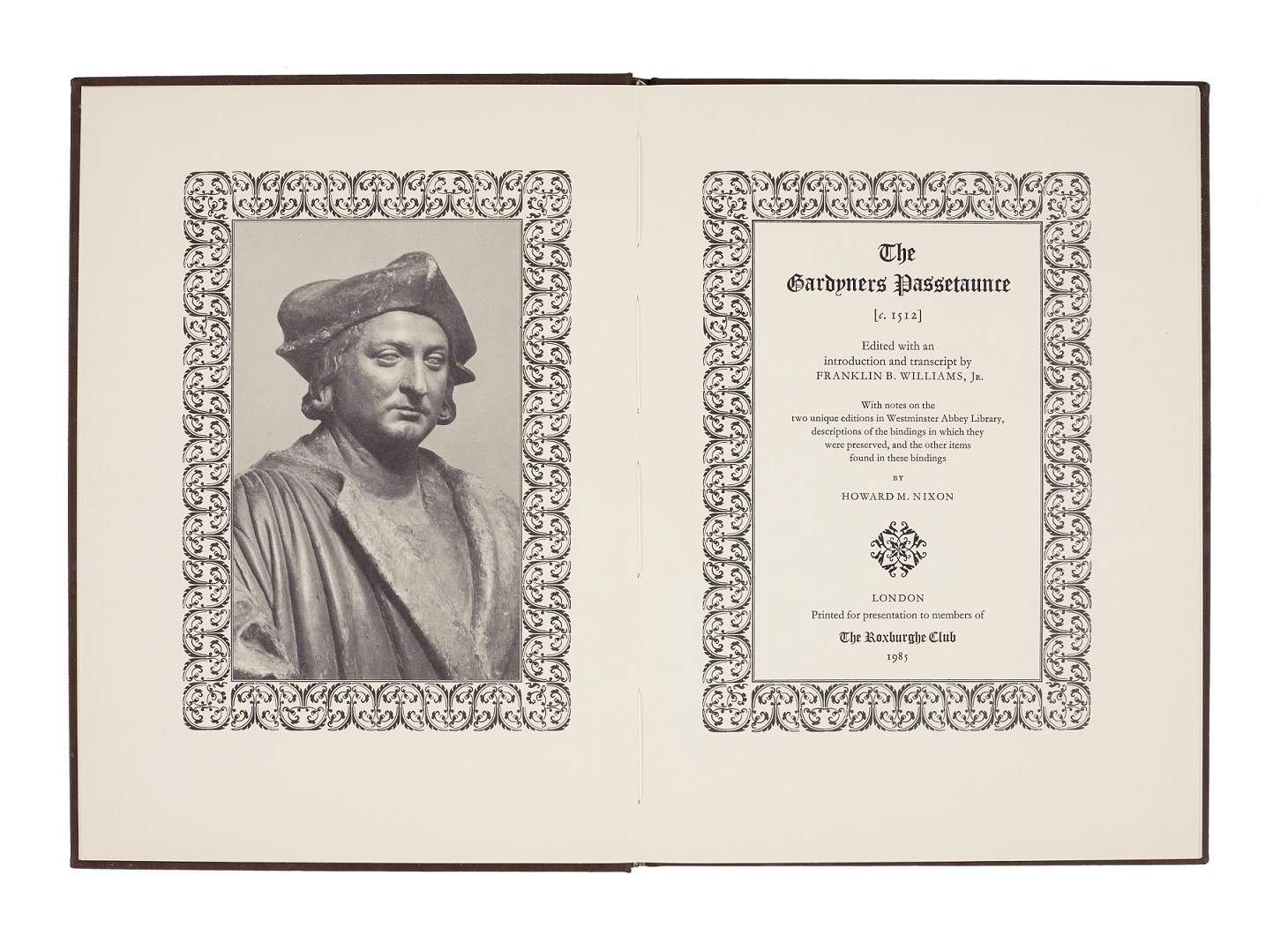 WILLIAMS, Franklin B., ed., with introduction and transcript by.
The Gardyners Passetaunce (c. 1512). With notes on the two unique editions in Westminster Abbey Library by Howard M. Nixon.
The Roxburghe Club, 1985.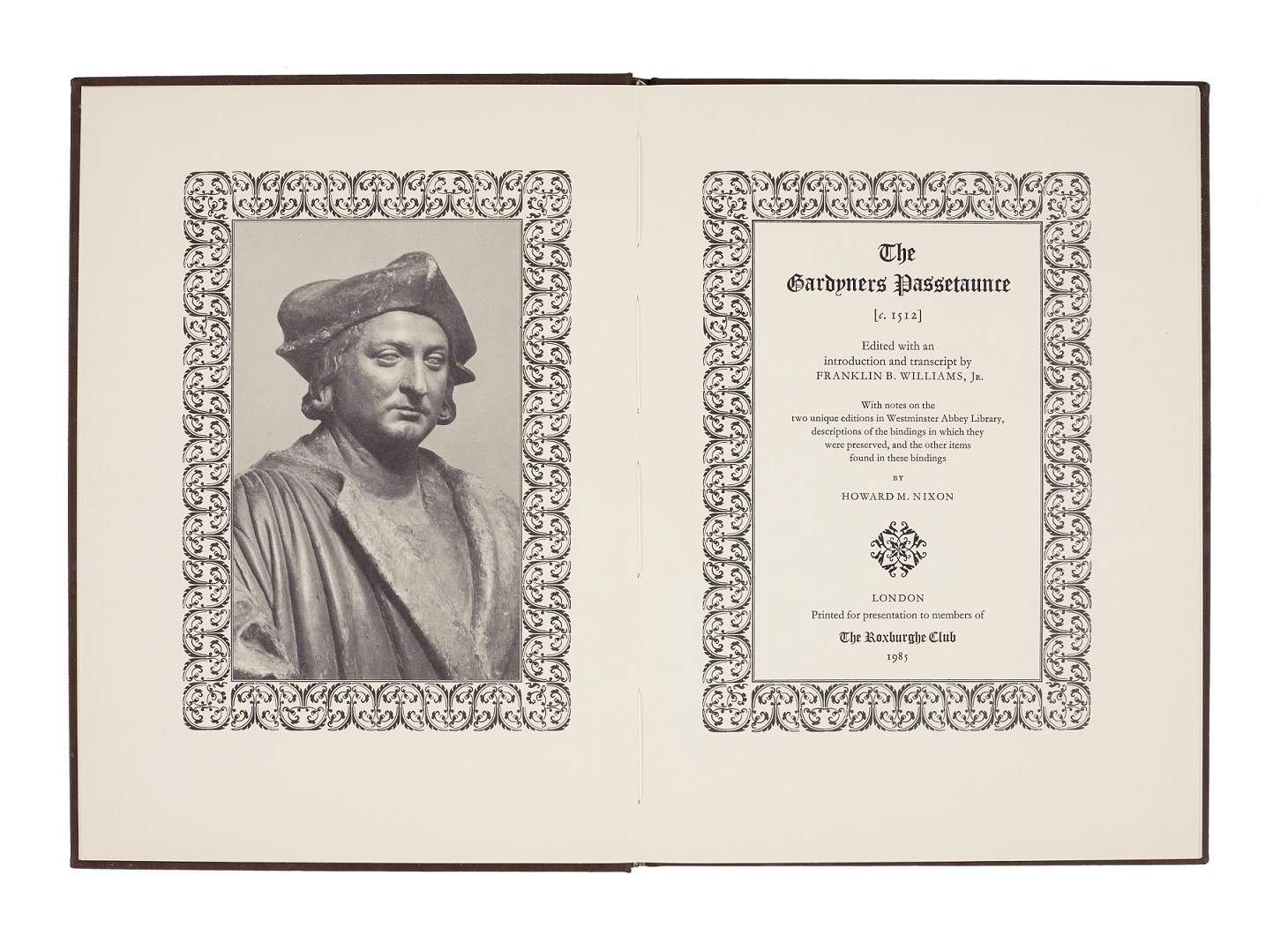 Added to your basket:
The Gardyners Passetaunce (c. 1512). With notes on the two unique editions in Westminster Abbey Library by Howard M. Nixon.
The book contains notes on the two unique editions in Westminster Abbey Library, descriptions of the bindings in which they were preserved, and the other items found in these bindings by Howard M. Nixon. I t has an image of a bust of Henry VIII by Torrigiani as frontispiece, facsimiles of the Pynson edition in full and the existing fragments of the Goes edition, images of bindings and other fragments in the text.

The Gardyners Passetaunce is a propaganda poem promoting the newly formed Holy League which was proclaimed on 4 October 1511. It is a simplified version of a densely written Latin tract by James Whytstons which discusses the nature of a just war, the merit of fighting in defence of the Pope and compares Louis XIII of France to various tyrants and persecutors of religion.

Pynson, the king's printer, published this 'tabloid' poetic version at the behest of King and Court to spread the propaganda to a wider less academic public. A second edition appeared, probably in the same year, printed by Goes and Watson. The poem is anonymous but Nixon's essay on the poem's history does provide all the available evidence on the subject and draws his conclusions.
You may also be interested in...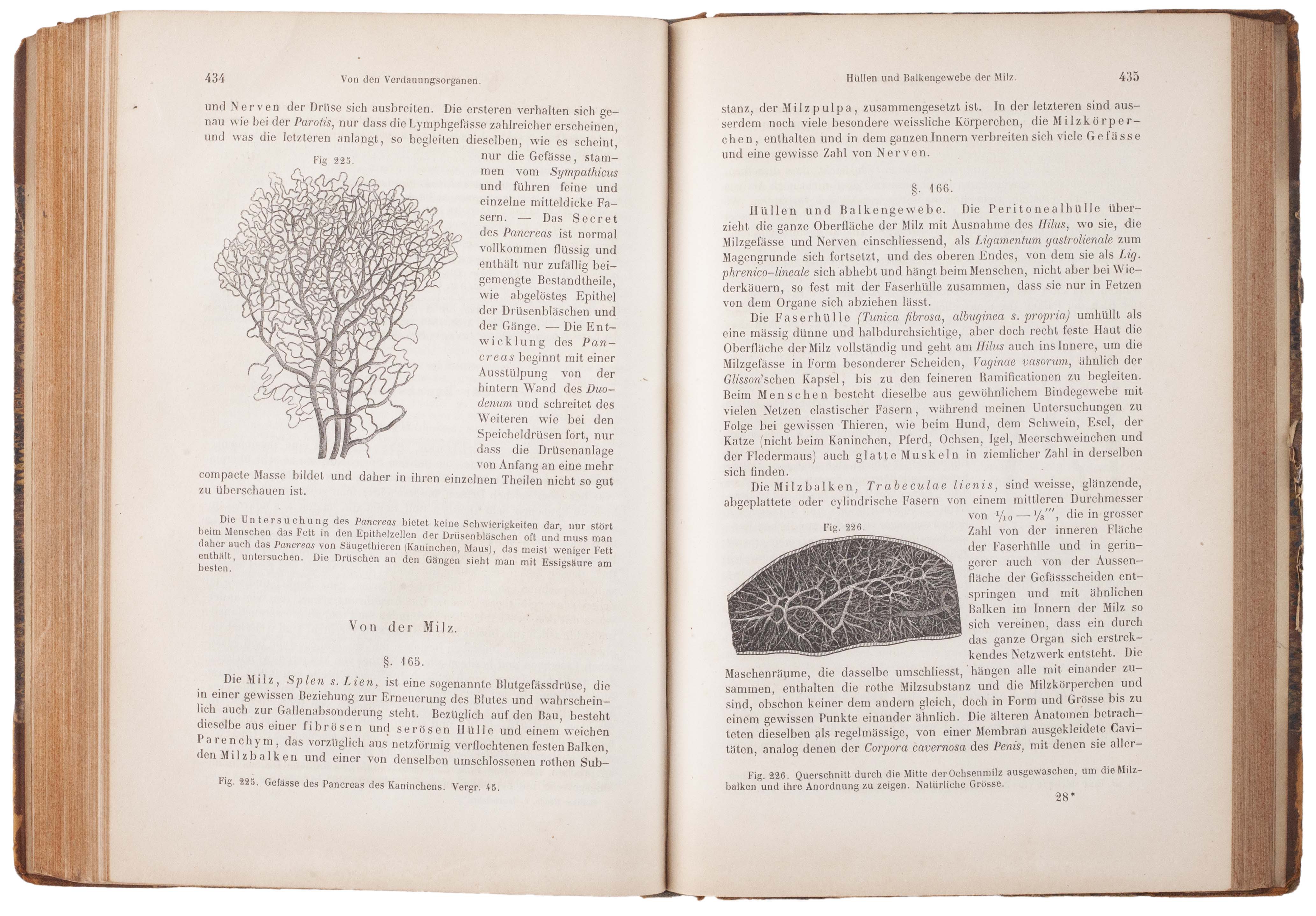 THE FIRST COMPREHENSIVE TREATISE ON HISTOLOGY KÖLLIKER, Albert von.
Handbuch der Gewebelehre des Menschen für Aerzte und Studierende.
First edition, scarce. 'A Swiss by birth, Kölliker received his medical education by attending Müller's lectures in Berlin and studying at Heidelberg where he graduated. After serving as prosector for Henle in Zurich, Kölliker was called to Würzburg where he remained for half a century. A genius, possessing remarkable powers of observation, he made enormous strides in the understanding of human and animal tissue. He was the first to apply Schwann's cell doctrine to embryology and to isolate smooth muscle fiber ... Handbuch der Gewebelehre des Menschen, one of Kölliker's most important works, may be considered the first textbook of histology' (Heirs of Hippocrates).
DEFENDING THE PHILOSOPHES MORELLET, André (1727-1819), French economist, theologian, and contributor to the Encyclopédie.
Manuscript copy of his 'Préface de la Comédie des philosophes. On la vend séparément à Paris chez l'auteur de la Comédie 1760'.
A very well-preserved manuscript copy of Morellet's pamphlet, written as a rebuttal to Charles Palissot's anti-encyclopédistes comic play Les Philosophes. Palissot's satire, which ridiculed Diderot among others, appeared in May 1760 and sparked the escalation of a virulent polemic between the philosophes and their detractors. Published soon after Palissot's play, Morellet's Préface was immediately seized and its author condemned to two months in the Bastille for alleged libel against Palissot's patroness, the princesse de Robecq. Morellet was released with the help of Rousseau, and his work soon included in the Recueil des facéties parisiennes (1760). Its initial seizure, however, no doubt created a demand for manuscript copies such as this one.