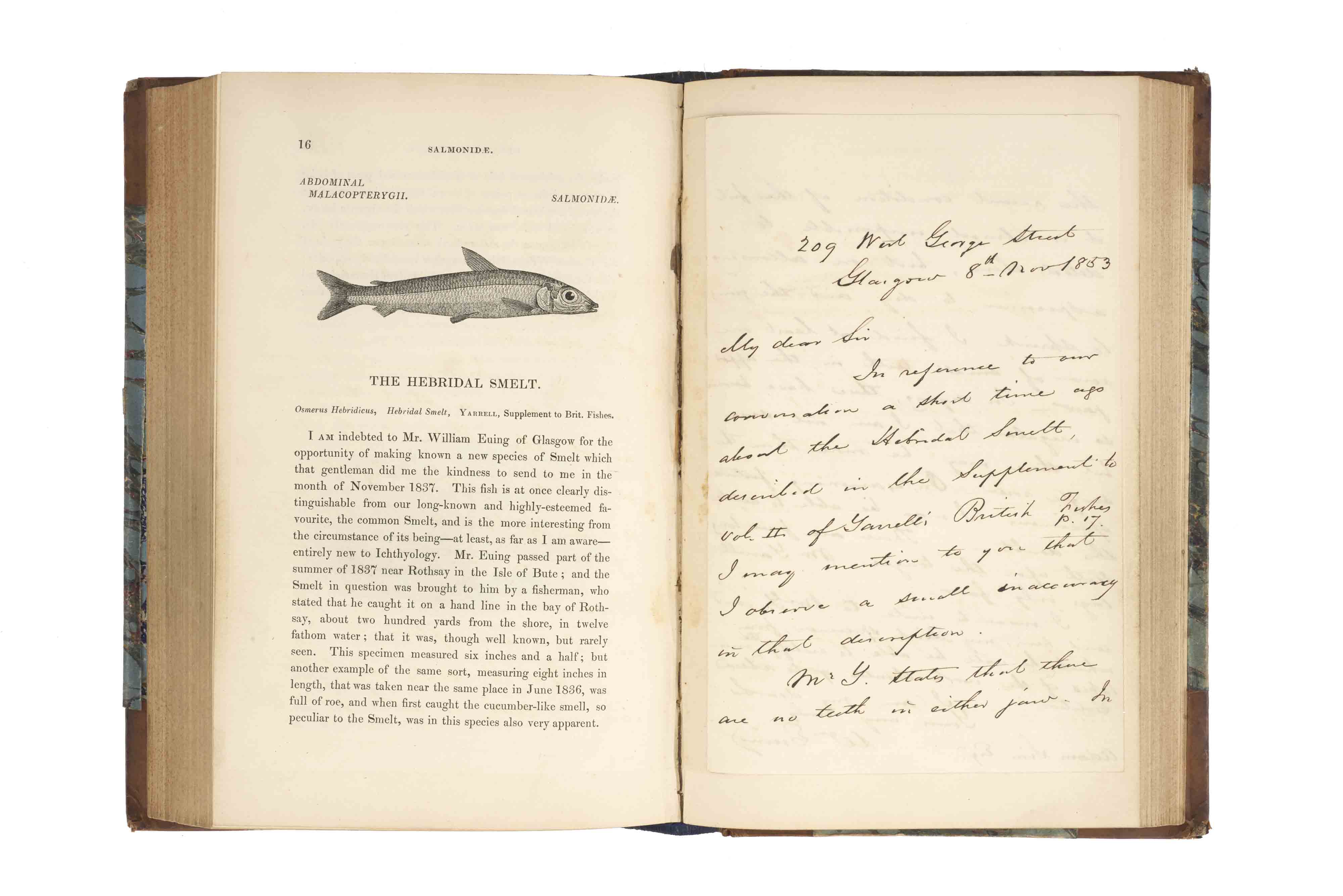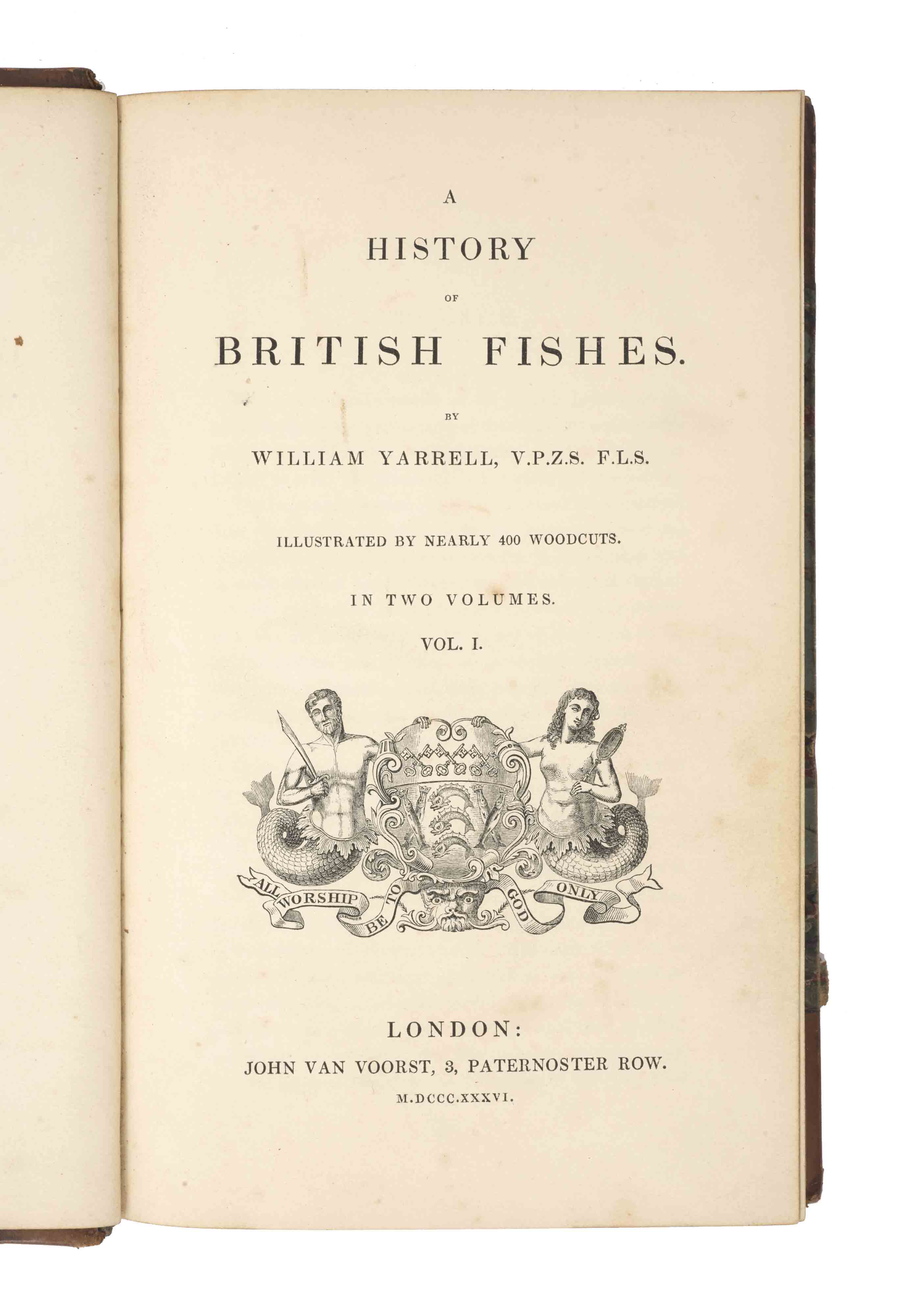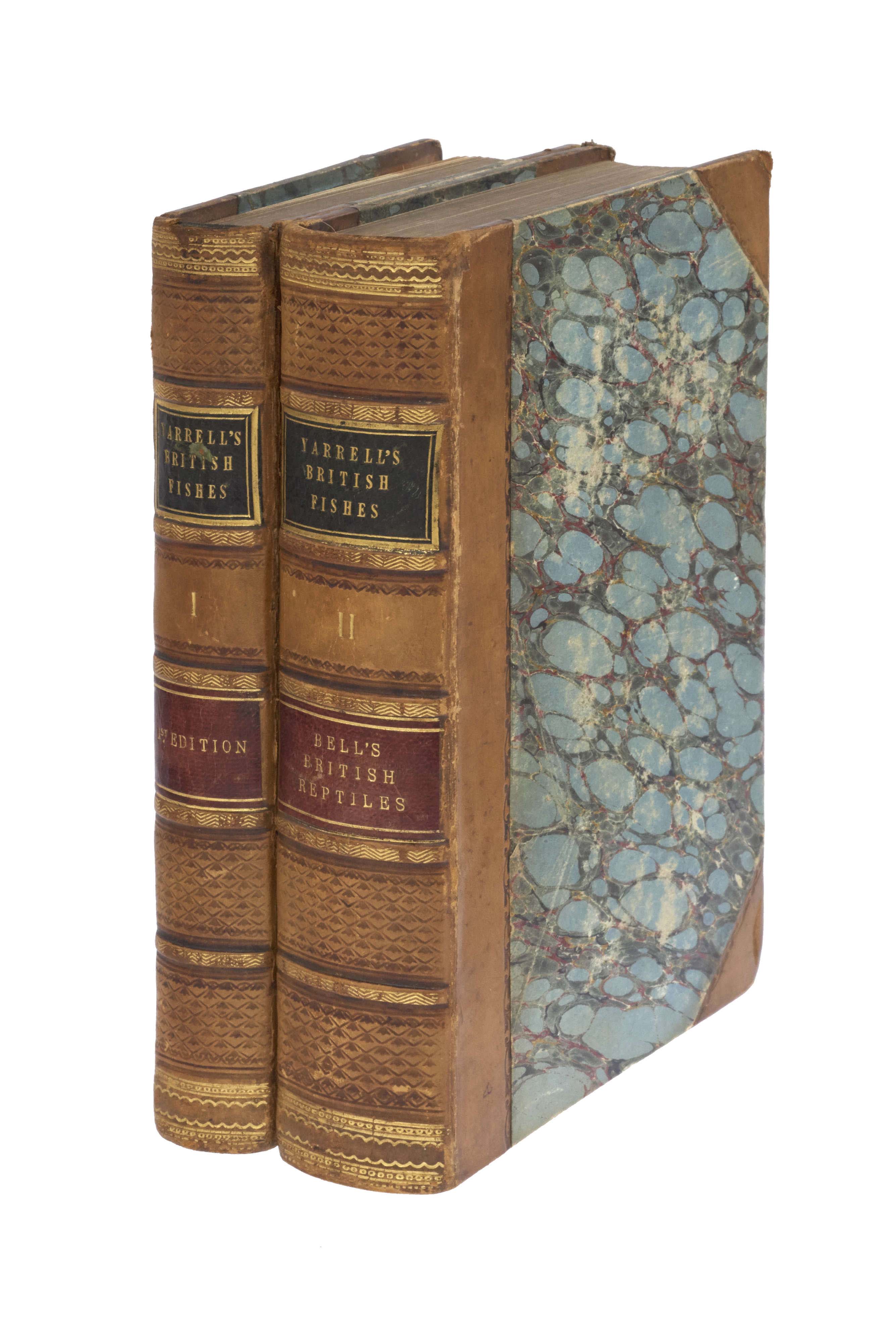 HEBRIDAL SMELT
YARRELL, William.
A History of British Fishes … illustrated by nearly 400 Woodcuts.
London, Samuel Bentley for John van Voorst, 1836.
[bound with:]

YARRELL, William. Supplement to the History of British Fishes … illustrated with Woodcuts, in two Parts. London, Samuel Bentley for John van Voorst, 1839. [and:]

BELL, Thomas. A History of British Reptiles … illustrated by more than forty Woodcuts. London, Samuel Bentley for John van Voorst, 1839.

3 works in 2 vols, 8vo, pp. I: xxxvii, [1], 408, Supplement (pt i): iv, 48, II: [4], 472, Supplement (pt ii): 72 xxiv, 142, [2 (publisher's prospectus)]; with a great many woodcut illustrations; slight spots in places and a few instances of offsetting, otherwise an attractive set; contemporary half calf with later nineteenth-century marbled sides, spines gilt in compartments and tooled in blind with gilt red and green morocco lettering-pieces; rubbed, a few scuffs, corners lightly bumped, minor split to upper joint of vol. I; armorial bookplates of Adam Sim, Coulter, to upper pastedowns, with a [2] pp. autograph letter to Sim signed by William Euing bound in, dated 'Glasgow, 8th Nov. 1853'.
£750

Approximately:
US $1045
€881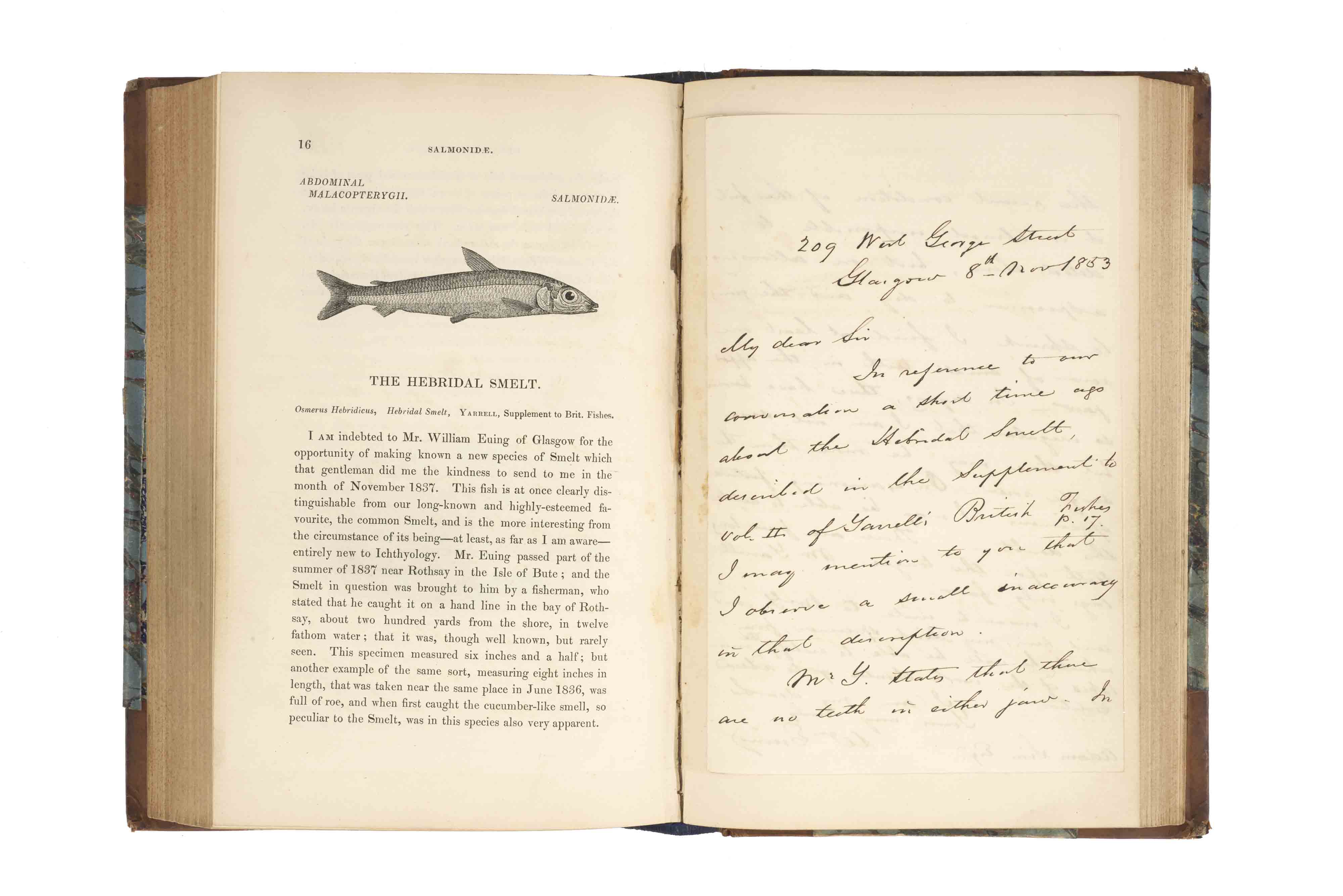 Added to your basket:
A History of British Fishes … illustrated by nearly 400 Woodcuts.
First collected editions, with an autograph letter on the Hebridal smelt from the species' discoverer. Published serially from 1835 to 1836, Yarrell's History of British Fishes was reprinted within a year, and followed soon after by Thomas Bell's British Reptiles in 1839 and his own British Birds in 1843 published by van Voorst and together forming a comprehensive survey of British wildlife. Though noted for his careful observations, Yarrell is here corrected on several points in an autograph letter to the antiquarian Adam Sim (1805–1868) from William Euing (1788–1874), who had discovered the Hebridal smelt (first included in the Supplement) in November 1837.
Despite this contribution to Scottish ichthyology, Euing, a Fellow of the Royal Society of Edinburgh and President of the Glasgow Archaeological Society, is best remembered for his fine library, of which some twelve thousand volumes now belong to Glasgow University.
You may also be interested in...
[WOEIRIOT de Bouzey, Pierre (engraver).] CLÉMENT de Treille, Nicolas.
Austrasiae reges et duces epigrammatis.
First edition of a scarce collection of portrait medallions of the kings of Austrasia and dukes of Lorraine, from Theuderic I to Charles III. A native of Lorraine, Pierre Woeiriot de Bouzey (1531–1596) practised as a goldsmith in Lyons before moving into painting and sculpture and becoming one of the most important engravers in sixteenth-century France. The sixty-three splendid portrait medallions in the present work are testament to Woeiriot's subtle attention to detail and finish, qualities also shown in his medals of Catherine de' Medici, Simon Costière, and Charles III of Lorraine (1572). He executed the present plates, of which many are likely derived from coinage and commemorative medals, around 1572-3: the dedication is dated 1573, but the death of Nicolas Clement delayed publication until 1591 when the manuscript and plates were rediscovered by Sieur de Blondefontaine and published.
LÜTKEN, Otto Diderich.
Undersøgninger, angaaende Statens almindelige Oeconomie, som indeholde adskillige vigtige, vanskelige, og nu om Stunder meest omtvistede Saetninger. [With:] Betreffende nogle af de vigtigste og vanskelige Spørgsmaale ved Landvaesenets Indretning.
First edition of the first and most important Danish work on political economy.