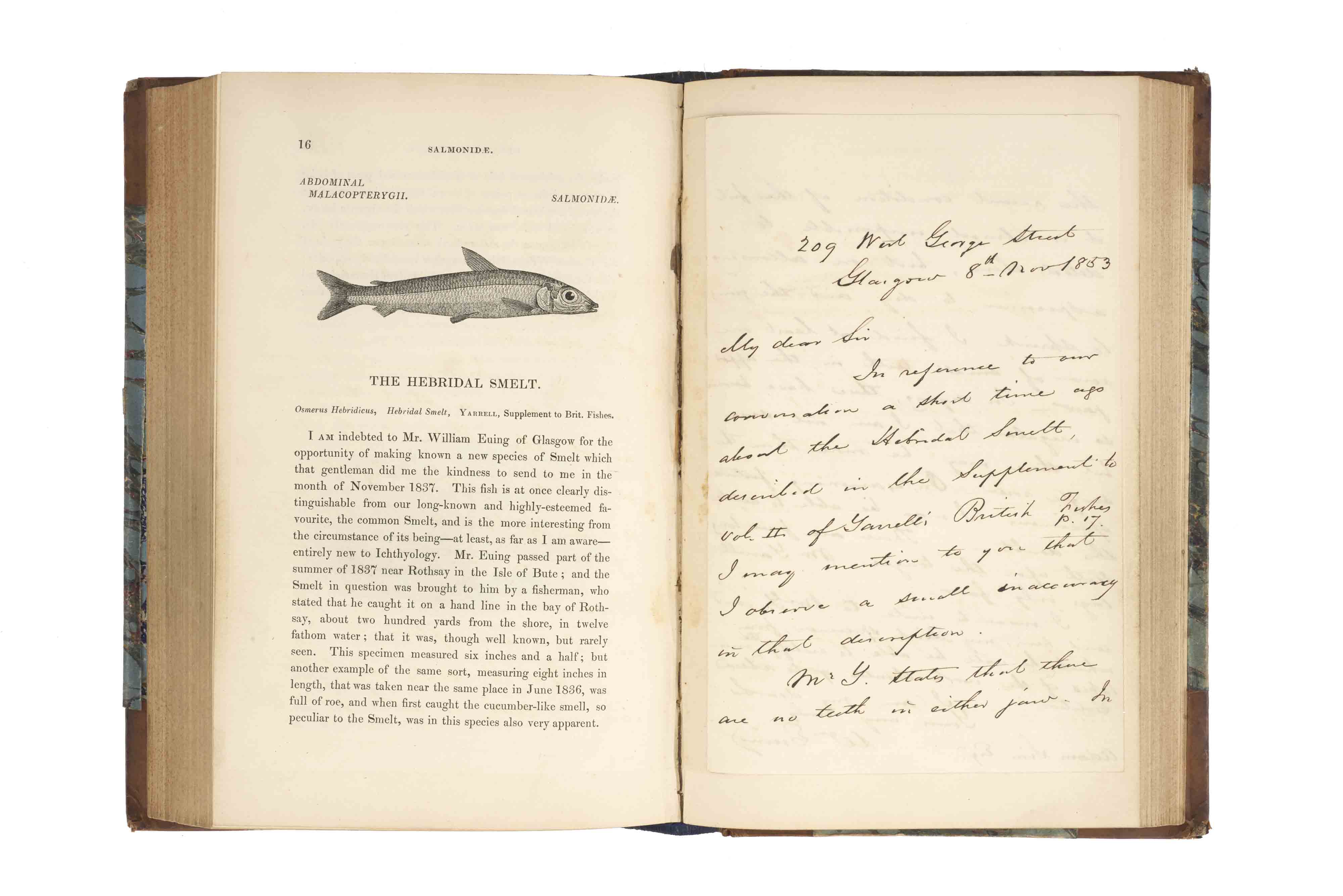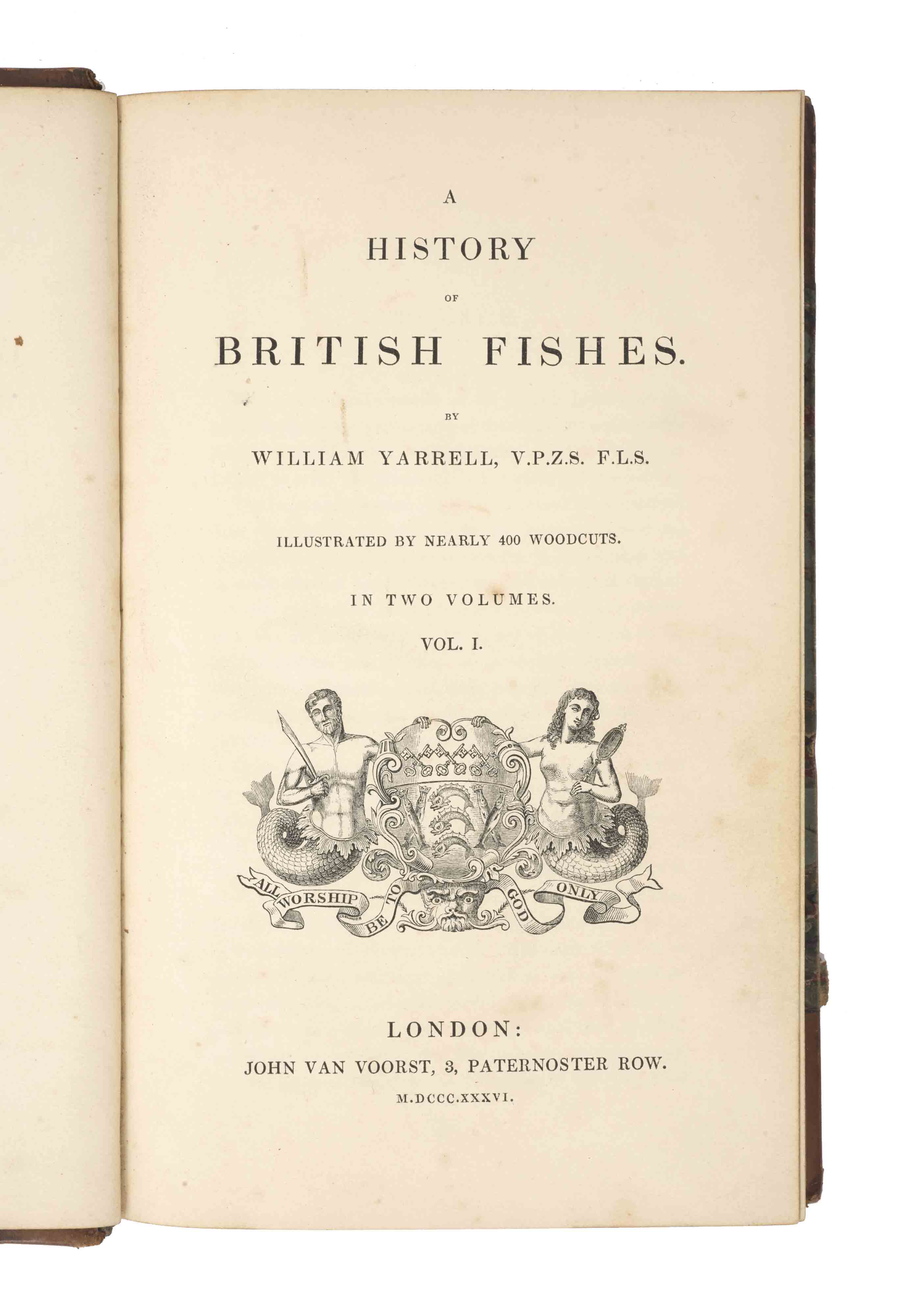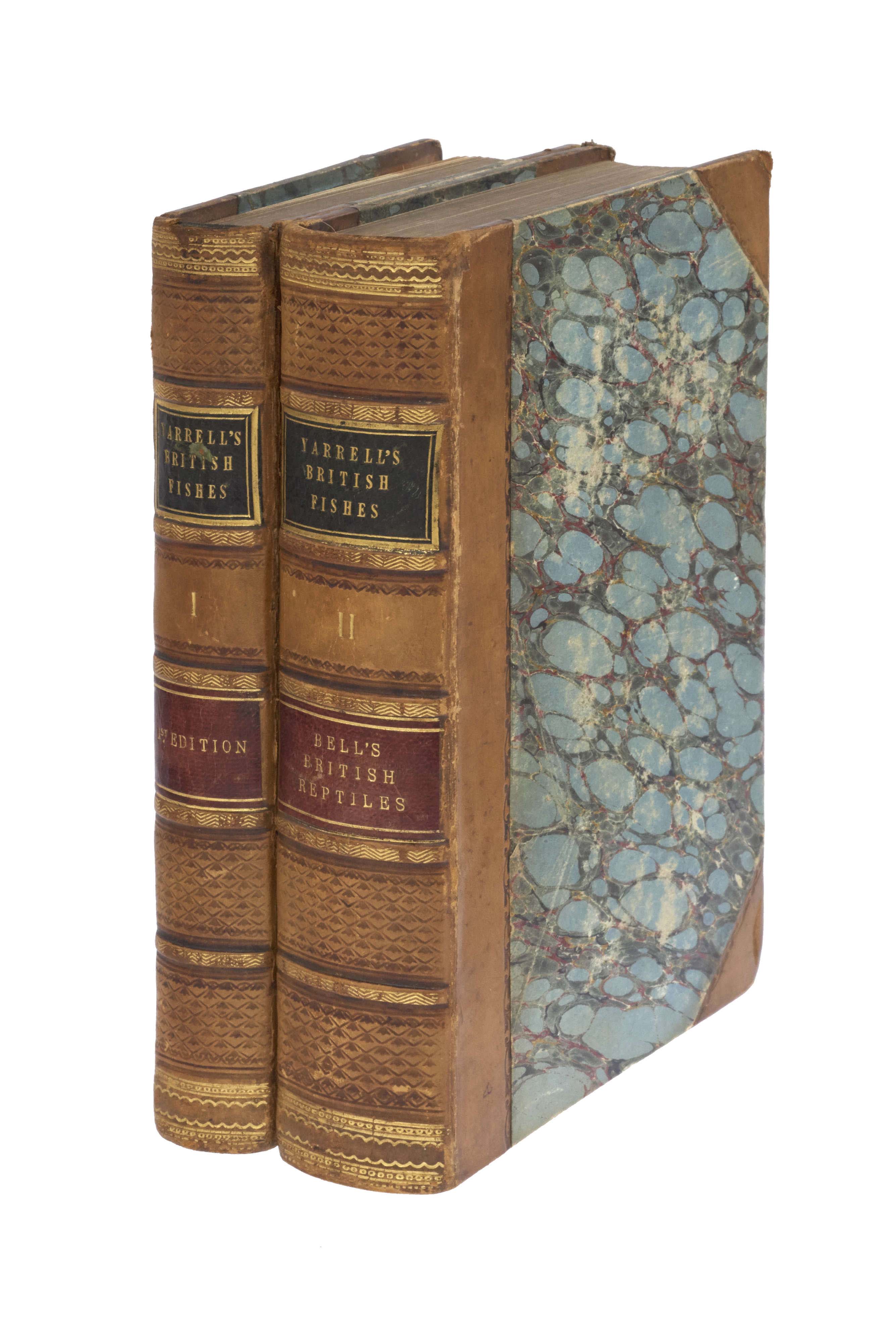 HEBRIDAL SMELT
YARRELL, William.
A History of British Fishes … illustrated by nearly 400 Woodcuts.
London, Samuel Bentley for John van Voorst, 1836.
[bound with:]

YARRELL, William. Supplement to the History of British Fishes … illustrated with Woodcuts, in two Parts. London, Samuel Bentley for John van Voorst, 1839. [and:]

BELL, Thomas. A History of British Reptiles … illustrated by more than forty Woodcuts. London, Samuel Bentley for John van Voorst, 1839.

3 works in 2 vols, 8vo, pp. I: xxxvii, [1], 408, Supplement (pt i): iv, 48, II: [4], 472, Supplement (pt ii): 72 xxiv, 142, [2 (publisher's prospectus)]; with a great many woodcut illustrations; slight spots in places and a few instances of offsetting, otherwise an attractive set; contemporary half calf with later nineteenth-century marbled sides, spines gilt in compartments and tooled in blind with gilt red and green morocco lettering-pieces; rubbed, a few scuffs, corners lightly bumped, minor split to upper joint of vol. I; armorial bookplates of Adam Sim, Coulter, to upper pastedowns, with a [2] pp. autograph letter to Sim signed by William Euing bound in, dated 'Glasgow, 8th Nov. 1853'.
£750

Approximately:
US $1038
€864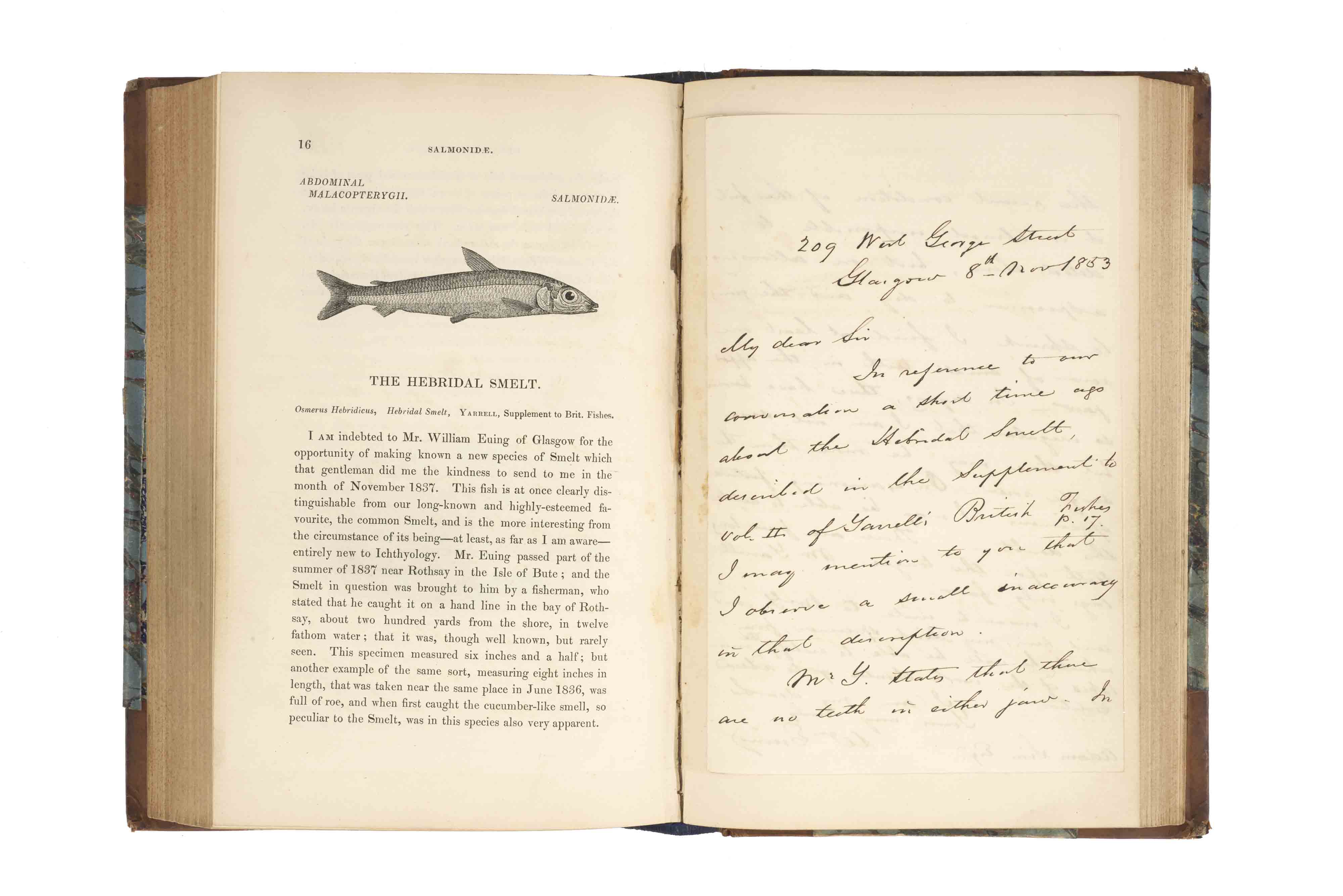 Added to your basket:
A History of British Fishes … illustrated by nearly 400 Woodcuts.
First collected editions, with an autograph letter on the Hebridal smelt from the species' discoverer. Published serially from 1835 to 1836, Yarrell's History of British Fishes was reprinted within a year, and followed soon after by Thomas Bell's British Reptiles in 1839 and his own British Birds in 1843 published by van Voorst and together forming a comprehensive survey of British wildlife. Though noted for his careful observations, Yarrell is here corrected on several points in an autograph letter to the antiquarian Adam Sim (1805–1868) from William Euing (1788–1874), who had discovered the Hebridal smelt (first included in the Supplement) in November 1837.
Despite this contribution to Scottish ichthyology, Euing, a Fellow of the Royal Society of Edinburgh and President of the Glasgow Archaeological Society, is best remembered for his fine library, of which some twelve thousand volumes now belong to Glasgow University.
You may also be interested in...
WELLS, Edward.
The young Gentleman's Astronomy, Chronology, and Dialling, containing such Elements of the said Arts or Sciences, as are most useful and easy to be known … third Edition, revised, and corrected, with Additions.
Third edition of Wells's successful mathematical handbook. Though subsequently dismissed as 'more voluminous than distinguished' (ODNB), the educational writings of Edward Wells (1667–1727) proved both popular with the public and profitable for their author. The best known, the present work offers an introduction to mathematics, principally astronomy and geometry in their practical applications.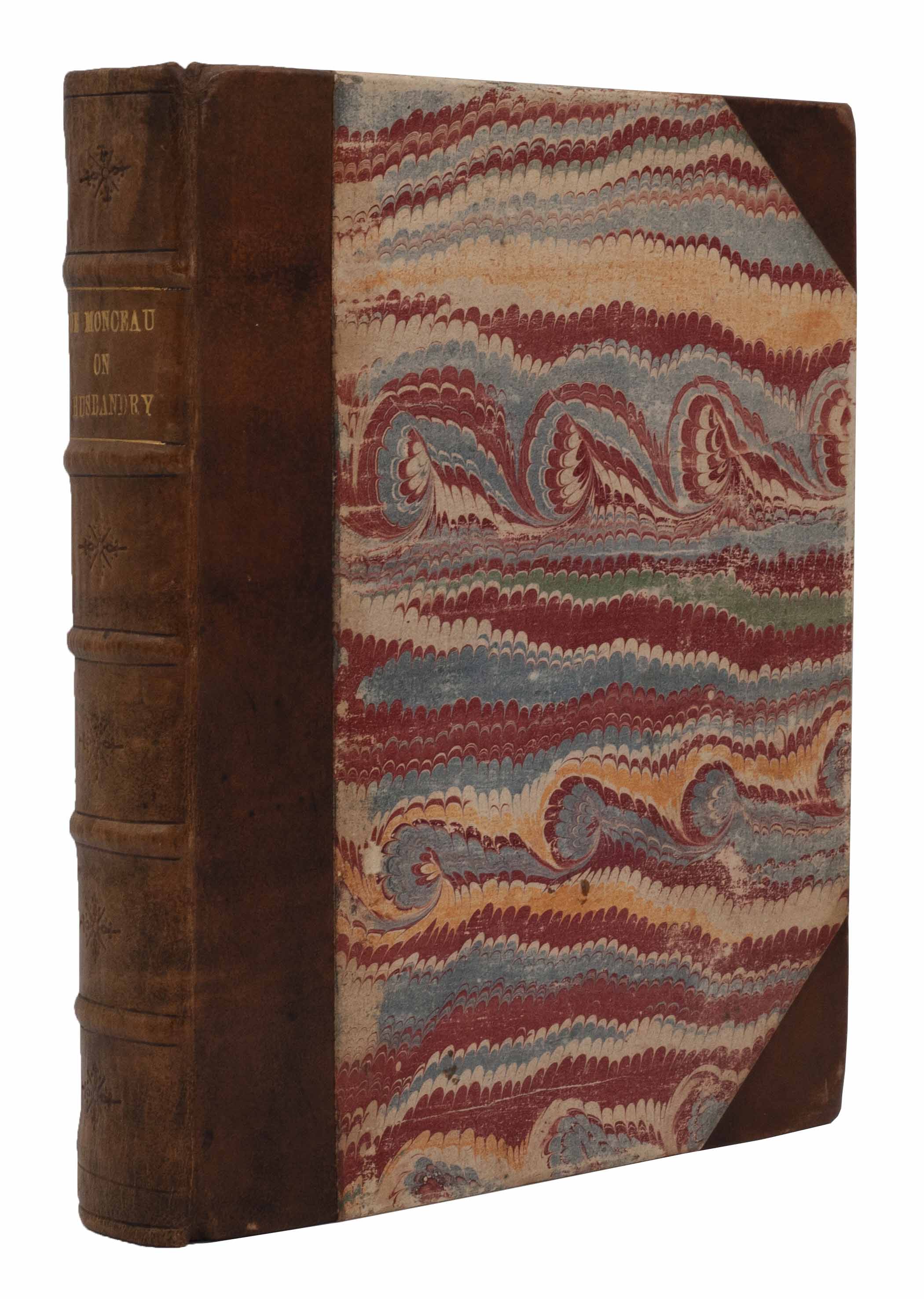 DUHAMEL du Monceau, Henri-Louis, [and John MILLS (translator)].
A practical Treatise of Husbandry, wherein are contained, many useful and valuable Experiments and Observations in the new Husbandry, collected during a Series of Years … also, the most approved Practice of the best English Farmers, in the old Method of Husbandry, with Copper-Plates of several new and useful Instruments.
First English edition, edited and expanded by John Mills – his first agricultural publication. Among the most prolific and respected agricultural authors of the second half of the eighteenth century, John Mills (c. 1717–1786) is first recorded in 1743 in Paris, working on a French edition of Chambers's Cyclopedia; his first publication did not appear, however, until 1759, with the Treatise of Husbandry derived from the Traité de la culture des terres (1750, and expanded second edition 1753-1762), a treatise by the botanist Duhamel du Monceau (1700–1782) which was in turn based on the writings of Tull.