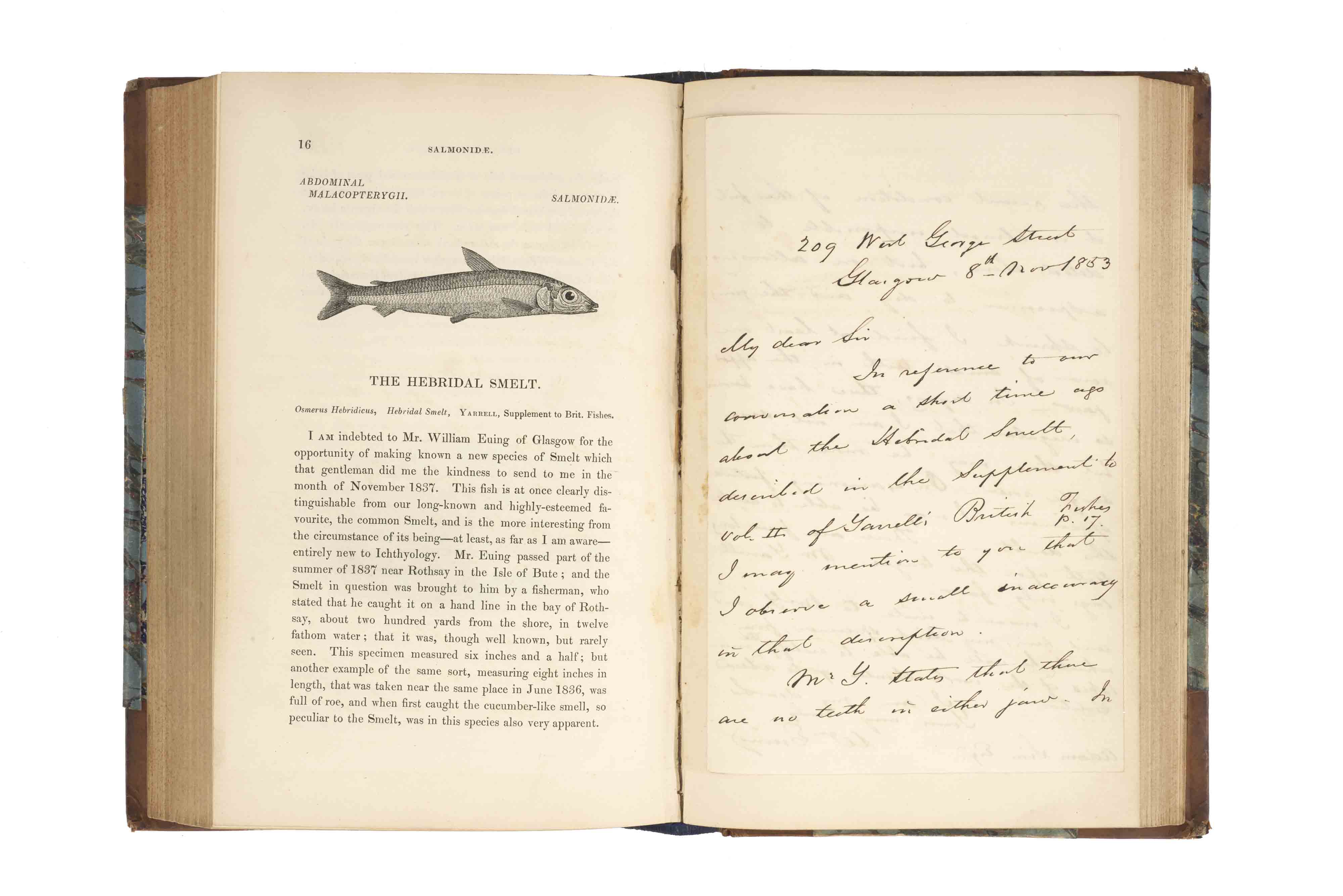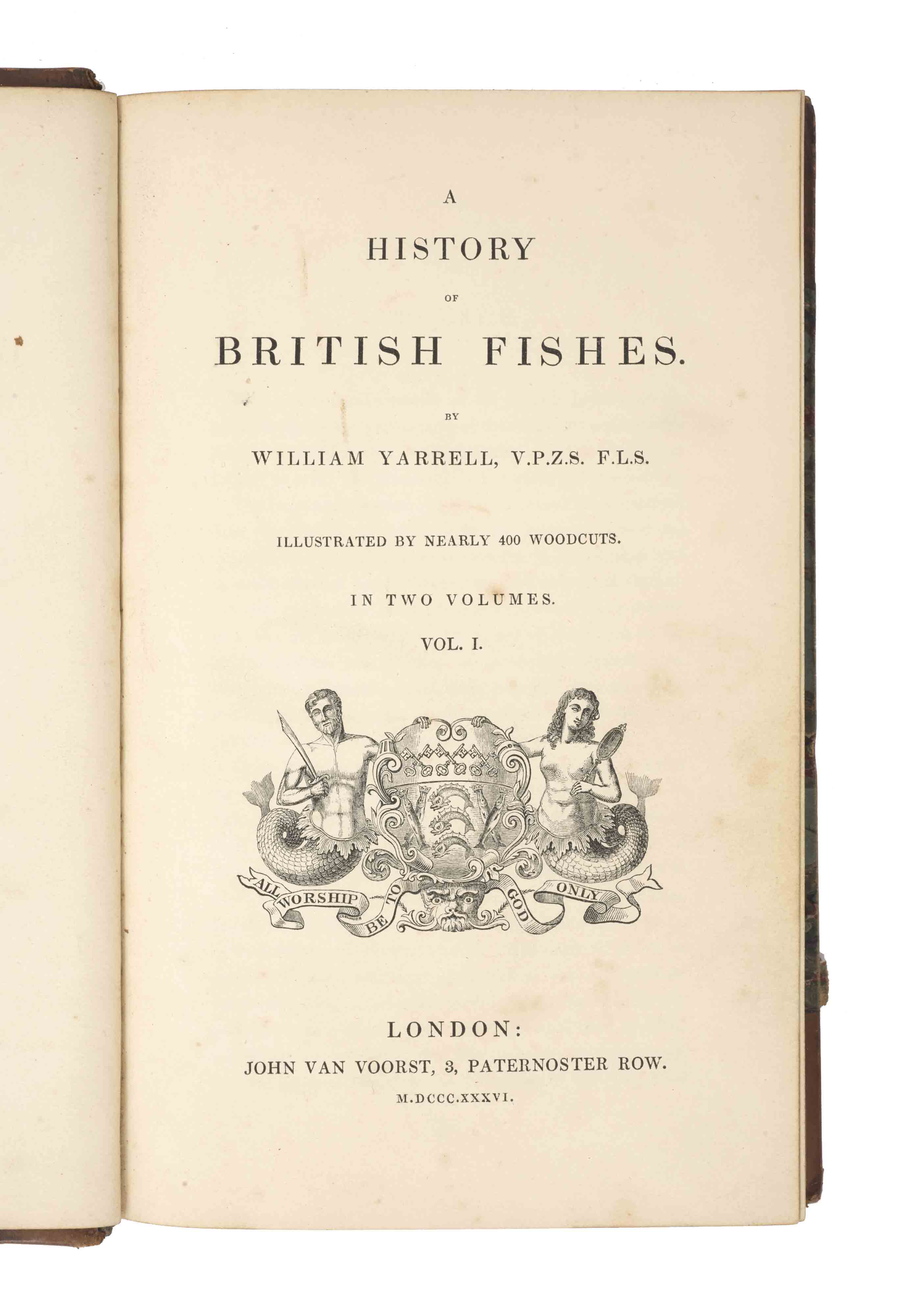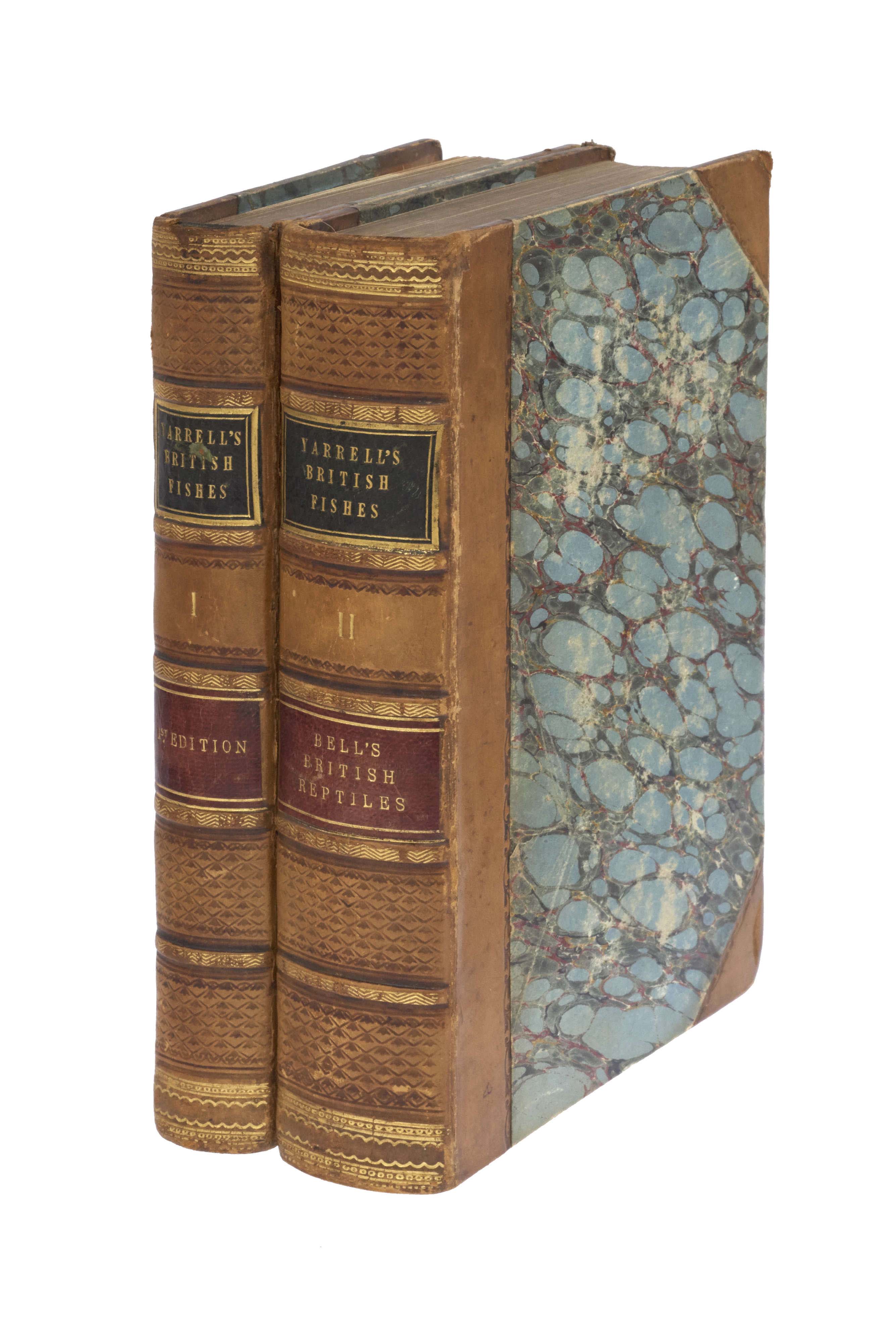 HEBRIDAL SMELT
YARRELL, William.
A History of British Fishes … illustrated by nearly 400 Woodcuts.
London, Samuel Bentley for John van Voorst, 1836.
[bound with:]

YARRELL, William. Supplement to the History of British Fishes … illustrated with Woodcuts, in two Parts. London, Samuel Bentley for John van Voorst, 1839. [and:]

BELL, Thomas. A History of British Reptiles … illustrated by more than forty Woodcuts. London, Samuel Bentley for John van Voorst, 1839.

3 works in 2 vols, 8vo, pp. I: xxxvii, [1], 408, Supplement (pt i): iv, 48, II: [4], 472, Supplement (pt ii): 72 xxiv, 142, [2 (publisher's prospectus)]; with a great many woodcut illustrations; slight spots in places and a few instances of offsetting, otherwise an attractive set; contemporary half calf with later nineteenth-century marbled sides, spines gilt in compartments and tooled in blind with gilt red and green morocco lettering-pieces; rubbed, a few scuffs, corners lightly bumped, minor split to upper joint of vol. I; armorial bookplates of Adam Sim, Coulter, to upper pastedowns, with a [2] pp. autograph letter to Sim signed by William Euing bound in, dated 'Glasgow, 8th Nov. 1853'.
£750

Approximately:
US $1021
€842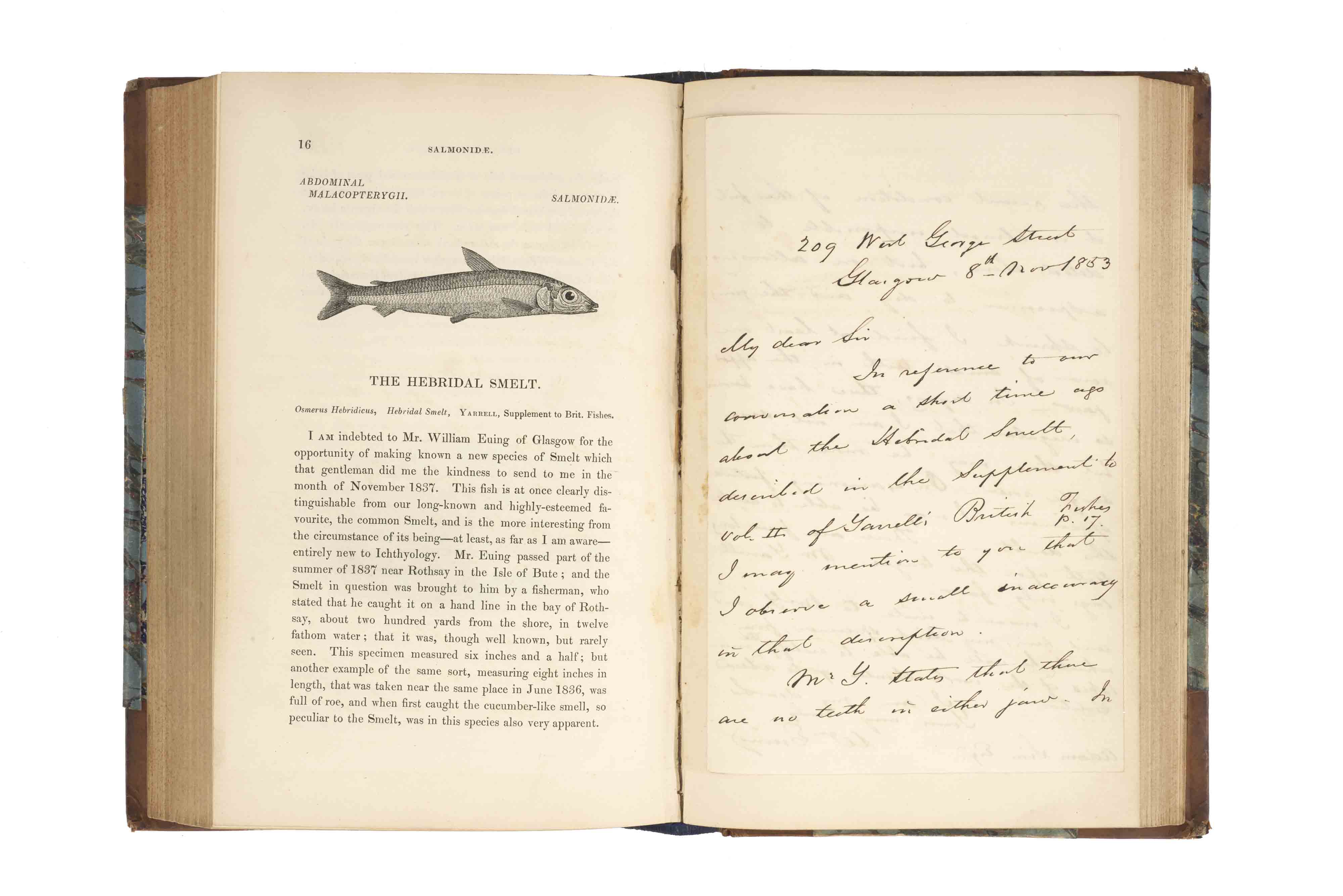 Added to your basket:
A History of British Fishes … illustrated by nearly 400 Woodcuts.
First collected editions, with an autograph letter on the Hebridal smelt from the species' discoverer. Published serially from 1835 to 1836, Yarrell's History of British Fishes was reprinted within a year, and followed soon after by Thomas Bell's British Reptiles in 1839 and his own British Birds in 1843 published by van Voorst and together forming a comprehensive survey of British wildlife. Though noted for his careful observations, Yarrell is here corrected on several points in an autograph letter to the antiquarian Adam Sim (1805–1868) from William Euing (1788–1874), who had discovered the Hebridal smelt (first included in the Supplement) in November 1837.
Despite this contribution to Scottish ichthyology, Euing, a Fellow of the Royal Society of Edinburgh and President of the Glasgow Archaeological Society, is best remembered for his fine library, of which some twelve thousand volumes now belong to Glasgow University.
You may also be interested in...
QUINCY, John.
Lexicon physico-medicum: or, a new medicinal dictionary; explaining the difficult terms used in the several branches of the profession, and in such parts of natural philosophy as are introductory thereto … The third edition …
Third edition, first published 1719, 'with new improvements from the latest chymical and mechanical authors'.
FIRST CONCEPTION OF MAN AS MACHINE DE TERRE DESCARTES, René, and Louis de la FORGE (editor).
Tractatus de homine, et de formatione foetus.
First and only Elzevir edition, and the first edition of the better Latin text of Descartes's Traité de l'homme. De homine 'is the first work in the history of science and medicine to construct a unified system of human physiology that presents man as a purely material and mechanical being: man as machine de terre. In conceptualizing man as a machine, Descartes helped emancipate the study of human physiology from religious and cultural constraints and validated a clinical and experimental approach to anatomy and physiology.' (Grolier).