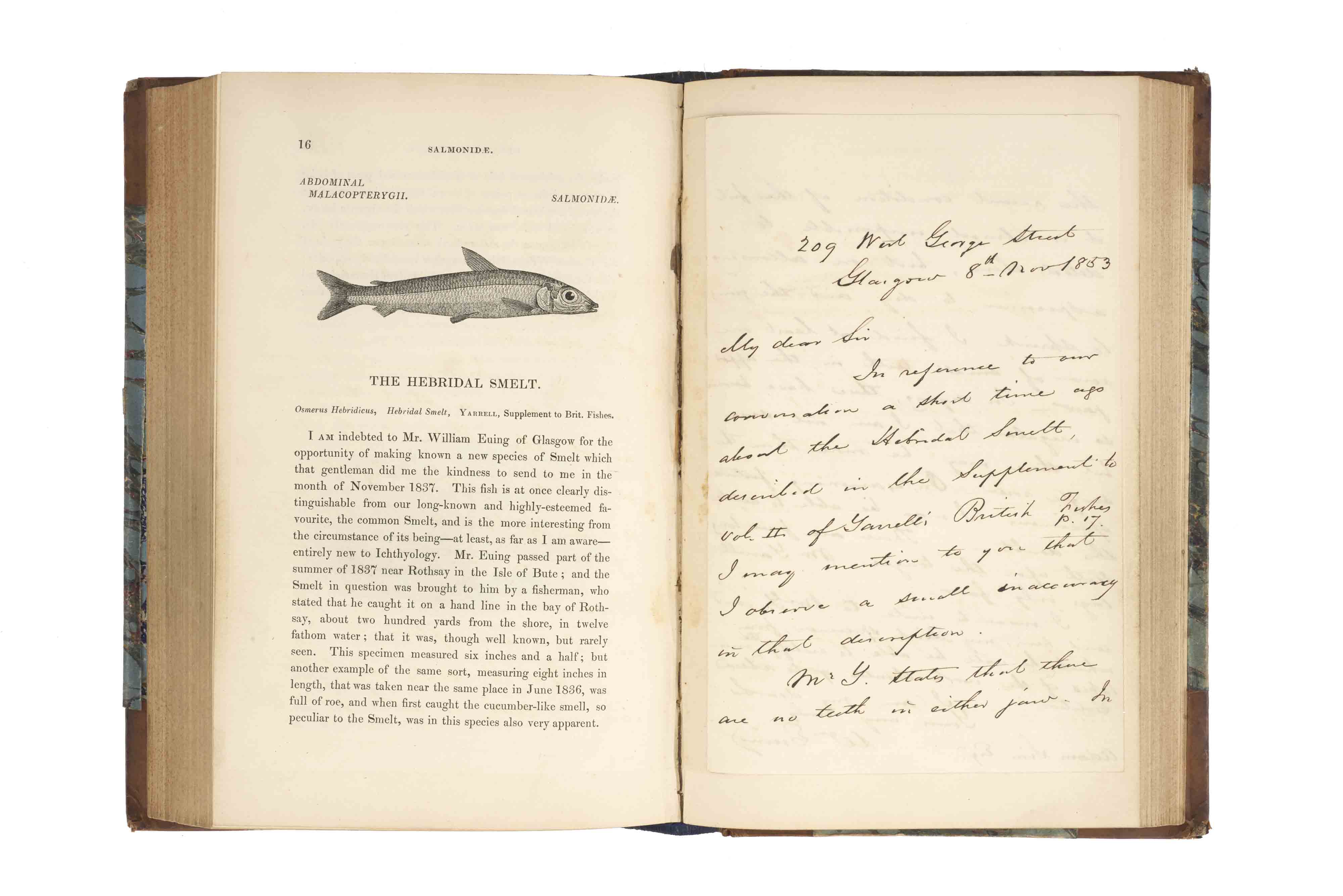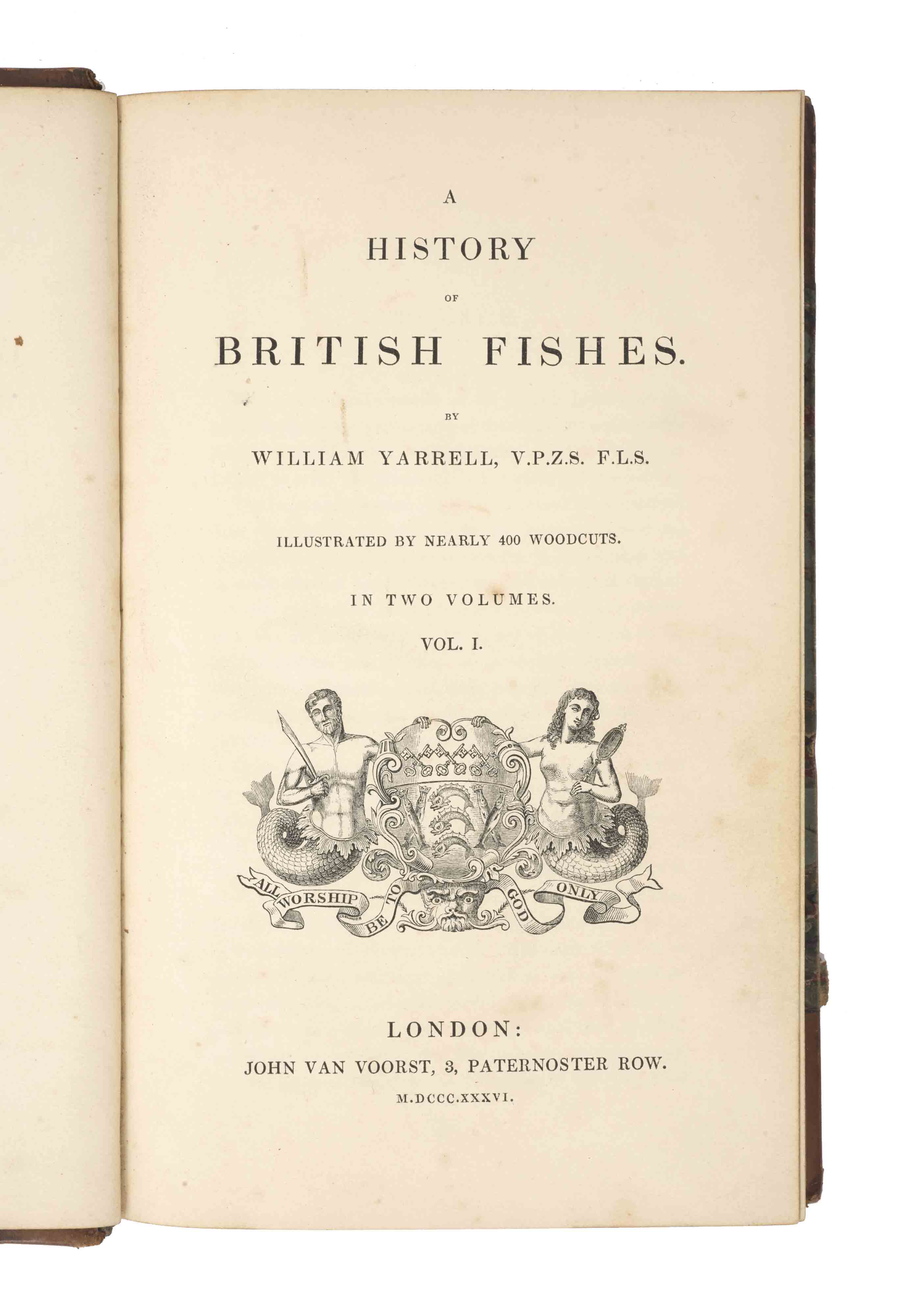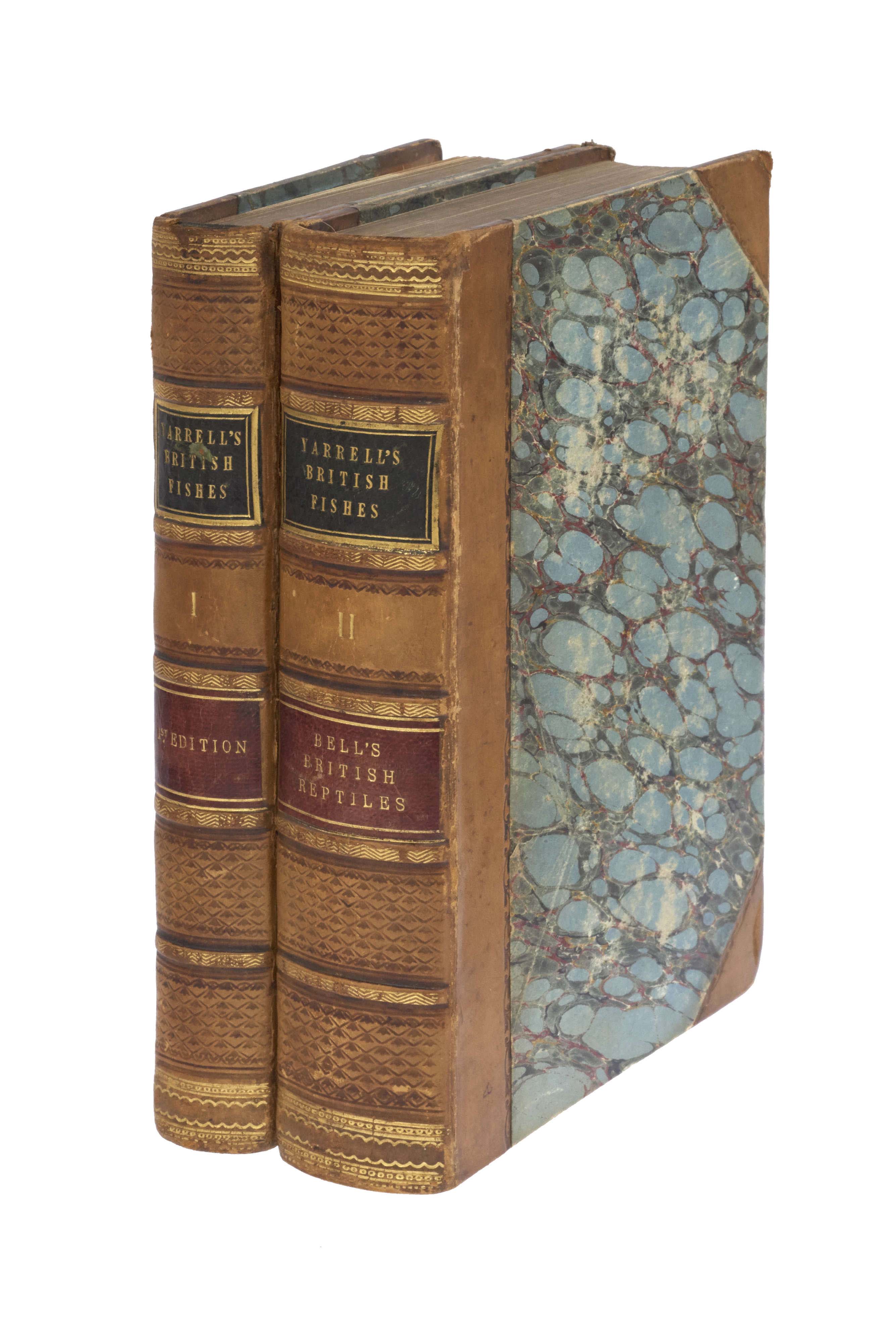 HEBRIDAL SMELT
YARRELL, William.
A History of British Fishes … illustrated by nearly 400 Woodcuts.
London, Samuel Bentley for John van Voorst, 1836.
[bound with:]

YARRELL, William. Supplement to the History of British Fishes … illustrated with Woodcuts, in two Parts. London, Samuel Bentley for John van Voorst, 1839. [and:]

BELL, Thomas. A History of British Reptiles … illustrated by more than forty Woodcuts. London, Samuel Bentley for John van Voorst, 1839.

3 works in 2 vols, 8vo, pp. I: xxxvii, [1], 408, Supplement (pt i): iv, 48, II: [4], 472, Supplement (pt ii): 72 xxiv, 142, [2 (publisher's prospectus)]; with a great many woodcut illustrations; slight spots in places and a few instances of offsetting, otherwise an attractive set; contemporary half calf with later nineteenth-century marbled sides, spines gilt in compartments and tooled in blind with gilt red and green morocco lettering-pieces; rubbed, a few scuffs, corners lightly bumped, minor split to upper joint of vol. I; armorial bookplates of Adam Sim, Coulter, to upper pastedowns, with a [2] pp. autograph letter to Sim signed by William Euing bound in, dated 'Glasgow, 8th Nov. 1853'.
£750

Approximately:
US $1034
€885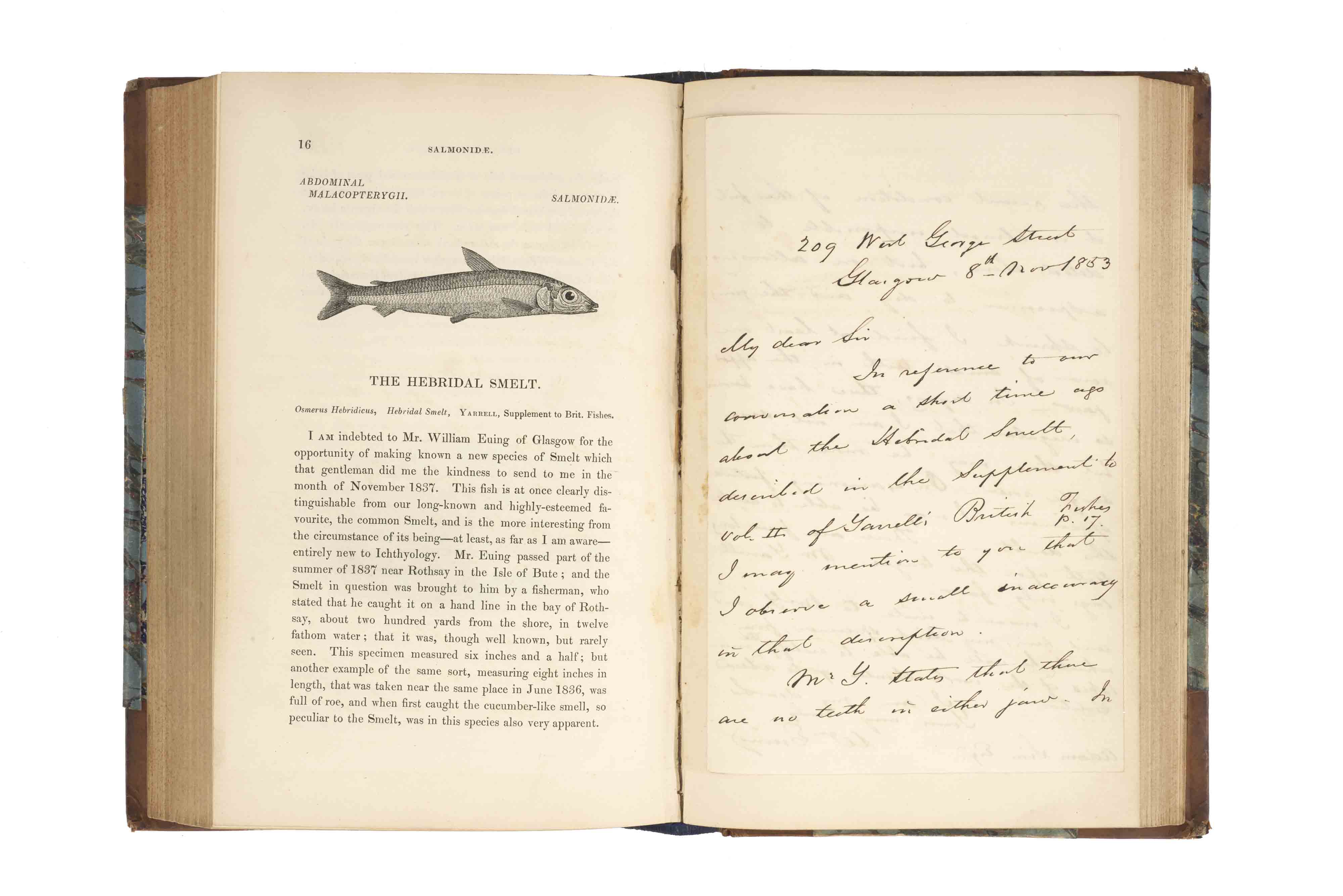 Added to your basket:
A History of British Fishes … illustrated by nearly 400 Woodcuts.
First collected editions, with an autograph letter on the Hebridal smelt from the species' discoverer. Published serially from 1835 to 1836, Yarrell's History of British Fishes was reprinted within a year, and followed soon after by Thomas Bell's British Reptiles in 1839 and his own British Birds in 1843 published by van Voorst and together forming a comprehensive survey of British wildlife. Though noted for his careful observations, Yarrell is here corrected on several points in an autograph letter to the antiquarian Adam Sim (1805–1868) from William Euing (1788–1874), who had discovered the Hebridal smelt (first included in the Supplement) in November 1837.
Despite this contribution to Scottish ichthyology, Euing, a Fellow of the Royal Society of Edinburgh and President of the Glasgow Archaeological Society, is best remembered for his fine library, of which some twelve thousand volumes now belong to Glasgow University.
You may also be interested in...
WITH REPURPOSED HYPNEROTOMACHIAN WOODBLOCKS MARTIAL, Marcus Valerius.
Epigram. [epigrammatum] libri magna diligentia nuperrime castigati, adiectis doctissimis commentariis illustrium virorum Domitii Chalderini atque Georgii Merulae … accedunt his omnibus complura adnotamenta ex Angelo Politiano aliisque praestantissimis viris excerpta, ac ipsius authoris vita ab eruditissimo viro Petro Crinito fidelissime collecta.
A handsome early Lyons edition of Martial's epigrams, with the commentaries of Calderino, Merula, and Poliziano, and illustrated with sixteen attractive woodcuts by Guillaume le Roy. Le Roy's blocks, previously used to illustrated a 1510 Lyons Ovid, are copied from the unattributed woodcuts used to illustrate the 1497 Giunta Metamophoses, 'the style [of which] suggests that of the famous Aldine Hypnerotomachia Poliphili which was to follow two years later' (Mortimer). Even in this new context in the only Morin edition of Martial's epigrams, the woodcuts lose none of their charm and vivacity.
OFF TO COLLEGE ERLENBACH, Jean Jacques.
Compliment de Congé en rimes francaises, a monsieur Ziegert, sur son depart pour Halle à l'université (le 24 d'Avril 1754).
Charming and apparently unrecorded poem written on the occasion of the departure for the University of Halle of an unidentified Mr Ziegert by his disgruntled friend Johan Jakob Erlenbach (who, according to a footnote, did not expect his poem to be printed).