ZAMPELIOS, Spiridion.
Βυζαντιναι Μελεται [Byzantine Studies]...
Athens, Christos Nikolaidos, 1857.
8vo, pp. 696, [50]; Greek letter; title and a few leaves of text foxed; a very good, clean, wide-margined copy preserving the rear original wrapper, bound in half morocco with marbled paper boards; rubbed, upper joint cracked but firm.
£350

Approximately:
US $437
€413
Added to your basket:
Βυζαντιναι Μελεται [Byzantine Studies]...
First edition. Spyros Zampelios was a champion of the continuity theory in the history of the Greek nation in the crucial decades of the mid nineteenth century, and the first Greek historian to adopt a tripartite examination of historical periods, divided into ancient, medieval and modern Hellenism. In this work he considers Byzantium as a part of Greece, positing that ancient Greek civilization had not faded away in the Byzantine Empire, but had been rather been creatively reshaped as it met Christianity.  This approach stood in direct opposition to the then prevalent ideas of the German historian Jakob Fallmerayer, who maintained that Greece had declined due to the annexation of its territories by the Slavic and Albanian peoples, and that the Byzantine Empire was simply the continuance of Roman conquest over Greek populations. Zampelios's view of an unbroken continuity from Anciet to Byzantine to modern Greece was distilled in his new coinage, the adjective 'Hellenochristianikos', introduced in this work, p. 464.
You may also be interested in...
'What a Fool you must be' GROVES, John.
Greek and English dictionary, comprising all the words in the writings of the most popular Greek authors; in the Septuagint and New Testament; designed for the use of schools and the undergraduate course of a collegiate education. With an English and Greek vocabulary ... Seventh edition ...
Seventh edition of Groves's popular Greek–English dictionary, with charming doodles and cheeky notes by William Salked Brook of Woodbridge, Suffolk, dating from his time at Magdalen College School and then Oriel College Oxford (BA 1880). Brook appears to have inherited the volume from his father Henry William.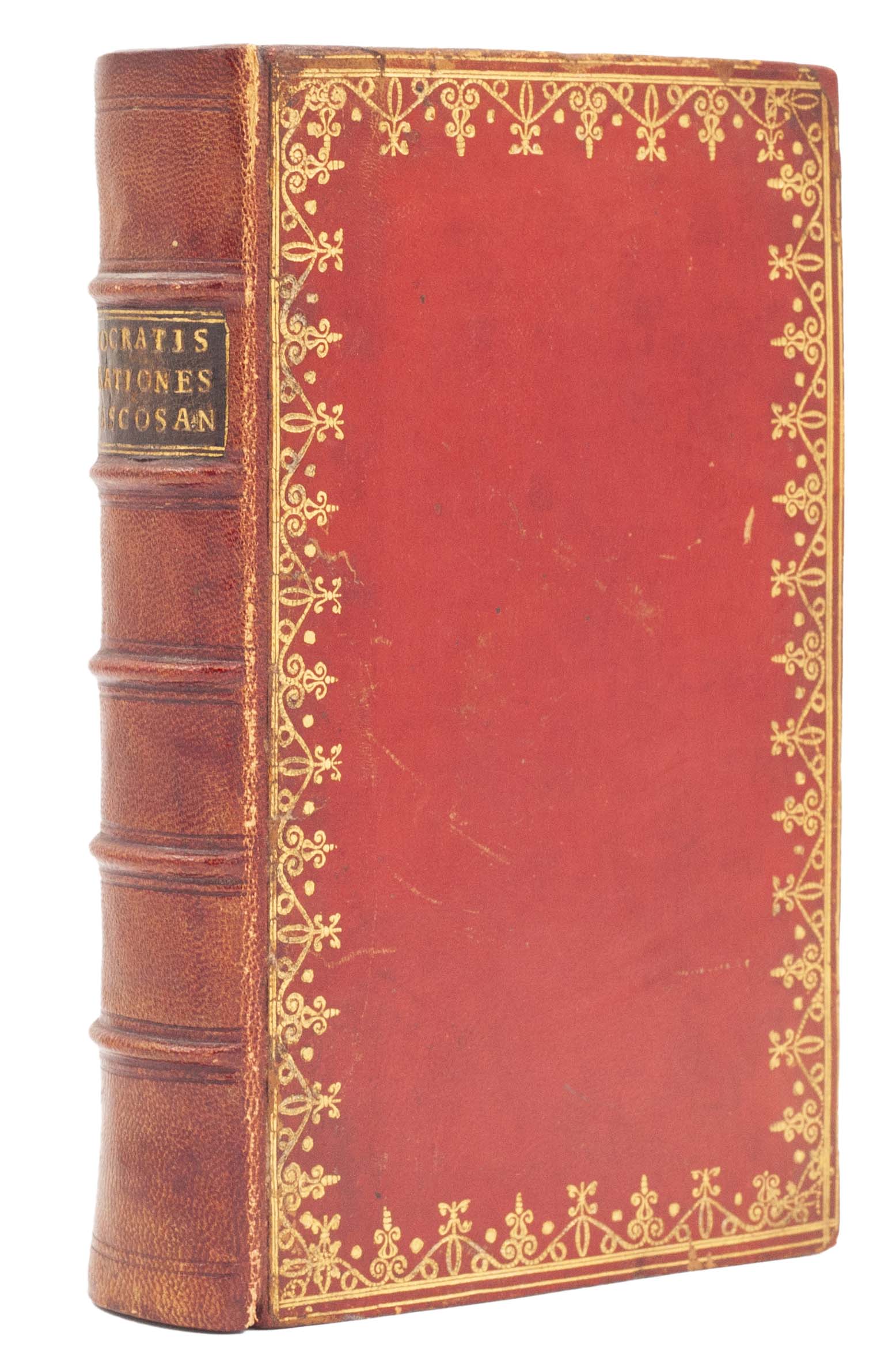 ISOCRATES.
Orationes et epistolae gravitatis et suavitatis plenae de Greco in Latinum pridem conversae, nunc recognitae, per Hieronymu[m] VVolfium Oetingensem ...
A handsome Latin edition of twenty-one works by the Athenian orator Isocrates whose work was highly influential on later education, oratory and writing. Isocrates (436–338 BC) studied under Socrates and the sophists, before establishing a famous school of rhetoric which attracted pupils from all parts of the Greek world, offering a more practical training than that offered by Plato's more theoretical teaching. A pupil of Melanchthon, Hieronymus Wolf (1516–1580) served as secretary and librarian to the wealthy merchant and collector Johann Jakob Fugger before securing his scholarly reputation with editions and translations of Isocrates and Demosthenes.