ZAMPELIOS, Spiridion.
Βυζαντιναι Μελεται [Byzantine Studies]...
Athens, Christos Nikolaidos, 1857.
8vo, pp. 696, [50]; Greek letter; title and a few leaves of text foxed; a very good, clean, wide-margined copy preserving the rear original wrapper, bound in half morocco with marbled paper boards; rubbed, upper joint cracked but firm.
£350

Approximately:
US $466
€413
Added to your basket:
Βυζαντιναι Μελεται [Byzantine Studies]...
First edition. Spyros Zampelios was a champion of the continuity theory in the history of the Greek nation in the crucial decades of the mid nineteenth century, and the first Greek historian to adopt a tripartite examination of historical periods, divided into ancient, medieval and modern Hellenism. In this work he considers Byzantium as a part of Greece, positing that ancient Greek civilization had not faded away in the Byzantine Empire, but had been rather been creatively reshaped as it met Christianity.  This approach stood in direct opposition to the then prevalent ideas of the German historian Jakob Fallmerayer, who maintained that Greece had declined due to the annexation of its territories by the Slavic and Albanian peoples, and that the Byzantine Empire was simply the continuance of Roman conquest over Greek populations. Zampelios's view of an unbroken continuity from Anciet to Byzantine to modern Greece was distilled in his new coinage, the adjective 'Hellenochristianikos', introduced in this work, p. 464.
You may also be interested in...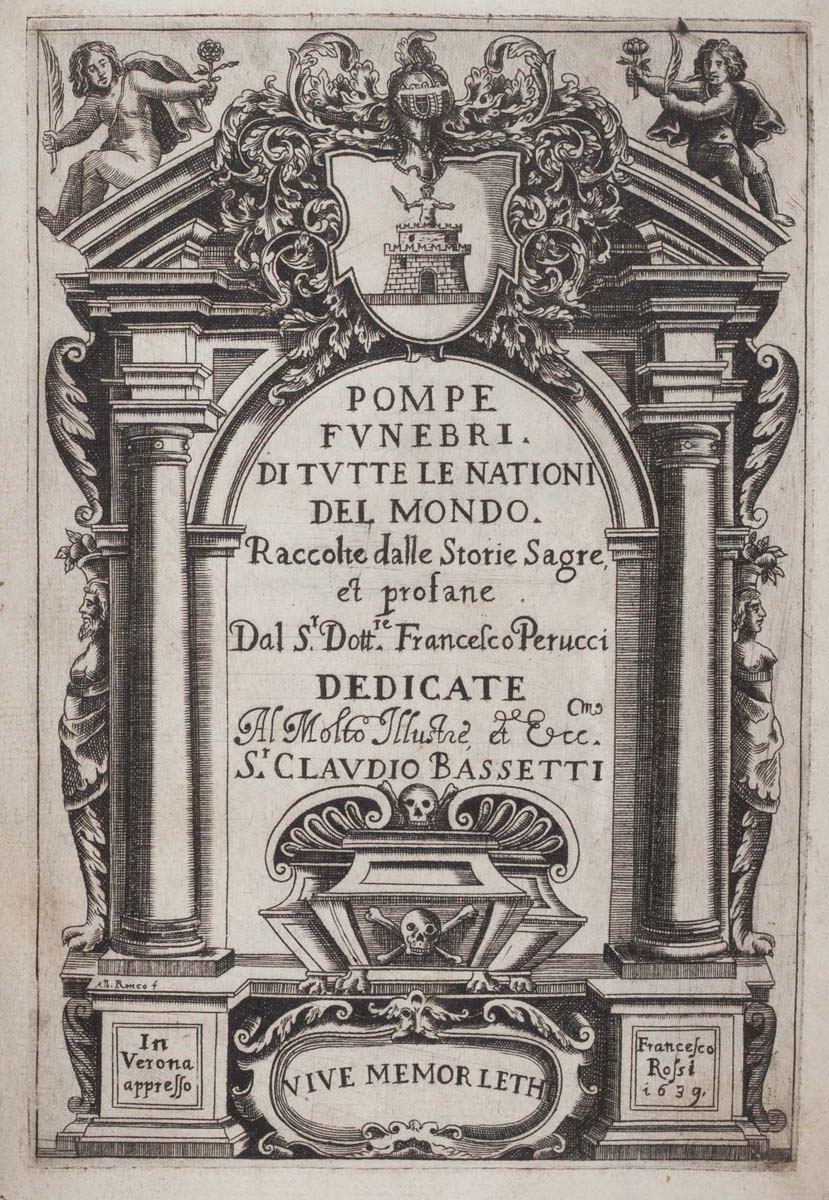 FROM THE LOST LOGIE LIBRARY OF WALTER BOWMAN PERUCCI, Francesco.
Pompe funebri di tutte le nationi del mondo, raccolte dale storie sagre et profane.
First edition of Perucci's extensively illustrated account of funeral practices, inscribed by a Scottish antiquary and documented book collector. A fellow of the Society of Antiquaries and later the Royal Society, Walter Bowman (1699–1782) travelled extensively over the course of five decades in Italy, where this book was most likely acquired, studying at the University of Padua for two years and accompanying Samuel Rolle, Simon Harcourt, and Francis Seymour-Conway as tutor on grand tours; his remarkably detailed notes on his travels and keen collecting survive, principally in the National Library of Scotland and the Biblioteca nazionale in Florence.
GAY, John.
Achilles. An Opera. As it is perform'd at the Theatre-Royal in Covent Garden ... with the Musick prefix'd to each Song.
First edition of Gay's last ballad opera; he was arranging for its production at the time of his death. The work is a farcical burlesque of classical myth, in which Achilles, dressed as a woman, is admitted to the court of Lycomedes, who falls in love with him while he in turn is trying to woo Deidamia. The sly Ulysses unravels the confusion in the end. There are fifty-four songs, and an element of political satire, reflected in the contemporary 'key', Achilles dissected.