We are exhibiting at two fairs this weekend: Room&Book ICA Art Book Fair and photoBooK Bristol.
Room&Book is a new fair and will be held at the Institute of Contemporary Arts, The Mall, London, SW1Y 5AH. Entry is free and the opening hours are 11am to 8pm on Friday and Saturday, and 11am to 6pm on Sunday. For further details, please visit www.ica.org.uk/whats-on/seasons/roombook-ica-art-book-fair.
For details of photoBooK Bristol please visit www.photobookbristol.com.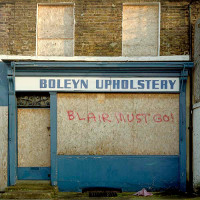 [Mike Seaborne. Hertford Road, Hackney. November 2005. Copyright © Mike Seaborne.]