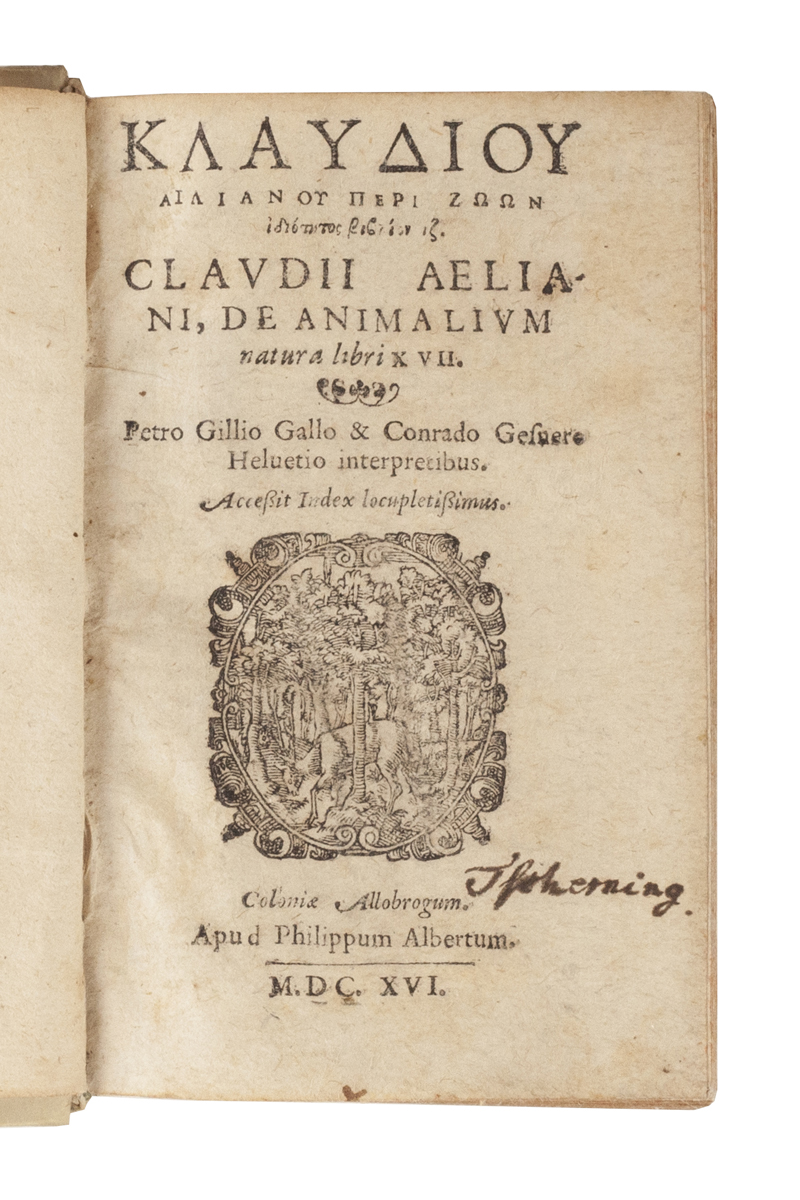 ANCIENT ANIMAL ANECDOTES
AELIANUS, Claudius, Conrad GESSNER (translator), and Pierre GILLES (editor).

Περι ζωων ιδιοτητος βιβλιον ιζ … De animalium natura libri XVII … accessit index locupletissimus.
Cologny, Philippe Albert, 1616.
16mo, pp. [8], 1018, [94]; text printed in 2 columns, in Latin and Greek, woodcut device to title; lightly browned with a few spots, a few creased corners, several leaves misbound; a good copy in contemporary vellum over boards, borders triple-ruled in blind, spine blind-ruled in compartments and lettered in ink, yapp fore-edges, edges stained red, sewn on 3 thongs; spine lightly dust-stained; contemporary ink inscription 'Tscherning' to title.
£300

Approximately:
US $363
€347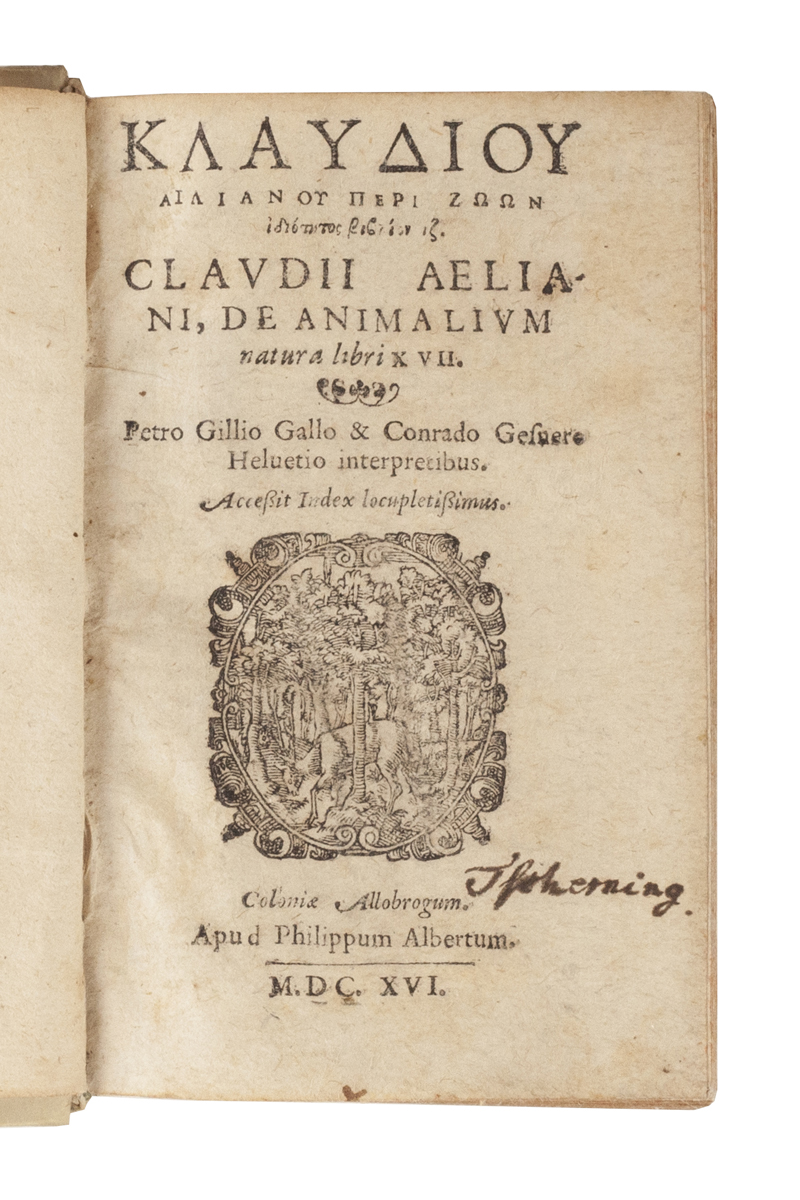 Added to your basket:
Περι ζωων ιδιοτητος βιβλιον ιζ … De animalium natura libri XVII … accessit index locupletissimus.
Uncommon Geneva edition of Aelianus's De animalium natura, the Greek printed in parallel with Gessner's Latin translation. A third-century work on natural history, Aelianus's text offers accounts and anecdotes of animals, 'an appealing collection of facts and fables about the animal kingdom that invites the reader to ponder contrasts between human and animal behaviour' (Scholfield). The text is particularly valuable for quoting passages of earlier classical works, otherwise lost.

Graesse I, p. 24.
You may also be interested in...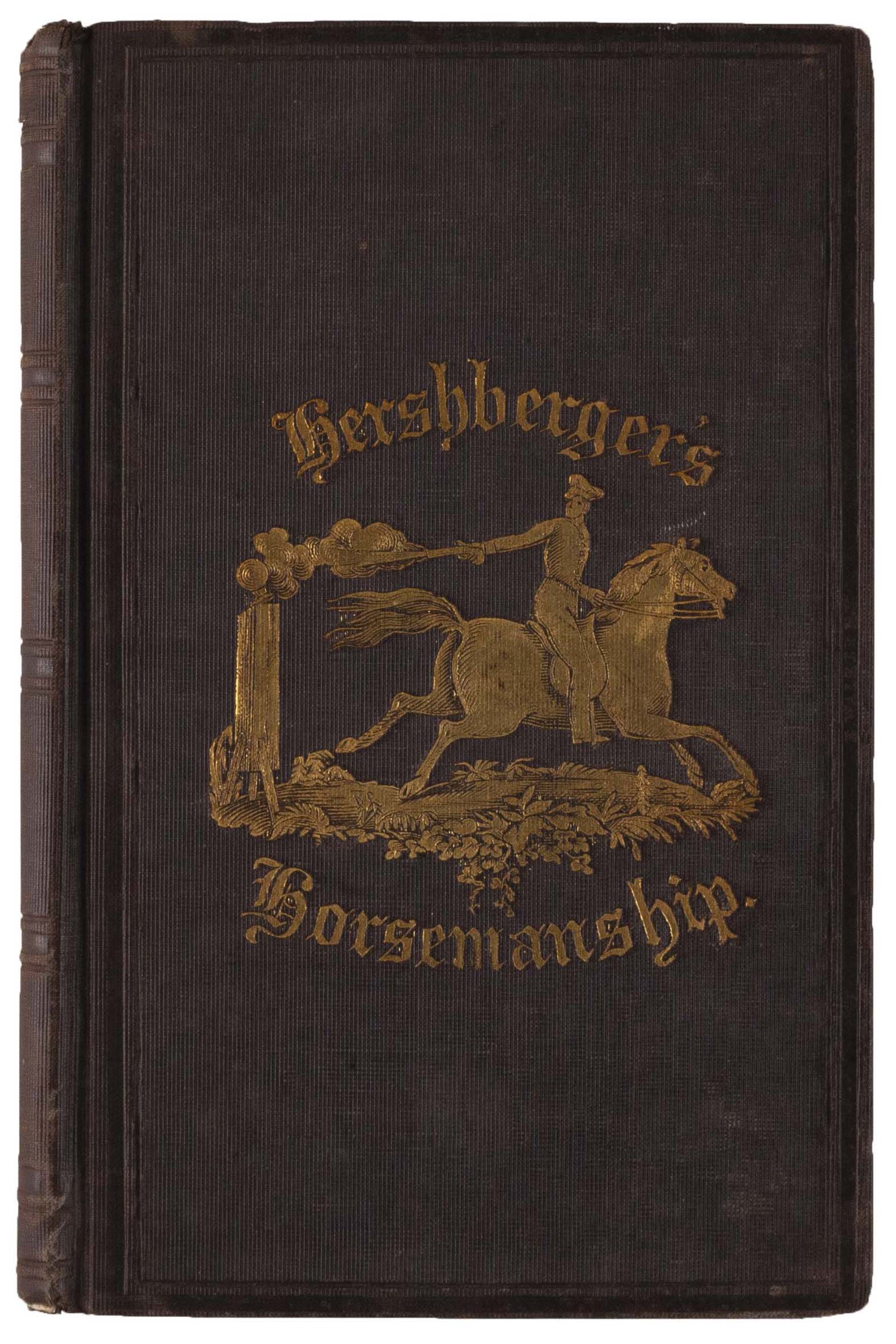 HERSHBERGER, H.R.
The Horseman: A Work on Horsemanship, containing plain practical Rules for Riding, and Hints to the Reader on the Selection of Horses, to which is annexed a Sabre Exercise for mounted and dismounted Service … with Cuts, illustrating the various Kinds of Bits, Paces or Gaits of the Horse, and Practices for the accomplished Horseman.
First edition of a rare military manual on horsemanship, with instructions on riding and illustrated cavalry exercises. An instructor at the United States Military Academy, Hershberger 'endeavored to convey practical information on all equestrian exercises by an easy and progressive method'.
MAGNER, D.
The Art of Taming and Educating the Horse: A System that makes easy and practical the Subjection of wild and vicious Horses, heretofore practiced and taught by the Author as a Secret, and never before published, indorsed by leading Citizens and Committees of Experts in the principal Cities and Towns of the United States as unqualifiedly the simplest, most humane and effective in the World with Details of Management in the Subjection of over forty Representative vicious Horses, and the Story of the Author's personal Experience, together with Chapters on Feeding, Stabling, Shoeing, and the practical Treatment for Sickness, Lameness, etc., with a large Number of Recipes heretofore sold as great Secrets.
Second edition of Magner's much expanded work on horse taming and training. Promoting techniques similar to the Rarey method, the text is closely based on the New System, though with substantially more material and illustration.