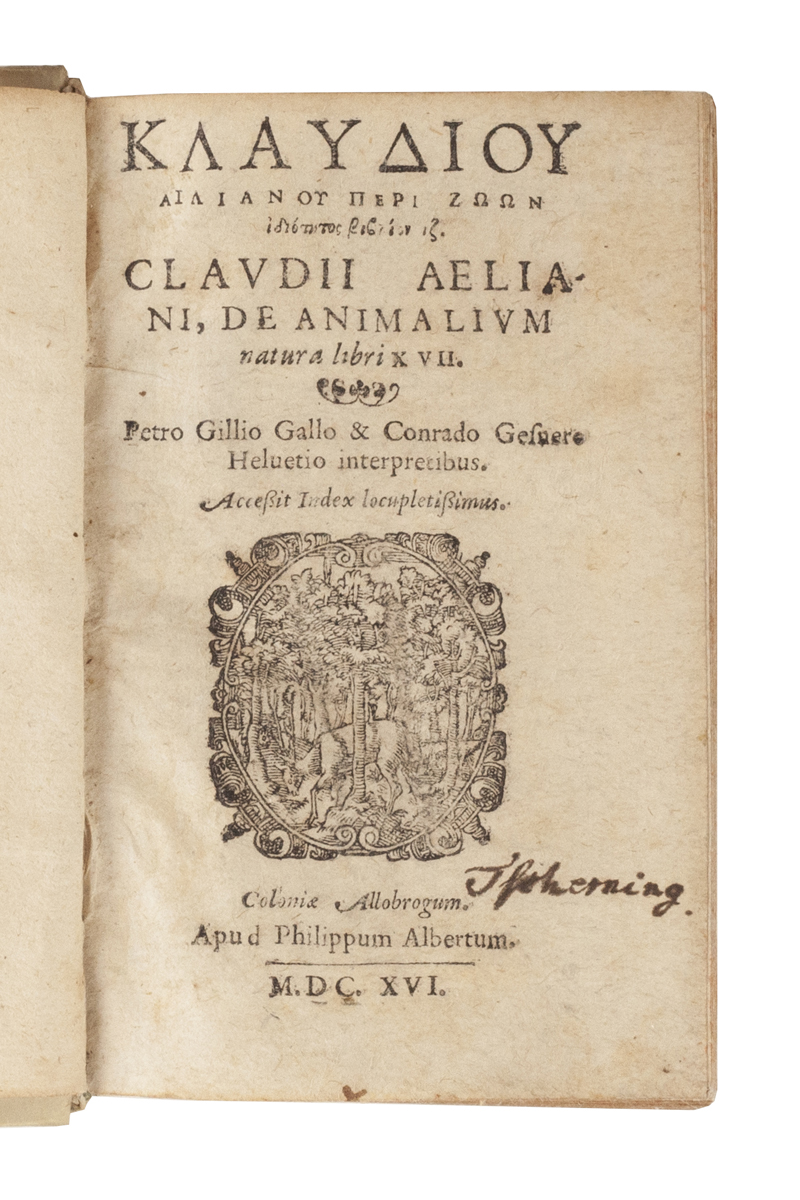 ANCIENT ANIMAL ANECDOTES
AELIANUS, Claudius, Conrad GESSNER (translator), and Pierre GILLES (editor).

Περι ζωων ιδιοτητος βιβλιον ιζ … De animalium natura libri XVII … accessit index locupletissimus.
Cologny, Philippe Albert, 1616.
16mo, pp. [8], 1018, [94]; text printed in 2 columns, in Latin and Greek, woodcut device to title; lightly browned with a few spots, a few creased corners, several leaves misbound; a good copy in contemporary vellum over boards, borders triple-ruled in blind, spine blind-ruled in compartments and lettered in ink, yapp fore-edges, edges stained red, sewn on 3 thongs; spine lightly dust-stained; contemporary ink inscription 'Tscherning' to title.
£300

Approximately:
US $414
€345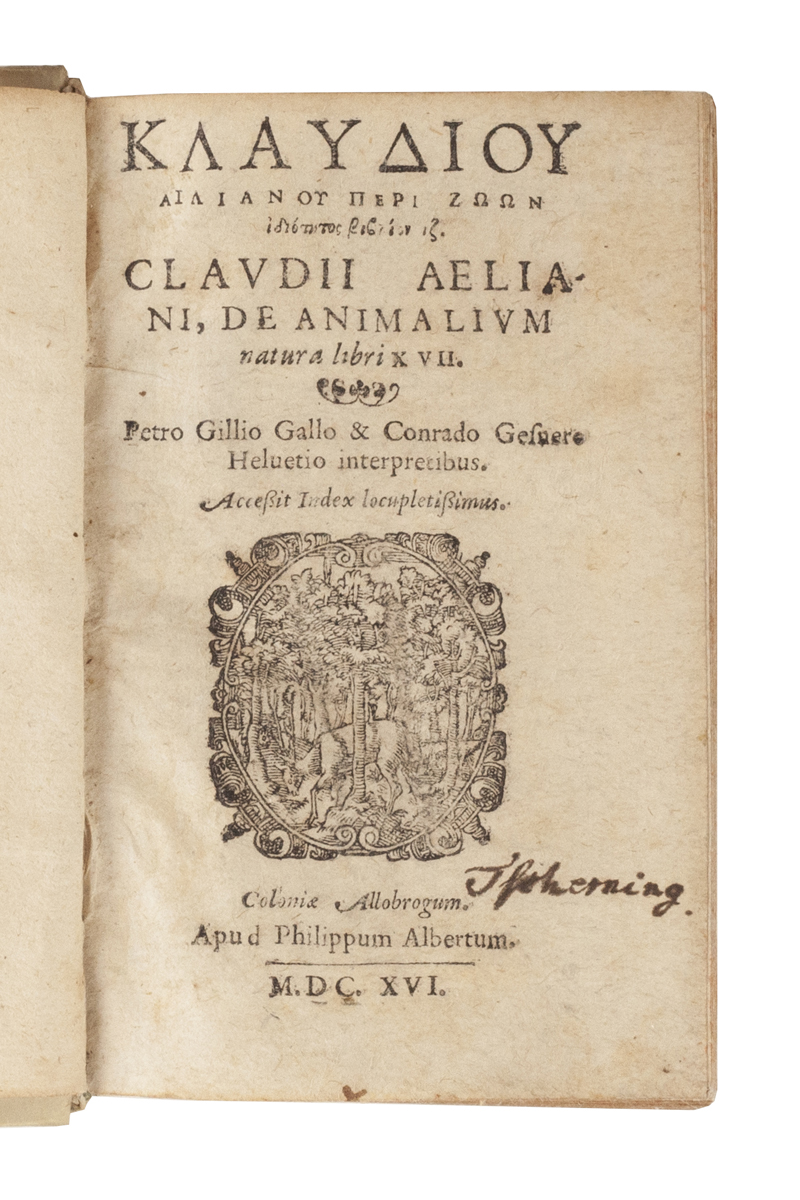 Added to your basket:
Περι ζωων ιδιοτητος βιβλιον ιζ … De animalium natura libri XVII … accessit index locupletissimus.
Uncommon Geneva edition of Aelianus's De animalium natura, the Greek printed in parallel with Gessner's Latin translation. A third-century work on natural history, Aelianus's text offers accounts and anecdotes of animals, 'an appealing collection of facts and fables about the animal kingdom that invites the reader to ponder contrasts between human and animal behaviour' (Scholfield). The text is particularly valuable for quoting passages of earlier classical works, otherwise lost.

Graesse I, p. 24.
You may also be interested in...
GRISONE, Federico.
Ordini di cavalcare, et modi di conoscere le nature de' cavalli, di emendare i lor vitii, & d'ammaestrargli per l'uso della Guerra, & giovamento de gli huomini, con varie figure di morsi, secondo le bocche, & il maneggio che si vuol dar loro … di nuovo migliorati, & accresciuti di postille, & di tavola. Aggiungevisi una scielta di notabili avvertimenti, per fare eccellenti razze, & per rimediare alle infermità de' cavalli.
Later edition of Grisone's Ordini, with the third edition of his text on veterinary medicine and the famous image of a horse and its diseases. Though a riding master and horse-trainer, Grisone's treatise on equitation was augmented from 1571 by a veterinary text, discussing diseases and surgery and with an index of sixty remedies for ailments shown on a woodcut illustration of a horse.
KEOGH, John.
Zoologia medicinalis hibernica, or a Treatise of Birds, Beasts, Fishes, Reptiles, or Insects, which are commonly known and propagated in this Kingdom, giving an Account of their medicinal Virtues, and their Names in English, Irish, and Latin, to which is added a short Treatise of the diagnostic and prognostic Parts of Medicine, the former shewing how by the Symptoms you may know a Distemper, the latter giving an Account of the Event thereof, whether it will end in Life or Death.
First edition of a scarce text on the zoology of Ireland, with an index of Irish names. An early work on Irish zoology, the Zoologia was published by John Keogh (junior, 1680/1 – 1754) shortly after his Botanologia universalis Hibernica, or, a general Irish Herbal (1735). Both works promote the medicinal properties of their subjects, with 'A short Treatise of the diagnostic and prognostic Parts of Medicine' comprising almost half the present work.