POEM ON THE 1755 LISBON EARTHQUAKE
ALMEIDA, Theodoro de.
Lisboa destruida poema, author o P. Theodoro de Almeida, da Congregaçaõ do Oratorio de Lisboa.
Lisbon, Antonio Rodrigues Galhardo, 1803.
8vo, pp. xv, [1], 280; handsome engraved vignettes to pp. 1, 18, 39, 61, 76, 93, 119, and 228; small hole to p. 65 touching page number, small stain to fore-edges of a few leaves; very good in contemporary sprinkled calf, gilt red morocco lettering-piece to spine, green edges; extremities very slightly rubbed; contemporary inscription to front pastedown '14 regiment of the light dragoons Captain Saunders Richmond', 'J. Cooper' in pencil at head of title.
£400

Approximately:
US $553
€460
Added to your basket:
Lisboa destruida poema, author o P. Theodoro de Almeida, da Congregaçaõ do Oratorio de Lisboa.
First edition of this poem in six cantos, with extensive notes, on the disastrous 1755 Lisbon earthquake, by the Oratorian priest and philosopher Almeida (1722-1804). One of the deadliest in history, the earthquake almost totally destroyed the Portuguese capital and accentuated political tensions within the kingdom. It was widely discussed by European Enlightenment philosophers, including Voltaire and Rousseau, and led to important debates around theodicy and philosophical optimism.
Almeida was one of the most important figures of the iluminismo in Portugal and spent time in exile in France following the persecution of his congregation by the Marquis of Pombal. He wrote Lisboa destruida soon after the earthquake but it remained in manuscript until 1803, its publication perhaps motivated by the outbreak of the Napoleonic Wars, which threatened to bring fresh disaster to his country. In his prologue, Almeida refers to Voltaire's Poème sur le désastre de Lisbonne as 'obra dictada, naõ pelas Musas Christãs, mas certamente pelas Furias infernaes'. Almeida's poem has been praised by the bibliographer Inocênio for its historical value and is illustrated with beautiful vignettes alluding to the earthquake.
Provenance: this copy belonged to one Captain Saunders of the 14th Light Dragoons who no doubt acquired it on service with the 14th during the Peninsula War between 1808 and 1814.
Only one copy on Library Hub, at the British Library.
You may also be interested in...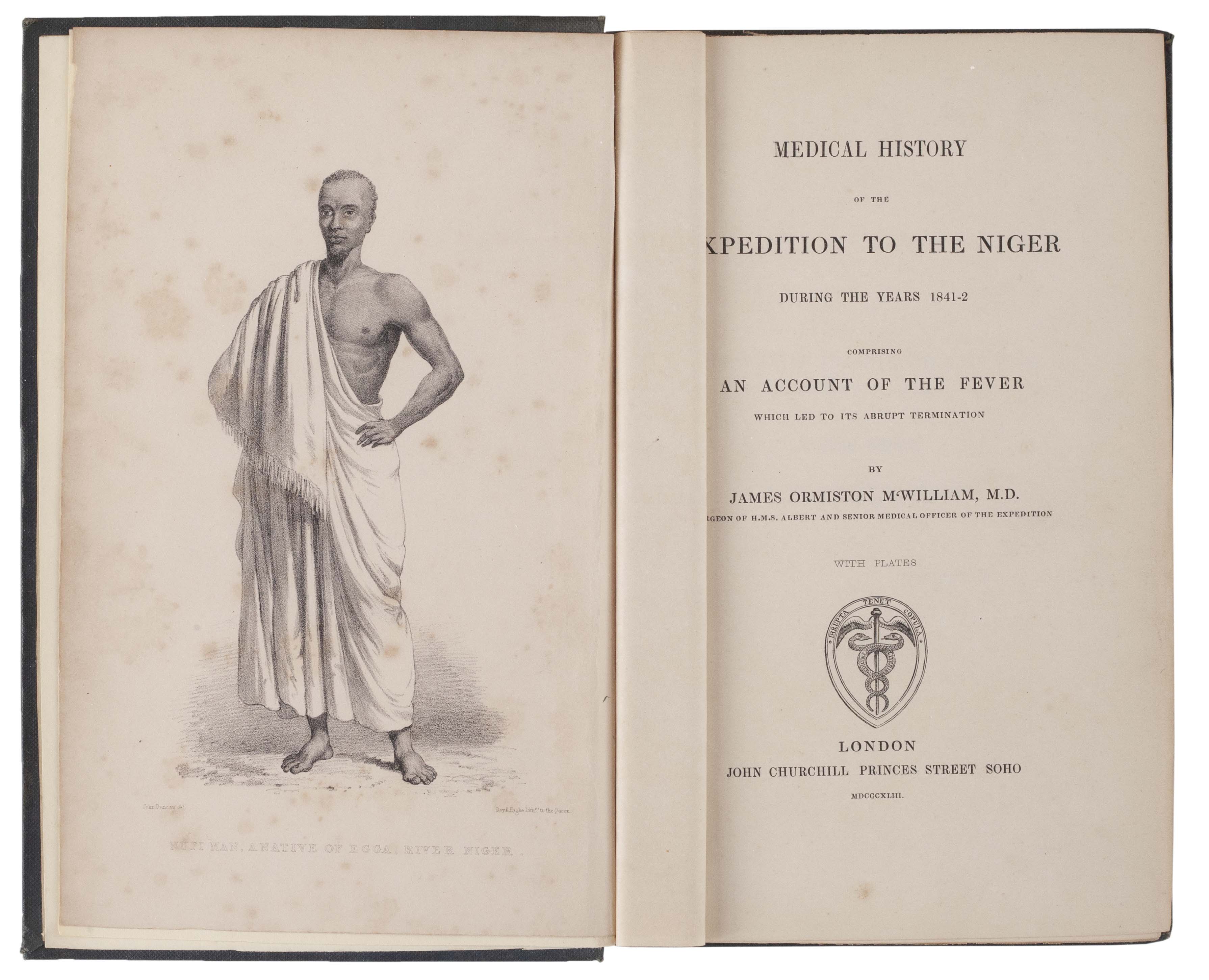 YELLOW FEVER ON THE NIGER: MCWILLIAM'S CLASSIC ACCOUNT McWILLIAM, James Ormiston.
Medical History of the Expedition to the Niger during the Years 1841-2. Comprising an Account of the Fever which Led to its Abrupt Termination.
First edition. A classic treatise on the Niger region and the yellow fever written by the Scottish doctor James Ormiston McWilliam, the hero of a government expedition exploring the region and its commercial opportunities, and explicitly aimed at suppressing the slave trade. When the yellow fever broke out on all three of the expedition's vessels, two were sent back to sea with their dying crews, but the third, the Albert, was steered down the river to safety by McWilliam, aided by the expedition's geologist William Stanger.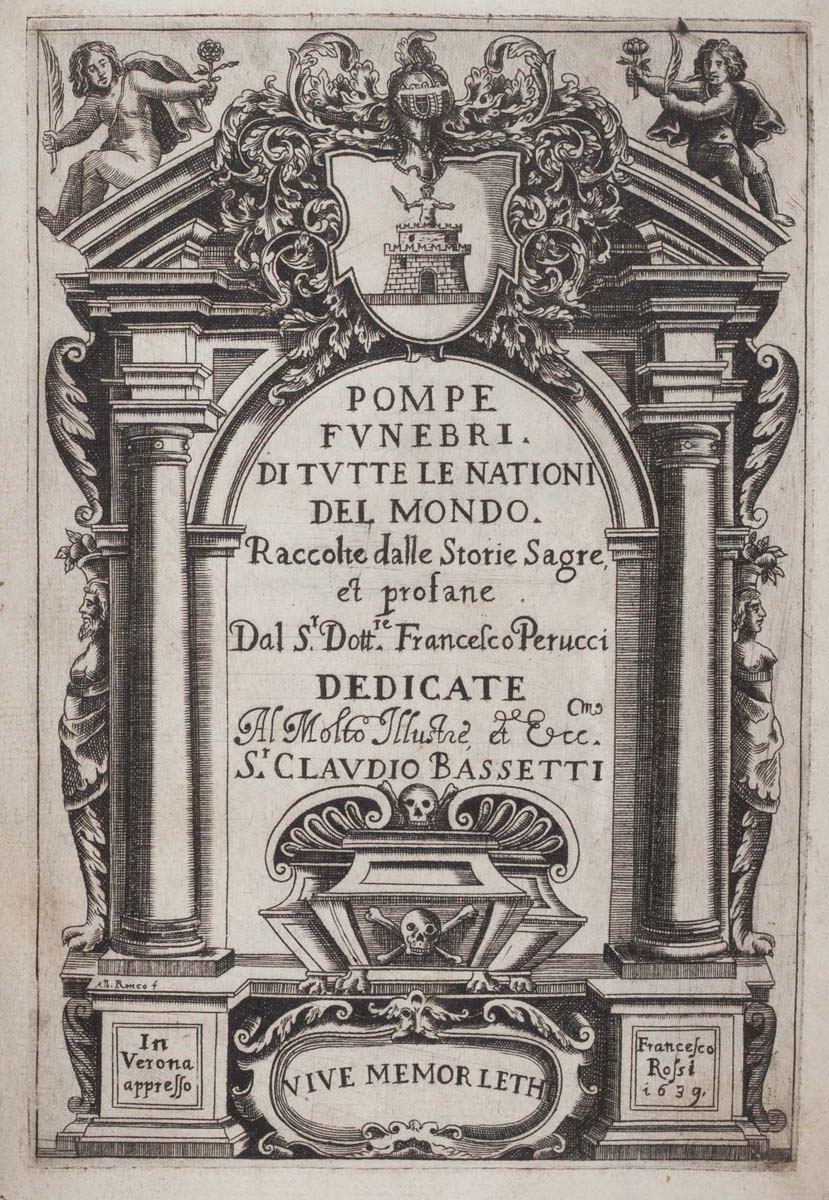 FROM THE LOST LOGIE LIBRARY OF WALTER BOWMAN PERUCCI, Francesco.
Pompe funebri di tutte le nationi del mondo, raccolte dale storie sagre et profane.
First edition of Perucci's extensively illustrated account of funeral practices, inscribed by a Scottish antiquary and documented book collector. A fellow of the Society of Antiquaries and later the Royal Society, Walter Bowman (1699–1782) travelled extensively over the course of five decades in Italy, where this book was most likely acquired, studying at the University of Padua for two years and accompanying Samuel Rolle, Simon Harcourt, and Francis Seymour-Conway as tutor on grand tours; his remarkably detailed notes on his travels and keen collecting survive, principally in the National Library of Scotland and the Biblioteca nazionale in Florence.