[ARISTOTLE – ELIAS.]
Biblioteca Armeno-Georgica. I. Commentarii in Aristotelis Categorias Eliae commentatori adscripti versio armenica edidit J. Manandean.
St Petersburg, Academiae Imperialis Scientarum, 1911.
8vo, pp. [iv], viii, 175, [1] blank, [1] corrigenda, [1] blank; printed in Russian, Greek, and Armenian; aside from occasional light yellowing, clean and fresh throughout; in later half maroon calf, marbled boards, preserving the original printed wrappers, illegible stamp on lower wrapper, and some dustsoiling, but still a good copy.
£250

Approximately:
US $342
€291
Added to your basket:
Biblioteca Armeno-Georgica. I. Commentarii in Aristotelis Categorias Eliae commentatori adscripti versio armenica edidit J. Manandean.
Uncommon edition, published by the Imperial Academy of Sciences in St Petersburg, of the Armenian translation of the commentaries on Aristotle's Categories by the sixth-century Christian philosopher and commentator Elias.

Biographical information about Elias is sketchy to non-existent. There are three commentaries (the present work, as well as commentaries on the Prior Analytics and on Porphyry's Isagogue that are attributed to Elias, all firmly placed within the Neoplatonic tradition. Elias has been linked with the school at Alexandria, and a number of commentaries and other philosophical works connected to that school were passed down in a manuscript tradition not only in Greek but also in Armenian, Syriac, and other languages. Indeed the Categories themselves benefited from a fifth-century translation into Armenian, which saw a Venice printing in 1833. The present edition of the commentary is taken from the Armenian manuscript MS 1939 at the Echmiadzin Monastery, west of Yerevan. The editor, Jakob Manandean (1873 – 1952) was the author of several works on ancient Armenian history, as well as on the Armenian manuscript tradition.

See Stanford Encyclopedia of Philosophy for a sketch of the context and content of Elias' commentaries; outside Continental Europe, OCLC records copies at Cambridge, Dumbarton Oaks, Newberry, and Harvard.
You may also be interested in...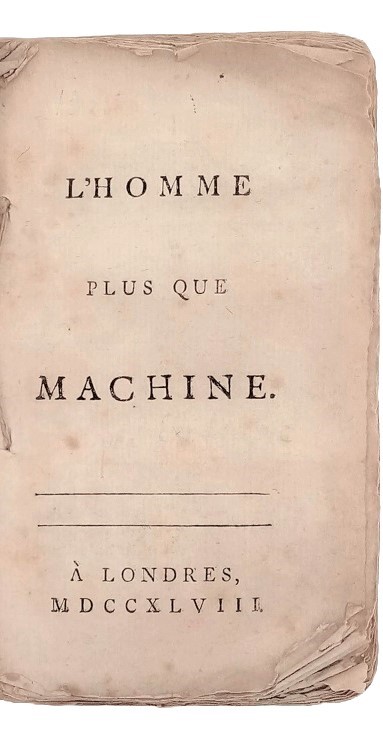 [LUZAC, Elie, attributed].
L'homme plus que machine.
First edition of this attack against materialism and La Mettrie's L'homme machine, published in the same year. The work was included in the 1774 edition of the Oeuvres of La Mettrie, volume III.
[SERGEANT, John].
Solid philosophy asserted, against the fancies of the ideists: or, the method of science further illustrated. With reflexions on Mr. Locke's essay concerning human understanding. By J. S.
First edition. The best-known work of the Roman Catholic philosopher and controversialist John Sergeant (1623–1707). 'The two philosophers to whom he is most opposed are Descartes and Locke, the "Ideists" whose distinction between ideas in the mind and external reality he saw as sowing the seeds for an incurable scepticism which he strongly attacked, but less clearly refuted. Locke is the main subject of his assault, no doubt because by this stage in the late 1690s it was Locke's philosophy which was the centre of attention. In place of the strongly repudiated "Way of Ideas" Sergeant attempts to set a philosophy of "Notions", a concept which some have seen, though on the basis of little evidence, as influencing Berkeley. Ideas Sergeant rejects because they close us off from the world of things – "Solid Philosophy" … Sergeant is a curious figure in the history of late seventeenth- and early eighteenth-century philosophy, combining his scholastic roots with glimpses of the modern world into an unstable synthesis of Catholic theology (albeit unorthodox), scholastic philosophy and elements of Lockean epistemology, the latter appearing to be a source on which he drew (as Locke noted) despite his overt rejection of much of its content' (Dictionary of seventeenth-century British philosophers, p. 724).