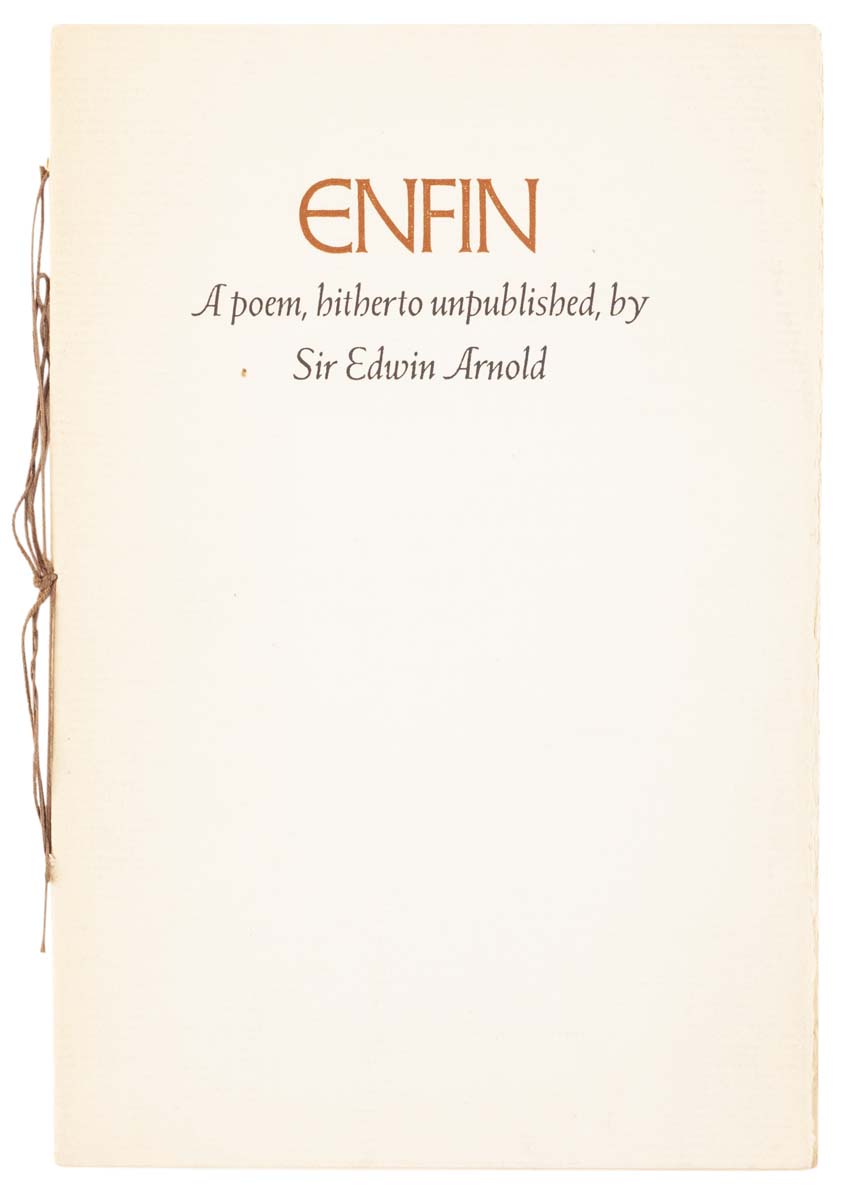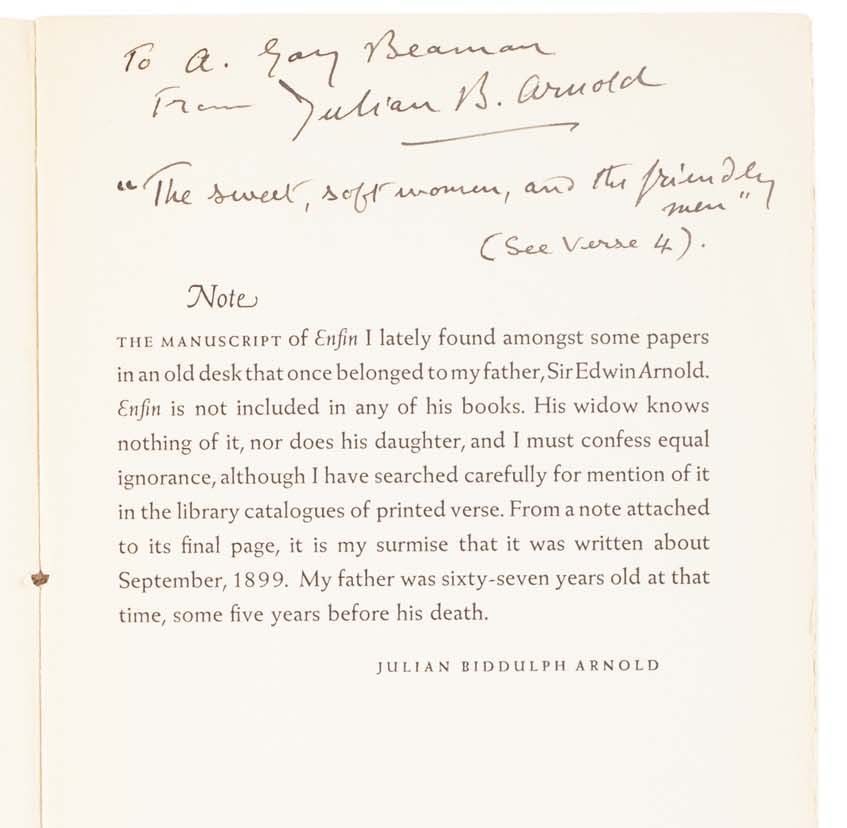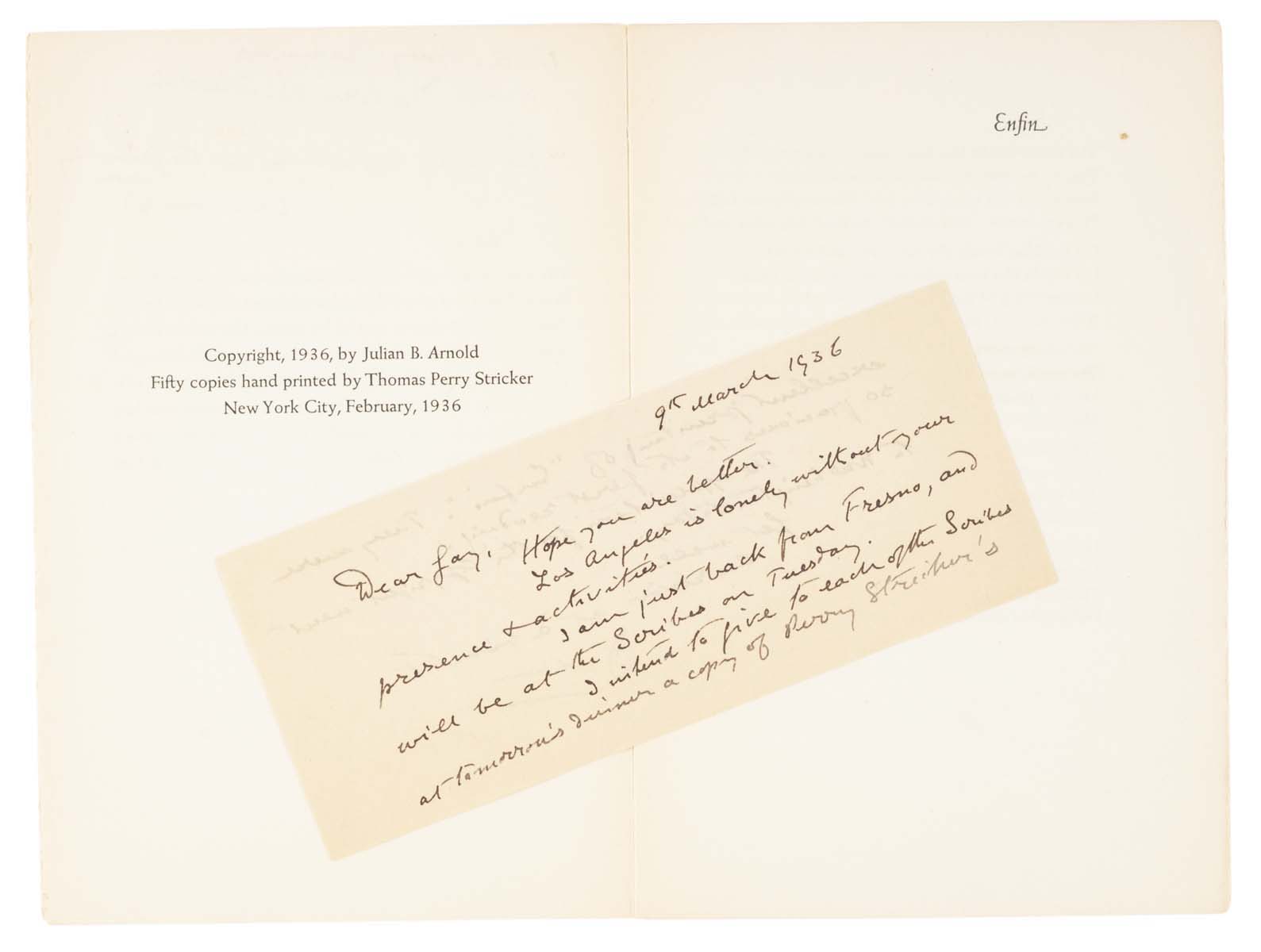 NEW YORK PRIVATE PRESSVERY RARE
ARNOLD, Edwin.
Enfin: A Poem, hitherto unpublished, by Sir Edwin Arnold.
New York, printed by Thomas Perry Stricker for Julian Buddolph Arnold, 1936.
8vo, pp. [5], [3 (blank)]; a pristine copy sewn in the original black- and brown-printed wrappers; preliminary editorial note inscribed by Julian Arnold to A. Gay Beaman with the quote '"The sweet, soft woman, and the friendly men" (see verse 4)'; autograph note tipped in, by Julian Arnold, dated 9 March 1936, brown ink, 14 lines, well preserved.
£350

Approximately:
US $439
€412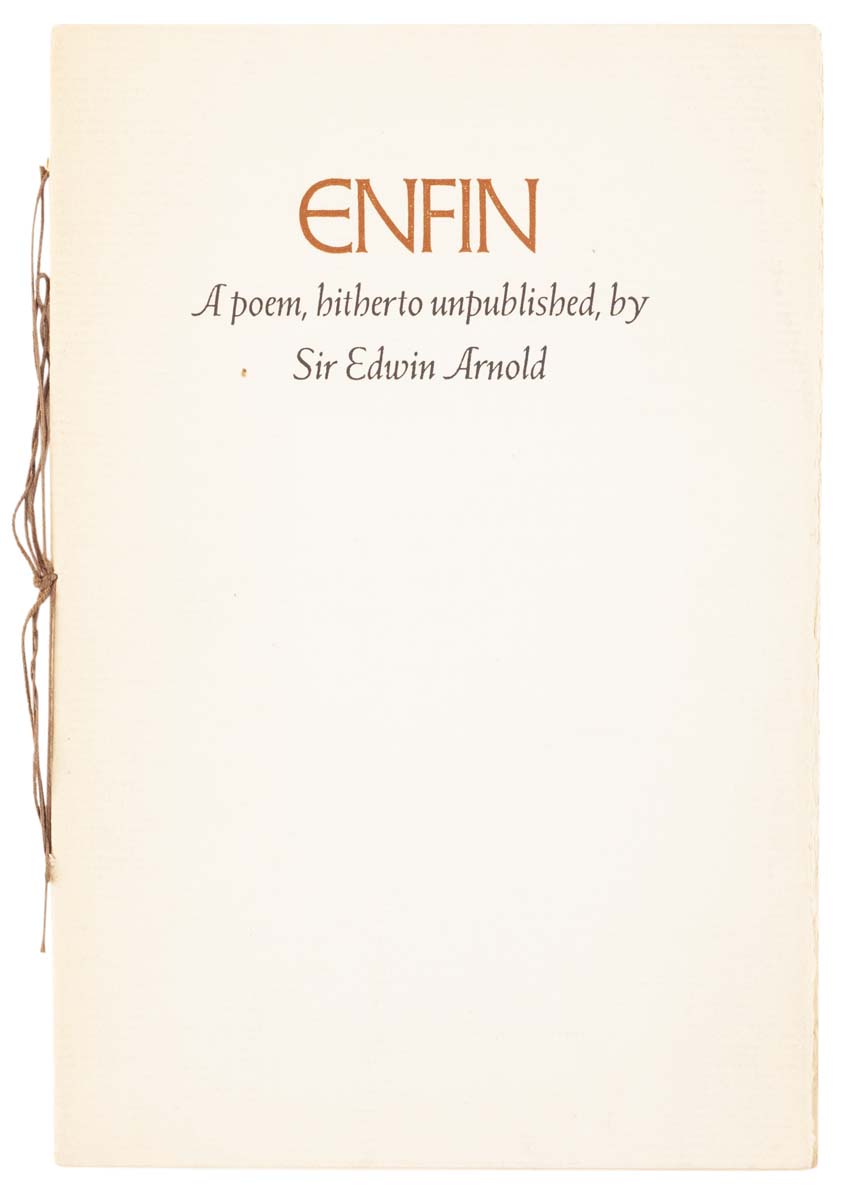 Added to your basket:
Enfin: A Poem, hitherto unpublished, by Sir Edwin Arnold.
First edition, one of only fifty copies hand-printed by T. Perry Sticker, presentation copy from the editor (the author's son) and accompanied by his autograph note regarding the printing and planned circulation of the poem.

Edwin Arnold (1832–1904) was an English poet and journalist. His lifelong endeavour as a poet consisted in the transposition into English verse of the culture and spirituality of the Orient, culminating in the publication of the long narrative poem The Light of Asia, or The Great Renunciation, which was among the first works to popularize the life and philosophy of Buddha in the West. A similarly epic treatment of Hinduism was less enthusiastically received. Though mostly famous as a poet, Arnold, as editor of the Daily Telegraph, also contributed to notable contemporary colonial enterprises: he worked with the New York Herald to arrange the journey of H.M. Stanley to find the course of the Congo River, and first conceived the idea of a rail-line traversing the entire African continent (he was the first to employ, in 1874, the phrase 'Cape to Cairo railway' subsequently popularised by Cecil Rhodes). Arnold was a vegetarian, vice-president of the West London Food Reform Society, a vegetarian group based in Bayswater, with Mahatma Gandhi as secretary.

The poem Enfin was published posthumously by Edwin's son Julian, whose preliminary address to the reader states that a manuscript of which no-one had been aware was found in a drawer. Julian's research dated the composition to September 1899. The manuscript note by Julian for 'Gay' tipped into this copy reveals that Julian, who wrote from Los Angeles, was very pleased with the printing, and planned to give one copy each to the 'Scribes' in Los Angeles.

OCLC locates three copies only (Library of Congress, University of California, and California Polytechnic); no copy appears in any New York institution, despite its New York imprint.
You may also be interested in...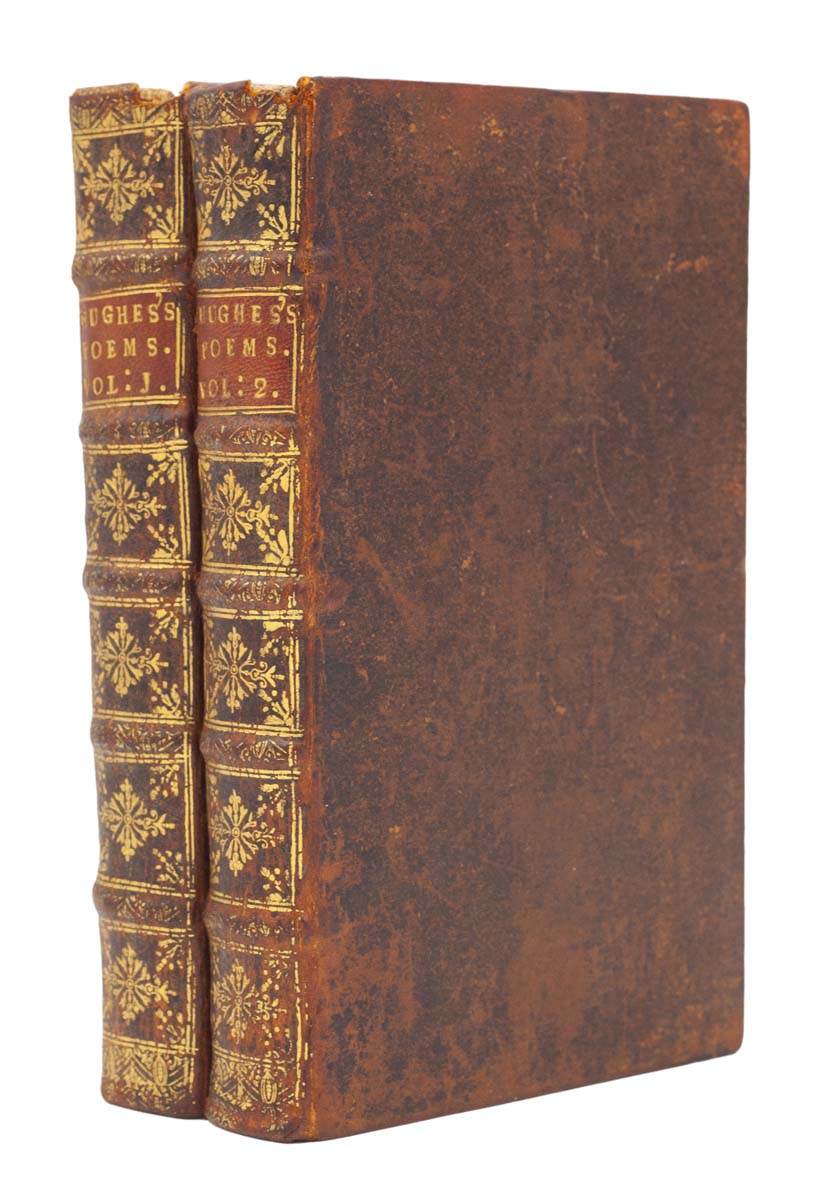 ON ROYAL PAPER
POPE AND SWIFT UNWITTING 'SUBSCRIBERS' HUGHES, John.
Poems on several Occasions. With some select Essays in Prose. In two Volumes …
First edition of the principal collection of the author's works, published posthumously and edited, with a long biographical preface, by his brother-in-law, William Duncombe. John Hughes (1677–1720) was educated at a dissenting academy where Isaac Watts was his contemporary. From an early age he devoted himself to poetry and letters, and was gradually drawn into the Addison–Steele circle where, as Samuel Johnson puts it, he was 'received as a wit among the wits'; he contributed at least three numbers to the Tatler, seventeen to the Spectator, and one to the Guardian. Hughes also had a passion for music, and was a talented violinist. He championed the use of English verse for operas and cantatas, and many of his lyrics were set to music by such contemporary composers as Dr Pepusch. In the year of his death, he wrote a tragedy called The Siege of Damascus, which proved highly successful and remained in the repertory for the rest of the century.
PRE-PUBLICATION MANUSCRIPT CASTI, Giovanni Battista.
'Il novelliere Italiano versificato ossia le piacevoli e curiose novelle in ottava rima del celebre sigr. abate Giambattista Casti poeta cesareo.'
A handsome manuscript compendium of a selection of the witty Novelle galanti of the Italian poet and satirist Casti, apparently compiled at Vienna two years before the first partial edition was printed at Rome in 1790. An interesting witness to the Novelle's circulation in manuscript prior to publication, which would repay careful textual analysis.