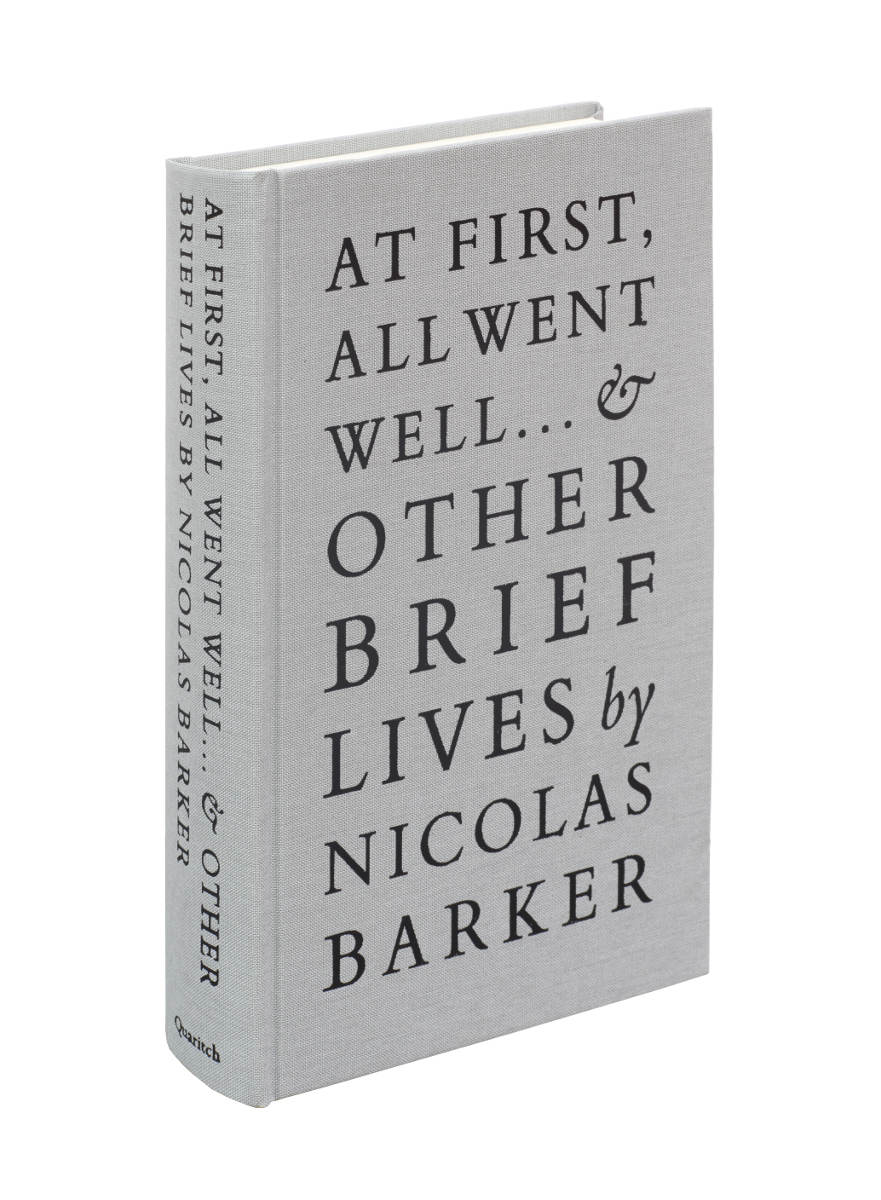 BARKER, Nicolas.
At First, All Went Well… & Other Brief Lives.
London, Bernard Quaritch Ltd, 2019.
8vo, (230 x 145 mm), pp. 382; cloth-bound.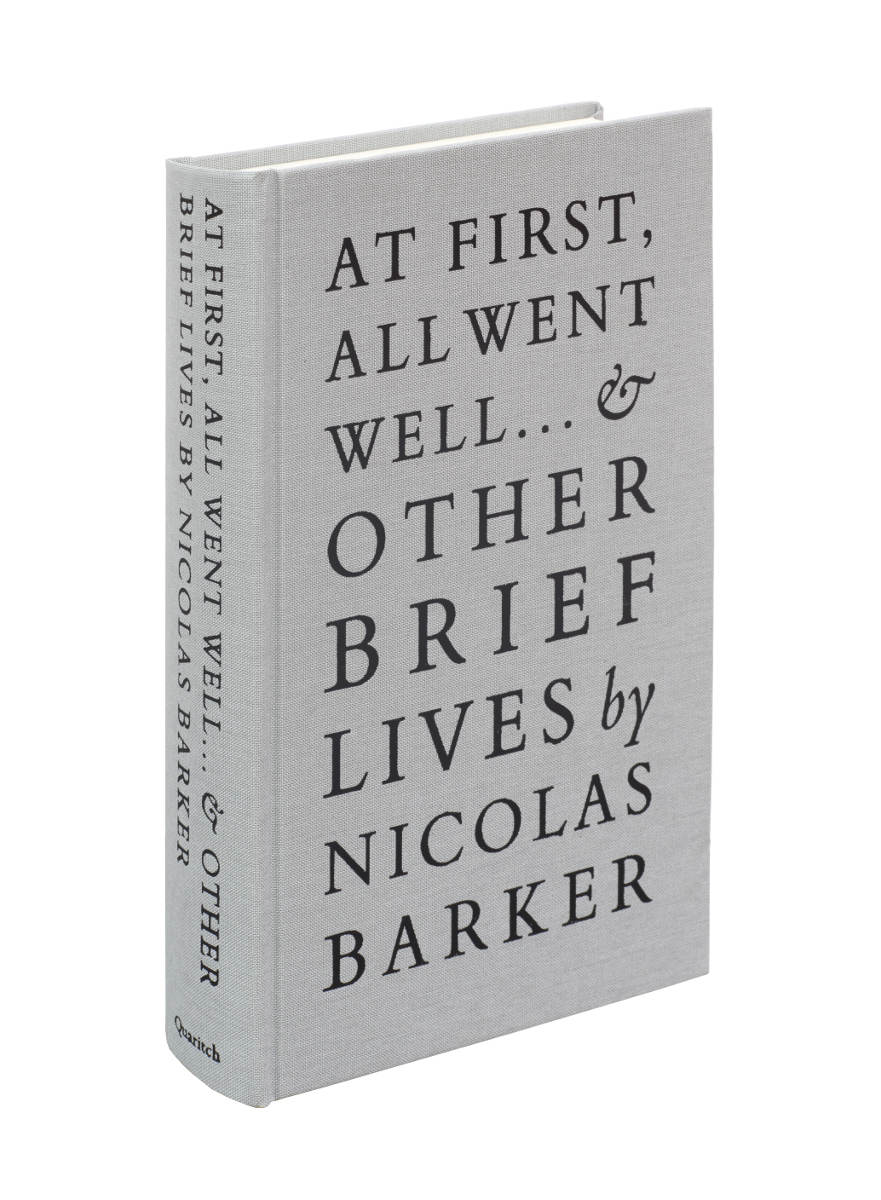 Added to your basket:
At First, All Went Well… & Other Brief Lives.
This book brings together eighty obituaries written by Nicolas Barker. The first were published in 1966 and the last in 2018. Print links them all: they were printers, publishers, librarians, booksellers or book collectors, their lives joined by a common dedication to the printed word and all that goes with it.

At First, All Went Well… opens with C.H. Wilkinson and Sir Sydney Roberts and ends with Barney Rosenthal and Ian Doyle. Such people as Graham Pollard, Don McKenzie, Nicolete Gray, Mary Hyde, Bernard Breslauer, Justin Howes and Joe Tanner are then chronicled along the way.

In 2013 Quaritch published Nicolas Barker at eighty: a list of his publications to mark his 80th birthday. As the book records, Nicolas Barker has written on an extensive range of topics including medieval manuscripts, calligraphy, forgery, the book trade, typography, bibliophily and bookbinding.



ISBN 978-0-9955192-1-3

You may also be interested in...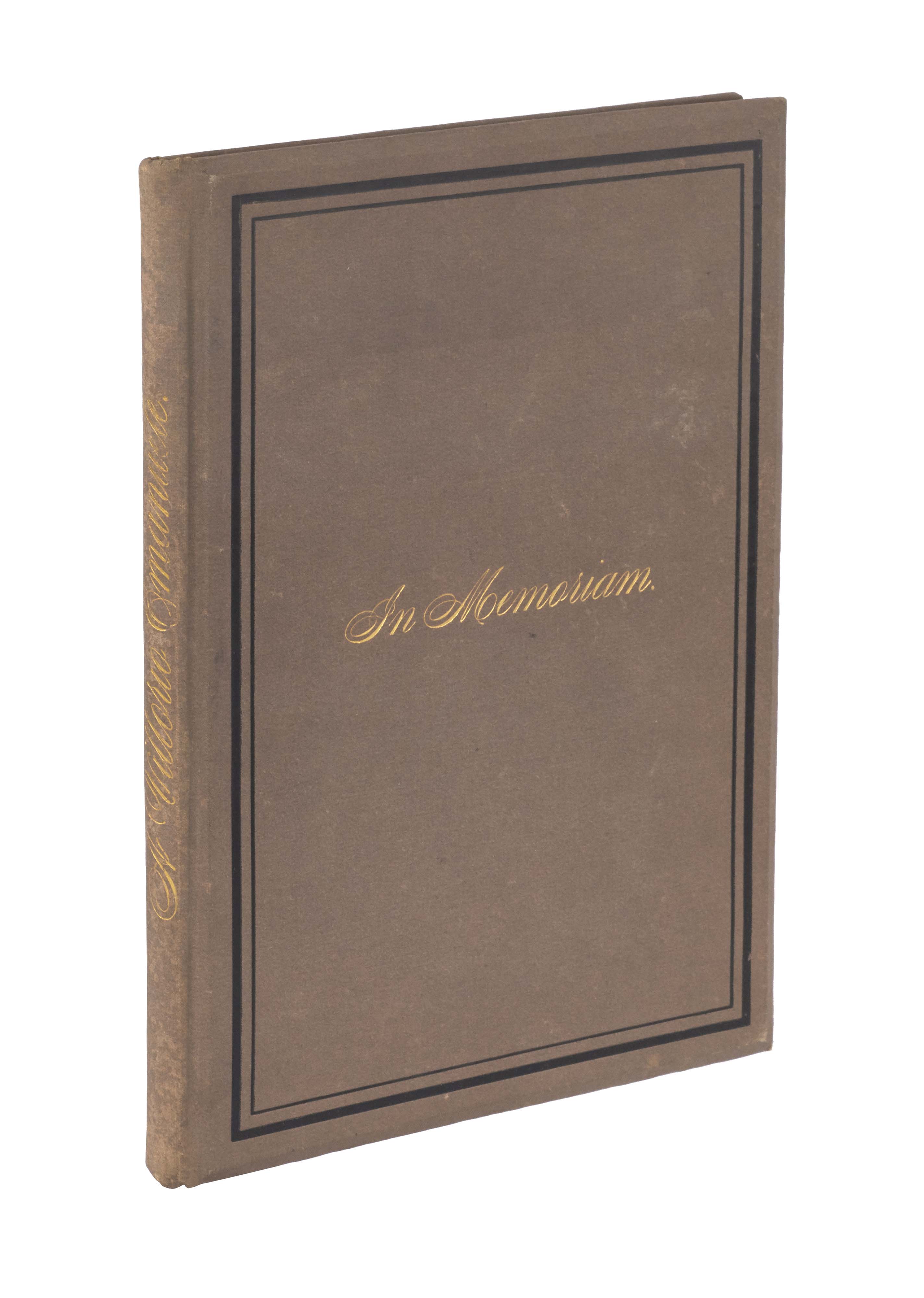 ITALIANS IN NEW YORK [VITTORIO EMANUELE II.]
Alla gloriosa memoria di Vittoria Emanuele primo re d'Italia, gli Italiani residenti in New York convenuti in publica assemblea offrivano in omaggio di lutto e di riconoscenza il XIV di gennaio MDCCCLXXVIII.
First edition of a commemorative tribute to the late Vittorio Emanuele II, first king of Italy, by the Italian community of New York.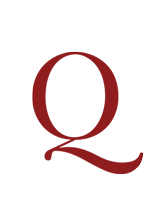 CONTROVERSIAL AUTOBIOGRAPHY [HAZLITT, William.]
Liber amoris; or, the new Pygmalion.
First edition of one of the most controversial books in all English literature, a wonderful autobiographical text which has been systematically deprecated since its first publication. It tells the bitterly precise tale of Hazlitt's infatuation with a servant girl, one Sarah Walker, his landlady's daughter, in the year of his divorce from his wife. Hazlitt's mordant narrative, couched as letters to two friends, spares neither himself, the blindly obsessed lover, nor the unworthy, out-classed, victimizing and victimized object of his love and lust. The little book is a classic of intimate autobiography, and a masterful, if perhaps initially unintentional exploitation of the 'Pygmalion' theme. 'We are unusually close to a Romantic ideal of spontaneity … The letters, as they evoke and give lasting value to the writer's emotions, form a kind of Romantic apologia' (Jonathan Wordsworth, Visionary Gleam).