BENTHAM, Jeremy.
The Elements of the Art of Packing, as applied to Special Juries, particularly in cases of libel law.
London, Effingham Wilson, 1821.
8vo, pp. [iv], vii, [1] blank, 269, [1] colophon, [2] publisher's advertisments; some early pencil marginalia and side-lining; occasional mild offsetting and spotting, but still a good copy, uncut in contemporary drab boards, neatly rebacked, corners worn.
£900

Approximately:
US $1219
€1075
Added to your basket:
The Elements of the Art of Packing, as applied to Special Juries, particularly in cases of libel law.
First published edition, originally printed in 1810, of Bentham's criticism of English libel law, which he had always detested and which more than once stood in the way of the free publication of his opinions. When the work was written, the law's injustice had recently been made obvious in a series of prosecutions for libelling the Duke of York. The Art of Packing contains many bitter animadversions on the Judges, and Romilly, who read the manuscript, warned Bentham that the attorney-general would be certain to prosecute both author and publisher under the very law the work condemns. Bentham accepted Romilly's advice not to sell it openly, though he gave away copies to his friends.

The Advertisement to the present edition states: 'In regard to the Author, all that need be said is – that it was not by him that it was … kept back; and that it is not by him, or at his instance, that it is now put forth. If, on either accounts, it were desirable that the causes of its being thus long withheld should be brought to view, those causes would afford a striking illustration of the baneful influence of the principles and practices it is employed in unveiling, and presenting in their true colours.'

Chuo E1-2 (lacking the advertisment leaf); Everett, p. 534; Goldsmiths' 23350; see Muirhead, p. 18; not in Kress.
You may also be interested in...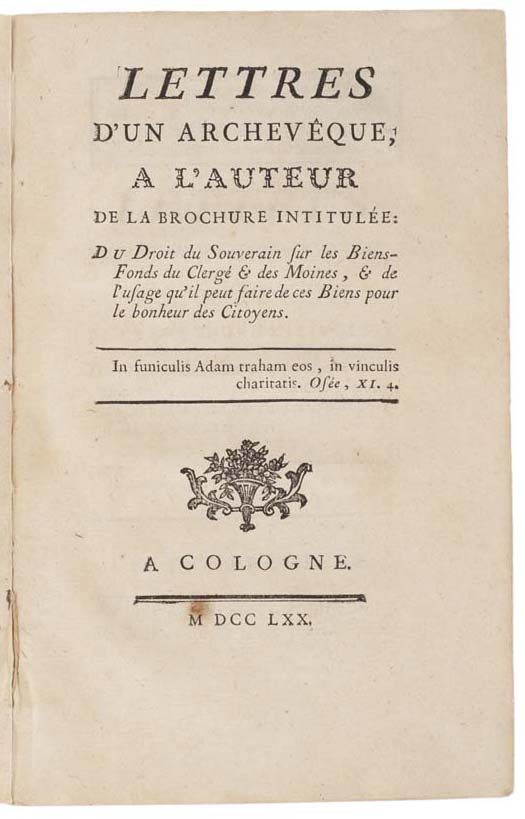 [RICHARD, Charles-Louis.]
Lettres d'un archevêque, a l'auteur de la brochure intitulée: Du droit du souverain sur les biens-fonds du clergé & des Moines, & de l'usage qu'il peut faire de ces biens pour le bonheur des citoyens.
First edition, uncommon, of this response to an anticlerical essay by the Chevalier de Cerfvol by the Dominican theologian and anti-philosophe Charles-Louis Richard (1711–1794). De Cherfvol had argued against the wealth of the clergy, and in particular of the religious orders, and proposed a means in which this could be better put to use for the wider population. Richard, who also wrote against Voltaire and met his end thanks to a Jacobin bullet, goes through de Cherfvol's essay, questioning his claims that the clergy had contributed little to the cultural and intellectual life of France, emphasising the ways in which the Church had provided a moral grounding for the country, and explaining the proper role of religion in society, and the appropriateness of financial (and other) donations to the Church, both from individuals and the state, and of the maintenance of the status of both secular and religious clergy.
[PRICE, Richard.]
Remarks on Dr. Price's observations on the nature of civil liberty, &c.
First edition, one of two issues published in the same year. A reply to and critical commentary on Richard Price's discussion of American independence, reaffirming the English claim to sovereignty over America. Possibly penned by a member of Hume's circle, the pamphlet was judged to be 'written with less invective, and more decency, candour and moderation, than have lately appeared in the productions on that side of the American dispute' (Sabin).