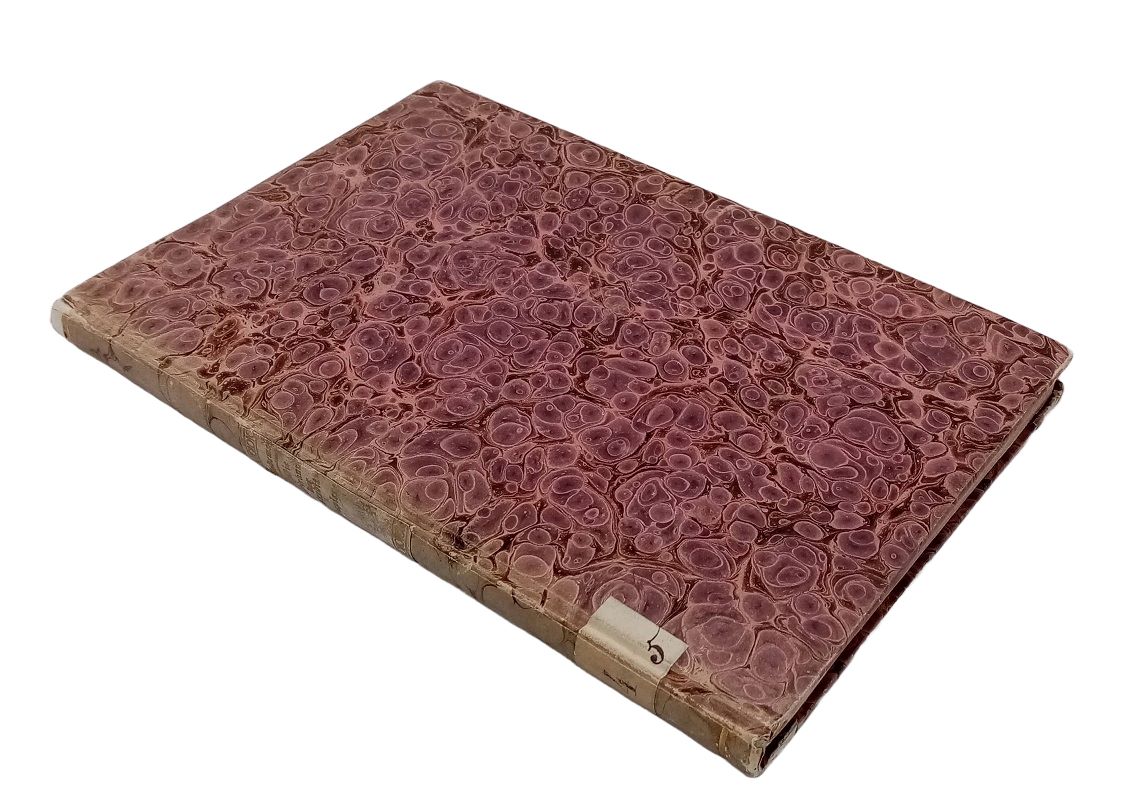 BODEMER, Heinrich.
Die Wirkungen der Creditpapiere in Bezug die Vehmehrung der Banken in Deutschland.
Leipzig, Heinrich Hubner, 1853.
8vo, pp. [ii], 120; one or two spots, some very discreet pencil marks in the margins, but a very good, crisp copy in contemporary purple marbled boards, gilt vellum label on the spine; spine sunned, corners a little rubbed; deaccession stamp of the Bayern Staatsministerium d. Handels on the title-page.
£185

Approximately:
US $226
€209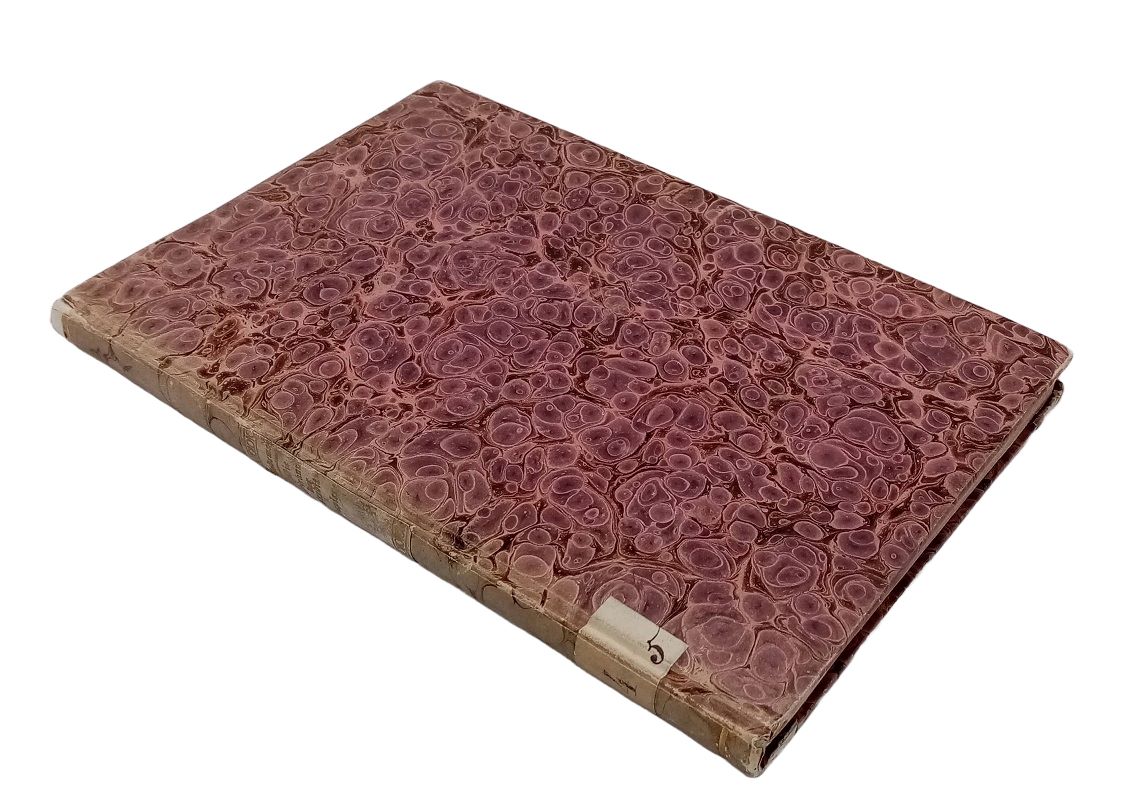 Added to your basket:
Die Wirkungen der Creditpapiere in Bezug die Vehmehrung der Banken in Deutschland.
First edition of a rare German treatise on banking, money, paper money and credit. Bodemer argues for a bettering and widening of credit in Prussia at a crucial time of its economic development, where both production and trade required ever more more advanced, unified and modern financial tools.

'Private banks developed in the late eighteenth and early nineteenth entury to finance trade and government debt. Most private bankers were individuals or family groups, or small partnerships. By the 1830s some of the larger private banking houses had pioneered the lending practices that Gerschenkron thought fostered economic development. Their range of services was more limited than the large universal banks that followed, but most private bankers offered both loans and investment-banking services and thus straddled the divide typical of banks in the United States or in Britain. The first credit bank dates to 1848, but most were formed in the 1850s and 1870s. Many credit banks were established by private bankers or groups of private bankers, and at first the credit banks carried on the basics of the private banker's business on a larger scale. … Well into the nineteenth century credit banks and private banks worked together, forming consortia for specific undertakings and later on organizing themselves into fairly stable groups led by a large credit bank' (T. W. Guinnane, Delegated monitors, large and small: the development of Germany's banking system, 1800-1914, 'Center discussion paper no. 835', Yale, 2001, p.13.

Humbert 6985. OCLC finds a single copy in the US, at Harvard. Library Hub finds copies at the BL and LSE.
You may also be interested in...
'WHO SHALL DECIDE, WHEN DOCTORS DISAGREE' POPE, [Alexander]. 
Of the Use of Riches, an Epistle to the Right Honorable Allen Lord Bathurst. 
First edition, first issue, with p. 13 uncorrected and the erratum on p. 20.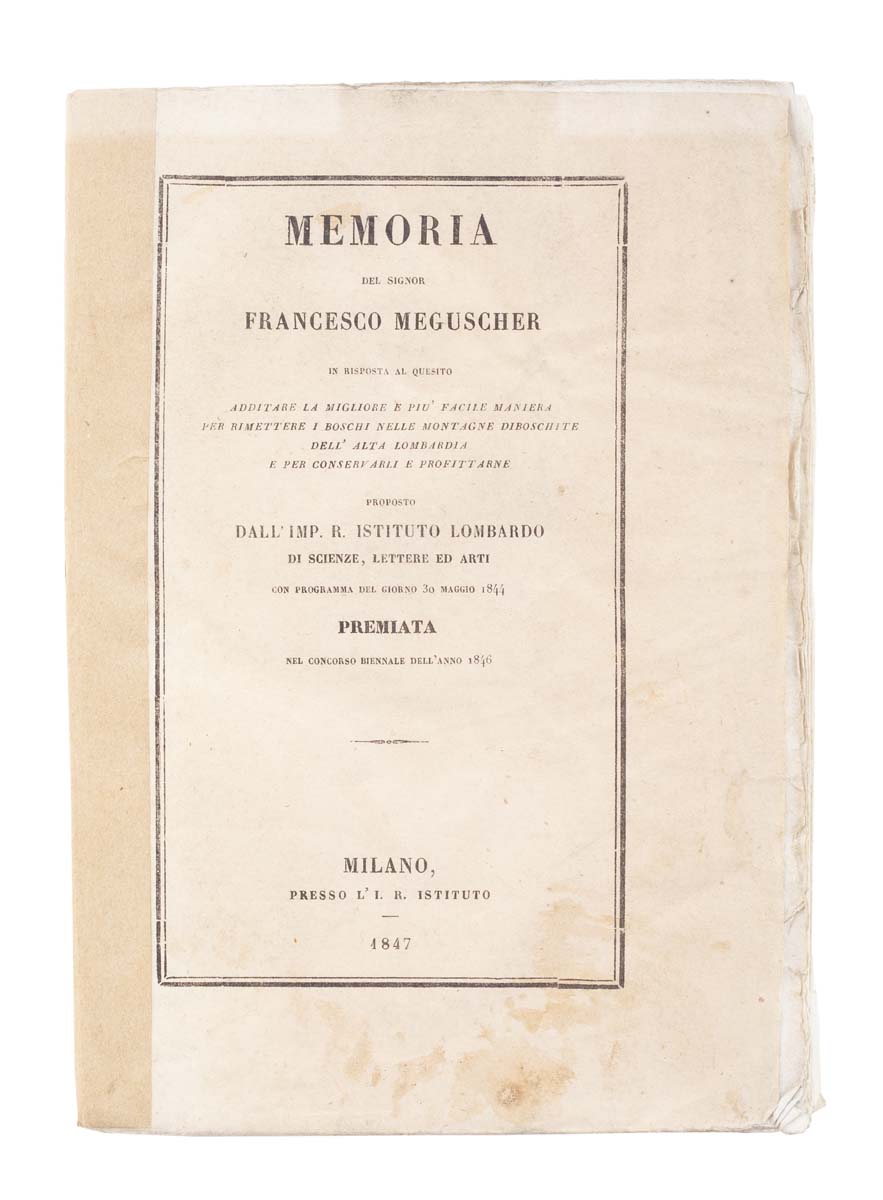 ECONOMICS AND ENVIRONMENTALISM MEGUSCHER, Francesco.
Memoria … in risposta al quesito additare la migliore e più facile maniera per rimittere i boschi nelle montagne diboschite dell'alta Lombardia e per conservarli e profittarne. Proposto dall'Imp. R. Istituto Lombardo di Scienze, Lettere ed Arti con programma del giorno 30 maggio 1844. Premiata nel concorso biennale dell'anno 1846.
First edition of this comprehensive report on the best means to reverse the deforestation of the mountains of Lombardy, in a way that could be both environmentally sustainable and economically profitable.