Bombing the British Museum
BRITISH MUSEUM.
List of Missing English Theological and Devotional Books.
[London, 1940s.]
Foolscap, 508 mimeographed typescript pages, titled on front wrapper; a few marginal pencil marks; cloth-backed light card wrappers, in very good condition.
£275

Approximately:
US $338
€317
Added to your basket:
List of Missing English Theological and Devotional Books.
Mimeographed typescript of books missing after the losses suffered by the British Museum Library during the Second World War. This is one of several lists of books destroyed, produced both as a record and as a tool for acquiring replacement copies – this copy appears to have been used for that purpose, with pencil dashes in the margins next to several books.

One bomb fell into the King's Library on 23 September 1940. 'For the tens of thousands of books destroyed in another World War II incident, the bombing of the South-West Quadrant bookstacks on the night of 10-11 May 1941, typescript handlists of destroyed books (often called the 'Destroyed Registers') were assembled. This was possible because the compilers could make use of copies of the cataloguers' title-slips which were filed in shelfmark order ('fourth copies') and used by staff to record moves and changes' (Edwards).

The List of Missing English Theological and Devotional Books numbers perhaps twelve thousand titles, nearly all nineteenth- and twentieth-century, although among the Liturgies (pp. 246-285) there are seventeen sixteenth-century editions of the Book of Common Prayer.

OCLC finds one copy only, at Trinity International University (Illinois). See Adrian S. Edwards, 'Destroyed, Damaged, and Replaced' in Electronic British Library Journal (2013).
You may also be interested in...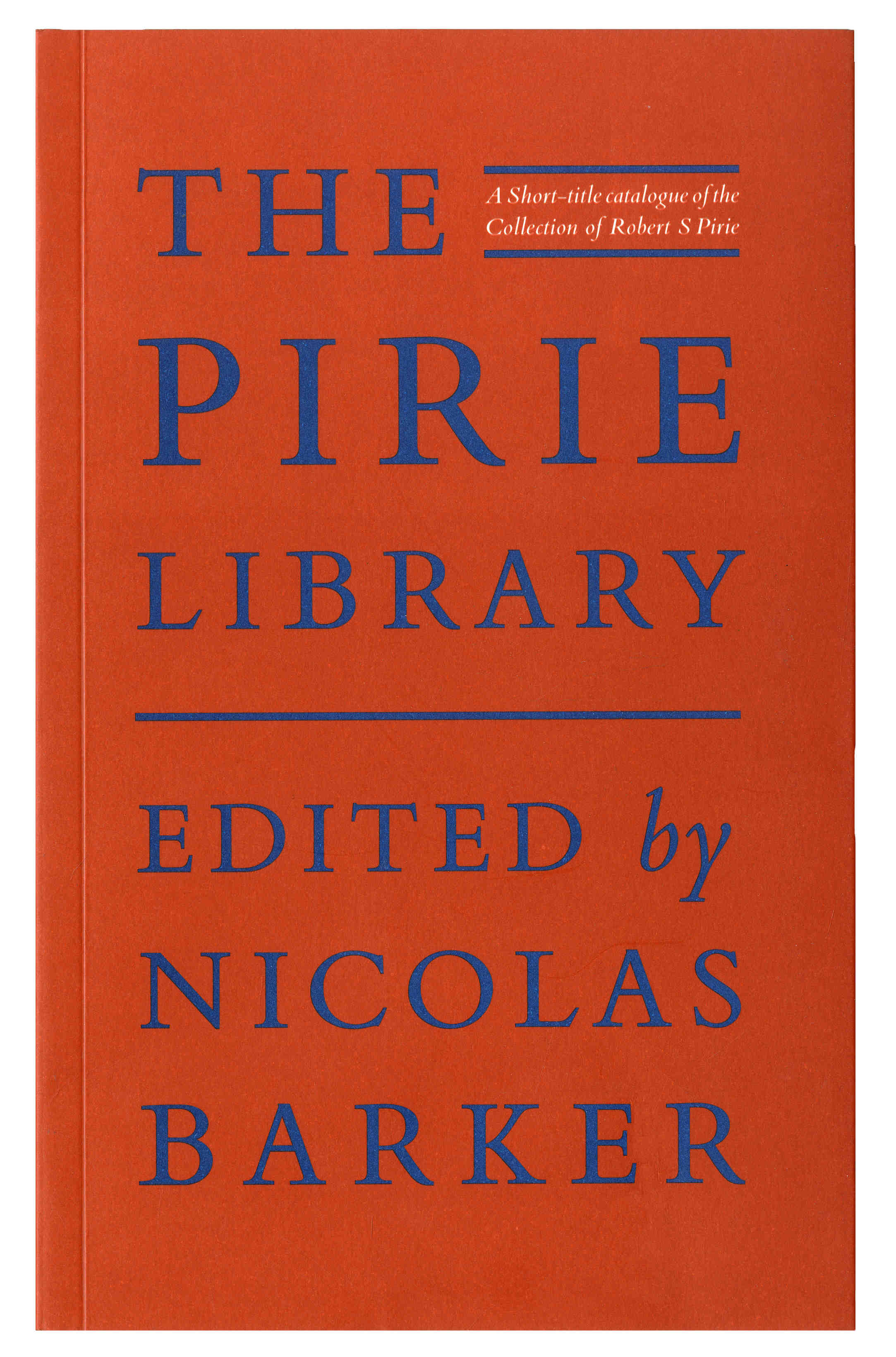 BARKER, Nicolas, ed.
The Pirie Library. A Short-Title Catalogue of the Collection of Robert S Pirie.
The library of Robert S Pirie, 'one of the finest private libraries of English literature, not just of our time but of all time' (James Stourton), was sold at Sotheby's New York on 2-4 December 2015. This account is based on Sotheby's catalogue of the sale, and augmented by Mr Pirie's acquisition cards and information supplied by Irene Adams. It contains indexes of provenances, sources, bindings, armorials and devices, & a list of prices, along with a preface and memoir by Nicolas Barker, and recollections by Nicholas Poole-Wilson.
SETTING THE RECORD STRAIGHT BALDI, Bernardino, da Urbino. 
La Difesa di Procopio contro le calunnie di Flavio Biondo, con alcune considerationi intorno al luogo ove seguì  giornata fra Totila, e Narsete. 
First and only edition, very rare, of this impassioned critique of Flavio Biondo's interpretation of Procopius, by the poet, polyglot, historian, and mathematician Bernardino Baldi, Abbot of Guastalla.