Bombing the British Museum
BRITISH MUSEUM.
List of Missing English Theological and Devotional Books.
[London, 1940s.]
Foolscap, 508 mimeographed typescript pages, titled on front wrapper; a few marginal pencil marks; cloth-backed light card wrappers, in very good condition.
£275

Approximately:
US $331
€305
Added to your basket:
List of Missing English Theological and Devotional Books.
Mimeographed typescript of books missing after the losses suffered by the British Museum Library during the Second World War. This is one of several lists of books destroyed, produced both as a record and as a tool for acquiring replacement copies – this copy appears to have been used for that purpose, with pencil dashes in the margins next to several books.

One bomb fell into the King's Library on 23 September 1940. 'For the tens of thousands of books destroyed in another World War II incident, the bombing of the South-West Quadrant bookstacks on the night of 10-11 May 1941, typescript handlists of destroyed books (often called the 'Destroyed Registers') were assembled. This was possible because the compilers could make use of copies of the cataloguers' title-slips which were filed in shelfmark order ('fourth copies') and used by staff to record moves and changes' (Edwards).

The List of Missing English Theological and Devotional Books numbers perhaps twelve thousand titles, nearly all nineteenth- and twentieth-century, although among the Liturgies (pp. 246-285) there are seventeen sixteenth-century editions of the Book of Common Prayer.

OCLC finds one copy only, at Trinity International University (Illinois). See Adrian S. Edwards, 'Destroyed, Damaged, and Replaced' in Electronic British Library Journal (2013).
You may also be interested in...
THE DAYS OF CREATION
IN AN ATTRACTIVE BINDING SCHOENAU, Johann Heinrich von. 
Betrachtungen uber die geheimbe Fürbilder, der Sechs Tage der Welt-Erschaffung, und des siebenden Tages der Ruhe, gedeutet auff die vielfältigen Bedienungen und Begegnissen der Kirch, von Anfang biss ans Ende der Welt; und auff die Wege, welche Gott hält, in Bekehrung und Heiligung eines jeden Gläubigen … 
Scarce first edition of this interesting work on the seven days of Creation, linked to the life of Christ and to the history of the Church, in an attractive eighteenth-century devotional binding.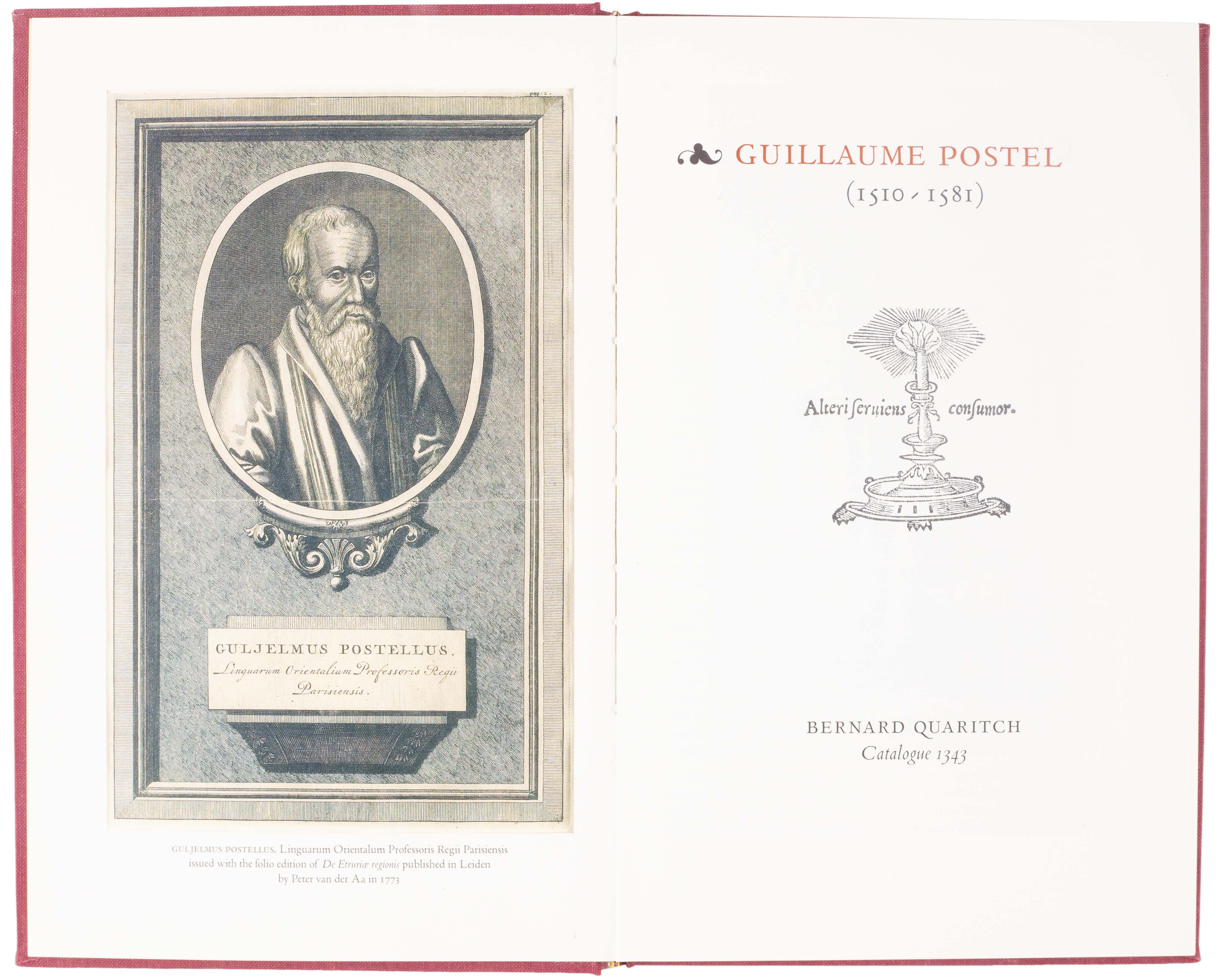 [QUARITCH.]
Guillaume Postel (1510–1581).
A catalogue of a collection of the works of the Renaissance scholar and Arabist, Guillaume Postel. 'Not only does it include editions of quite exceptional rarity, to be found in few libraries on either side of the Atlantic, but it illustrates every moment of Postel's extraordinary career and gives a remarkably complete idea of the man and his thought.'