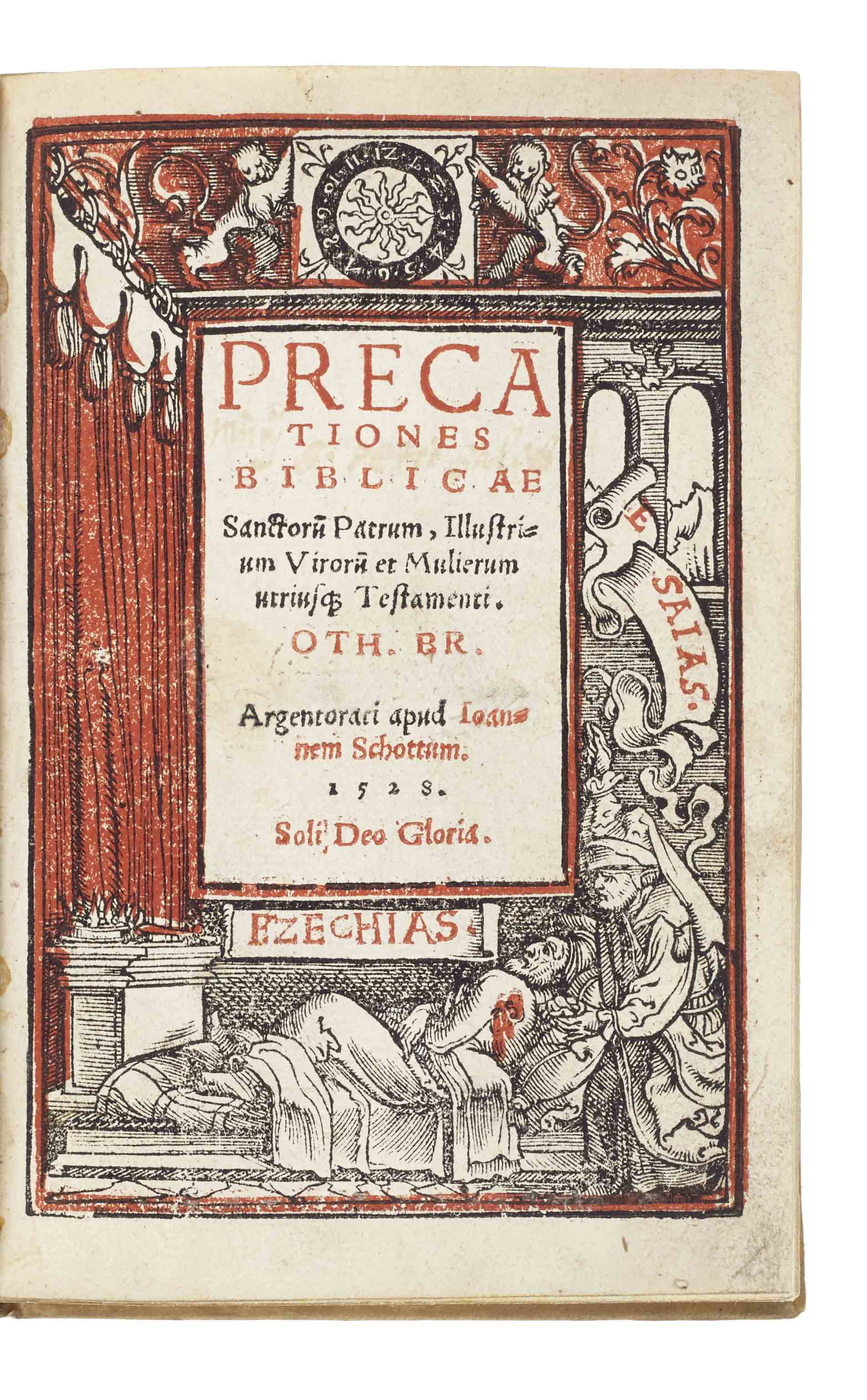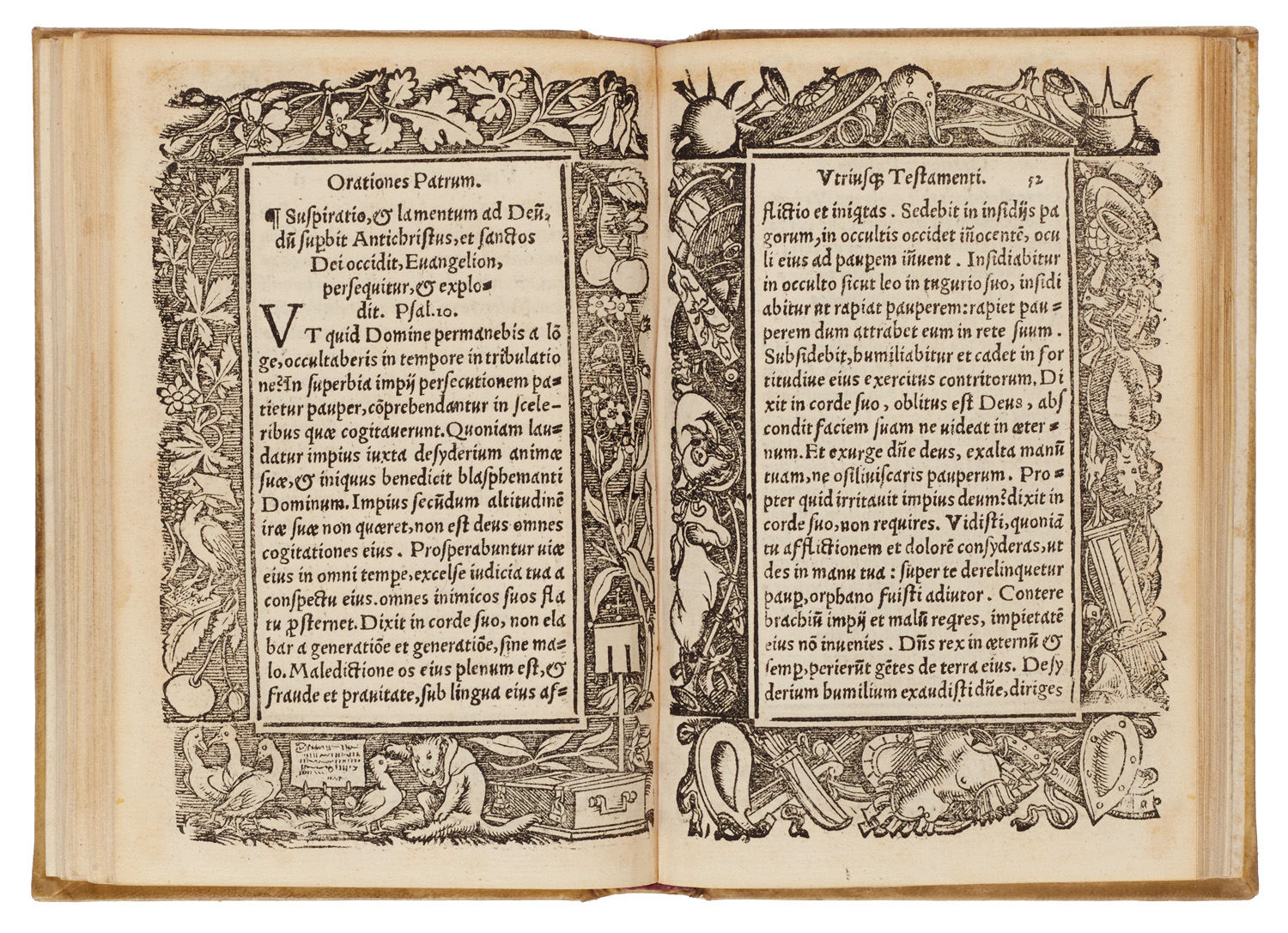 EARLY PROTESTANT PRAYER-BOOK
BRUNFELS, Otto.
Precationes Biblicae sanctoru[m] patrum, illustrium viroru[m] et mulierum utriusq[ue] Testamenti.
Strasbourg, Johannes Schott, 1528.
8vo, ff. [viii], 91, [1], title printed in black and red within chiaroscuro woodcut border also printed in black and red and attributed to Hans Weiditz, woodcut on A8v, text and colophon all within wide woodcut borders of children playing, hunting and satirical scenes, trophies, grotesques, plants, animals, insects and so on (these also attributed to Hans Weiditz), woodcut device on final leaf; a few minor tears, spots and stains, but a very good copy in modern vellum with red morocco spine labels; old Quaritch description (c. 1970s) loosely inserted.
£3800

Approximately:
US $5256
€4377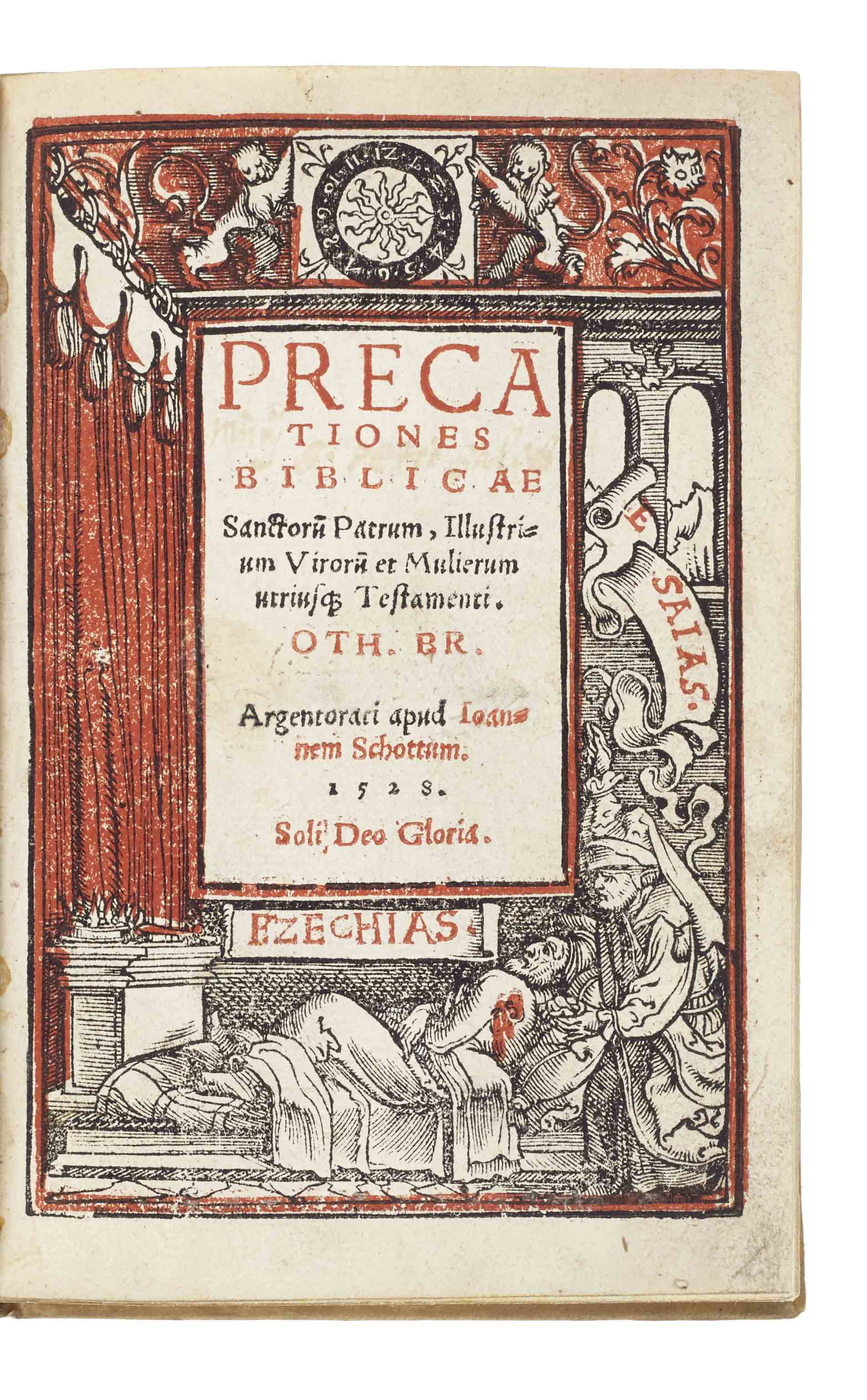 Added to your basket:
Precationes Biblicae sanctoru[m] patrum, illustrium viroru[m] et mulierum utriusq[ue] Testamenti.
First edition, rare. The earliest Protestant prayer-books, of which this is perhaps the most notable example, often comprised prayers taken directly from (or adapted from) the Bible. Brunfels's Precationes Biblicae appeared in the same year in German translation (Biblisch Bettbüchlein der Altvätter und herrlichen Weibern, beyd Alts und Newes Testaments) and was translated into several other languages including English (Prayers of the Byble, published by Robert Redman in 1535).

Brunfels (c. 1488–1534) entered the Carthusian monastery in Strasbourg after graduating MA in 1508. In 1521 he left the monastery and the Catholic faith. He opened a school in Strasbourg in 1524 and 'soon demonstrated his interest in medicine by editing and translating various older medical texts and by writing one of the earliest medical bibliographies, the Catalogus (1530)' (DSB). His celebrated botanical work Herbarum vivae eicones appeared in 1530 and 1532; in the latter year he graduated MD at Basel.

The woodcut borders are 'evidently by Hans Weiditz, who also illustrated the same author's Herbal 1530–2, in which the artist's name is given. In one of the borders is represented a fox in monkish garb (?Tetzel) selling indulgences to several geese; the treasure-chest and papal standard (?) at back. Children's toys and noise-making instruments are shewn in another border. This appears to be one of the earliest publications of Brunfels and is very little known' (Fairfax Murray). The chiaroscuro woodcut title border depicts Hezekiah being healed by Isaiah.

Adams P2071; Fairfax Murray 100. OCLC locates only two copies in the UK (British Library and National Art Library) and one in the US (Yale). COPAC adds a copy at the Bodleian.
You may also be interested in...
CLUSIUS, Charles (de l'Écluse).
Rariorum plantarum historia.
First edition of Clusius's magnum opus, containing approximately one hundred new species. A valuable collection of careful descriptions of rare plants, the Rariorum plantarum historia gathers accounts from Clusius's earlier botanical tours of Spain (Rariorum aliquot stirpium per Hispanias observatarum historia, 1576) and Austria and Hungary (Rariorum aliquot stirpium per Pannoniam, Austriam, et vicinas quasdam provincias observatarum historia, 1583) with extensive new material.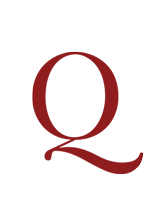 SIGNED COPY AUBERT, J. P.
Kort dog duidelyk onderwys van 't italiaans Boekhouden. Waar door iemand niet alleen zonder behulp van eenig Meester, de gronden van die wetenschap kan leeren, maar zig zelfs met wenig Oeffening in die konst volmaken. Hier is nog bygevoegt een klare beschryving der Scheeps-redery; en wat dien aangaande door den Boekhouder moet werden waargenomen. Mitsgaders een beknopte ontlediginge der Amsterdamse Wisselbank; eenige Voorbeelden van Adsignatien, Wissel-brieven, Cognossementen, Endossementen, Bank-brieffes, &c … Tweede druk, merkelyk verbeetert, en met eenige aanmerkingen vermeerdert.
Rare second edition (first 1759) of this guide to Italian book-keeping, teaching the basic principles, with a section relating to book-keeping for ship owners. The work contains an innovation by Aubert, a 'Convoy book', which lists goods under the name of the Captain and the ship. The work also contains real-life accounts of a shipping company, a guide to basic Dutch banking procedures, and a dictionary of mercantile terminology.