CAREY, Henry Charles.
Principles of social science.
Philadelphia, J. B. Lippincott, 1858-1860.
Three vols, 8vo, pp. [ii], xxii + 474; [viii], xvi + 480; [iv], xvi + 511, [1]; very faint spotting to preliminaries, but an exceptionally fresh set, in the original embossed damson cloth, spines lettered in gilt, minor rubbing and spines lightly sunned.
£1200

Approximately:
US $1661
€1383
Added to your basket:
Principles of social science.
First edition, a very attractive copy, of Carey's principal work. 'His treatment of social science was original, and led him to a series of supposed discoveries, the order of which he has stated in the introduction of his most important work The Principles of Social Science. His point of departure was a theory of value which he defined as the "measure of the resistance to be overcome in obtaining things required for use, or the measure of nature's power over man" - in simple terms the cost of reproduction. This theory Carey applied to every case of value - to commodities, services, and in some passages seemingly to man himself' (Palgrave).

IESS (1858-1860); for an account of the development of Carey's thought see Palgrave I, p. 227 and Green, Henry Charles Carey p. 50 ff.
You may also be interested in...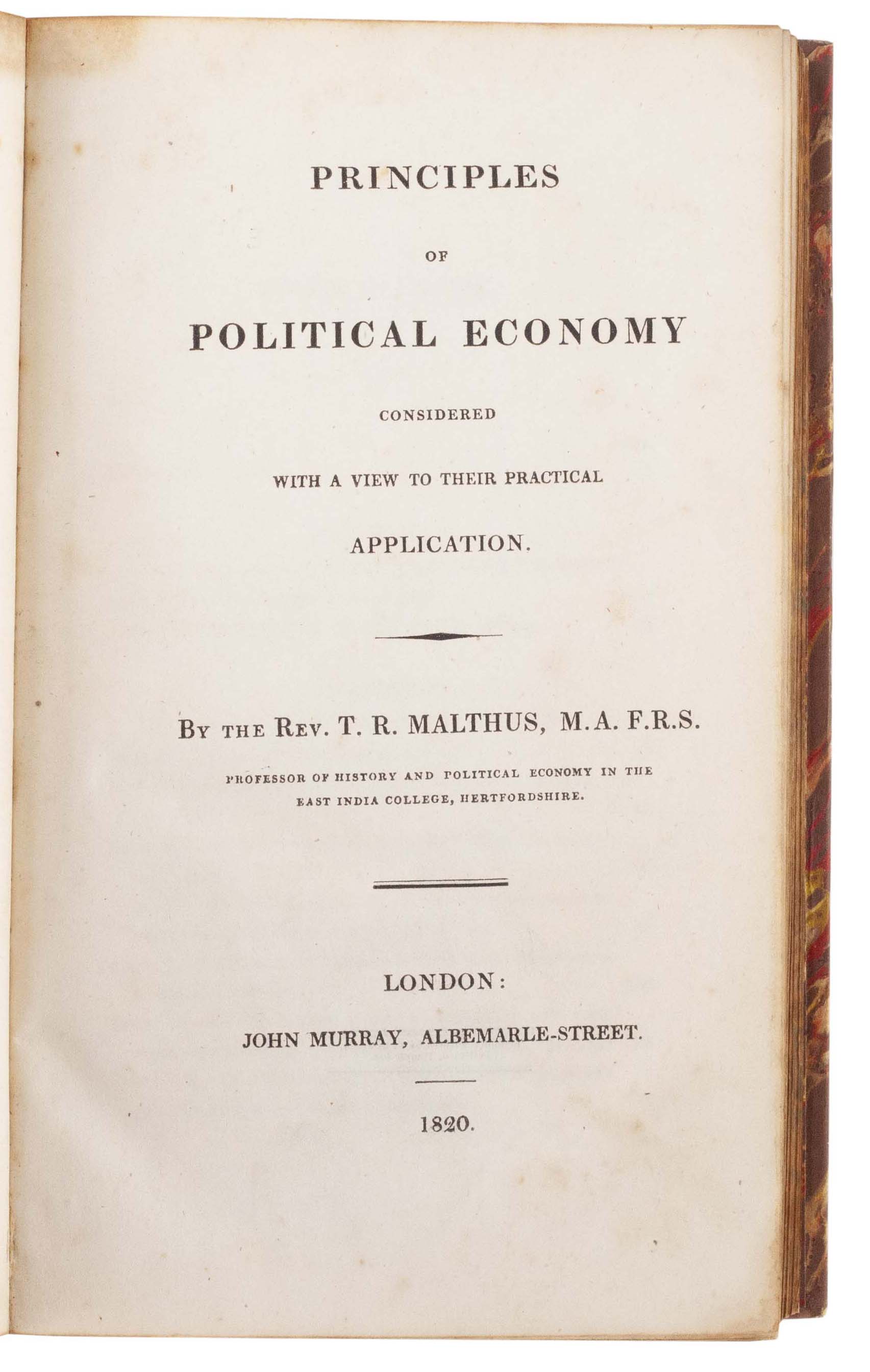 MALTHUS VS RICARDO MALTHUS, Thomas Robert.
Principles of political economy considered with a view to their practical application.
First edition. The Principles were developed through controversy with Ricardo, especially with regard to the theory of value, but the origins of the essay are in the Essay, which constituted Malthus's earliest writings on prices, income and savings. The difference that emerges between Malthus and Ricardo with regard to Say's Law, from which this book is an early departure, has not been fully understood because of Ricardo's unwillingness to follow through on concessions he was forced to make. Malthus argued that increased incomes did not lead to increased consumerism, but that consumers faced with unfamiliarly high salaries would save. Some of this misunderstanding of Malthus derives from Keynes's positive assessment of Malthus, which has led to the latter being viewed as an early Keynesian because of his theories on prices and wage rates (New Palgrave). Keynes declared: 'If only Malthus, instead of Ricardo, had been the parent stem from which nineteenth-century economics preceded, what a much wiser place the world would be today!'.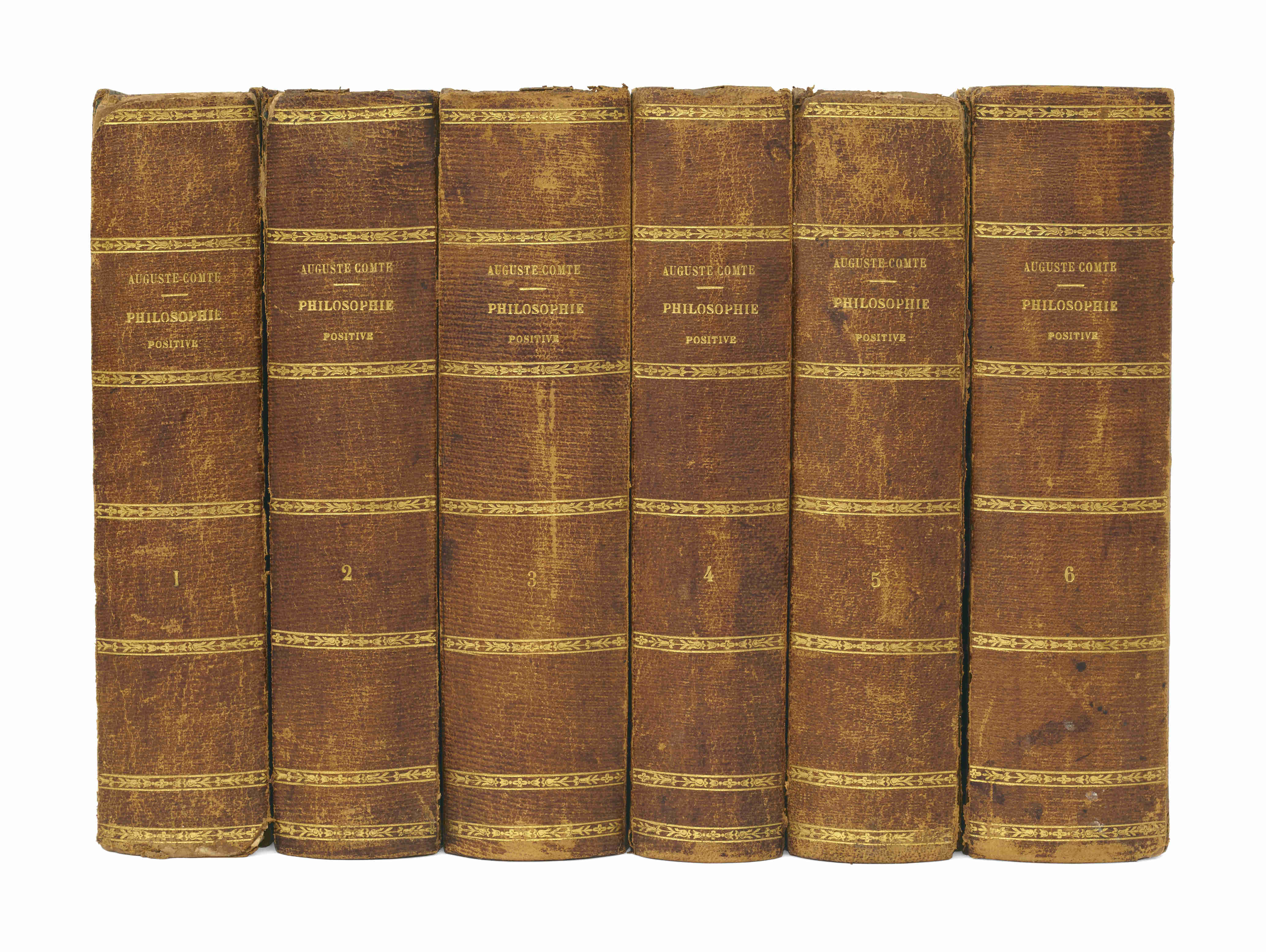 'ONE OF THE MAJOR DOCUMENTS OF SECULAR PHILOSOPHY' (PMM) – THE COINING OF THE TERM SOCIOLOGY COMTE, Auguste.
Cours de philosophie positive.
First edition, an attractive set, of Comte's principal work, the outline of positivism. In the course of six volumes Comte sets out the terms of a new sociology and its status in relations to the other fields of knowledge. In fact it is in the forty-seventh lesson that the neologism 'sociologie' as 'social physics' is coined. 'The remarkable achievement of Comte, all arguments about the validity of his theories aside, is the construction of a system which embraces all human activity and knowledge. [It] is still one of the major documents of secular philosophy' (PMM). PMM 295; En français dans le texte, 245.