'THE BEST BOOK EVER WRITTEN ON PUBLIC FINANCE'
DE VITI DE MARCO, Antonio.
Principii di economia finanziaria.
Turin, Giulio Einaudi, 1939.
Large 8vo, pp. xxxii, 419, [1] blank, [4]; edges browned throughout; a good copy, uncut in the original printed stiff-paper wrappers, a little worn and chipped at extremities, lower joint cracking at foot of spine.
£150

Approximately:
US $206
€177
Added to your basket:
Principii di economia finanziaria.
Revised and definitive edition. The economist and politician Antonio De Viti de Marco (1858–1943) was Professor of Political Economy and Public Finance at the Universities of Camerino, Macerata, Piava, and Rome. He 'was not a prolific writer – he spent much time patiently revising his own works – but he exerted a fundamental influence on the typically Italian tradition of creating a "pure" theory of public finance … De Viti de Marco's name … is primarily connected with his Principii di economia finanziaria, which was the subject of various drafts and revisions in 1923, 1928, 1934 and 1939. The definitive edition of this work contains a masterly preface by Luigi Einaudi which fully upholds "for spontaneous universal recognition" the position of supremacy held by De Viti de Marco over other researchers in the field of public finance. In addition, when the book was translated into English, it was generally judged to be "the best book ever written on public finance". De Viti de Marco's Principii has been translated into all the major languages, and it embodies the most complete attempt to construct an "economic" theory of the entire financial system, whose final aim is the systematic application of the theory of marginal utility to financial problems' (The New Palgrave IV, 817).

Firpo 3050.
You may also be interested in...
[PRICE, Richard.]
Remarks on Dr. Price's observations on the nature of civil liberty, &c.
First edition, one of two issues published in the same year. A reply to and critical commentary on Richard Price's discussion of American independence, reaffirming the English claim to sovereignty over America. Possibly penned by a member of Hume's circle, the pamphlet was judged to be 'written with less invective, and more decency, candour and moderation, than have lately appeared in the productions on that side of the American dispute' (Sabin).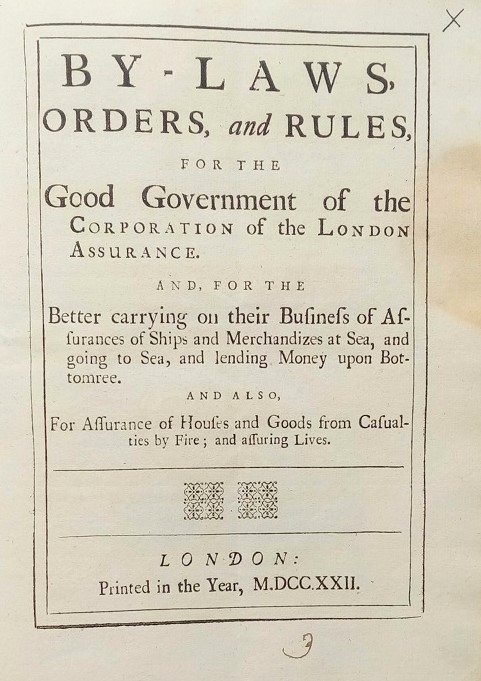 [LONDON ASSURANCE CORPORATION.]
By-laws, orders, and rules, for the good government of the corporation of the London assurance. And, for the better carrying on their business of assurances of ships and merchandizes at sea, and going to sea, and lending money upon bottomree. And also, for assurance of houses and goods from casualties by fire; and assuring lives.
First edition of the by-laws of the London Assurance Corporation, which, along with The Royal Exchange Assurance Corporation, was constituted and granted sole rights, excepting private individuals, to the granting of assurance and bottomry by 'The Bubble Act' of 1720. The right to self-govern, reflected in the pamphlet offered here, was also granted in 'The Bubble Act' of 1720 which specified that after three years of control by Crown-appointed governors and directors, the members of the corporation would be free to set their own by-laws and elect their own leadership. The by-laws cover use of the company seals, company cash, the price of share transfers, registering probates of wills, making receipts and payments, company elections, absentee directors, directors taking 'presents, fees, or rewards', officers or servants taking 'unwarrantable fees', procedure for questions asked in general courts, procedure for addressing questions, the penalty for breaking the by-laws, and the yearly salary of governors and directors.