[DODSLEY, Robert, editor].
A Collection of Poems. By several Hands. In three Volumes.
London: Printed for R. Dodsley … 1748.
3 vols., 12mo., pp. [2], v, [1], 263, 238-286; [4], [332]; [4], 336, with the half titles and cancels, engraved vignette of the three muses to each title-page; a very good copy in contemporary speckled calf; joints rubbed, the front joints of vols. I and III cracked, but the cords holding; bookplate of James Hustler.
£450

Approximately:
US $590
€503
First edition, the most influential poetical miscellany of the eighteenth century. Dodsley's avowed aim was 'to preserve to the public those poetical performances, which seemed to merit a longer rememberance than what would probably be secured to them by the Manner wherein they were originally published'.

How well he succeeded was pointed out by R. W. Chapman: 'Gray's poems were not collected in a popular form until 1768, Johnson's not until 1785; but The Vanity of Human Wishes, the Drury-Lane Prologue, and some of Gray's Odes were universally accessible because they were in Dodsley', otherwise 'they must have been almost forgotten for twenty years of more'.

The success of his Collection prompted Dodsley immediately to set about revising and expanding it. A second, revised edition appeared in the same year, and two more editions by 1755, when a fourth volume was added; two further volumes were published in 1758.

Case 458, 1(a)-3(a); Rothschild 804.
You may also be interested in...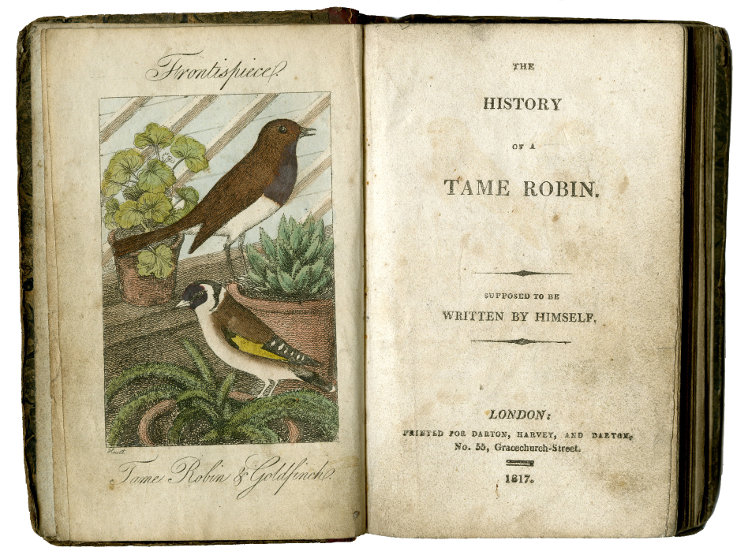 [KEENE, Marian].
The History of a tame Robin. Supposed to be written by Himself.
First and only edition. The tame Robin recalls a life of adventure enriched by human and avian friendships. A childhood spent in a school-room helped him attain 'a sufficient knowledge of literature to relate my adventures'. His life, though happy, is not without its vicissitudes: he loses a close friend, Goldey the goldfinch, to a bird of prey and spends a disconcerting time in the ownership of a spoilt child who starves sparrows to death.
KING, Samuel William.
The Italian Valleys of the Pennine Alps: a Tour through all the Romantic and Less-Frequented 'Vals' of Northern Piedmont, from the Tarentaise to the Gries . . . With Illustrations from the Author's Sketches, Maps, &c.
First edition. The traveller and scientist King (1821-1868), who was a member of the Alpine Club, made this expedition through the Alps with his wife, and explains in his opening chapter that, 'Our project was, after crossing the Alps, to explore and traverse, from head to foot, all the remote and less frequented valleys of Piedmont, which descend from the steep southern face of the great Pennine chain, from Mont Blanc west to Monte Rosa east' (p. 4). The routes of these journeys, which are 'described in delightful detail' (Neate), are shown in the folding map at the end of the volume, and the work also contains much on the history, archaeology, geology, and natural history of the area. Perret considers the account, 'un ouvrage intéressant caractéristique du "pre-golden-age", peu courant'.