DORDOGNE.
A collection of photographs of caves in the Dordogne.
[France, c. 1900].
8 numbered photographs (224 x 170mm.), mounted on contemporary grey-blue boards, with pencilled annotation on the verso.
£150

Approximately:
US $208
€173
Added to your basket:
A collection of photographs of caves in the Dordogne.
A collection of photographs of the Paleolithic grottes and abris of the Les Eyzies district of the Dordogne, first excavated by Lartet and Christy in the 1860s. The photographs show the hillsides where the caves are situated, with individual houses or whole villages built into the mountains, the occasional farmer in hobnailed boots in the background. The views are of Laugerie Haute and Basse, Les Eyzies, La Madeleine, Mousteer, Cro-Magnan, and Font de Gaume (discovered in September 1901).

The existence of Paleolithic art was first established in a number of caves and rock shelters in southwest France in the early 1860s, but only "in 1902 was the existence of cave art officially recognized by the archaeological establishment" (Oxford Companion to Archaeology, pp. 595). The 1907 edition of Baedeker, the first to mention the caves, still does not mention the paintings and engravings found within them.
You may also be interested in...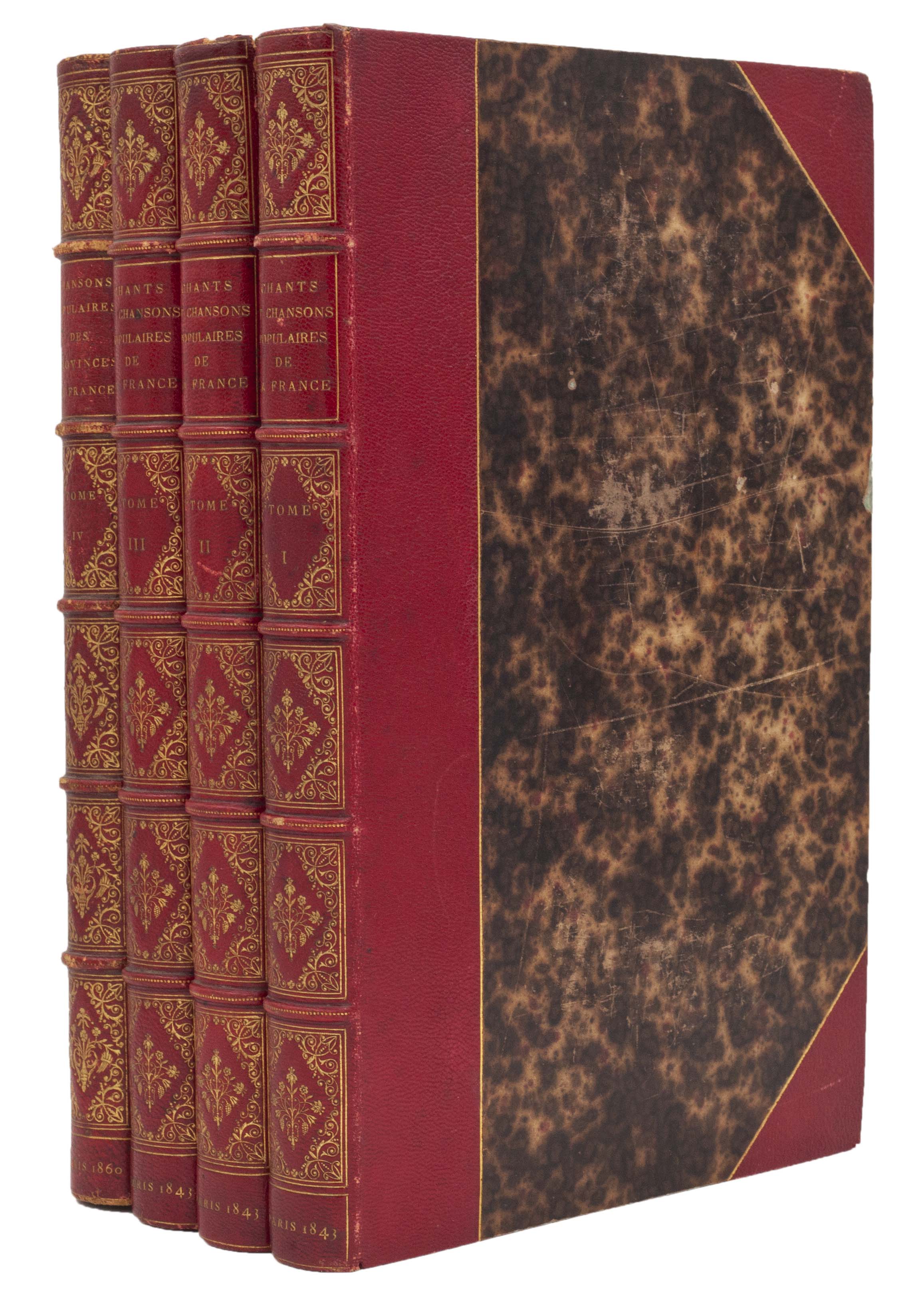 EXTRA-ILLUSTRATED DELLOYE, H.-L. (editor).
Chants et chansons populaires de la France [– notices par M. du Mersan], première [– deuxième; – troisiéme] série.
First edition of a finely illustrated, serially published collection of French music, broad-margined, extra-illustrated, and accompanied by the later fourth series. Formed of four series of twenty-eight issues, sold individually at sixty centimes from February 1842, the Chants et chansons populaires are considered by Carteret to be an 'admirable publication, printed on papier vélin fort, deservedly highly esteemed as one of the most beautiful of the nineteenth century, which can be compared to the handsome illustrated books of the eighteenth century' (trans.).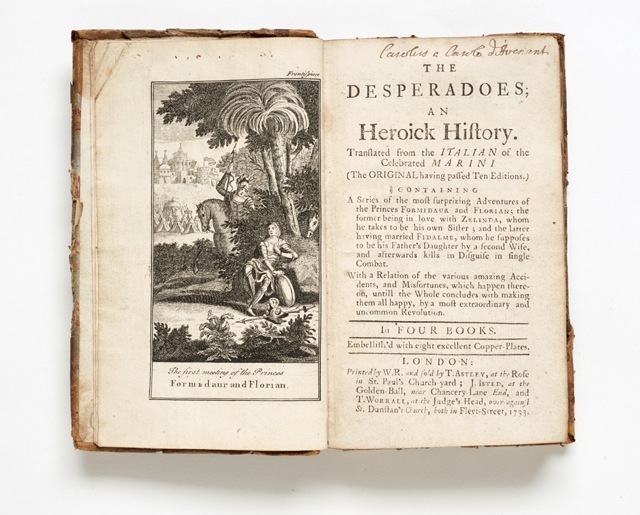 MARINI, Giovanni Ambrogio.
The Desperadoes; an heroick History. Translated from the Italian of the celebrated Marini (the Original having passed ten Editions.) Containing a Series of the most surprizing Adventures of the Princes Formidaur and Florian … In four Books. Embellish'd with eight excellent Copper-Plates.
First and only edition in English of Le gare de' disperati (1644), the second of three romances by Marini (1596-1668). Inevitably, 'It was necessary to omit many Things that were contrary to our Morals; to Decency, and to the Purity of the English Tongue …'. But the general scheme of events is the same as the original, and is outlined on the title-page: 'A Series of the most surprizing Adventures of the Princes Formidaur and Florian; the former being in love with Zelinda, whom he takes to be his own Sister; and the latter having married Fidalme, who he supposes to be his father's Daughter by a second Wife, and afterwards kills in Disguise in single Combat. With a Relation of the various amazing Accidents, and Misfortunes, which happen thereon, until the Whole concludes with making them all happy, by a most extraordinary and uncommon Revolution.'