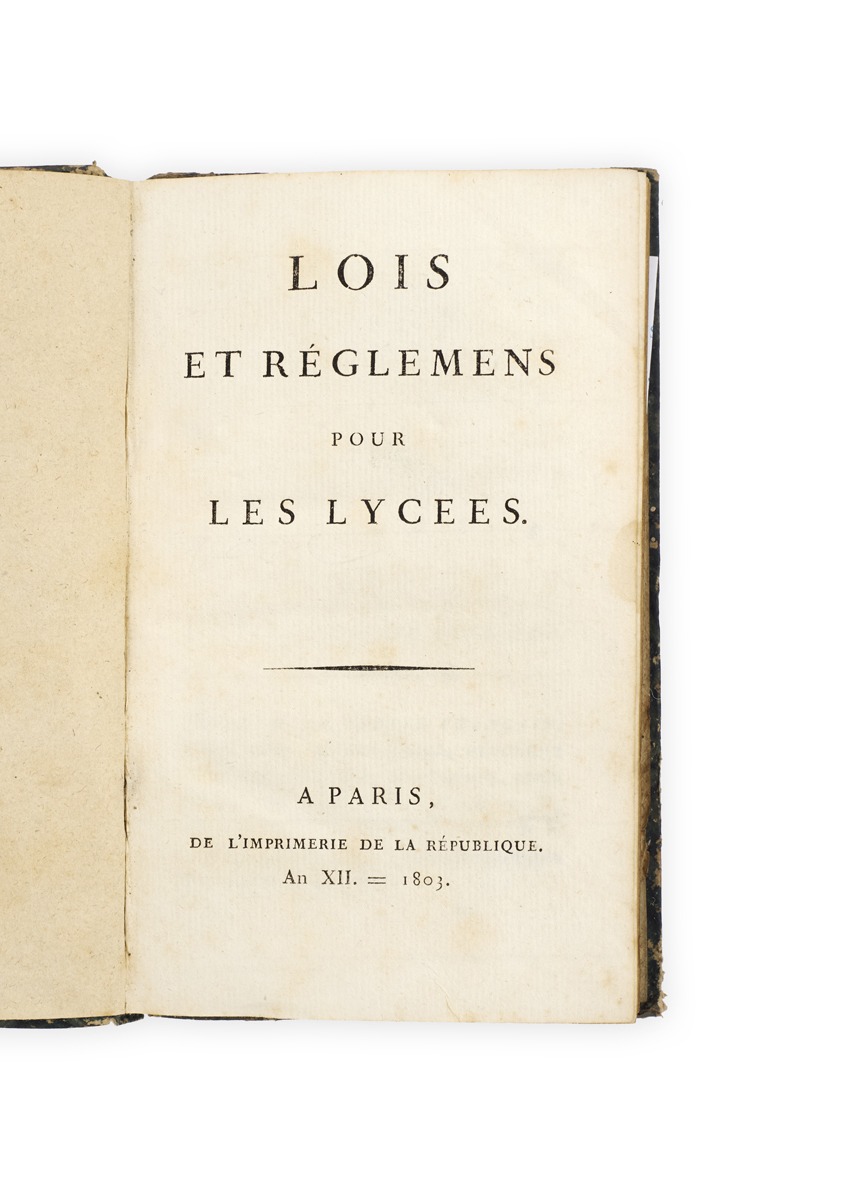 NAPOLEON REFORMS FRENCH EDUCATION
[EDUCATION.]
Lois et réglemens pour les lycees.
Paris, 'de l'imprimerie de la République, an XII,' 1803.
12mo, pp. 96; occasional light marks; very good in contemporary green paste paper boards; abrasions to covers and extremities; some underlining to pp. 77-78.
£500

Approximately:
US $661
€584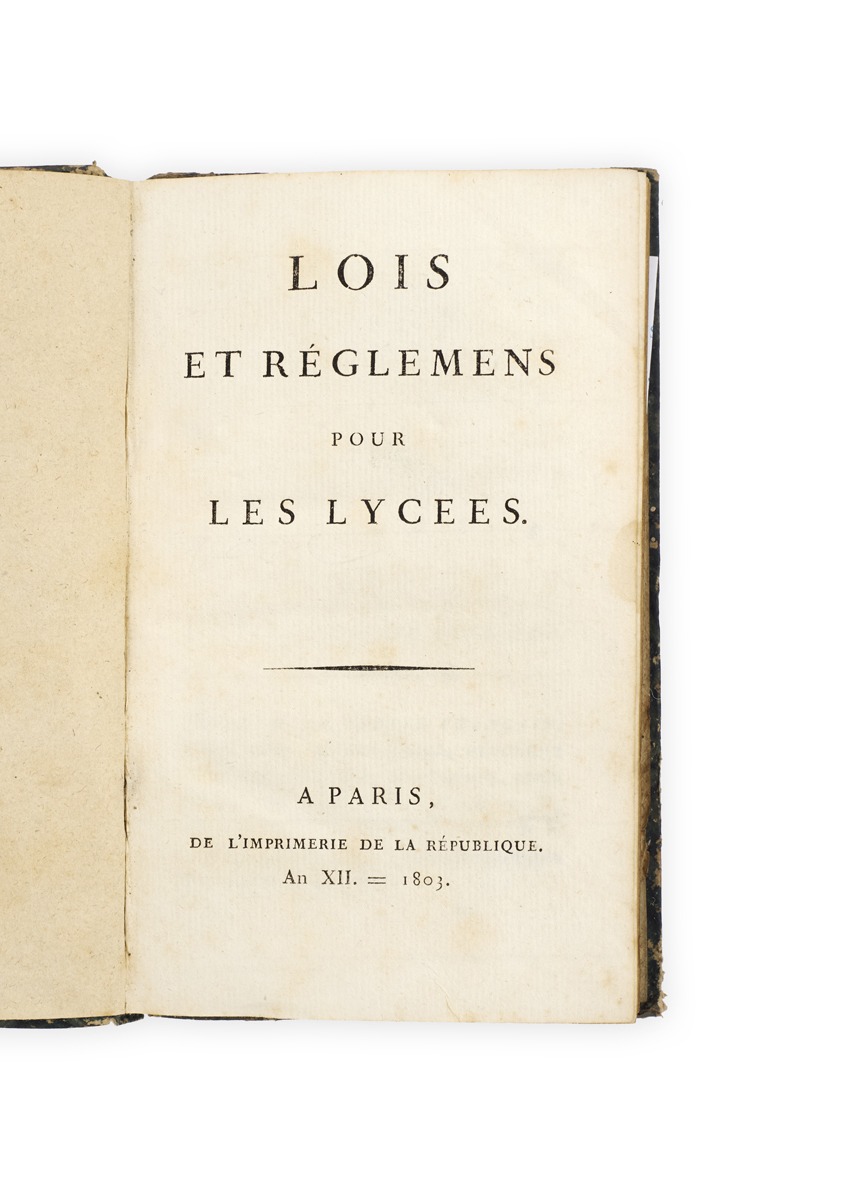 Added to your basket:
Lois et réglemens pour les lycees.
Rare first edition of this extremely interesting collection of laws and regulations governing secondary education in France, reflecting the historic changes enacted between 1801 and 1803 by Napoleon as First Consul, in particular the establishment of lycées.

The first part covers the French education system in toto, discussing primary schools, secondary schools, higher education (law, medicine, natural sciences, &c.), and military colleges, as well as 6400 élèves nationaux supported by the government.

The second part provides, in fascinating detail, the regulations governing the newly-founded lycées. Decrees on uniforms state that teachers were to wear black and pupils blue, with yellow metal buttons, and a table details the salaries of different staff members at different types of lycées. Pupils were to study Latin, mathematics, geography, history, physics and chemistry, writing, drawing and dance, as well as the handling of arms from the age of twelve, and each lycée was to have a library of 1500 books, with one student appointed librarian. The various office holders included a censor who was to 'examine all the books, drawings and engravings' that came into the school and remove anything deemed morally dangerous. Pupils were divided into groups of twenty-five headed, in military fashion, by a sergeant, and the text details the equipment each student should have, including sheets, towels, handkerchiefs, nightcaps, combs etc. The daily timetable is explained, beginning at 5.30am and ending at 9pm. Other sections discuss religious worship, prizes, holidays, discipline (corporal punishment was forbidden), medical care, and prohibitions (no playing cards, no gunpowder, &c.). The final section comprises detailed lists of recommended authors and books for each year group, for science and mathematics, Latin and French literature, history, and geography.

No copies traced in the UK or US. OCLC finds only three copies, at the BnF, Universidad Complutense de Madrid, and Wissenschaftliche Stadtbibliothek Mainz.
You may also be interested in...
FUHRMANN, Ernst.
China. Erster Teil: Das Land der Mitte.
First edition of two of the most celebrated works on Chinese religious architecture, published as volumes IV and V of Geist, Kunst und Leben Asiens, with hundreds of pictures of temples and Buddhist sculptures, some of which are now lost. The second volume deals in particular with the Lingyan Temple complex (靈巖寺), a Buddhist temple located in Changqing District, Jinan, and one of the main temples in China during the Tang and Song dynasties, famous for its Thousand Buddha Hall which houses forty painted clay life-size luohan statues from the Song dynasty.
SUETONIUS, and Isaac CASAUBON (editor).
C. Suetoni Tranquilli De XII. Caesaribus libri VIII.
Second edition of Casaubon's Suetonius. Isaac Casaubon's impressive edition, the first to contain a full commentary, was first published at the Estiennes' Geneva press in 1595 for Jacques Chouët. In some copies of the present edition the place of printing is omitted from the title.