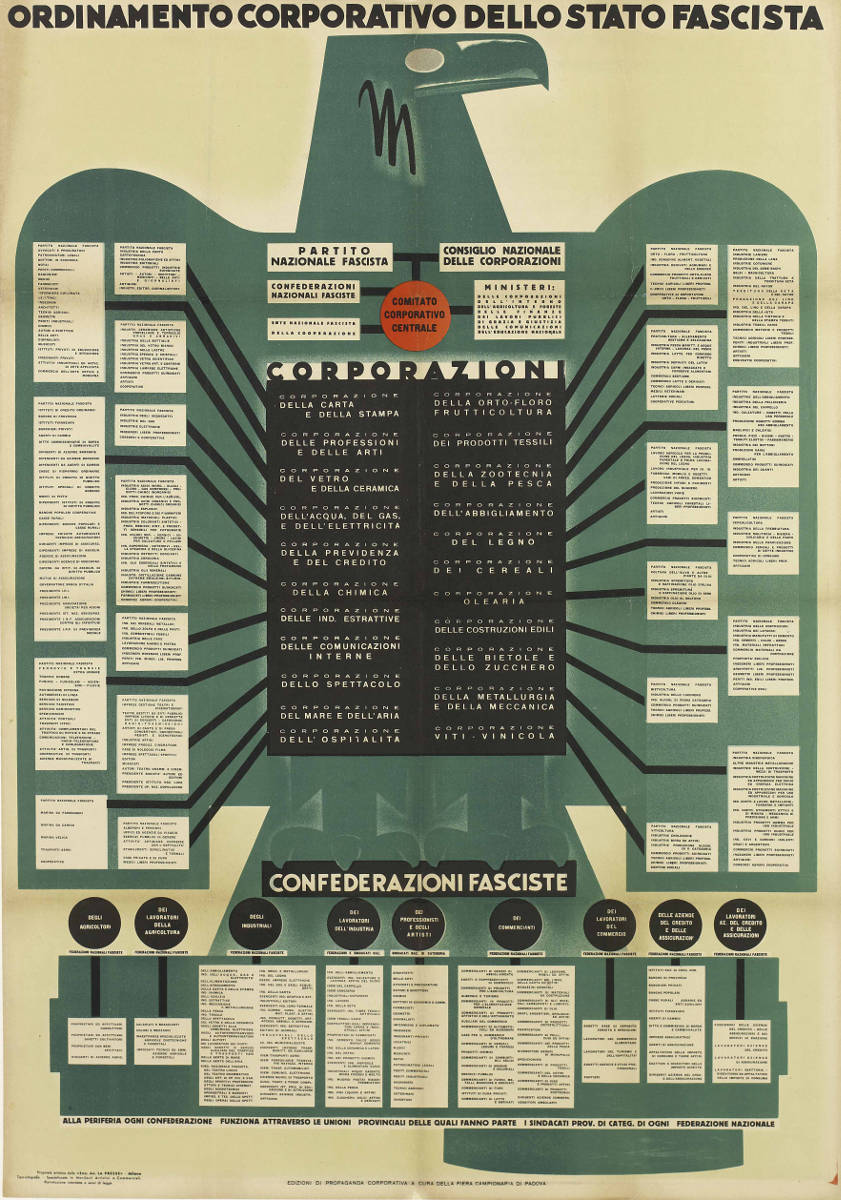 [FASCISM.]
Ordinamento Corporativo dello Stato Fascista.
Padua, Edizione di propaganda corporative, 1935.
Lithograph in colour, 31 1/2 x 43 1/2 in (80 x 110 cm); minor restoration to central creases and small tears; linen backed, very fine.
£2500

Approximately:
US $3280
€2796
Italian Fascism primarily followed the economic model of corporatism to organise capital and labour interest groups into trade unions and employer associations such as agriculture, industry, commercial trade, professionals and artists, as well as banks and credit associations. These trade associations represented the interests of their profession at all levels, thus in theory alleviating pressures between social classes and maximising production. In this model, the economy was managed nationally by non-elected employers, workers and civil servants.

The political side of Fascist Corporatism enabled Mussolini's goal to create a community with a strong collective identity that was both nationalistic and industrious. Mussolini promoted the idea that a corporatist state would help to further individual interests, arguing that they would be strengthened by inclusion within a group, or trade union. In fact, fascist corporatism offered perks to loyal supporters while seeking to subdue labour movements and punish political dissidents.
You may also be interested in...
SIR RICHARD STEELE SAMMELBAND STEELE, Richard.
[Eight works by and relating to him].
A splendid collection of pamphlets by and relating to Sir Richard Steele (1672-1729), army officer, playwright, theatre manager, essayist, editor of the Tatler, Spectator and Guardian, Whig MP and propagandist, covering many facets of his diverse career. This volume belonged to Sir Thomas Clarke, a protegé of the first earl of Macclesfield, who left his library and fortune to the family.
THE EARLIEST DEFENCE OF AUTHORS' FREEDOM AGAINST THE BULLYING FORCES OF MARKETS AND PATRONS [RALPH, James].
The case of authors by profession or trade, stated: with regard to booksellers, the stage, and the public. No matter by whom.
First edition, 'the first protest raised in the eighteenth century against the treatment of authors and dramatists by booksellers and theatre managers' (ODNB). From this work Isaac D'Israeli extensively quoted (without acknowledgement) in his Calamities of authors, and it is very likely that Oliver Goldsmith drew upon it on writing his Essay on the present state of polite learning in Europe. For the first time writers' creative dilemmas are laid bare, the low profile of a writer's profession is lamented, and the public is made aware of the unavoidable fate of servitude that awaits any author: to be enslaved to publishers, or to theatre producers, or to parties: all market forces which, in order to survive, must pander to popular taste.