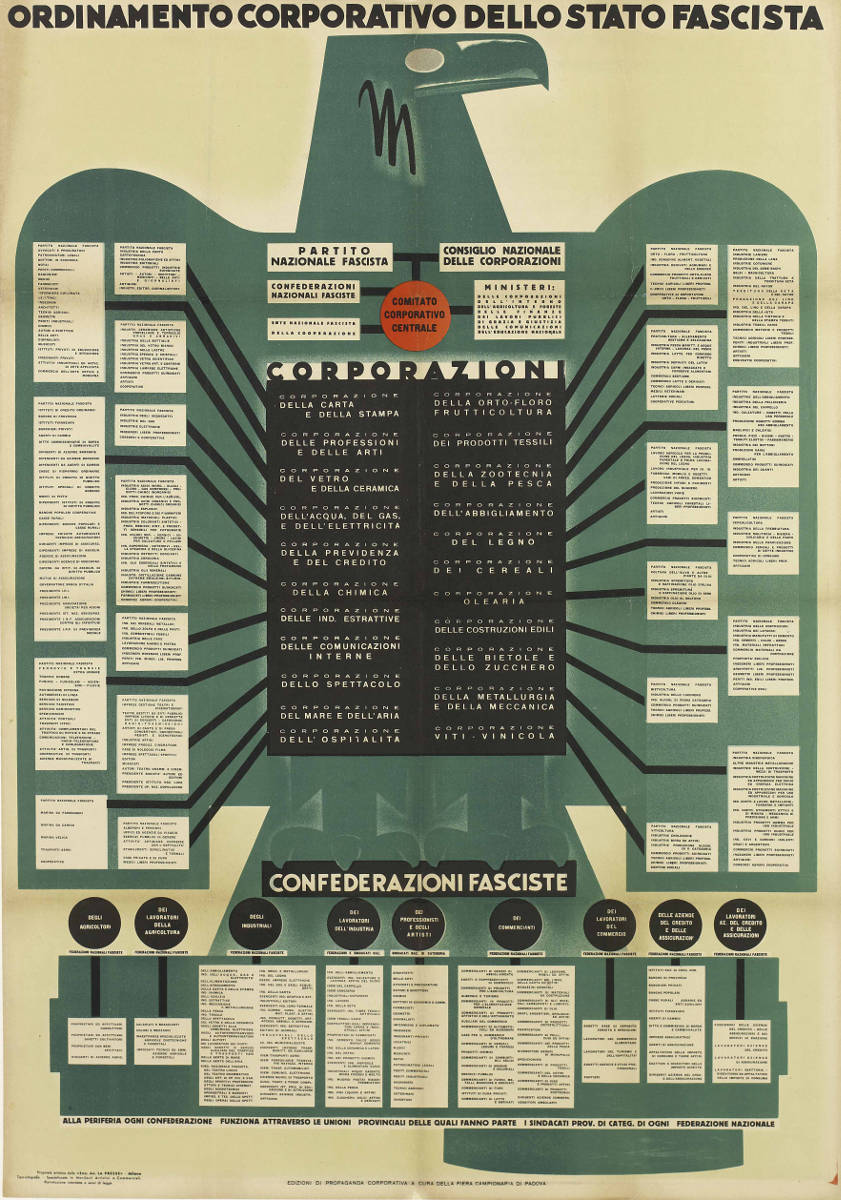 [FASCISM.]
Ordinamento Corporativo dello Stato Fascista.
Padua, Edizione di propaganda corporative, 1935.
Lithograph in colour, 31 1/2 x 43 1/2 in (80 x 110 cm); minor restoration to central creases and small tears; linen backed, very fine.
£2500

Approximately:
US $3233
€2757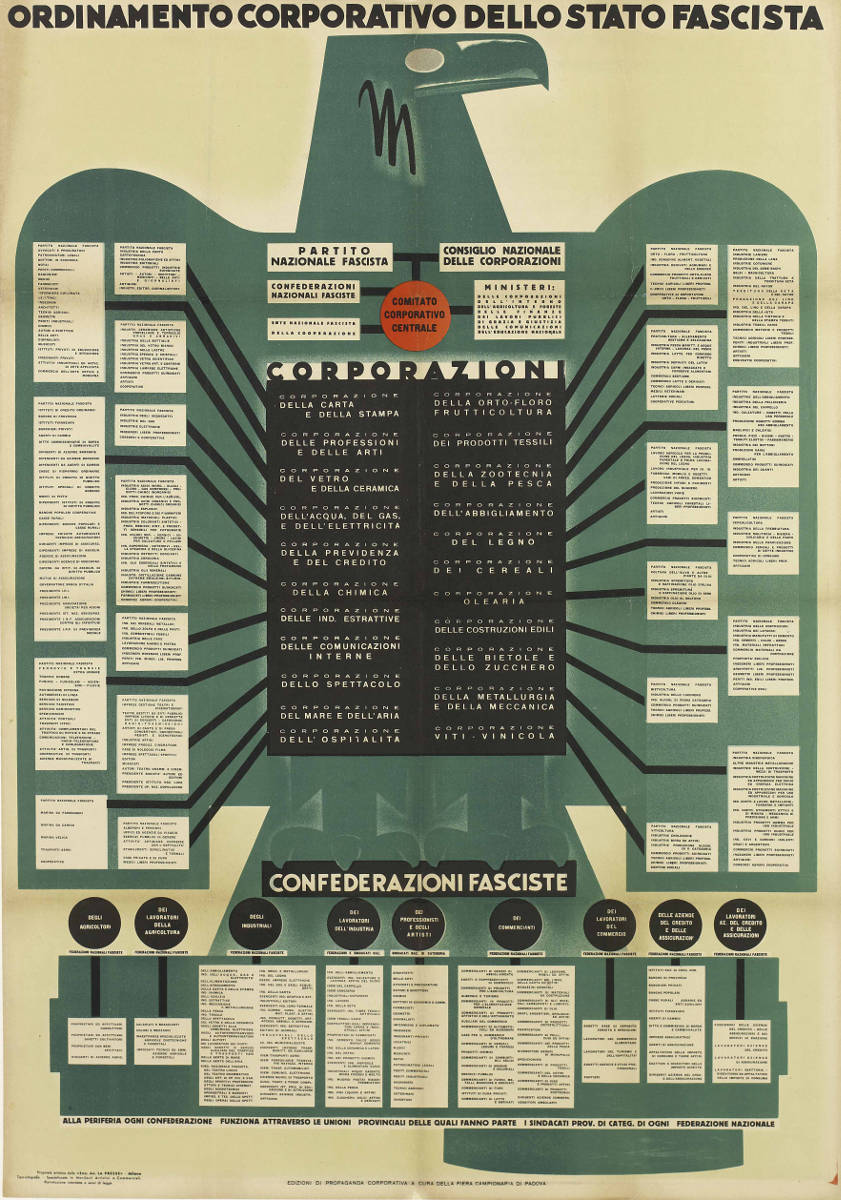 Added to your basket:
Ordinamento Corporativo dello Stato Fascista.
Italian Fascism primarily followed the economic model of corporatism to organise capital and labour interest groups into trade unions and employer associations such as agriculture, industry, commercial trade, professionals and artists, as well as banks and credit associations. These trade associations represented the interests of their profession at all levels, thus in theory alleviating pressures between social classes and maximising production. In this model, the economy was managed nationally by non-elected employers, workers and civil servants.

The political side of Fascist Corporatism enabled Mussolini's goal to create a community with a strong collective identity that was both nationalistic and industrious. Mussolini promoted the idea that a corporatist state would help to further individual interests, arguing that they would be strengthened by inclusion within a group, or trade union. In fact, fascist corporatism offered perks to loyal supporters while seeking to subdue labour movements and punish political dissidents.
You may also be interested in...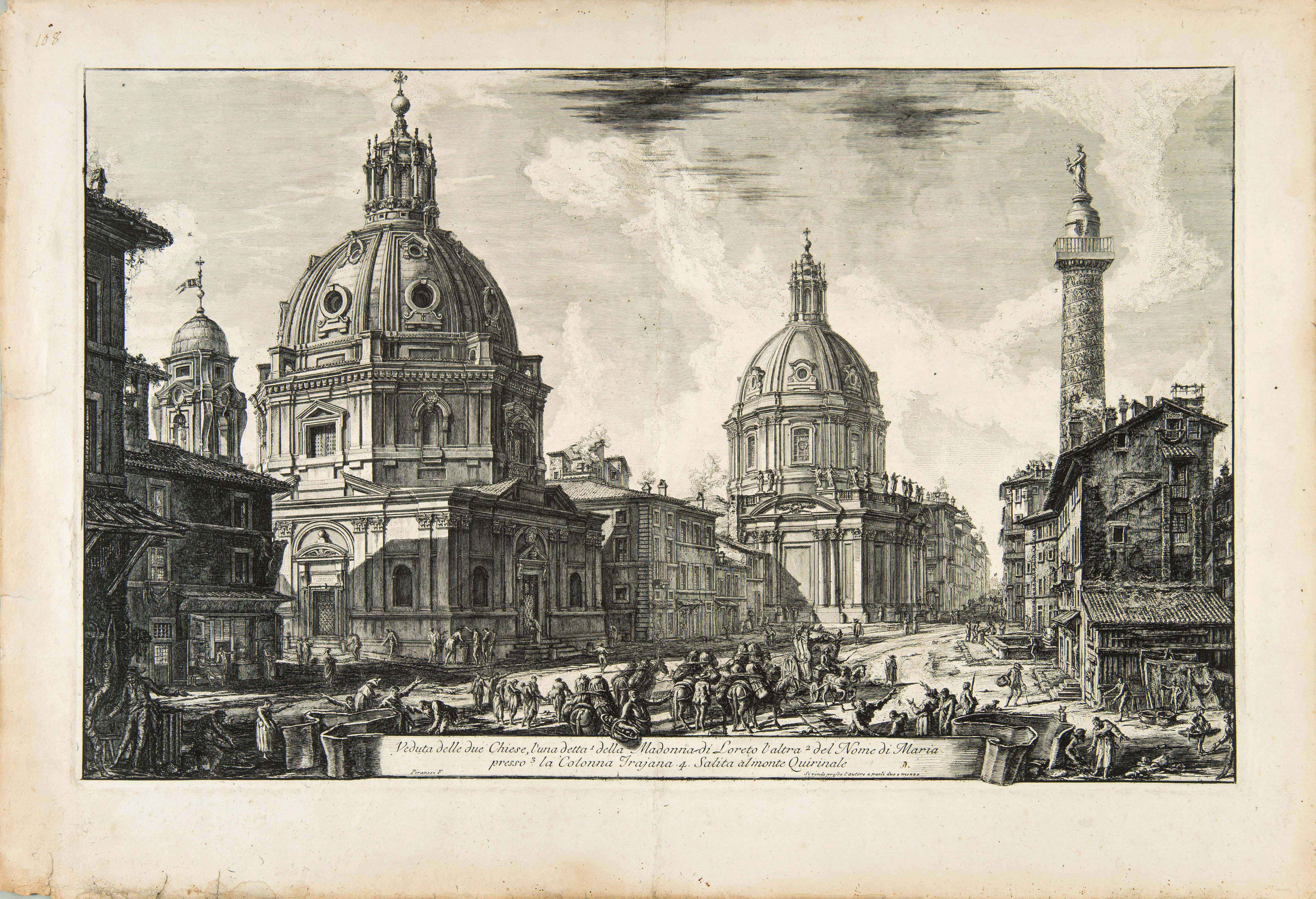 PIRANESI, Giovanni Battista.
Veduta delle due Chiese, l'una detta della Madonna di Loreto l'altra del Nome di Maria presso la Colonna Trajana. Salita al monte Quirinale.
A marvellous view of Rome by Piranesi (1720–1778), from an original edition printed in Rome, bearing the price ('a paoli due e mezzo'), with wide margins and the 'double encircled fleur-de-lys' watermark.
[MALTA.] Unidentified photographer.
Photographic Views of the Island of Malta.
Photographers were active in Malta from an early date and George Wilson Bridges attempted joining two architectural views to form a panorama there, aided by the Rev. Calvert Jones, in 1846. By the second half of the 1850s James Robertson and Felice Beato had started selling multi-part albumen-print panoramas there. It was to become a popular genre for depicting the island, but it is rare to see such a comprehensive documentation of the island's notable architecture and seascape as here. The majority of the identifications refer to military buildings suggesting these may have been the work of a trained army photographer such as a member of the Royal Engineers.