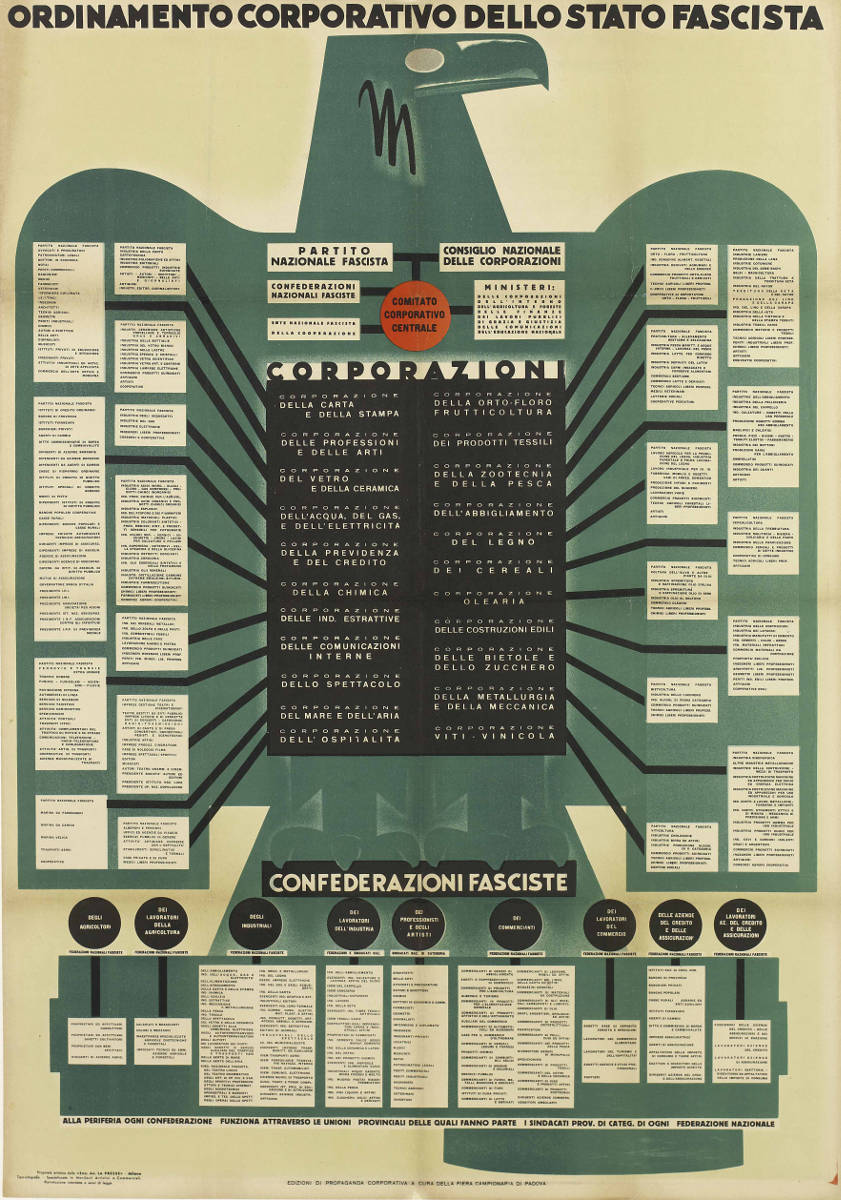 [FASCISM.]
Ordinamento Corporativo dello Stato Fascista.
Padua, Edizione di propaganda corporative, 1935.
Lithograph in colour, 31 1/2 x 43 1/2 in (80 x 110 cm); minor restoration to central creases and small tears; linen backed, very fine.
£2500

Approximately:
US $3102
€2812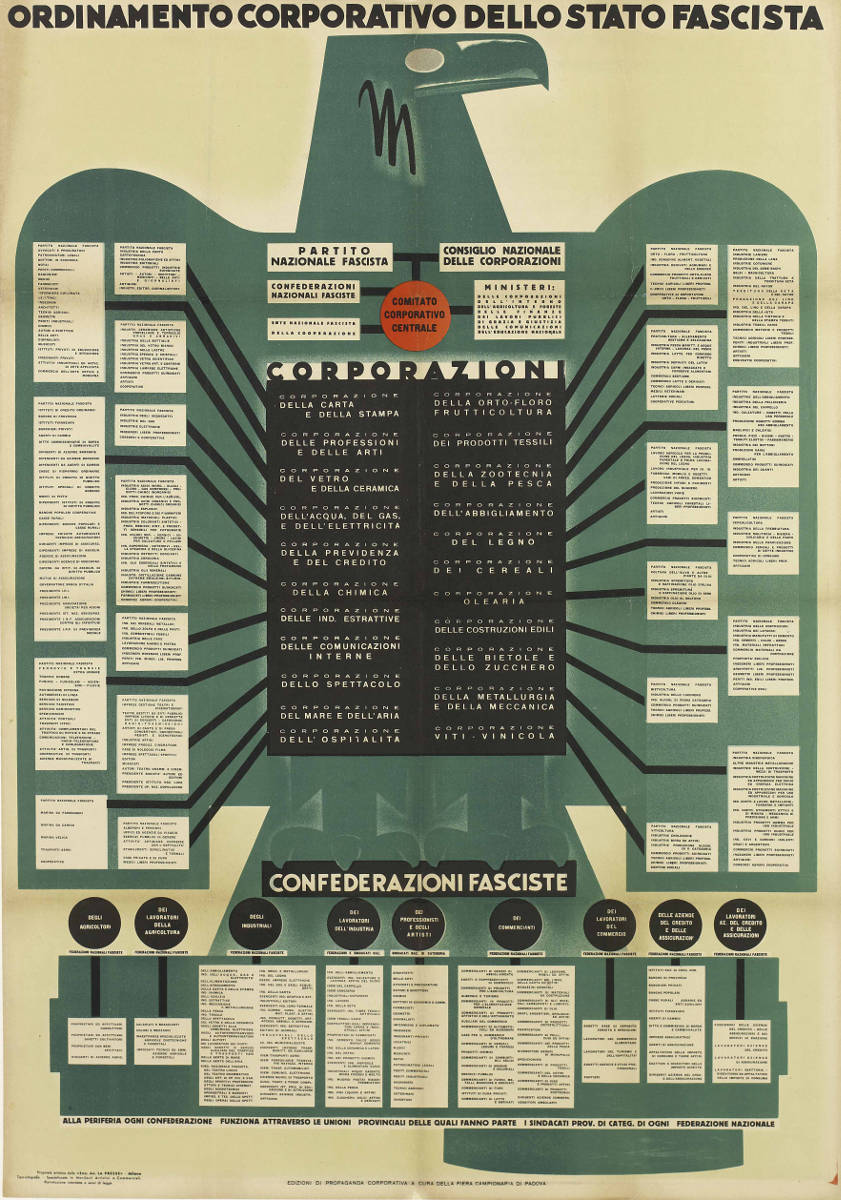 Added to your basket:
Ordinamento Corporativo dello Stato Fascista.
Italian Fascism primarily followed the economic model of corporatism to organise capital and labour interest groups into trade unions and employer associations such as agriculture, industry, commercial trade, professionals and artists, as well as banks and credit associations. These trade associations represented the interests of their profession at all levels, thus in theory alleviating pressures between social classes and maximising production. In this model, the economy was managed nationally by non-elected employers, workers and civil servants.

The political side of Fascist Corporatism enabled Mussolini's goal to create a community with a strong collective identity that was both nationalistic and industrious. Mussolini promoted the idea that a corporatist state would help to further individual interests, arguing that they would be strengthened by inclusion within a group, or trade union. In fact, fascist corporatism offered perks to loyal supporters while seeking to subdue labour movements and punish political dissidents.
You may also be interested in...
ITALY – LOMBARDY.
Letters patent by Giovanni de Sigestro, Vicar General of the minorite friars in the cismontane province, granting lay membership of the order to the Venetian patrician Domenico Tarvisio, his wife Caterina, and their sons and daughters; document on vellum, 17 lines written in a very fine humanist script, dark brown ink, ruled in plummet, five-line illuminated initial 'M' in shades of purple, green and blue against a burnished gold ground and with illuminated floral extensions in left-hand and upper margins, signed at foot by Giovanni de Sigestro and with seal of the cismontane minorite friars in red wax attached to the document on two blue, white and yellow cords tipped with metal; creases where folded, a few small stains, small area of loss at foot of seal, but generally in excellent, fresh condition. 235 x 365mm
A beautifully written and illuminated Italian Renaissance charter.
SIGONIO, Carlo.
De dialogo liber. Ad Ioannem Moronum cardinalem.
SIGONIO, Carlo. De vita, et rebus gestis P. Scipionis Aemiliani liber. Adiectis in fine, unde historia sumpta sit, locis. Index rerum memorabilium. Bologna, Giovanni Rossi, 1569.