FISHER, George.
The instructor: or, young man's best companion…to which is added the family's best companion…
London, for A. Bettesworth and C. Hitch, [not before 1735].
8vo, pp. viii, 424, + 4 engraved plates of letterforms on two leaves and one folding table, with two pages of needlework patterns in the family's best companion; table torn with small loss to border and a line of text at foot, small stain to one leaf, a few leaves with very light damp-stain, else a very good copy in contemporary sheep, double blind fillet border, inner blind roll, joints cracked but cords sound, spine chipped at head and foot with loss to lower compartment, corners bumped, a little rubbed with small loss to upper board; ownership inscriptions of G. Digby and C. Duckson to front pastedown, another dated 1746 partially erased at head of title; preserved in a cloth box.
£850

Approximately:
US $1049
€980
Added to your basket:
The instructor: or, young man's best companion…to which is added the family's best companion…
Second edition, (first, 1727). 'Volumes entitled The Young Man's companion exist in many versions and go back to the 1680s when William Mather produced the first of them. They are compendiums of useful information, intended for self-improvement. They concentrate on English, Mathematics, including mensuration for elementary building and carpentry, and geography. There is much miscellaneous information'. (David Barton: Letter writing as a Social practice, pp. 51-2).

The present work includes a wealth of useful information, including lists of proverbs, instructions for making pens and ink, model letters, how to keep accurate accounts, wordings for different bills, guides to the universities and counties, month by month gardening instructions, how to mark linen for tapestries, and recipes for different wines.

Alston IV, 358. This edition not in Herwood or ICA, which list several editions, all later. ESTC finds only a single copy of this edition, at the British library.
You may also be interested in...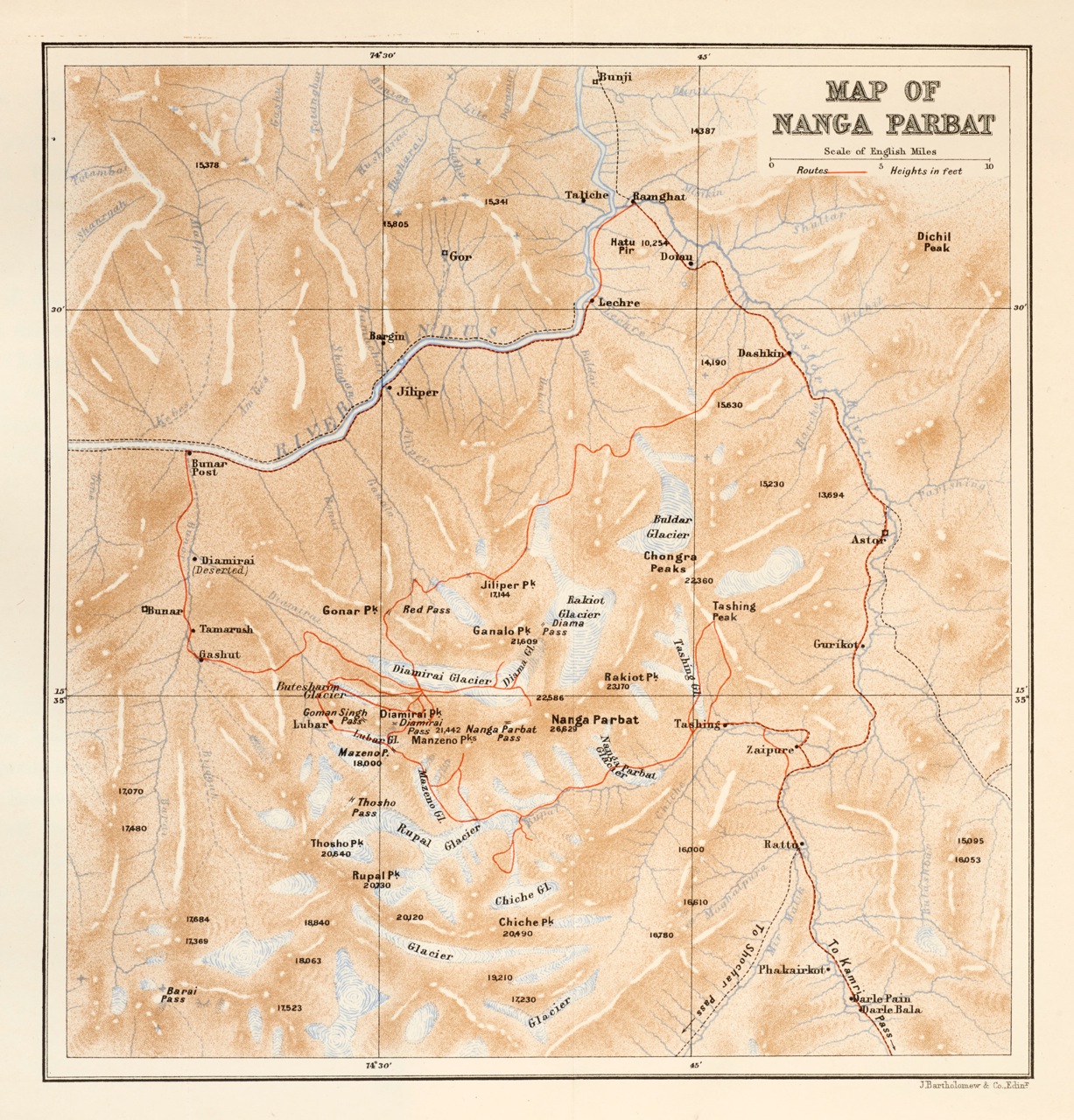 FROM THE LIBRARY OF CHEMIST AND MOUNTAINEERHUMPHREY OWEN JONES COLLIE, John Norman.
Climbing on the Himalaya and other Mountain Ranges.
First edition, published in the year that Collie (1859-1942) became professor of organic chemistry at University College London. 'Besides his eminence as a scientist, [Collie] acquired great fame as a climber and explorer of mountains. Beginning with the Cuillin peaks in Skye, where he discovered many new climbs, he climbed with notable success in the Alps, and went in 1895 with A. F. Mummery to the Himalayas, where they attempted the ascent of Nanga Parbat; during this expedition Mummery was killed, an episode which deeply affected Collie ... His books, Climbing on the Himalaya and other Mountain Ranges (1902) and (with Hugh E. M. Stutfield) Climbs and Exploration in the Canadian Rockies (1903), are famous records ... He was elected president of the Alpine Club in 1920 and was an honorary member of many other climbing clubs' (ODNB).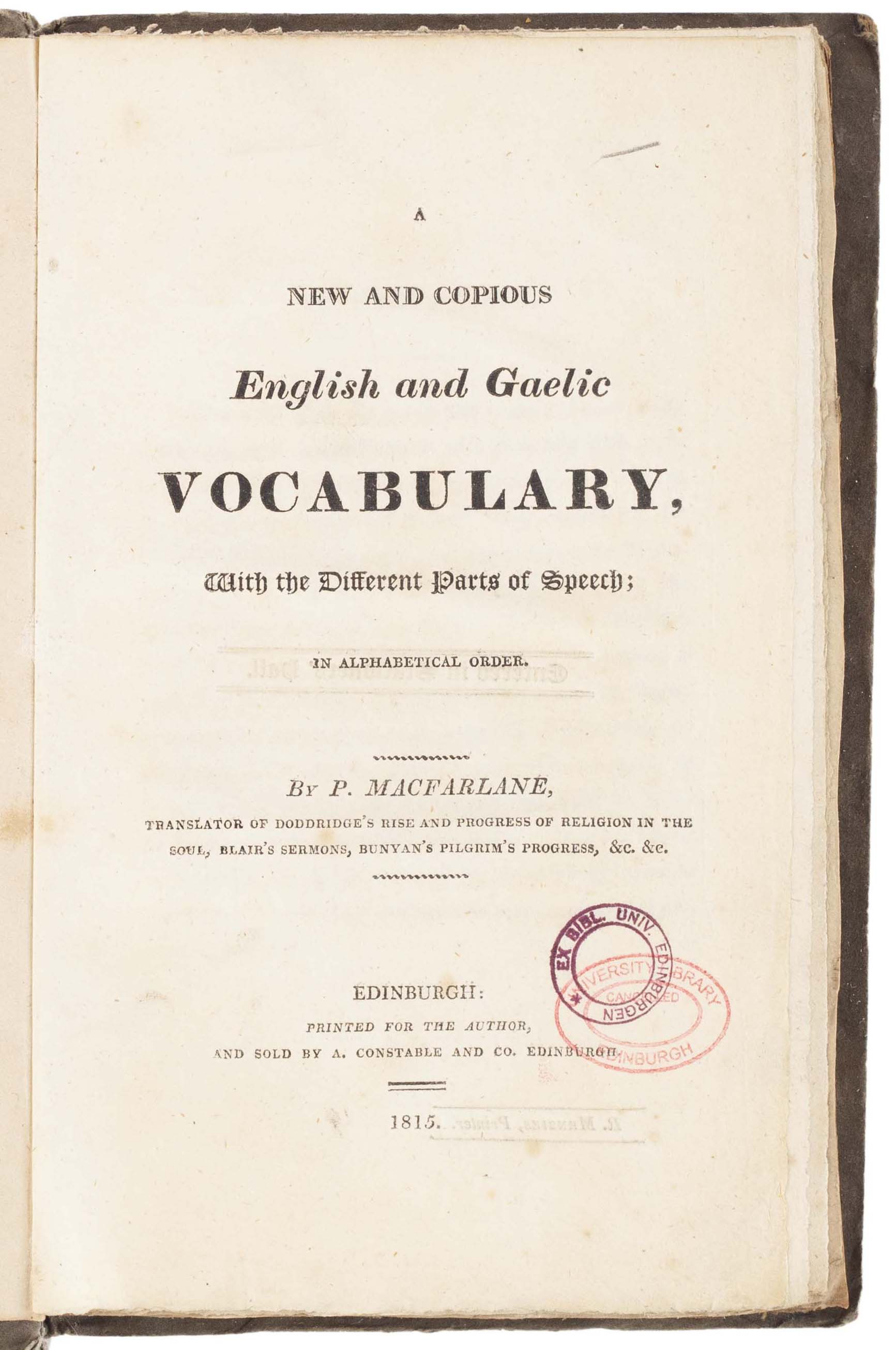 'THE LANGUAGE IN WHICH OSSIAN COMPOSED' MACFARLANE, Patrick.
A new and copious English and Gaelic Vocabulary, with the different Parts of Speech; in alphabetical Order. By P. Macfarlane, Translator of Dodderidge's Rise and Progress of Religion in the Soul, Blair's Sermons, Bunyan's Pilgrim's Progress, &c. &c.
First edition of this early English-Gaelic dictionary. The English-Gaelic Vocabulary was published alone, as here, at 5s.6d., or together with the Gaelic-English part at 12s.6d. The Gaelic scholar complied it because the 'want of an English and Gaelic Vocabulary has long been a desideratum with those who wish to be acquainted wth the language in which Ossian, the son of Fingal, composed and sung'. The work begins with a guide to reading and the rules of pronunciation, 'chiefly taken from those prefixed to the Gaelic Bible'. Macfarlane had corrected the proofs of the Gaelic New Testament of 1813 and of MacLeod and Dewar's Dictionary of the Gaelic Language (1831).