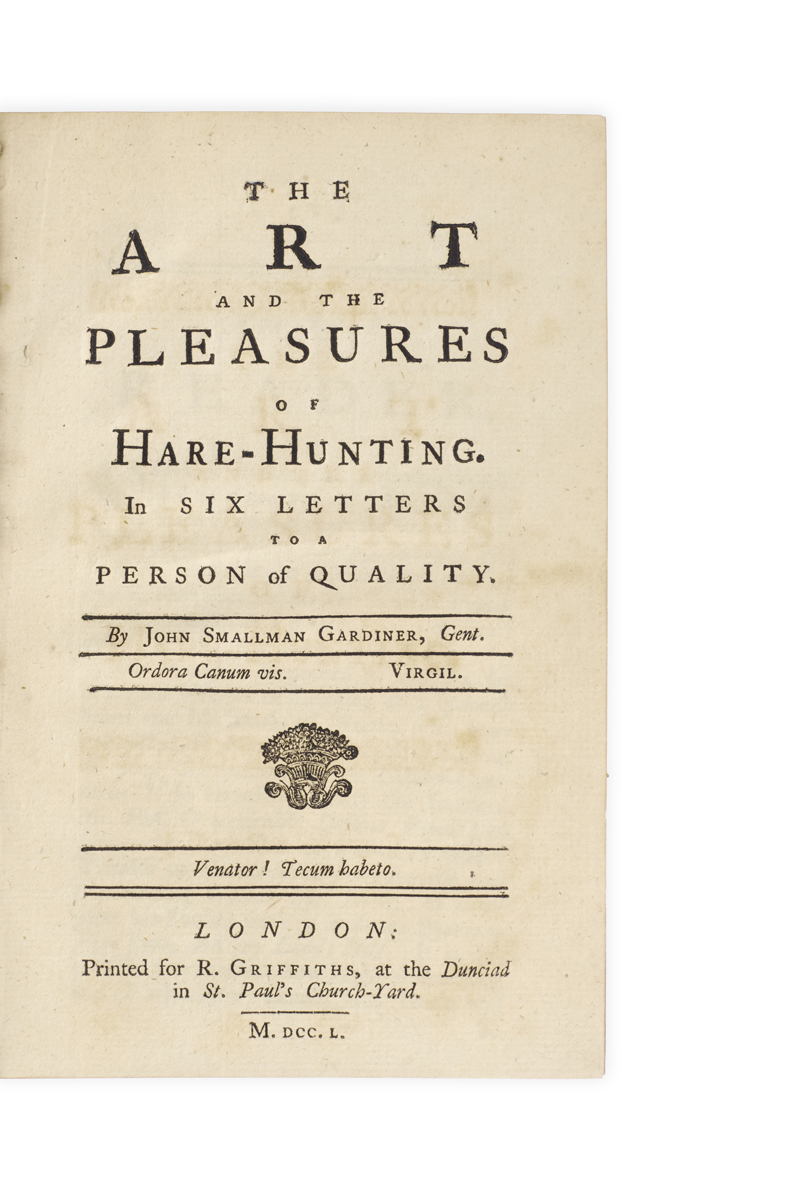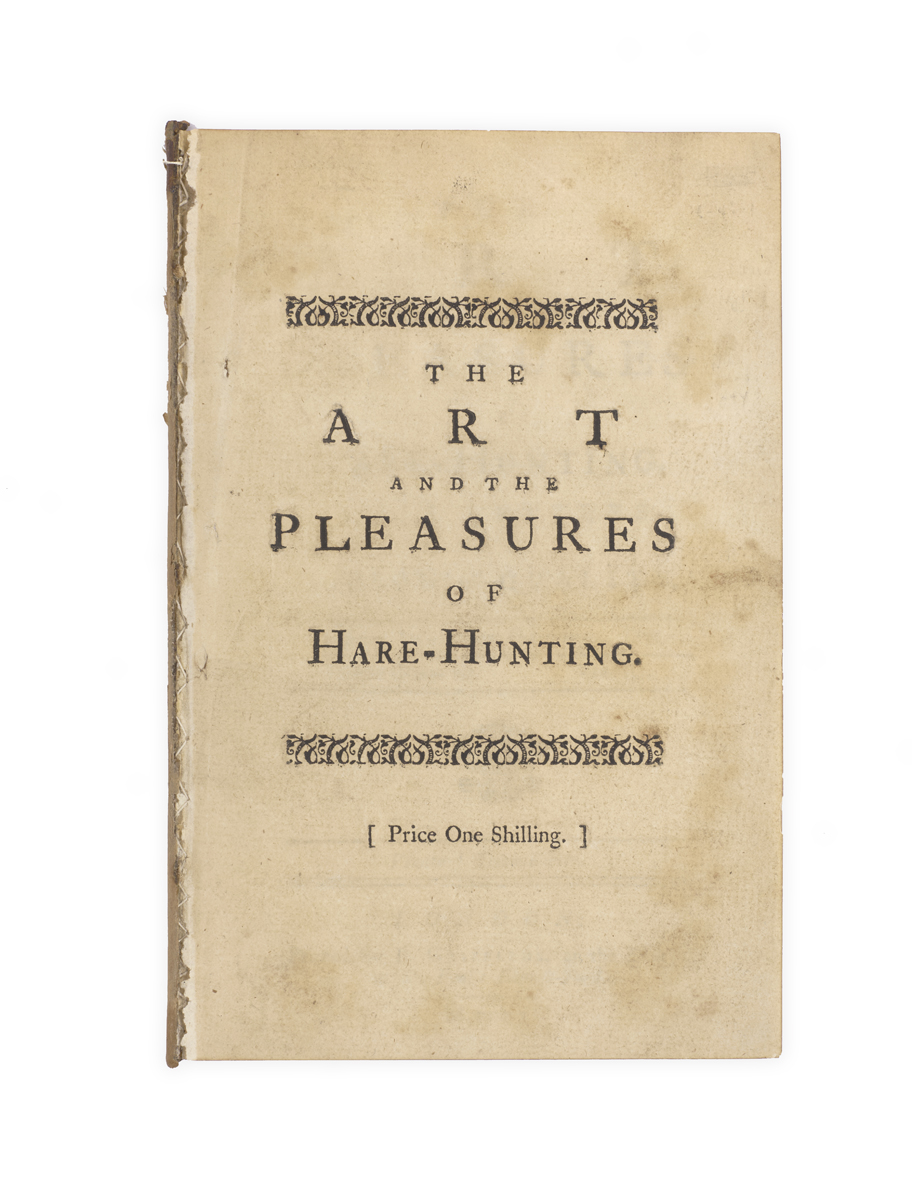 PRAISING THE INTREPID HARE AND SAMUEL RICHARDSON
GARDINER, John Smallman. 
The Art and the Pleasures of Hare-Hunting.  In six Letters to a Person of Quality … 
London: Printed by R. Griffith … 1750. 
8vo, pp. viii, 56; with a half-title (loose at head); final page dusty, some light foxing, but a good copy; disbound.
£1250

Approximately:
US $1536
€1441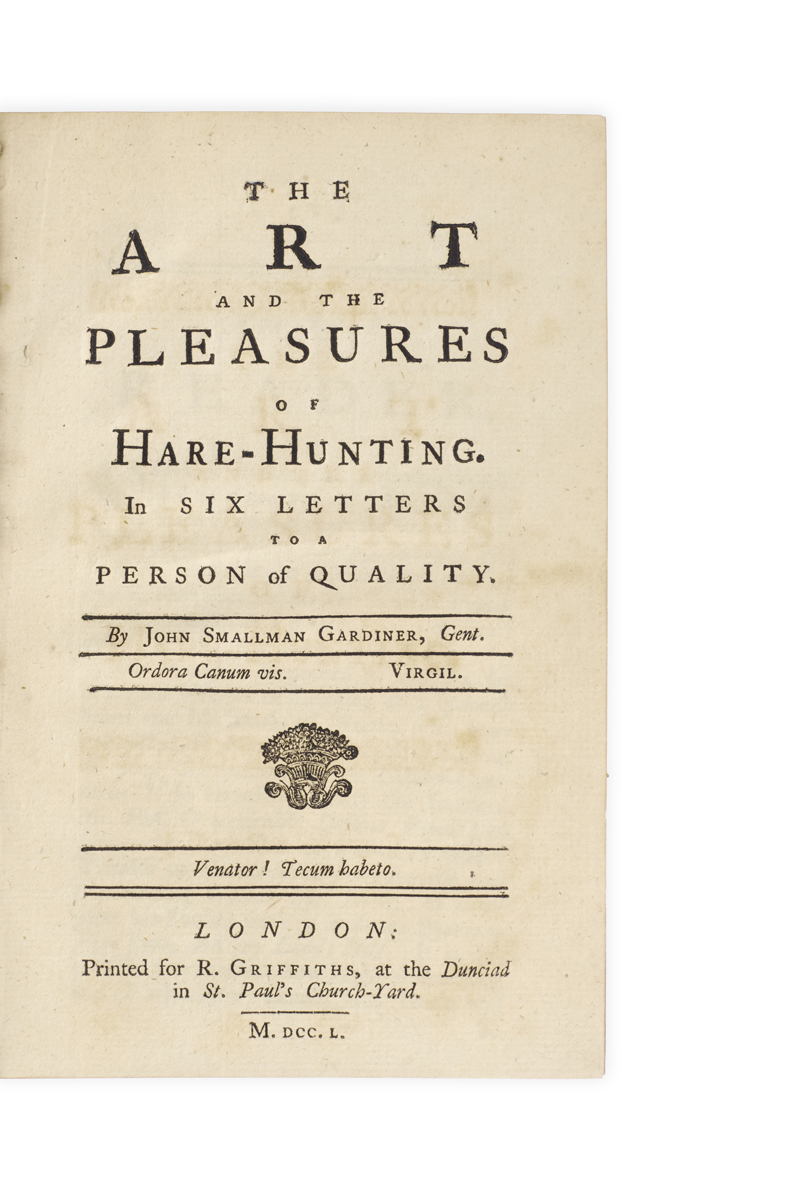 Added to your basket:
The Art and the Pleasures of Hare-Hunting.  In six Letters to a Person of Quality … 
First edition, scarce, of this eloquent and amusing account of hare-hunting, the first monograph on the subject in English, comprising letters on the superiority of hare-hunting to fox-hunting (less dangerous, less laborious), on the best types of dogs, of trailing and starting hares, &c.  Gardiner's letter in praise of hares is noble stuff indeed: 'They ramble through the Barn-Yard in the Night, and disregard the gaunt growling Mastiff; traverse the Orchard and the Garden, intrepid and fearless; explore the dangerous Pond-Head, nor dread the roaring waters …'. 

In a curious literary preface, Gardiner wryly exhorts writers to expound on such 'universal' topics as pantomimickry and card games, and praises Samuel Richardson: 'may many good Fortunes befall … he who wrote the Books, wherein are rehearsed, the Acts of Clarissa Harlow, and her Uncle Anthony [Clarissa was published in 1748].  Heavens! with what a marvelous Preciseness (as Cervantes says) do they describe every simple Circumstance!'  For himself, 'I flatter myself there may be found some worn-out, decay'd, rheumatic, or gouty Harrier; whose Curiosity may lead him to pore into these Sheets'. 

ESTC T96305; Schwerdt I, 197 ('a classic on hare hunting, which had for centuries been preferred to foxhunting'). 
You may also be interested in...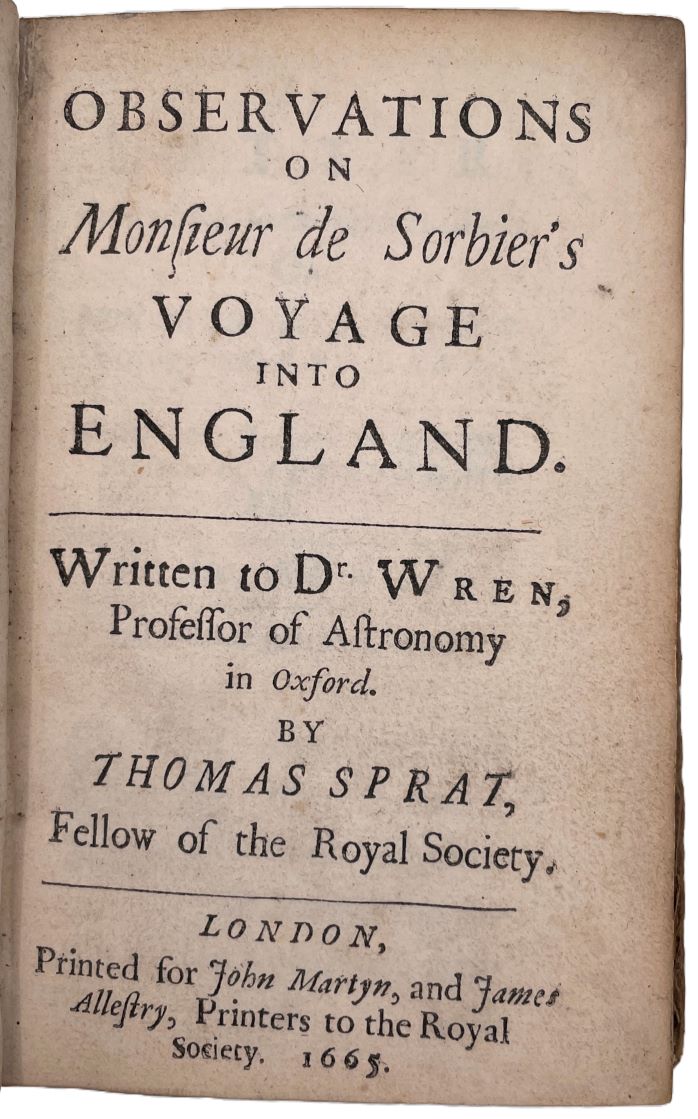 WITH ASSISTANCE FROM JOHN EVELYN SPRAT, Thomas.
Observations on Monsieur de Sorbier's Voyage into England. Written to Dr. Wren ...
First edition. When Samuel de Sorbière published his polemical Relation d'un Voyage en Angleterre (1664), touching on defects in the English nation and character, Thomas Sprat, afterwards Bishop of Rochester, composed an angry reply in the form of a letter to Christopher Wren (both were stalwarts of the Royal Society). Sprat was encouraged in this effort by John Evelyn, who described Sorbière as a schoolmaster, apostate, mountebank, and critic who owed his position as self-styled Historiograph du Roy to sycophantic flattering of Cardinal Mazarin (Evelyn to Sprat, 31 October 1664). Sprat's reply to Sorbière's 'insolent Libel on our Nation' is a wide-ranging defence of the sovereign, the church, the Royal Society, Hobbes, the English stage, the English language, and even English cookery. It was a popular vindication, twice reprinted.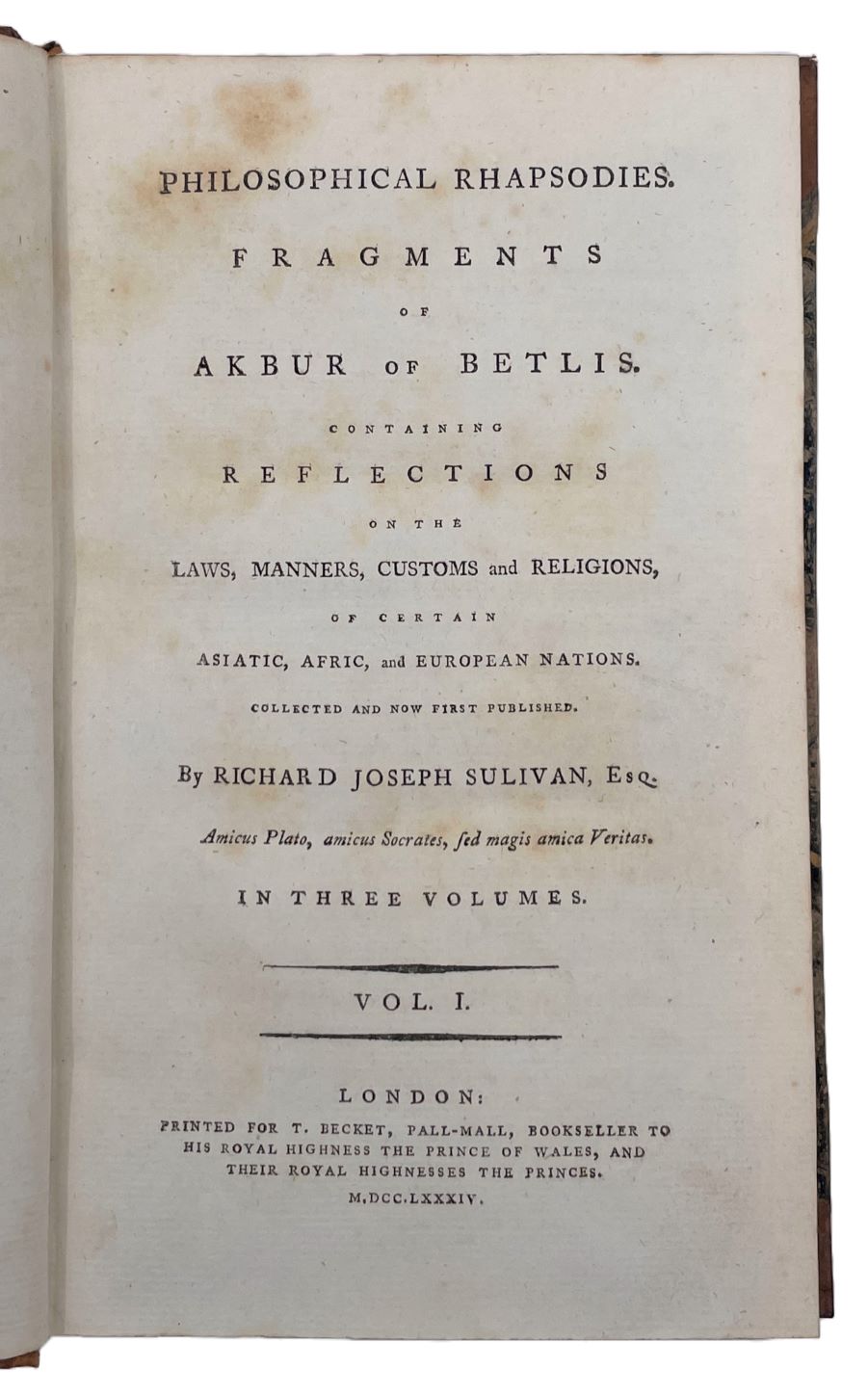 INDIAN TRAVEL SULIVAN, Richard Joseph.
Philosophical Rhapsodies. Fragments of Akbur of Betlis. Containing Reflections on the Laws, Manners, Customs and Religions, of certain Asiatic, Afric, and European Nations. Collected and now first published … In three Volumes …
First edition of this eccentric travel-inspired treatise drawing upon the author's experience in India and his travels in Europe. The prefatory 'advertisement' establishes the fiction that 'the following fragments were written by a native of Assyria [Akbur], who … was removed to the continent of Europe, and thence to England … he then travelled; and in various countries threw together the reflections which appear in the following sheets'. Compartmentalised into 'fragments' rather than chapters, the work is generically indistinct, and offers a compilation of fiction, philosophy, history and travel to reflections on foreign lands, notably China, Japan, Tartary, Hindostan, Greece and the Middle East. Sulivan cites widely in order to illustrate his points, emphasising Akbur's familiarity with Milton, Pope, Thomson, and Dryden, as well as law, the classical canon and contemporary scholarship.