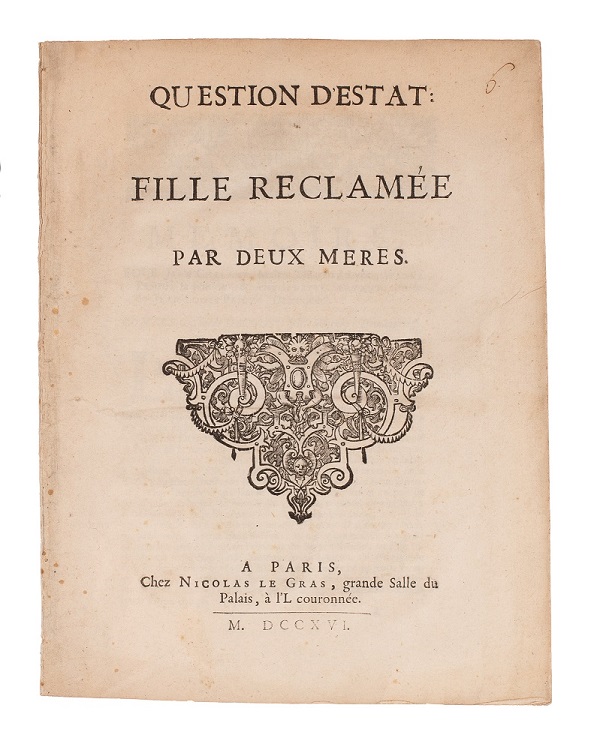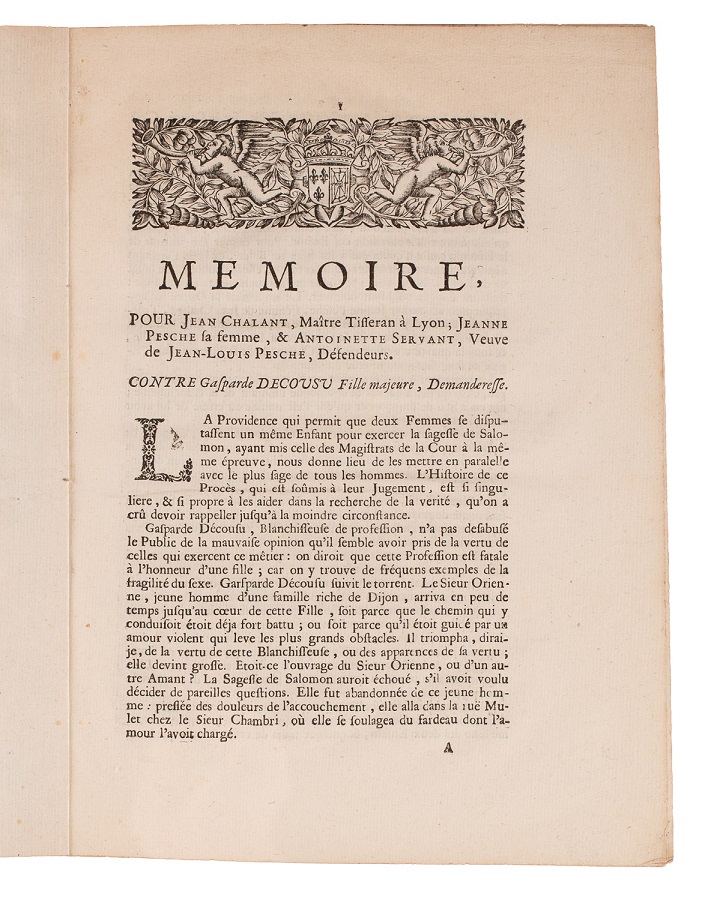 SWITCHED AT BIRTH
GAYOT DE PITAVAL (Conseil).
Question d'estat: fille reclamée par deux meres.
Paris, Nicolas le Gras, 1716.
4to, pp. [2], 26; woodcut vignette on title-page, and woodcut headpiece; occasional light spotting, and small worm trace to foot of gutter of one gathering, but otherwise clean and fresh; unbound.
£350

Approximately:
US $424
€414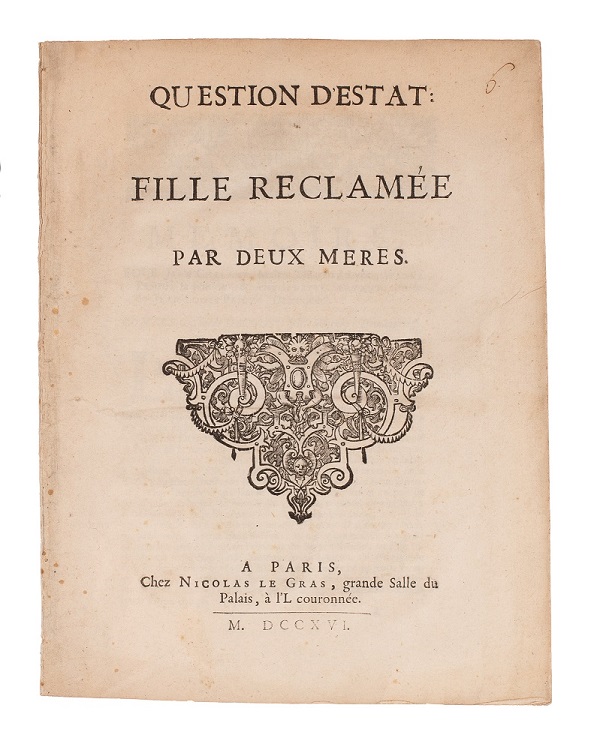 Added to your basket:
Question d'estat: fille reclamée par deux meres.
First edition of this account by the famous advocate François Gayot de Pitaval (1673–1743) of a 1709 case, where a midwife had substituted a new-born girl who was then claimed both by the real mother and the woman to whom the baby had been given. Pitaval's account details the principles by which decisions are made about parenthood in lieu of proper evidence, and seeks to prove who the true parents are, with evidence from the midwife and others. Various objections, both factual and legal, are addressed, and the account closes with a statement of the damages awarded to the parents after the lengthy and public case.

The case was reprinted in the first volume of Pitaval's extensive collection of Causes célèbres in 1734.

OCLC records the Mazarine and the BnF only.
You may also be interested in...
[MONTAGU, Mary Wortley (attr.), and PUISSIEUX, Madeline de (translator).]
La femme n'est pas inferieure a l'homme, traduit de l'anglois.
First French translation, uncommon, of Woman not inferior to Man: or, a short and modest Vindication of the natural Right of the fair-Sex to a perfect Equality of Power, Dignity, and Esteem, with the Men, first published in 1739 under the name 'Sophia, a person of quality' and sometimes attributed to Mary Wortley Montagu (1689–1762; see Quaritch, Women (2019) 36). Drawing on De l'égalité des deux sexes of Poulain de la Barre, the work examines the justness of the esteem (or lack thereof) in which men hold women, the relative intellectual capacities of the two sexes, whether men are fitter to govern and hold public office than women, and whether women are capable of teaching the sciences and serving in the military. The author concludes: 'let us show [men], by what little we do without aid of education, the much we might do if they did us justice; that we may force a blush from them, if possible, and compel them to confess their own baseness to us, and that the worst of us deserve much better treatment than the best of us receive'.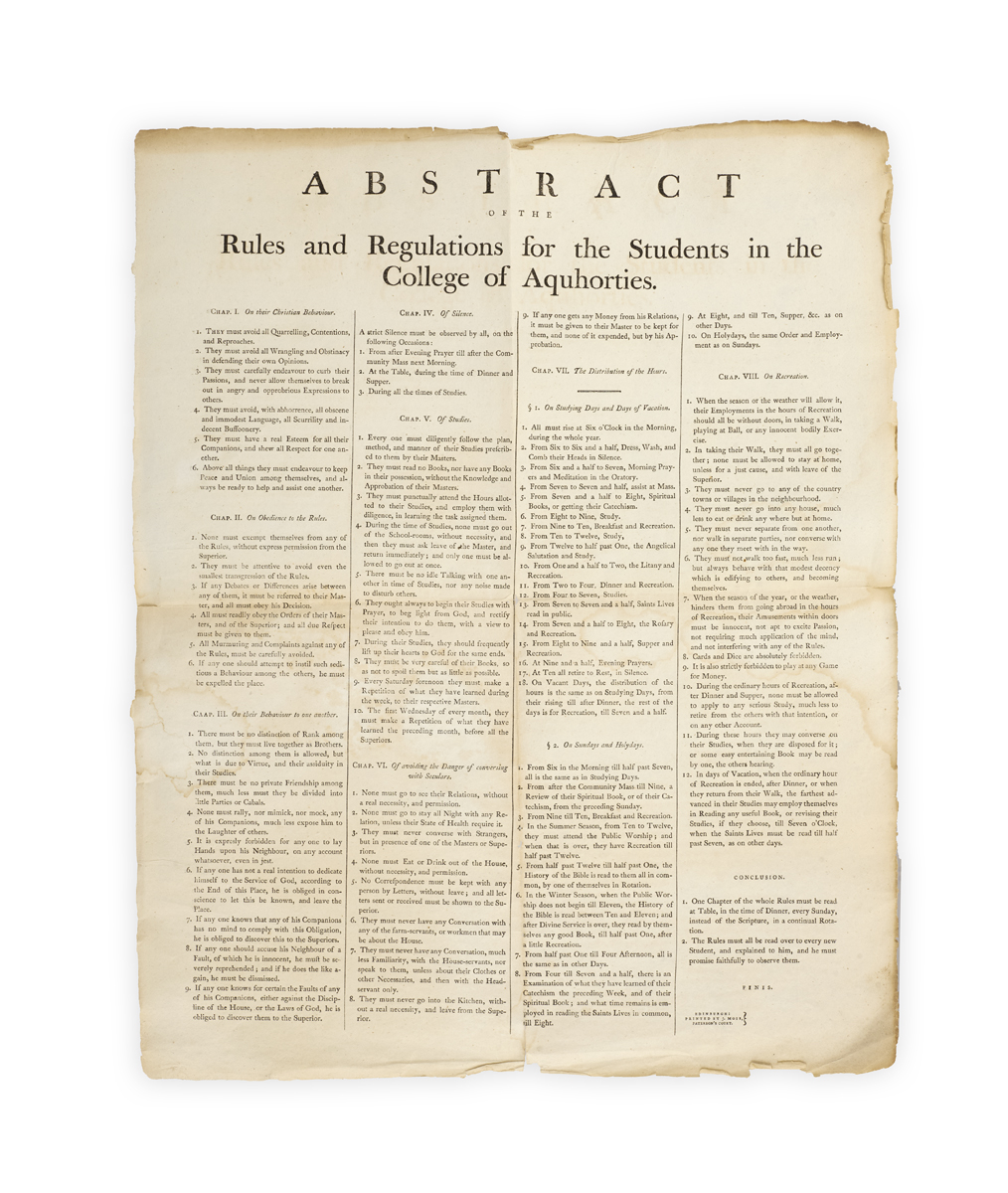 SCHOOL RULES [AQUHORTIES College.]
Abstract of the Rules and Regulations for the Students in the College of Aquhorties …
Broadside rules for the newly established Aquhorties College, the only Roman Catholic college in Scotland, presumably designed to be posted up around the school.