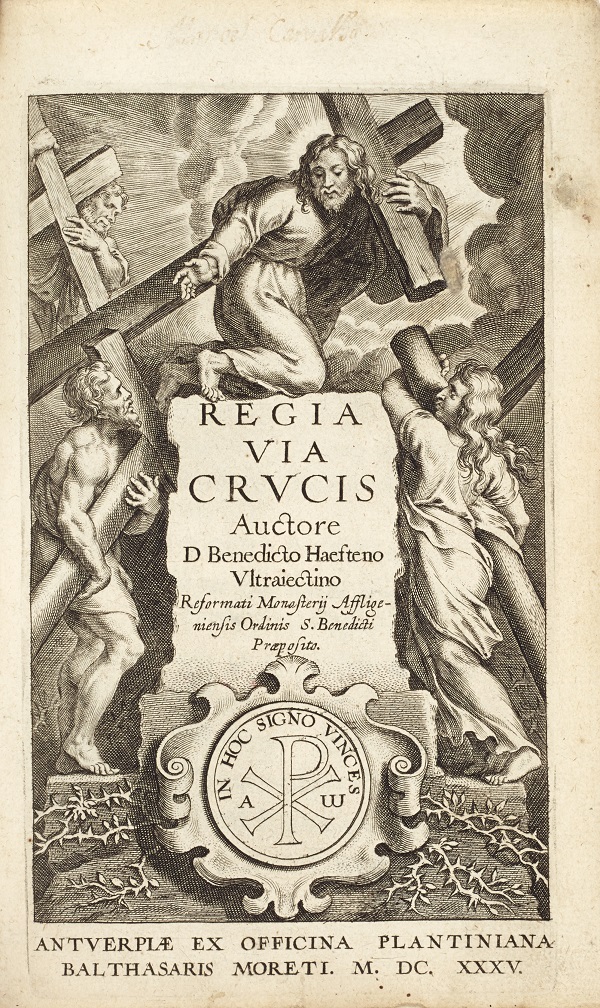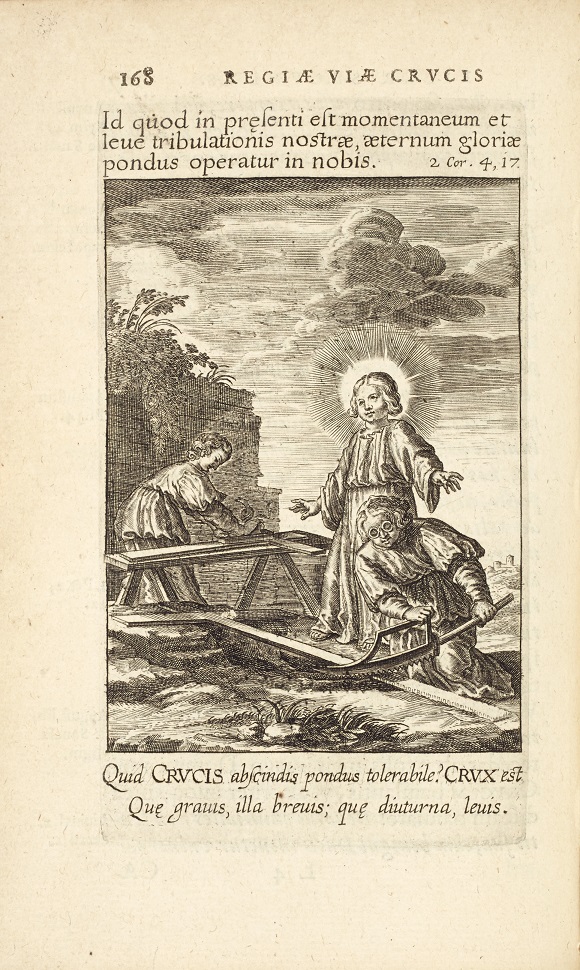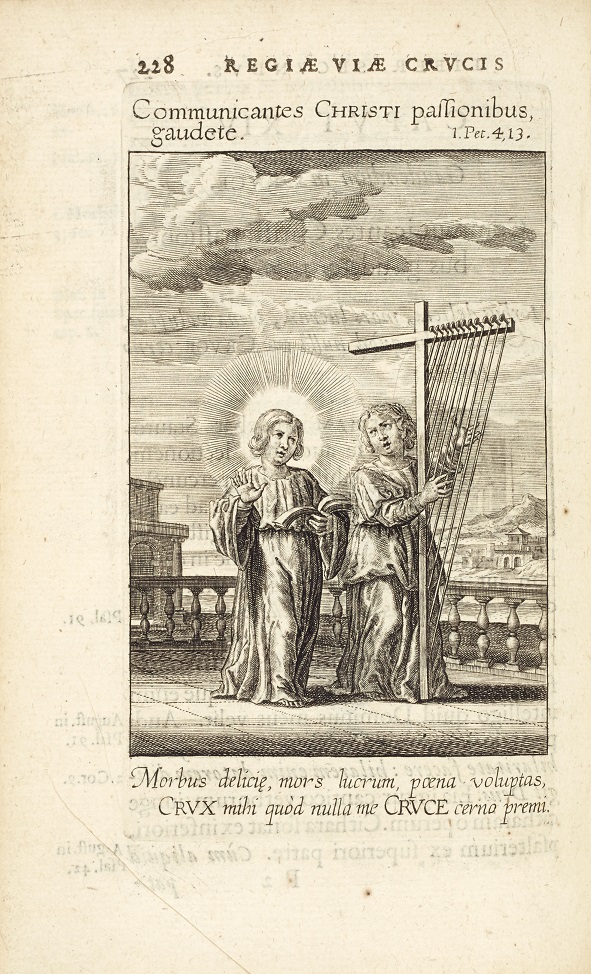 DEVOTIONAL EMBLEM BOOK WITH RUBENS TITLE-PAGE
HAEFTEN, Benedictus van.
Regia via crucis.
Antwerp, Ex officina Plantiniana Balthasaris Moreti, 1635.
8vo, pp. xl, 404, [26], [2, blank]; wanting the half-title; engraved title-page after Rubens, 38 full-page emblematic engravings, engraved initials and tail-pieces, printer's device to penultimate leaf; small wormtrack to lower outer blank corners of leaves F2-G4 and M1-8, and to upper outer blank corners of H6-I2, a few small spots, but a very good copy in contemporary vellum, yap edges, red edges, title and date inked to spine, paper label at foot; binding coming away slightly from text block, wants ties; inscriptions to front free endpapers with bookplate of Ramsgate Abbey.
£1100

Approximately:
US $1370
€1239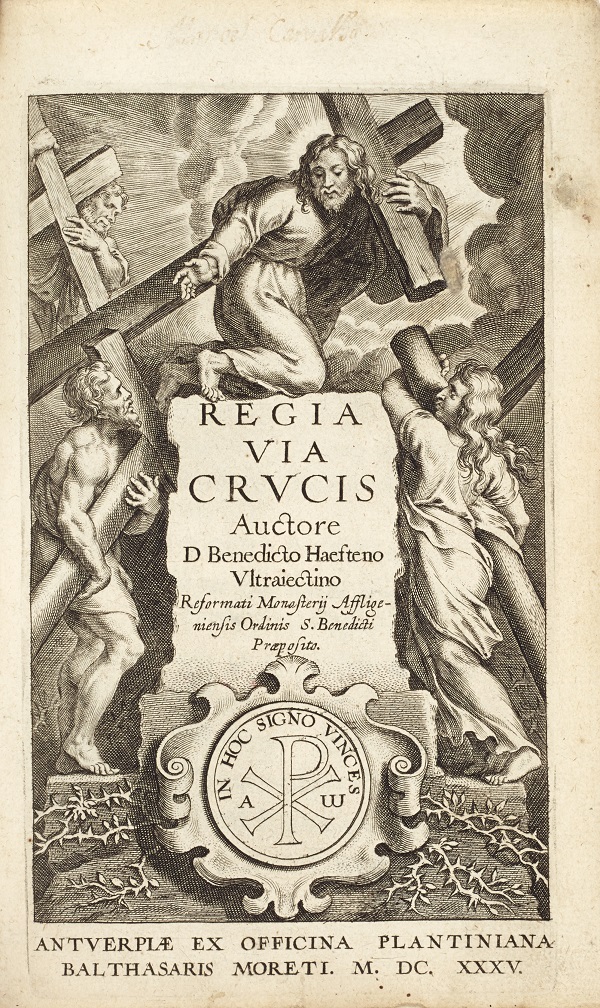 Added to your basket:
Regia via crucis.
First edition of an important counter-reformation devotional emblem book, with a title-page designed by Peter Paul Rubens. Haeften (1588-1648) was provost of the Benedictine abbey of Affligem, Belgium, and played an important role in the reform of the Benedictine order. The Regia via crucis was his most important work, running to over 40 editions, including translations into Dutch, French, Spanish and other languages. The work was intended 'to provide the (Catholic) reader with a good understanding of the significance of the Stations of the Cross, to inspire imitation of Christ's example, and thereby to become acquainted with the way to the Kingdom of God. The rather abstract spiritual journey that the human soul had to make towards this goal is made more concrete by the ... selection of such principal figures as the Virgins Anima – the personification of the human soul – and Staurophila – a Greek name that literally means the one who adores the cross. Their experiences in the imitation of Christ and the resulting lessons of life were nothing else but allegorical examples that were to lead every reader to the just and good. The engraved illustrations are very important in this regard as they support the meaning of the text in a simple and clear emblematic manner.' (The illustration of books published by the Moretuses p. 118-9).

Haeften commissioned Rubens to design the title-page, which was engraved by Cornelis Galle at the artist's request. When shown the initial design, Haeften protested that St Teresa of Avila, shown on the right, was insufficiently dressed, and she was duly clothed more fully. The 38 engravings within the text were executed by the atelier of the Galle family. In the same year as the publication of the Regia via crucis, Haeften commissioned Rubens to paint a large altarpiece of Christ carrying the cross for the main altar of the church of the Abbey of Affligem.

Judson & Van de Velde, Book illustrations and title-pages vol. I (Corpus Rubenianum XXI), no. 71; Landwehr, Emblem and fable books printed in the Low Countries, 271; Praz, p. 361; STCV 6843143.
You may also be interested in...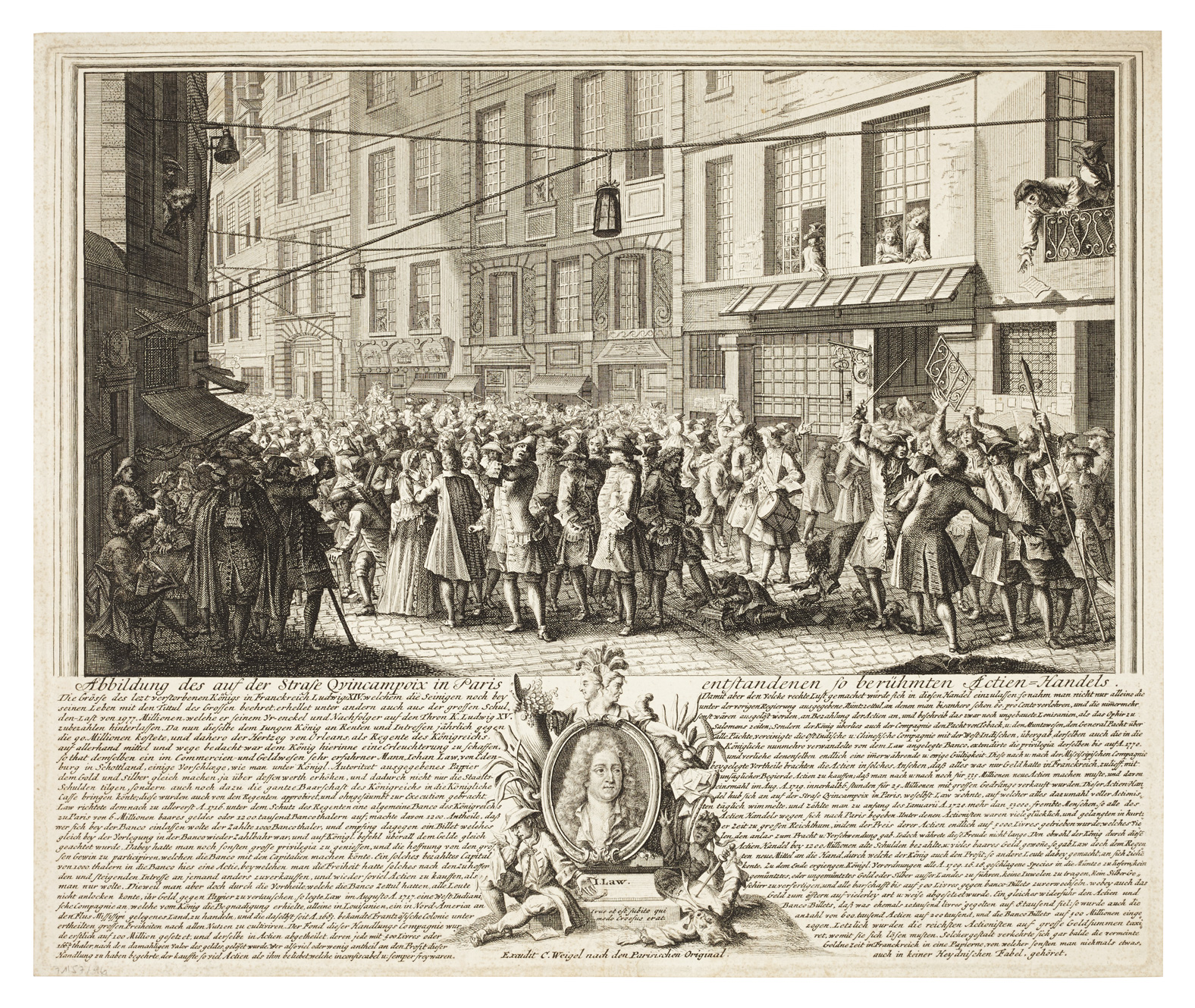 [LAW, John.]
Abbildung des auf der Strasse Quincampoix in Paris entstandenen so berühmten Actien-Handel. Excudit C. Weigel nach den Parisischen Original...
This engraving is a German version of 'Rue Quinquempoix en l'Année 1720'(BM Catalogue 1655). It gives a view, in angular perspective, of the Rue Quinquempoix, Paris, with crowds of persons assembled there during the share mania of the Mississippi, South Sea, and other schemes which bubbled in the financial atmosphere created by John Law of Lauriston.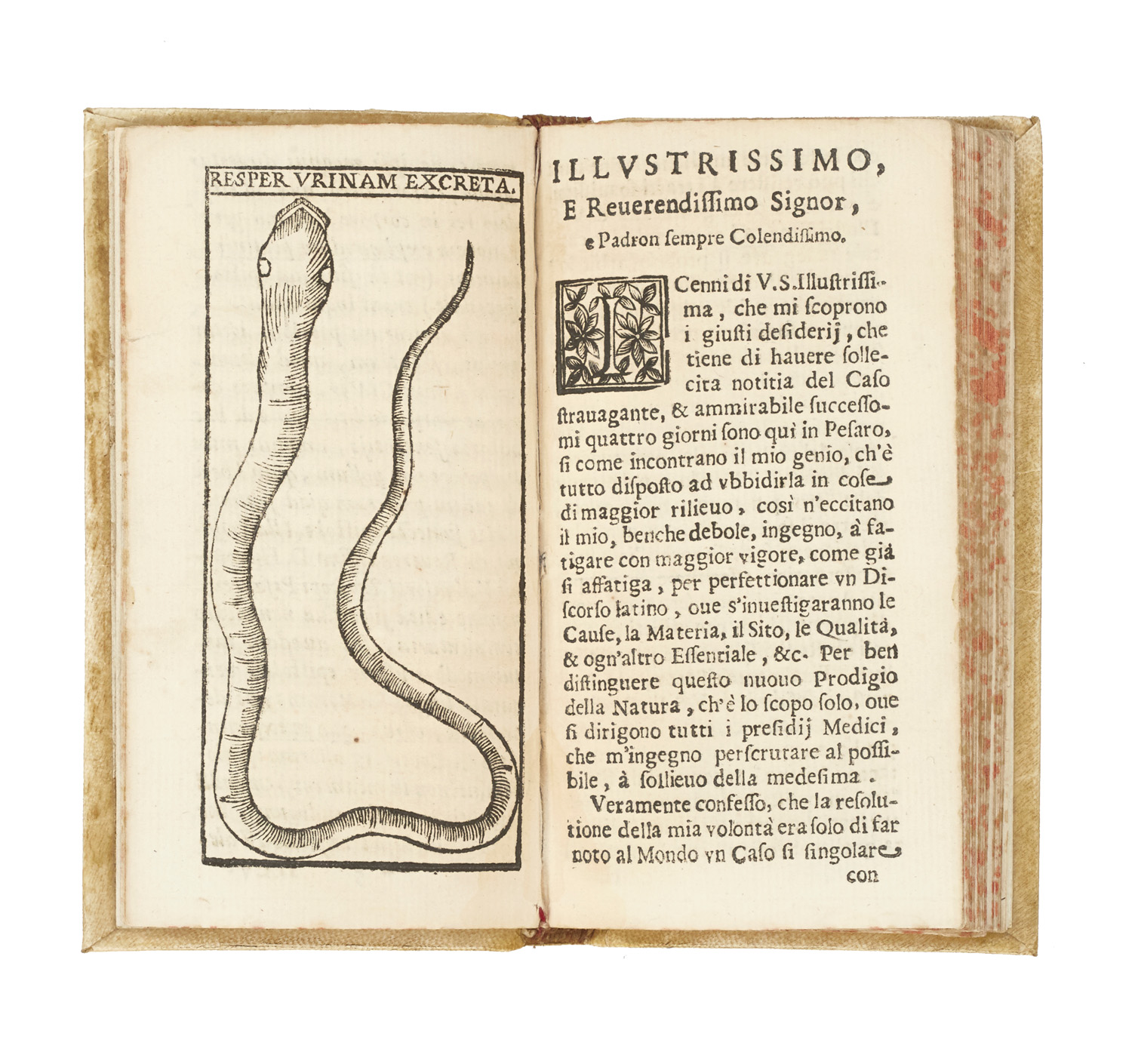 A WONDER WORM MARINIS, Dominico de.
Dissertatio philosophico-medica de re monstrosa à Capuccino Pisauri per urinam excreta. Plura de sanguinis grumis, polypis, serpentibus, ac praecipuè de vermibus in corpore humano procreatis non iniucunda complectens ...
First edition of this scarce dissertation on worms focussing on the extraordinary case of a capuchin preacher from Pesaro who in 1677 passed an enormous worm in his urine, which upon subsequent examination was declared to be a serpent. The Dissertatio begins with a prefatory letter in Italian by Alessandro Cocci discussing the case of the capuchin friar Stefano da Cammerino who for 13 months had suffered from kidney pains and bloody and lumpy urine. Following treatment by Cocci and Cesare Cesareo, Cammerino passed, with excruciating pain, a long thin worm through his urinary meatus, initially trying to pull it out, only to break it in two, and then passing the remainder, to his subsequent great relief. The worm caused much local interest and Cocci describes how it was initially put on display to satisfy the curious, before being examined under a microscope. The conclusion of this examination was that the 'prodigio della natura' passed by Cammerino was in fact a serpent.