PLISCH UND PLUM IN RUSSIAN
KHARMS, Daniil Ivanovich, translator. BUSCH, Wilhelm.
Plikh i Pliukh [Plisch und Plum].
Moscow, Detizdat, 1937.
4to, pp. 71, [1], with illustrations by Busch; a very good copy in the original blue illustrative wrappers, with a colour vignette, some restoration to spine, small repairs to rear cover at head; in a folding cloth box.
£3000

Approximately:
US $3703
€3454
Added to your basket:
Plikh i Pliukh [Plisch und Plum].
First edition in book form, very rare, of Daniil Kharms's Russian free verse translation of the children's story by Wilhelm Busch about two mischievous dogs, second only in fame to his Max und Moritz. The translation had been first published in the children's magazine Chizh in 1936 (nos. 8-12), and remained in print throughout the century.

In 1927 Kharms had co-founded the avant-garde group OBERIU ('The Association of Real Art'), with an emphasis on drama and on poetry in performance: among its surreal catchphrases were 'Art is a cupboard' and 'Poems aren't pies'. His arrest in 1931, and brief exile in 1932, forced him to largely abandon his writing for adults and concentrate on the children's writing for which he has become known. His wit and taste for the grotesque made him a perfect match for the work of Busch, but this did not help him against increasing Soviet criticism – Plikh i Pliukh was attacked in Detskaia literatura 18 (1937) for its lack of a clear moral message. In 1941 Kharms was arrested again, and died in prison.

OCLC records a single copy, at New York Public Library. Not in COPAC or KvK; there is a copy at the National Library of Russia.
You may also be interested in...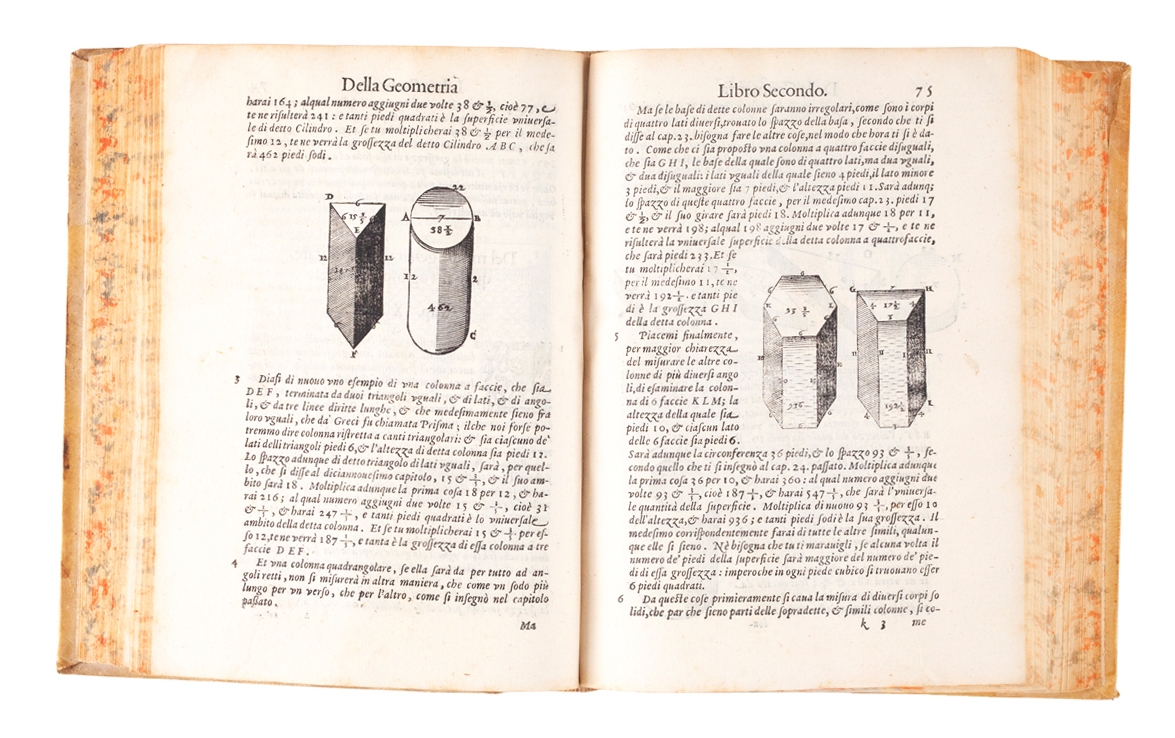 POLYMATHY FINÉ, Oronce. 
Opere di Orontio Fineo … divise in cinque parti, arimetica, geometria, cosmografia, e orivoli, tradotte da Cosimo Bartoli … et gli specchi, tradotti dal cavalier Ercole Bottrigaro … nuovamente poste in luce. 
First Italian edition of the works of Finé.  Among the most influential scientific scholars of the sixteenth century, over three decades at the Collège Royale Oronce Finé (1494–1555) made considerable contributions to various branches of mathematics, from geometry and arithmetic to astronomy and geography, including cartography.  The woodcuts are copied from those designed by Finé for Protomathesis (1532), the first collected edition of his works, and continued to be used until 1670. 
ANNOTATED BY THE AUTHOR'S COLLABORATOR PADOVANI, Giovanni.
Opus de compositione et usu multiformium horologiorum solarium pro diversis mundi regionibus, idque ubique locorum tam in superficie plana horizontali, quam murali quorsumcumque exposita sit, pertractans ... Nunc primum in lucem prodit.
Scarce first edition of Padovani's treatise on sundials, providing illustrated instruction on the use of various horizontal and vertical sundials and on calculating latitude, this copy owned and annotated by the author's friend and collaborator Johannes Andrea de Muscis.