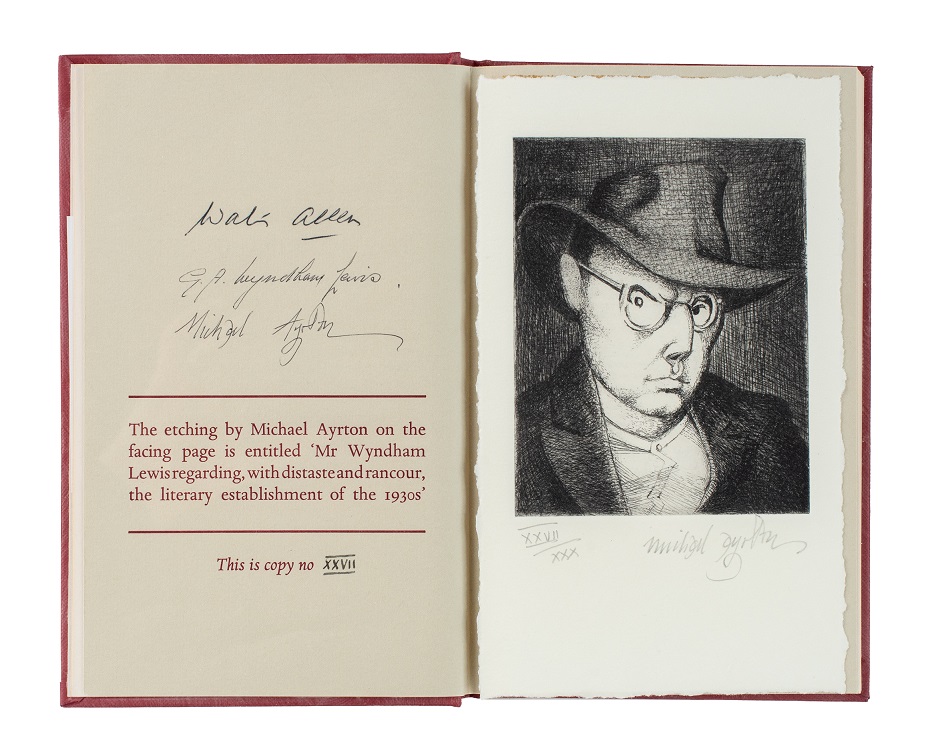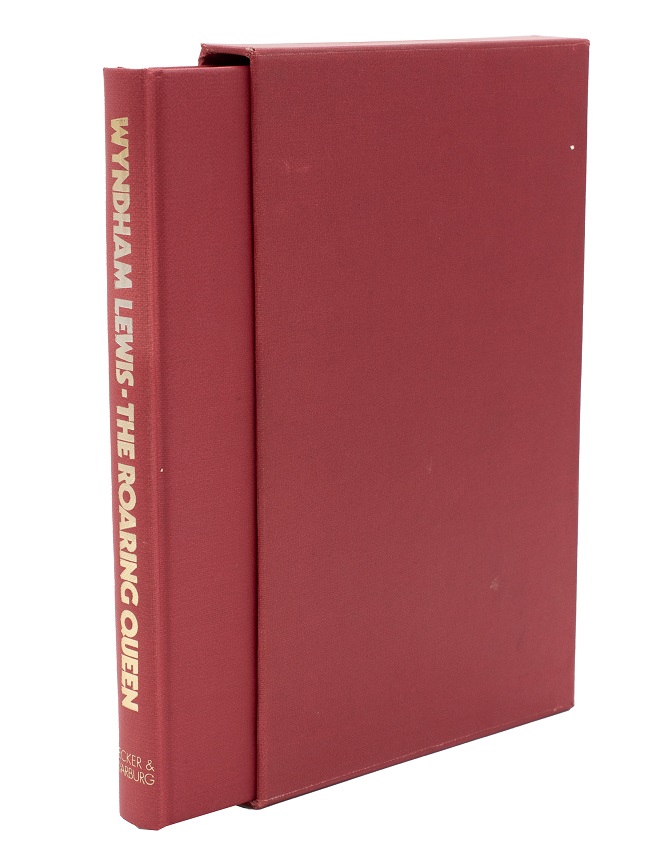 ONE OF 30 COPIES NOT FOR SALE
LEWIS, Wyndham.
The Roaring Queen. Edited and introduced by Walter Allen.
London, Secker & Warburg, [1973].
8vo, pp. [8], 5-184, an extra bifolium on grey paper printed in red inserted before the title-page: a signed limitation leaf and a facing leaf with an etched portrait of Lewis by Michael Ayton (originally tipped on, now loose as always – a fault of the glue used); some offset to title from the tape used to affix the etching, else a fine copy; publisher's red cloth, slipcase; bookplate of the BBC radio producer D. G. Bridson, a friend of both Lewis and Ayrton; typed compliments slip from Elisabeth and Michael Ayrton laid in, thanking Bridson for a lovely evening.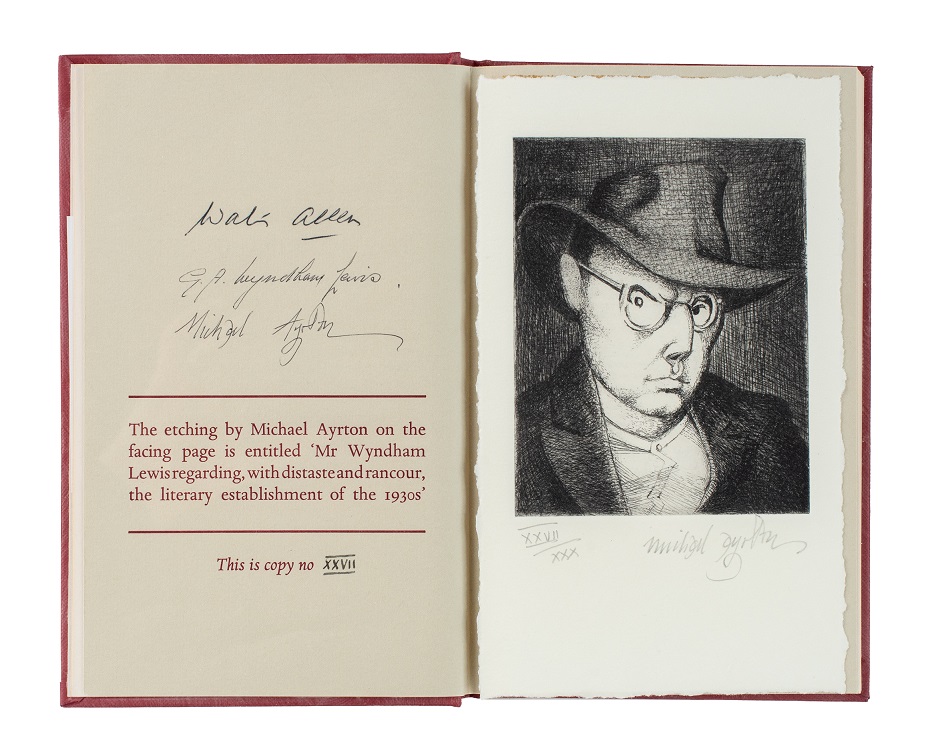 Added to your basket:
The Roaring Queen. Edited and introduced by Walter Allen.
Limited edition, no XXVII of XXX copies not for sale, signed by Mrs Wyndham Lewis, Michael Ayrton & Walter Allen, with a signed etching by Michael Ayrton. A further 100 numbered copies were for general sale at £30 each.

Lewis's early novel The Roaring Queen had been rejected as too risky by Chatto in 1930 and was finally taken up by Jonathan Cape in 1935. Although two proof copies were printed in 1936 (now at Harvard and Cornell) fears of libel led Cape to withdraw it before publication. Among the figures in the book world satirized here was Arnold Bennett (as Samuel Shodbutt).

Pound & Grover A22c; Morrow & Lafourcade A47a.
You may also be interested in...
WELLS, Edward.
The young Gentleman's Astronomy, Chronology, and Dialling, containing such Elements of the said Arts or Sciences, as are most useful and easy to be known … third Edition, revised, and corrected, with Additions.
Third edition of Wells's successful mathematical handbook.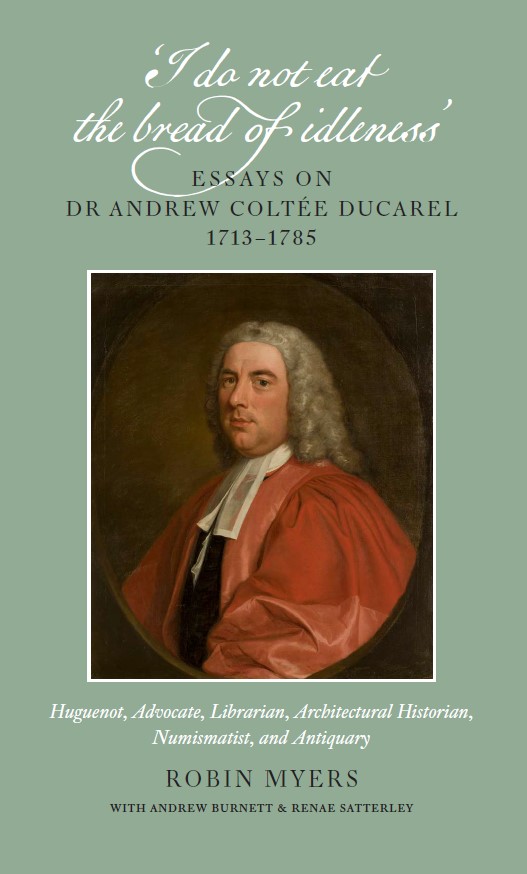 MYERS, Robin, Andrew BURNETT, and Renae SATTERLEY.
'I do not eat the bread of idleness': Dr Andrew Coltée Ducarel 1713–1785, Huguenot, Lawyer, Librarian, Antiquary, and Numismatist.
This volume brings together revised versions of four of Robin Myers's papers on aspects of Ducarel's life and work published between 1994 and 2002, and 'The Life and Times of the Ducarel Brothers', her recent introductory essay to Two Huguenot Brothers: Letters of Andrew and James Coltée Ducarel, 1732–1773 (The Garendon Press, 2019), which has been updated with a section by Adam Pollock on the life of the Ducarel children among other Huguenot families in Greenwich. It also contains new essays by Robin Myers on the collaboration and developing friendship between Ducarel and Philip Morant (1700–1770), historian of Essex, and on Doctors' Commons, an institution whose name most know but few understand. To complement these Renae Satterley, Librarian of the Middle Temple, contributes an essay on Doctors' Commons Library, and Andrew Burnett, former Keeper of Coins and Medals at the British Museum, on Ducarel as numismatist. The appendix comprises a family tree from Ducarel to the present day, an annotated list of works of Andrew Ducarel, a timeline of Ducarel's life, and bibliography. Penelope Bulloch, Christine Ferdinand, and Lorren Boniface helped to edit the work.